Instant Pot sesame chicken takes less than 15 minutes to make in your pressure cooker! This quick and easy meal has a sweet and savory sauce with tender chicken over rice. My family loved it!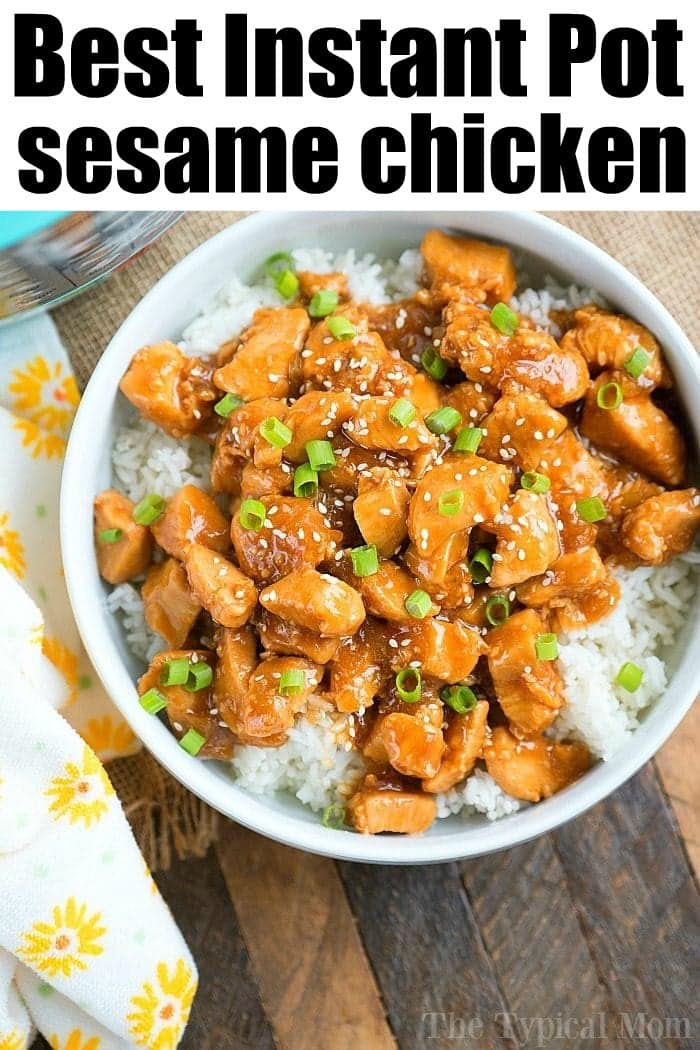 Have you ever gone out to dinner and had that sweet sesame chicken with rice and thought "I wish I could make this at home, it's so good"?? Well here's an easy Instant Pot sesame chicken recipe you can enjoy with your family tonight! With a thick sweet sauce and tender chicken pieces, it's amazing served as is if you're looking for a low carb protein packed dinner or atop rice. It's one of our favorite Instant Pot recipes. (originally published 12/18, affiliate links present)
Our easy Instant Pot sesame chicken recipe is really a throw it together meal you could make with raw chicken like you see here. Or if you have leftover chicken you could use that as well. It's really all about the sauce after all.
Of course there is always plenty of ginger and garlic added into Asian inspired recipes so we have just enough of that thrown in there too.
Likelihood is you have everything you need for this sesame chicken sauce at home except for maybe a bottle of hoisin sauce, which is amazing by the way.

Don't worry…the rest won't go to waste because after you've made this pressure cooker sesame chicken you're going to want to make our Instant Pot spicy teriyaki chicken thighs that uses this sauce in the mix too.
What is the difference between orange chicken and sesame chicken?
The sauce!
This recipe is sweeter, really.
There is no heat to this dish vs. some orange that has a kick to it like General Tso's at Panda Express.
Of course this one has sesame seeds too.
I use boneless, skinless chicken breasts and dice them up so they are bite size pieces.
Why do I dice the chicken up?
Smaller pieces of chicken makes each piece more tender in the cooking process
Bite size pieces allows the delicious sauce to soak all the way in so each piece has that delish sesame chicken taste
It makes it easier for the kids (and me) to eat when the chicken is already cut up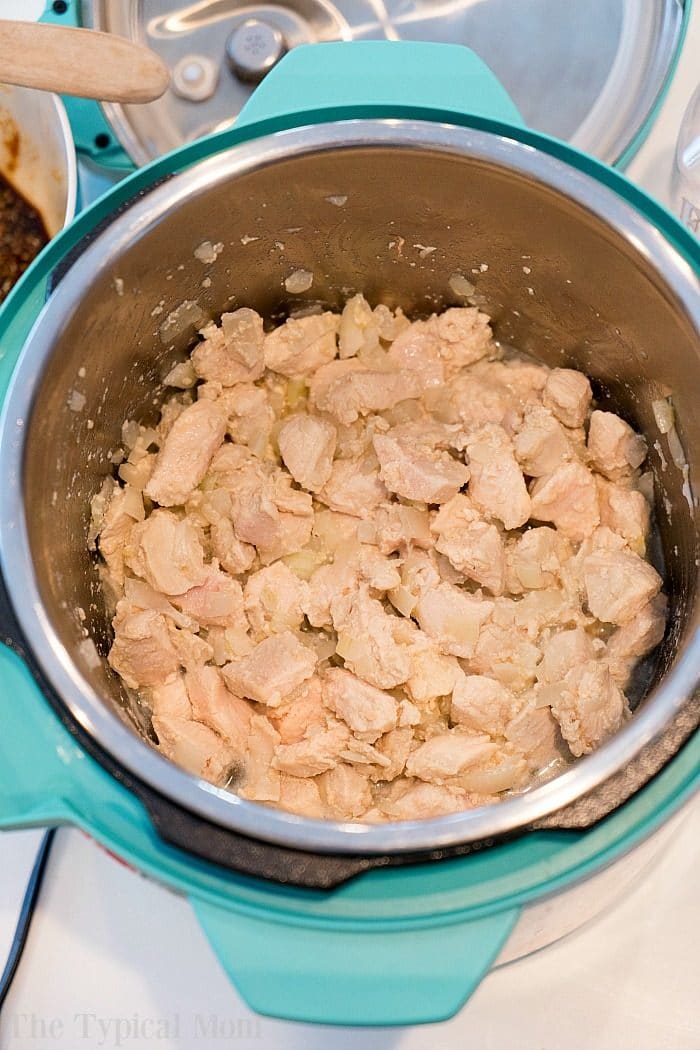 Alternatives to using fresh chicken:
If using diced up pre-cooked chicken (i.e. rotisserie chicken or leftover chicken) alter the recipe below this way

Add your pre-cooked chicken at the beginning but no need to put into Instant Pot and saute like if it were raw
Mix together your diced chicken pieces with the diced onions, garlic and ginger still, then skip to step 4 where you add the sesame chicken sauce
On step 5 lock the lid and set to pressure high for 2 minutes vs. 3
Including all the time it will take you to prep everything, this should take under 30 minutes to make from start to finish. Much faster than if you made it in a slow cooker.
Once your chicken is no longer pink on the outside you're going to whisk together the ingredients for your homemade sesame sauce and pour it right in. Make sure you then stir it around so all the chicken is coated and the flavors will really soak in. I would cook rice at this time so it's all pressure cooking together. (I have several machines to do it all)
Any good pressure cooker honey sesame chicken recipe is all about the sauce really!
Now once the 2nd cook time is over, do a quick pressure release. It will be done but it is best if you use a bit of cornstarch to thicken the sauce so it's ooey gooey delicious. I use 4 tbsp of cornstarch whisked together with 4 tbsp of hot liquid from pot. Add that in on saute and allow that to bubble and the sauce to thicken.
Of course you can use less if you want it thinner than what you see here, but really if you ask me this is just perfection…….
What is sesame chicken made of?
Thighs usually, but we chose to use chicken breasts. Either or are fine really. Many times they are deep fried, this is a low fat version without breading. Sauces vary slightly adding heat, or making sweet and mild. Cornstarch is used to thicken it up at the end.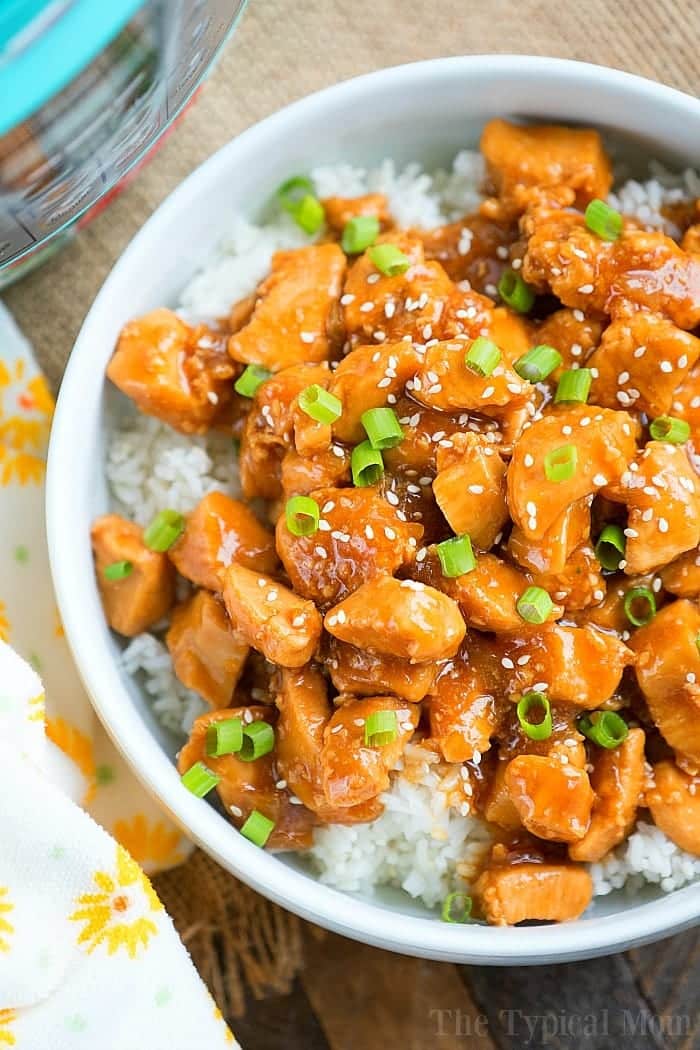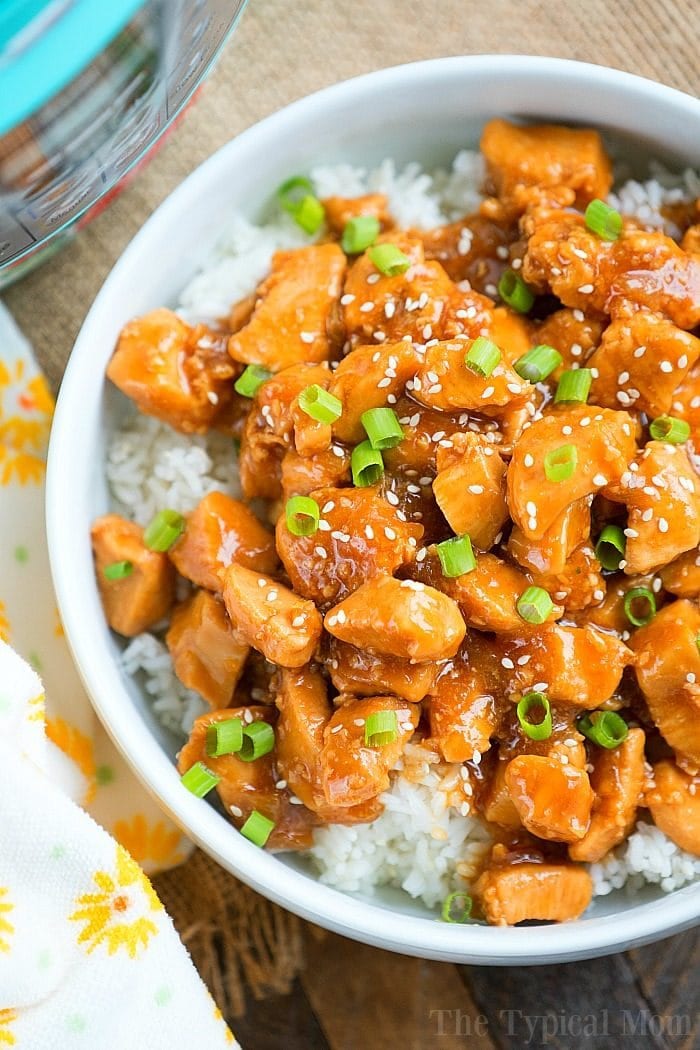 This is what you need to make our easy Instant Pot sesame chicken recipe
Diced chicken
Green onions
Ginger
Soy sauce
Brown sugar
Honey
Worcestershire sauce
Cornstarch to thicken sauce

red pepper flakes optional
Cook Instant Pot white rice separately and serve on top.
After you make this we have some other easy Instant Pot chicken recipes you will love:
Our spicy honey Instant Pot chicken is probably our most popular followed by Instant Pot Korean chicken. I am telling you, since I got this magical appliance we have been able to eat together more AND I cook more from scratch.
That means we eat healthier and it is amazing how my kids taste buds have changed for the better. They are now very experimental eaters which is great.
What is the difference between orange chicken and sesame chicken?
Well, we have made pressure cooker orange chicken before and it is good. This copycat General Tso's sesame chicken recipe is a bit sweeter without any heat. Of course there are many varieties of each and it is nice to change it up a bit. Both are served on top of rice in our home and are favorites for sure.
Is sweet and sour chicken the same as sesame chicken?
Ours is definitely different because our Instant Pot sweet and sour chicken uses frozen popcorn chicken that's breaded. This one has less carbs since it doesn't have any breading at all.
The sauce also has a different taste. One has some heat and this one is sweeter
How do you thicken sesame chicken sauce?
Cornstarch + some of the hot liquid mixed together creates a roux.
Dump this in on saute mode at the end and stir.
It will thicken as it sits thereafter too.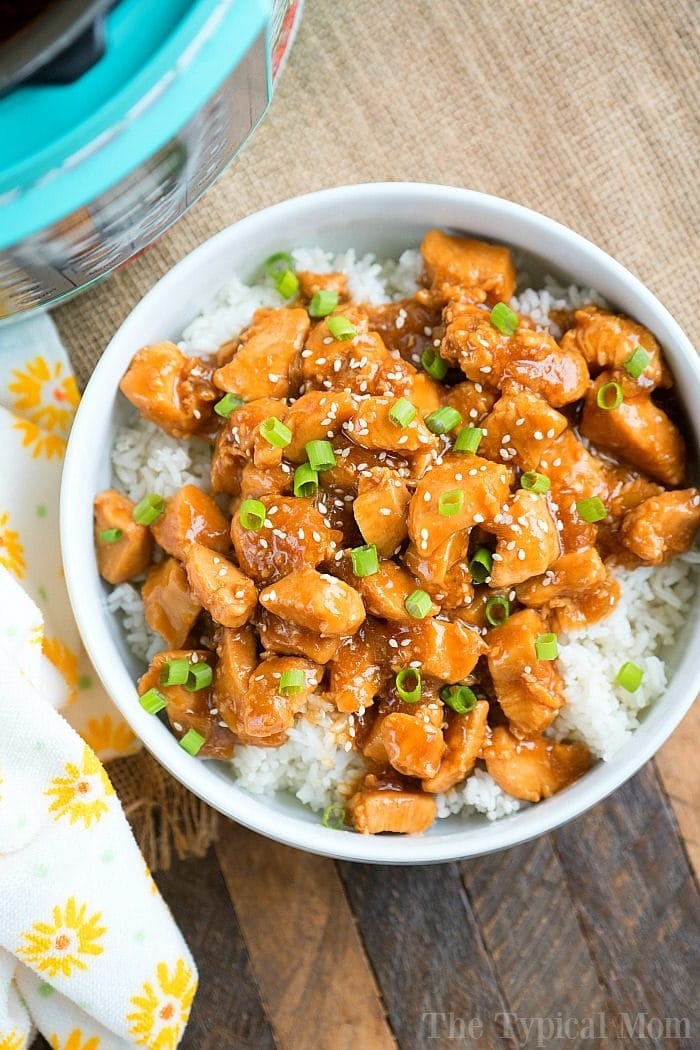 Can you make this in your Ninja Foodi too? YES of course!! Follow the same instructions below. Then serve it over fluffy rice and BAM, best meal evahhhh!
You can make Crockpot sesame chicken too! With a sweet sauce cooking all day long the meat just sucks it up and makes it over the top. I've served this over mashed cauliflower for a lower carb meal and it's as good as brown or white rice.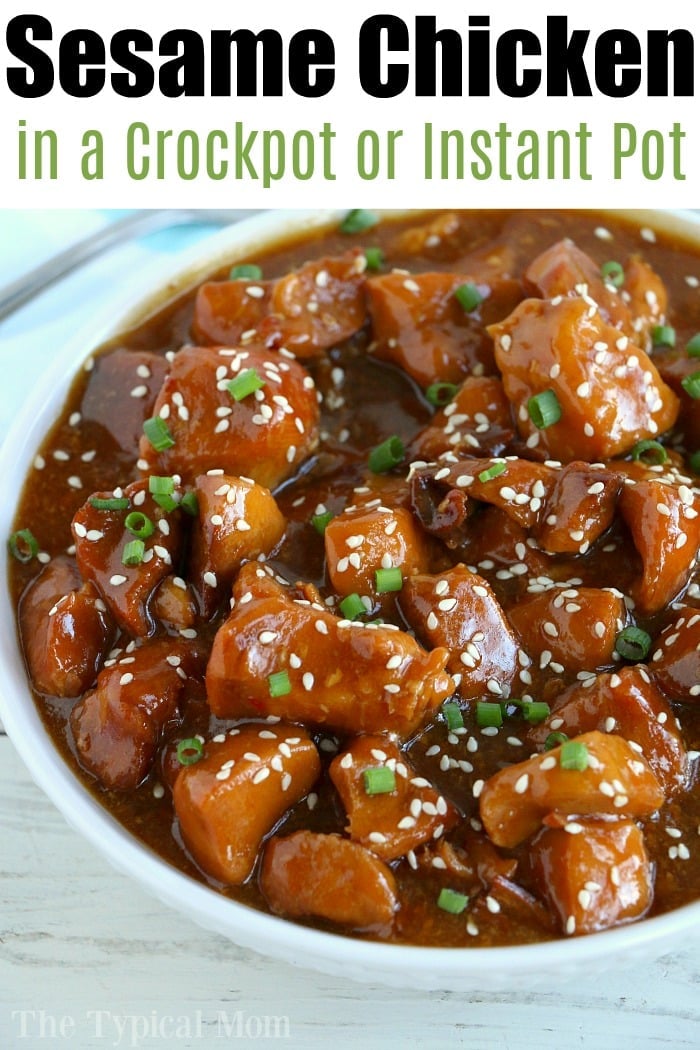 Ready for an easy family friendly meal? That's really all we do here since I have 3 girls and I will tell you that they think this one is "the bomb"! Have you made something that your family thought was over the top lately??
Want more easy recipes and tips from The Typical Mom blog? Sign up for my free newsletter, and follow me on Pinterest!
***** If you LOVED this recipe give it 5 Stars below and let everyone know what you thought about it. 😉
Instant Pot Sesame Chicken
Instant Pot sesame chicken takes less than 15 minutes to make in your pressure cooker now! A sweet and sticky sauce with tender chicken over rice is a fave.
Instructions
Add your diced onions, sesame oil, diced raw chicken breasts, 1.5 tbsp minced garlic and 1.5 tbsp minced ginger into your pot. Set to saute.

Mix all ingredients together so chicken pcs. are coated, cook until pink on outside of chicken pcs. is gone.

Whisk together remaining ingredients except cornstarch, and only use 1 tbsp of your sesame seeds, pour into your pot. Stir so all chicken pieces are nicely coated.

Close lid and steam valve and set to pressure high for 3 minutes.

Do a quick release, lift lid and set to saute again if you want the sauce to be thicker.

In a small bowl whisk together your cornstarch and cold water well so there are no lumps, add this into your IP once it begins to bubble on the saute setting.

Stir for 1-2 minutes until sauce begins to thicken, then turn pot off and unplug so it doesn't continue to cook.

Serve on top of rice sprinkled with your remaining tbsp of sesame seeds and add some diced green onions if desired.
Nutrition Facts
Instant Pot Sesame Chicken
Amount Per Serving (3 oz)
Calories 320
Calories from Fat 90
% Daily Value*
Fat 10g15%
Cholesterol 58mg19%
Sodium 1532mg67%
Potassium 507mg14%
Carbohydrates 35g12%
Protein 23g46%
Vitamin A 50IU1%
Vitamin C 5.2mg6%
Calcium 63mg6%
Iron 1.8mg10%
* Percent Daily Values are based on a 2000 calorie diet.