Crockpot sesame chicken thighs recipe is here! Sticky honey sweet chicken with a kick served on top of a bed of rice will be your favorite slow cooker meal.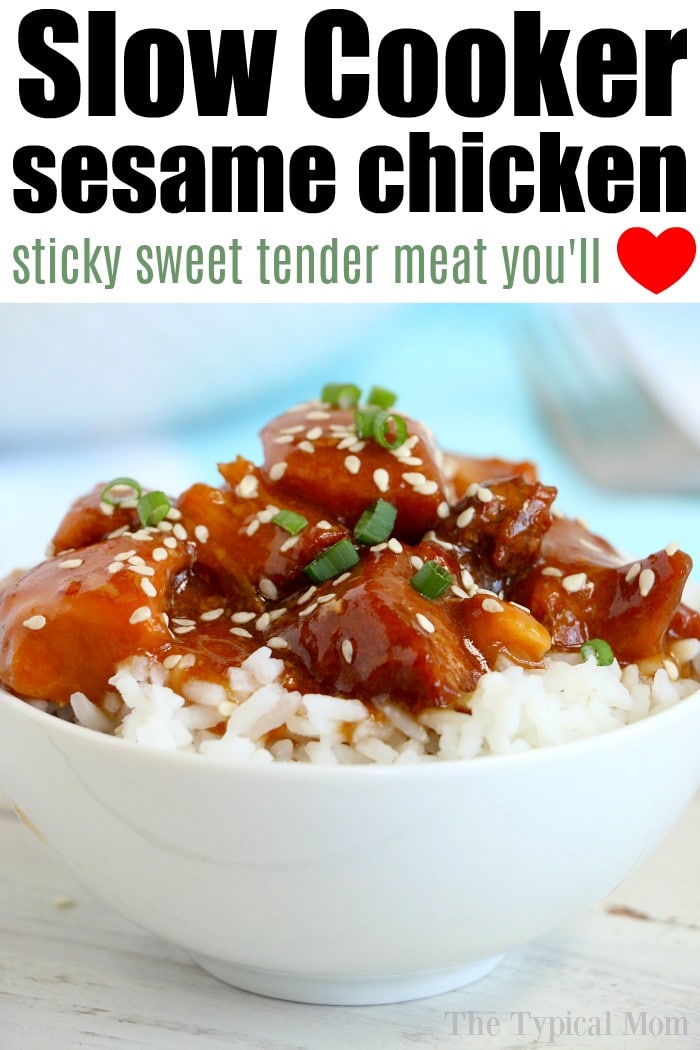 Do you love honey sesame chicken at Panda Express? Well this Crockpot sesame chicken recipe has those same great flavors but without the heavy breading. One of our favorite easy crockpot recipes here on The Typical Mom blog. (originally published 10/19, affiliate links present)
Slow Cooker Honey Sesame Chicken
NO breading means it's healthier, but just as yummy so you can have a few extra bites without the guilt! Served on top of white or brown rice, it is always a family favorite meal.
For a quicker version you can try air fryer sesame chicken, but sometimes slow and low is best. Take your pick. It is nice to have a choice between the two depending on how much time you have day to day to make and prepare your meals.
FIRST – You should sign up for my free newsletter so you get new posts emailed to you twice a week and never miss out on anything! Let's talk a little bit about slow cooking shall we?? First off I have a few different varieties and I love them all. Each one has an occasion to be used like….
This is my favorite 6 quart programmable one with a locking lid so it's great for bringing to a potluck too.
If you just want to serve a few appetizers you should get this one that sit side by side one another.
I prefer not to use liners, but rather just spray olive oil inside before adding my food for easier cleanups.
Let me give you a peek of my pretty thang I bought recently. It goes with my kitchen so I can just leave it out on the countertop all the time. 😉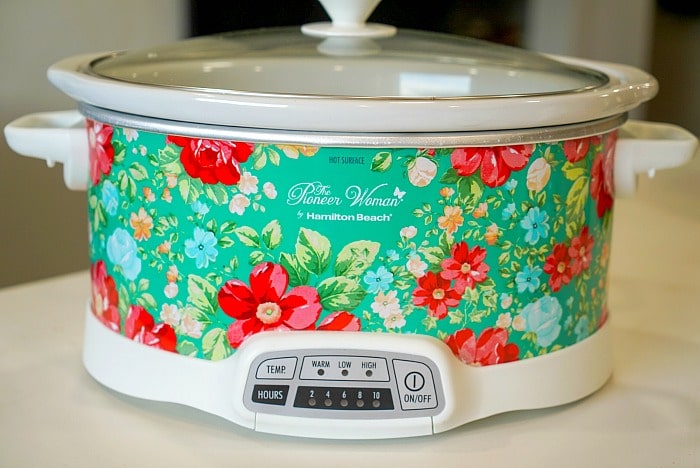 Slow Cooker Sesame Garlic Chicken
I make a lot of chicken recipes. It's kinda' my thing. It can get boring though night after night unless you have a few amazing sauces you can throw together to jazz that baby up. This seriously is the best honey Crockpot sesame chicken recipe you will ever try!
It's super versatile too which I love. If I have chicken breasts that are nearing their expiration date I can throw those in after cubing them up into large bite size pieces. Many times I want a cheap meal so a chicken thigh recipe is what I am going for. If I had a choice I would choose these, dark meat is more moist with more flavor. Period.
And then there's the killer sauce. I will say that more and more the grocery stores are offering ready to use just pour them into your pot sauces. You may be able to find one and in that case you can just use that, but this one is pretty darn easy to whisk together.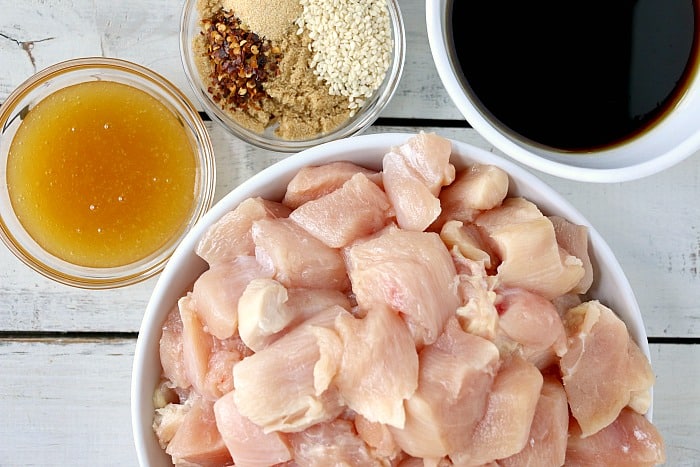 Slow Cooker Sesame Chicken Thighs
I will tell you that cutting up your proteins before you start cooking is best, especially when a sauce is involved. Reason being is it gets more tender and more so, soaks up the flavors way more than if they were left whole. This one is a bit similar to our Instant Pot spicy honey chicken, this sauce mixture is homemade and out of this world!
Since it's a slow cooker recipe it will take longer than 30 minutes to prep and cook though. I mean the prep isn't time consuming but you know what I mean. This is what you're going to need;
Chicken breasts
Soy sauce

gluten free soy sauce alternative here

1/4 cup Rice wine vinegar
Sesame oil
Honey
Brown sugar
Garlic powder
And then you can add some heat into the mix if you would like to. Once you have a serving of this you are going to go crazy over the sauce I tell you. You can use it with precooked meat as well! You may have leftovers from another meal and want to revive it. If you whisk this up and saute in a pan together you'll love it too.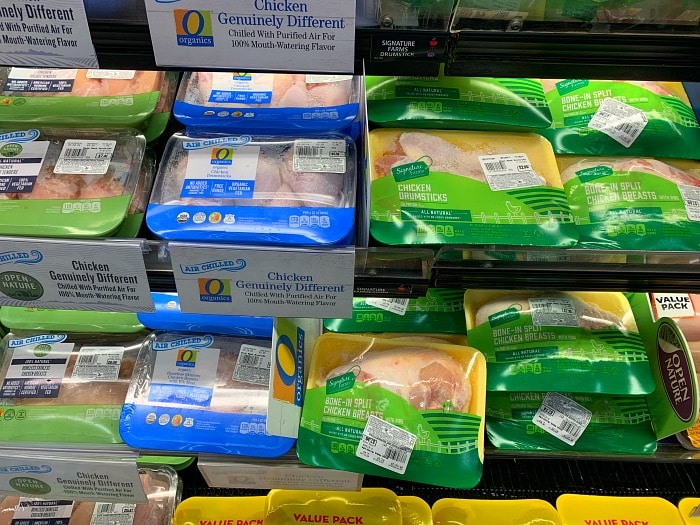 Crockpot sesame chicken
Crushed red pepper flakes and sesame seeds are of course optional add ins. If you want to add a hint of spicy to the dish I would add 1/4 tsp and fold that in at the beginning. Dry sriracha is a nice choice too if you have that on hand. OR just keep it mild as is and enjoy.
You may want a bit of corn starch to thicken the sauce when it's done
Instant Pot white rice is what we serve this over

brown rice could be served with it too
There really is very little prep that goes into this, which is why I love it. Total all in it's about a $20 meal that all 4 of us can enjoy together. That is a win in my book as I grew up paycheck to paycheck and always look for meals that we just love, are pretty healthy, and budget friendly too.
What is sesame chicken made of?
Traditionally this dish involves chicken, usually thighs, that are de-boned, battered and deep-fried. We are skipping the last part here which makes it more of a healthy sesame chicken recipe. It's dressed with a semi-thick sweet sauce made from cornstarch, vinegar, wine or sake, chicken broth and sugar, the last of which is a major contributor to sesame chicken's sweetness.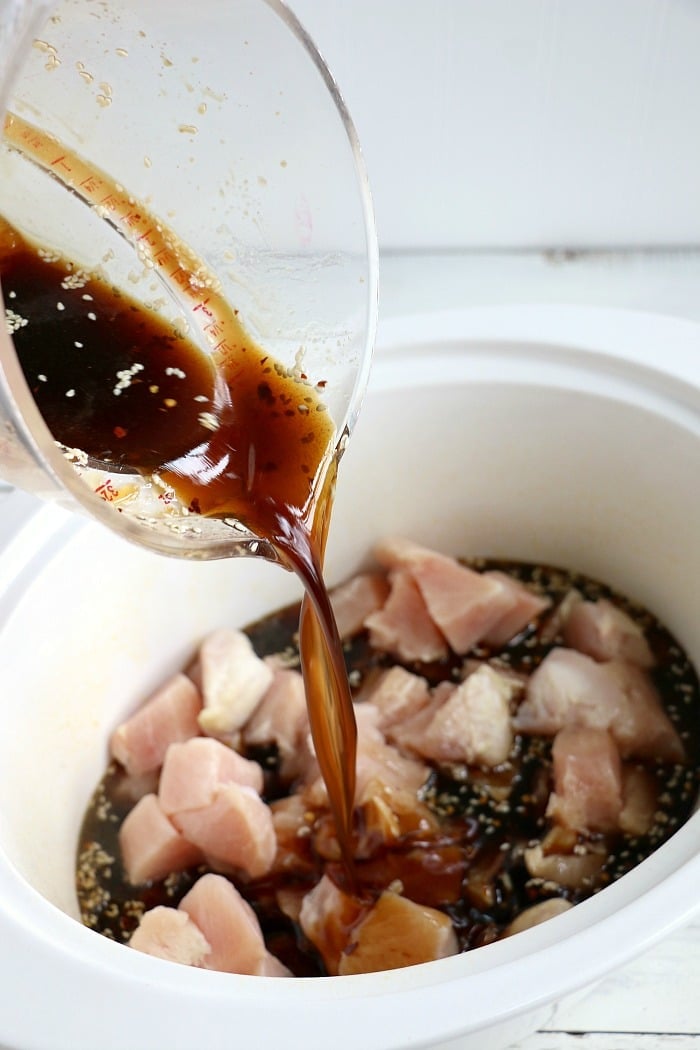 Slow Cooker Asian Chicken
The main ingredients are the same and if you chose to use thighs that wouldn't be an issue here. That is preference for sure. I swap out what I use with this as well as our Crockpot cheesy chicken and rice dish depending on what I have on hand really.
This is where it's at when you're thinking of what to cook this week. I guarantee it will become a new family favorite in your home too. I have a printable recipe for you at the bottom of this post you can keep in your folder at home, or just keep coming back again and again. Here are the basic steps to follow:
Dice chicken into bite size pieces and put into your slow cooker.
Whisk together all other ingredients other than your cornstarch and sesame seeds and pour that in too.
Cover and cook on low for about 3 hours until each piece is fall apart tender and smothered in sweetness.
Use a slotted spoon to remove the chicken and set aside. Cover to stay warm.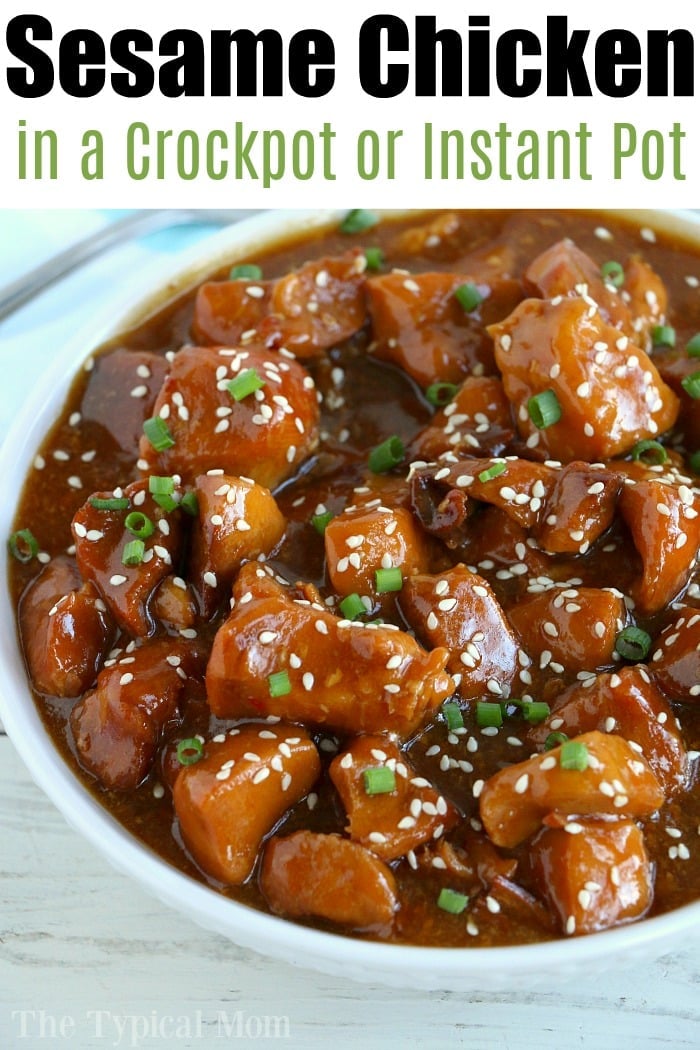 Sticky honey chicken in a slow cooker
If you want to thicken the sauce at the end this is what you're going to want to do; First off, pour liquid from Crock pot into a pan so it begins to boil.
In a small bowl I added the cornstarch and some water. Whisked them together until it was smooth, then poured it into the pot and stirred.

this will thicken your sauce
cooking time for this is just a few minutes, then remove from heat

Serve chicken over 1/2 cup to 1 cup of rice with steamed broccoli on the side and pour sauce on top.
Sprinkling sesame seeds on top with some chives is a nice added touch.
Now if you have any leftovers when you are done this really does save quite well. You always want to make sure you allow your food to cool off completely first. Then either store in a freezer bag zipped or in a container with a lid. Keep as much of that YUM sauce in there with your meat.
Then up to 3 days later transfer what you want to eat into a microwave safe bowl and heat for about 1.5 minutes stirring halfway thru until warm. You can alternatively pour it into a small pan with a lid over medium heat and stir until hot as well. The latter won't dry your meat out quite as much which is nice.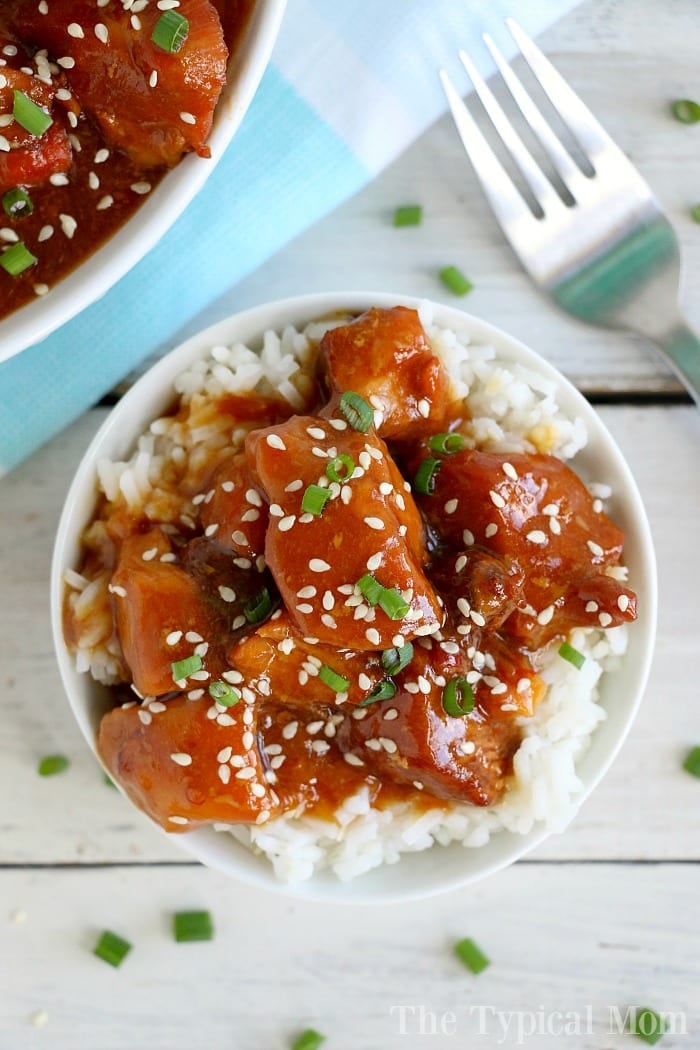 Is Chinese sesame chicken healthy?
Sesame chicken paired with rice can be a healthy meal. It is a good source of healthy carbohydrates and protein. Since we eliminated the large amount of oil used to deep-fry the chicken it reduces the fat dramatically, but maintains the same great taste.
What to serve with Crockpot sesame chicken is a lengthy list but of course we have our favorites. I like to go with the whole Asian theme when I make this and try to think of dishes that might pair well with it. Something we may get at a restaurant if we ordered this. A few ideas are;
Vegetables are always a great go to, freshly steamed, a mixture of your favorite florets.
Rice or quinoa I usually will make no matter what because I just make it with all the things, all the time.
Won tons we make in an air fryer and they are to die for. You can click on our link here to try them yourselves. Way easier than you might think and you can fill them with all the things.
Soup of some kind like egg drop or sweet and sour are nice. You can find packets at the store where you just add water to the mix and bubble on the stove to make.
Want to make this even faster?? Try our Instant Pot sesame chicken recipe! It cuts the cook time by a lot and honestly has the same delicious flavors.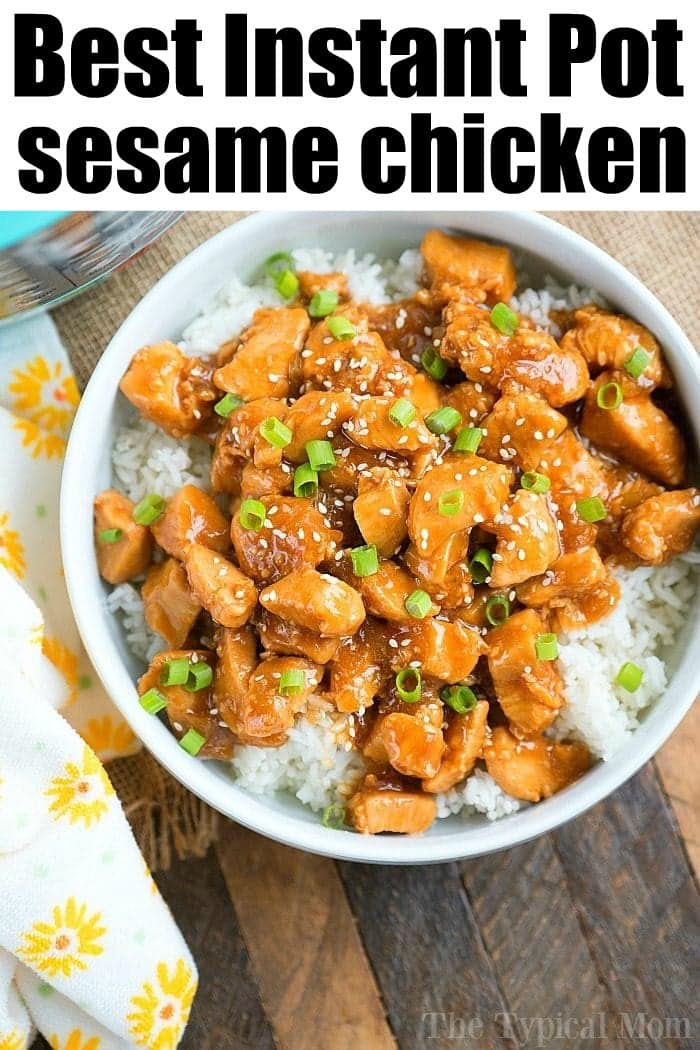 What is the healthiest Chinese food?
Kung Pao chicken – this spicy stir-fried dish of chicken, peanuts, a few vegetables and chili peppers is intense, so you'll likely eat less. A bit hard to make at home, I usually will wait until we go out to dinner to order this one. There are a few though, like this one, that aren't as difficult as you might think such as;
Beef and Broccoli is always a winner with our family
Broth based soups like egg drop or miso soup
Shrimp dinner choices
Chop suey is something new
Our Instant Pot cashew chicken is a WIN too if you love Asian inspired meals.
Want something spicy? Try our Crockpot buffalo chicken sliders. I mean you can wrap these like lettuce wraps, serve on little buns, and kids just love them!! You may need to make two batches if you have little ones with sensitive mouths vs. football fanatics showing up at your house to watch the big game.
Give this a whirl and let us know how much you love it!!
Want to see a few of my favorite things that I am totally obsessed with?? Take a peek and see how many you might already have…twinsies!
Looking for more easy family recipes and tips? LIKE The Typical Mom Facebook page?
Then sign up for my free newsletter, and follow me on Pinterest! 😉
***** If you LOVED this recipe give it 5 Stars below and let everyone know what you thought about it. 😉
Ok let's jump to the recipe below and get to cookin' y'all!!
Crockpot Sesame Chciken
Crockpot sesame chicken recipe is here! Sticky honey sweet chicken with a kick served on top of a bed of rice will be your favorite slow cooker meal.
Instructions
Place chicken in crock pot. Combine remaining ingredients in a small mixing bowl and pour over chicken.

Cook on LOW for 2-3 hours or until chicken is cooked thoroughly. Use a slotted spoon to remove chicken from pot and set aside in a bowl. Pour liquid from pot into a small saucepan. Bring to a boil.

Whisk together 1/4 c cold water and cornstarch until cornstarch is dissolved and smooth.
As sauce is boiling, slowly stir in cornstarch mixture until sauce is thick.

Pour sauce over chicken. Garnish with sesame seeds and chopped chives.
Nutrition Facts
Crockpot Sesame Chciken
Amount Per Serving (3 oz)
Calories 415
Calories from Fat 81
% Daily Value*
Fat 9g14%
Cholesterol 96mg32%
Sodium 2345mg102%
Potassium 685mg20%
Carbohydrates 48g16%
Protein 36g72%
Vitamin A 95IU2%
Vitamin C 2mg2%
Calcium 39mg4%
Iron 2mg11%
* Percent Daily Values are based on a 2000 calorie diet.