Tender slow cooker beef tips with gravy is great on top of mashed potatoes or rice. Throw beef stew meat and gravy in a Crockpot in the morning and dinner is done.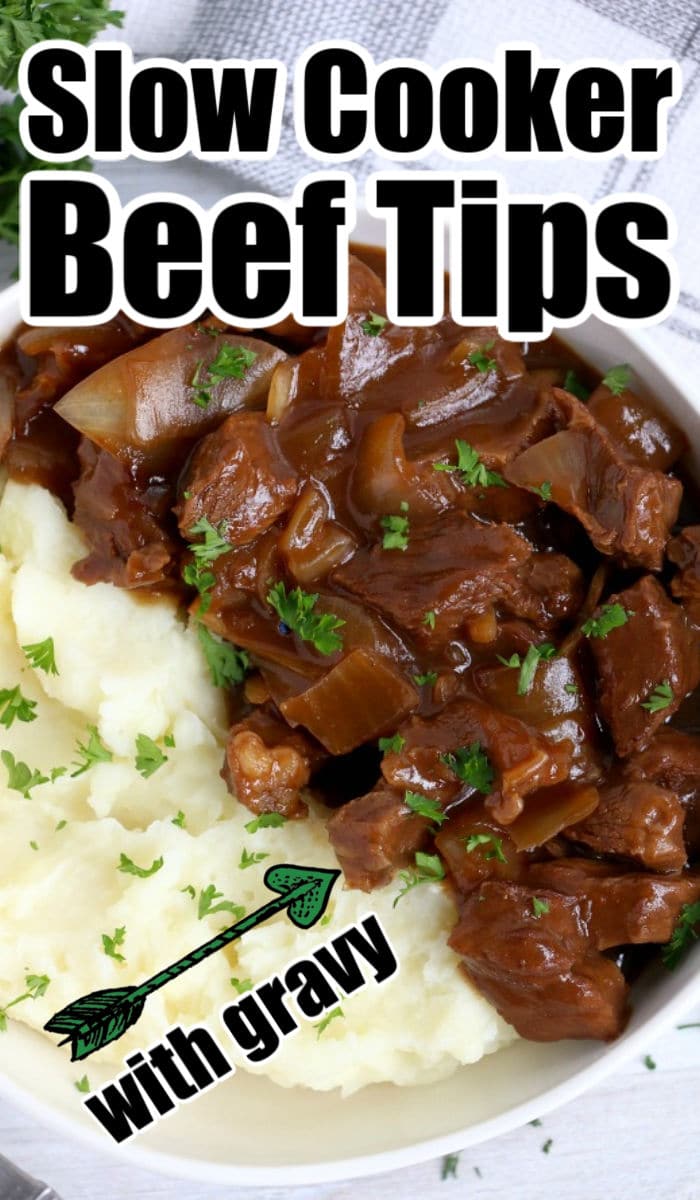 Slow cooker beef tips with gravy is the best! That's what my kids say too. 😉 A hearty beef recipe that is cheap with a ton of flavor. One of our favorite Crockpot recipes. Sponsored by Idaho Beef Council. (originally published 6/20, affiliate links present)
Slow Cooker Beef Tips and Gravy
SO tender and packed with flavor, you only need 4 ingredients to make it too. I am telling you, this is one of our favorite meals. There are tons of ways to serve this.
Over tater tots or as is in a bowl it is fabulous. I assure you even your kids are going to rave over this meal and ask you to make it again.
If you too love slow cooker recipes of all kinds, you're going to go crazy over this one. First let's go over a few resources: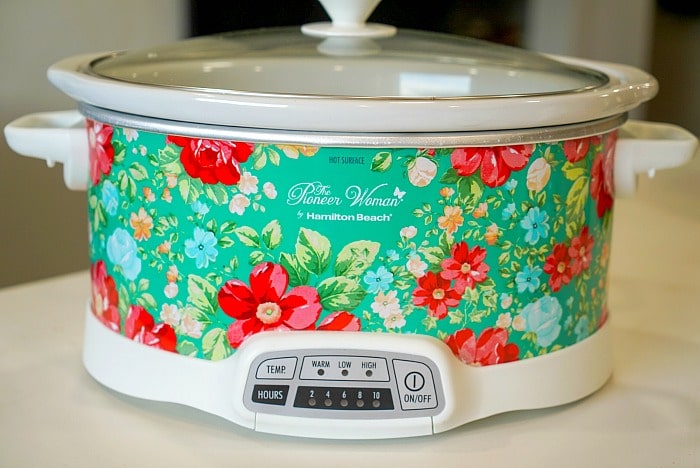 Crockpot beef tips
If you have ever had these at a restaurant and they were drowning in a thick stew like gravy, this is that. You may think it is a lot of work to get all of those flavors the meat is swimming in but you can get them a bit of a cheater way which we will share with you today.
I'm all about EASY when we have a busy day ahead.
With 3 pantry ingredients + some stew meat you too can throw this together in less than 15 minutes.
Talk about meal prep done in a snap! 😉 Using either store bought stew meat that is already sliced into bite size pieces or cut up beef or steak this turns out great. Many times if I have meat that needs to be cooked this is my go to dish.
Stew Meat Recipe
It makes everyone's palate happy spooned over a bed of mashed potatoes and my wallet is pleased too since it's so cheap. Let us show you how to make this with inexpensive stew meat and a little of this and a little of that.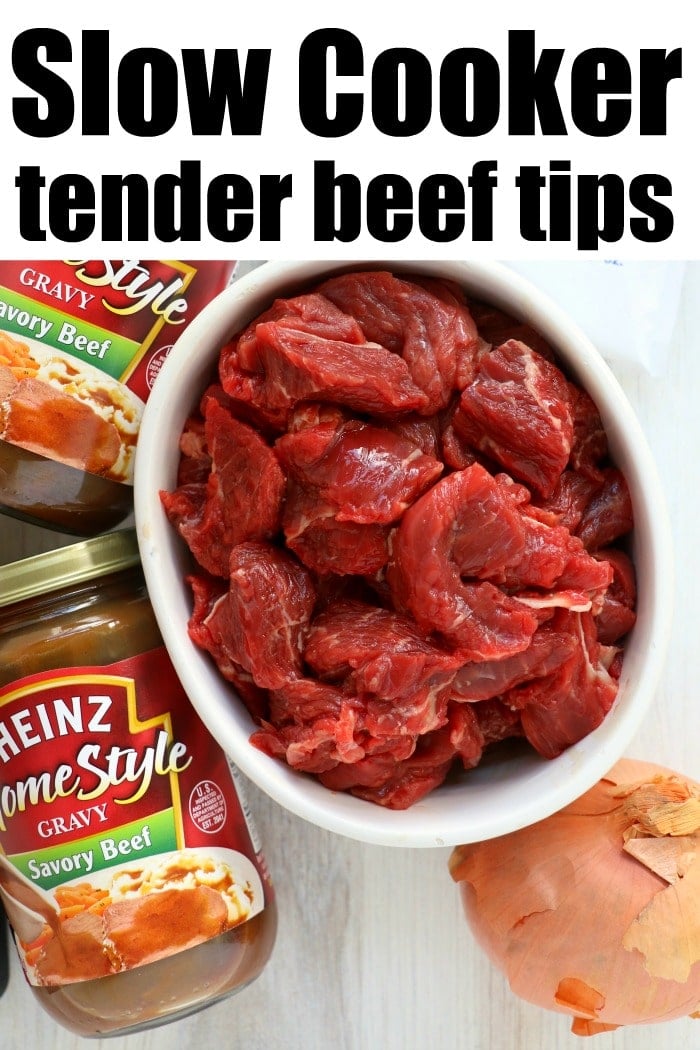 Here are a few questions you might have before you begin. I hope they help you:
What kind of meat is used for beef tips?
I mean you can use what you like to to make Beef Tips and Gravy. Stew meat like chuck roast already cut up into cubes at the store is the cheapest and turns out super tender. If I have steaks that need to be used I might use those. Use what you have on hand I always say.
How do you tenderize beef tips?
Well in this case we're going to slow cook them. Nothing beyond that is necessary since it is a long slow cook. If not, you could beat it. Using a marinade works well too. Acids can help break down tough meat.
Are beef tips fatty?
It really depends on the type of meat you use. Tenderloin or cubed sirloin roast would be the leanest. Stew beef would have more fat BUT are said to be the most flavorful!
For under 20 bucks you can make this comfort food that everyone will just love. I call that a real win when I can feed all 5 of us for that!
Beef tips Crockpot recipe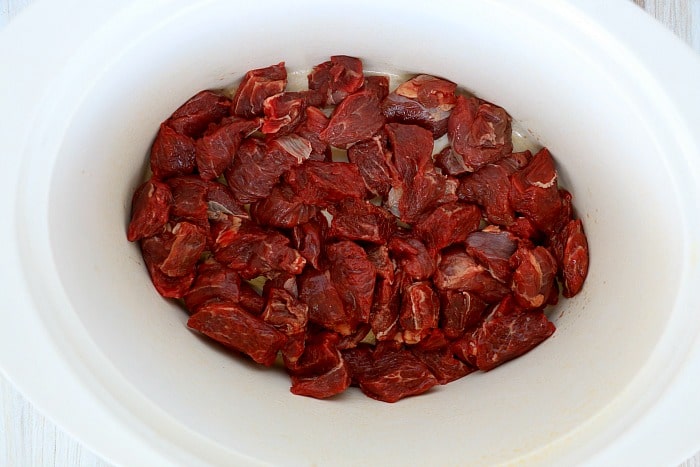 Easy Crockpot Beef Tips with Gravy
Why do we love this recipe? Let me count the ways! If you're like us you cook a lot of ground beef and like to change it up a bit throughout the week. That is why I use stew meat quite frequently.
Since it is packed with protein, but quite inexpensive compared to other cuts it is a no brainer when meal planning.
We have A LOT of beef to choose from because we buy 1/2 a cow at the beginning of each year from a local farm.
I love knowing our Idaho beef is grass fed organic beef AND it's one less thing I have to shop for year round. Bonus!
Ingredients you will need:
Beef
Onion soup mix packet
Sliced or diced onion
Gravy
Salt and pepper to taste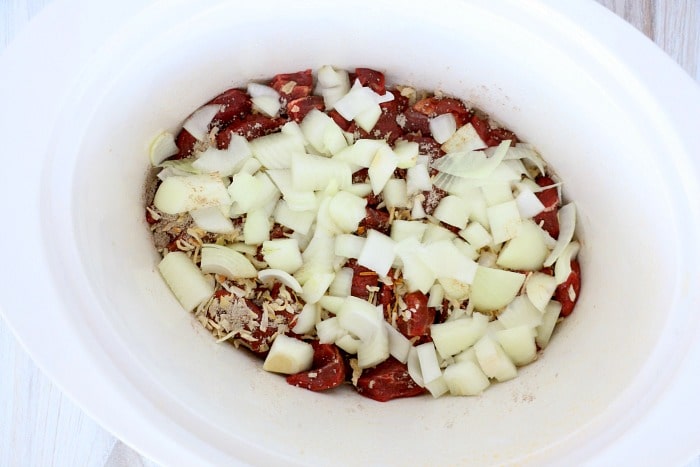 Crock pot Beef Tips and Gravy
Comfort food at it's finest I tell you. You can find a variety of ways to make this online. Some use cream of mushroom soup and I've tried that, I think gravy has a lot more flavor.
If you buy stew meat it will already be cubed and ready. Using any other cut and you'll need to do this yourself. Smaller the pieces the more tender the meat.
Put your meat, packet of dry onion soup mix, diced onions, and gravy into your pot. Onion and garlic powder could be added too. Add seasonings of choice. Stir everything together so it's coated.
Cover with the lid and cook for 6-8 hours on low. As soon as the pieces are fork tender they're ready!
Use a ladle and serve in a small bowl over 1/2 cup egg noodles or served over mashed potatoes.
This is what it will look like prior to cooking. Stir it all together so your meat is nicely coated with all that goodness. It will really soak it up amplifying all the natural great flavors of your bite size beef pieces.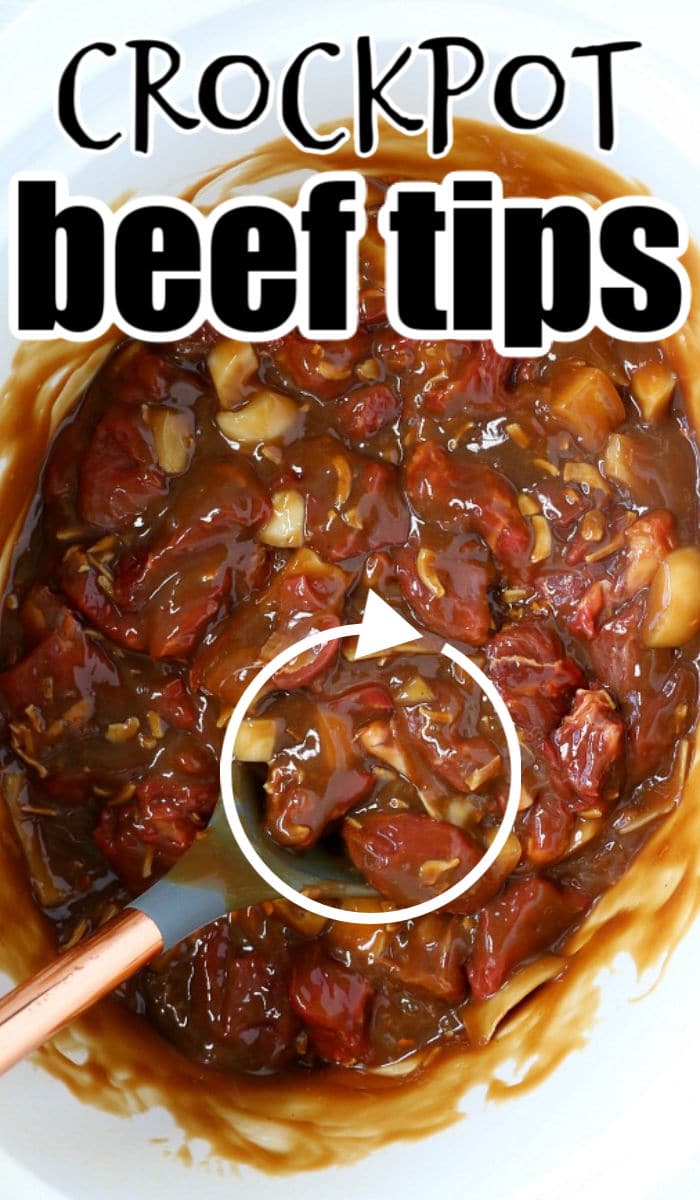 This is a great recipe you can leave thick once it's ready, or thin a bit with some beef broth. I prefer as thick as possible myself. It just depends on what kind of day I have ahead of myself as to my method of cooking.
If we're headed out for a full day of exploring I'd rather throw it all in my slow cooker and have it ready.
The last thing I want to do after a day in the sun is cook. It's just not going to happen.
I do love my Instant Pot and it does make a meal cook super fast, but I'm usually done for the day.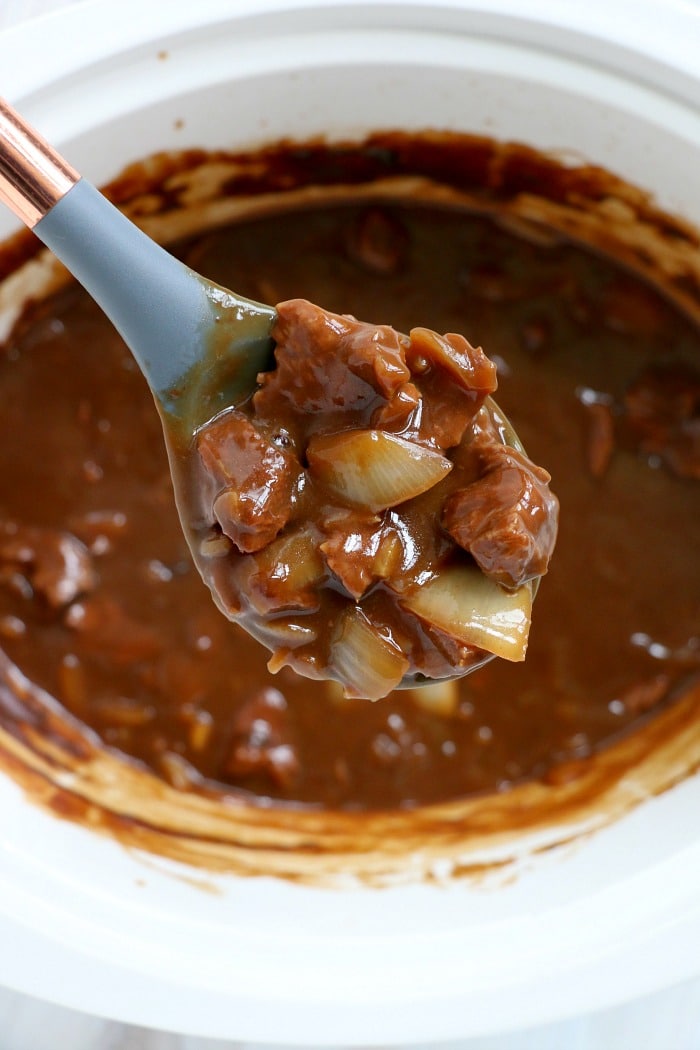 Of course you could opt to season your beef, sear over medium high heat with some olive oil and then simmer with the gravy a bit. I just find this doesn't get fork tender like you do cooking on low all day. Decide for yourself my friends. 😉
What can I use stew meat for besides stew?
There are TONS of options but this one is probably on top of the list. Need others?
If you love slow cooker beef stew I would use this cut too, or Dutch Oven stew is killer too.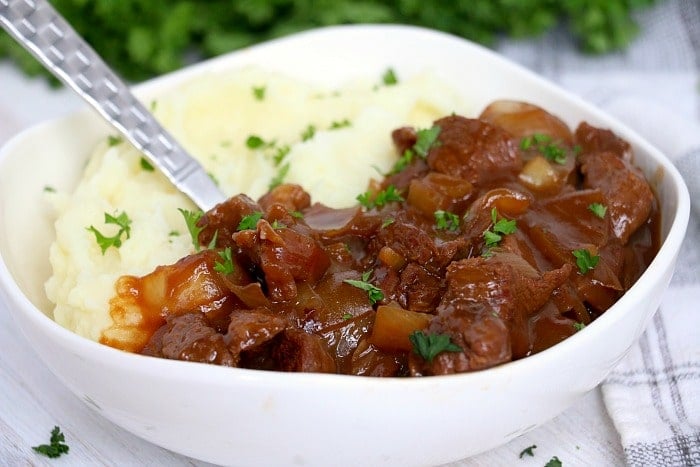 Can you reheat cooked beef?
Yes!! If you're going to want to reheat make sure you put leftovers in airtight containers within an hour and refrigerate.
When you're ready to reheat it, warm in a pan over low heat, stirring consistently.
Consume leftover beef in fridge within three to four days. Before consuming, ensure the internal temperature is at least 165 °F to be safe.
Can you reheat cooked beef in microwave?
Reheating beef in a microwave is obviously the quickest option overall. BUT just know that reheating anything more than a couple of minutes will likely result in it becoming quite dry.
To make it a bit better, place what you want to eat in a microwavable dish. Add a small amount of broth inside, mix in with sauce and protein and cover with a microwave safe lid to keep in the moisture.
Another great meal is our beef and noodles Instant Pot recipe
If you want to make an excellent version of this in less than 30 minutes you can do so too.
Follow our Instant Pot beef tips recipe if you'd prefer that method.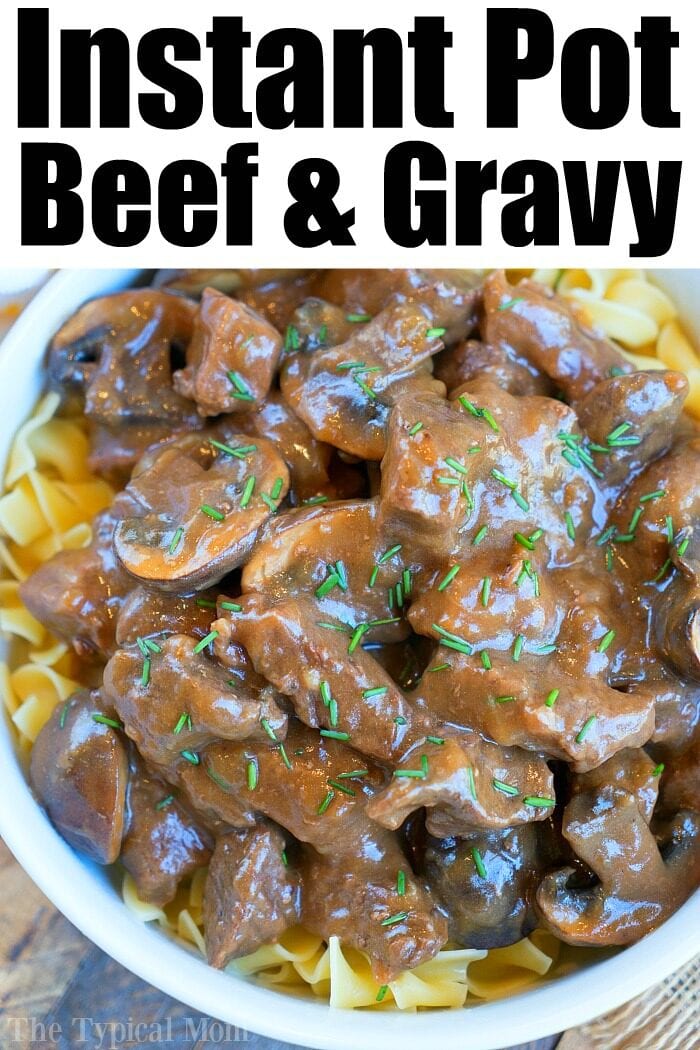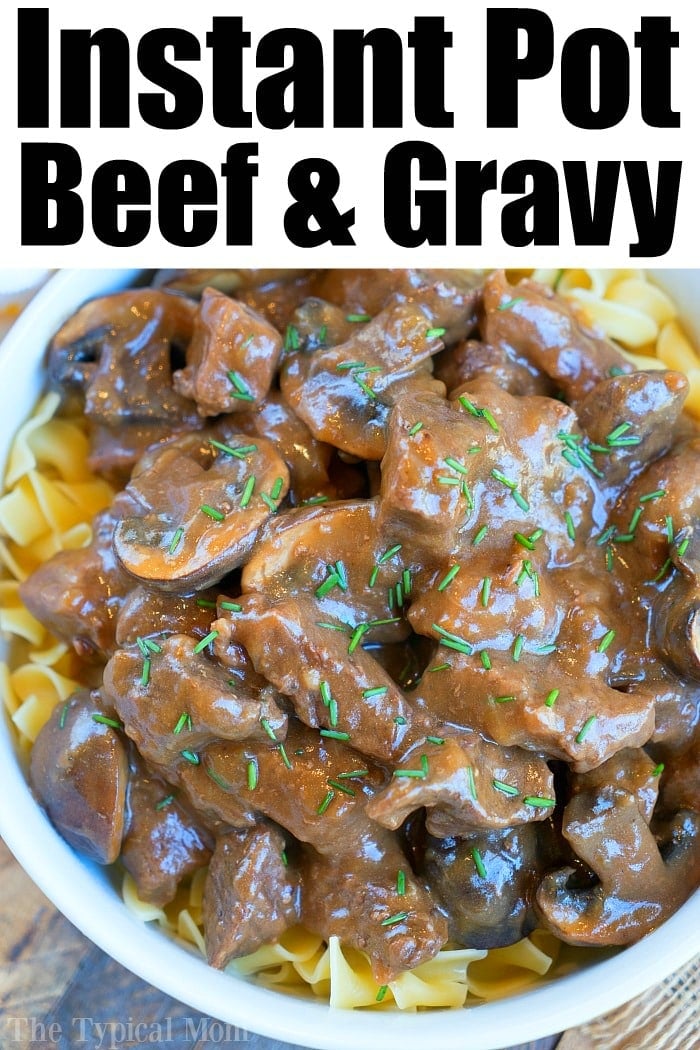 Best way to save cooked beef
You should store it separately than your side dishes. As always you should make sure the meat is room temperature before you transfer it into an airtight container. Ensure all the air is out and add as much gravy or sauce on top as you can, this will maintain the moisture. You will want it when reheating too.
When you reheat cooked beef you want to do it low and slow. If you're using a microwave do so in 30 second increments stirring in between times. You could use a small pot on the stove over low medium heat too.
Below is a printable version of this recipe. Of course you can add additional seasonings but as is stated below comes out packed with flavor.
If you only have steaks, dice those up and use that instead. Whatever works!
Want to see a few of my favorite things that I am totally obsessed with?? Take a peek and see how many you might already have…twinsies!
Looking for more easy family recipes and tips? LIKE The Typical Mom Facebook page?
Then sign up for my free newsletter, and follow me on Pinterest! 😉
***** If you LOVED this recipe give it 5 Stars below and let everyone know what you thought about it. 😉
Slow Cooker Beef Tips
Slow cooker beef tips are great on top of mashed potatoes or rice. Throw beef stew meat and gravy in a Crockpot and dinner is done.
Instructions
Put all ingredients into your slow cooker and stir together so meat is coated.

Cover and cook on low for 6-8 hours until beef is cooked through and falling apart when picked up with a fork.

Serve over mashed potatoes, noodles or rice.
Nutrition Facts
Slow Cooker Beef Tips
Amount Per Serving (2 oz)
Calories 56
Calories from Fat 9
% Daily Value*
Fat 1g2%
Cholesterol 7mg2%
Sodium 792mg34%
Potassium 56mg2%
Carbohydrates 9g3%
Protein 2g4%
Vitamin C 1mg1%
Calcium 10mg1%
Iron 1mg6%
* Percent Daily Values are based on a 2000 calorie diet.