This easy beef stew casserole is comfort food at it's finest!! Packed with tender meat, a thick sauce and lots of vegetables you and your kids are sure to have seconds! Use stew meat or ground beef to make this simple casserole that may become your new family favorite meal.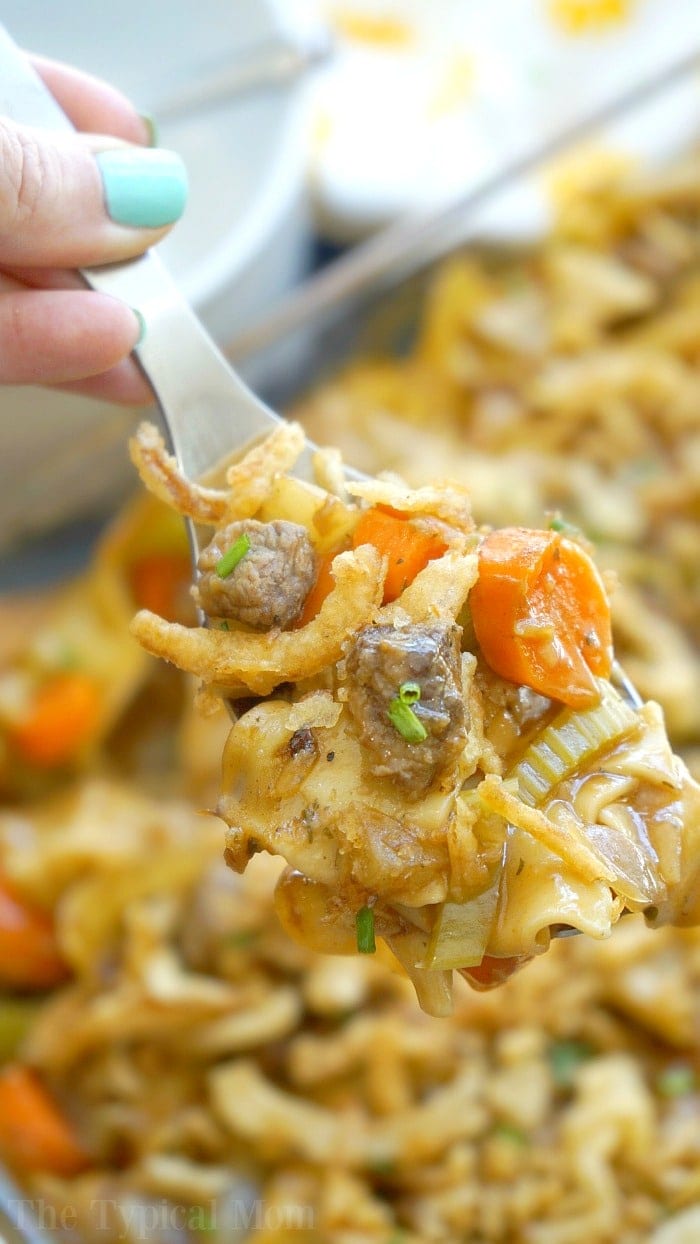 If you're a busy mom like me you love a good casserole recipe! My favorite is this easy beef stew casserole recipe we make regularly! It's on the top of our list of quick and easy casseroles! Adjust as you wish according to the vegetables you love but potatoes, celery, onions, and carrots are a must in our beef stew. (originally published 2/17, affiliate links present)
Beef Stew Casserole
A close second is this easy Swedish meatball casserole made earlier this year. They both have the same idea where you saute the meat until no longer pink, make the sauce and add noodles. I like adding diced vegetables, usually frozen, but that is up to you and of course optional. And you can go from there….
After the meatballs, I made this one after thinking about our other favorite meals. Top of the list, it had to be our beef stew.
It only makes it better adding noodles and fried onions though!
That is right, French's fried aren't just for on top of green beans at Thanksgiving y'all. They add a ton of flavor to any meal and a texture on top when you have an overall soft dish overall.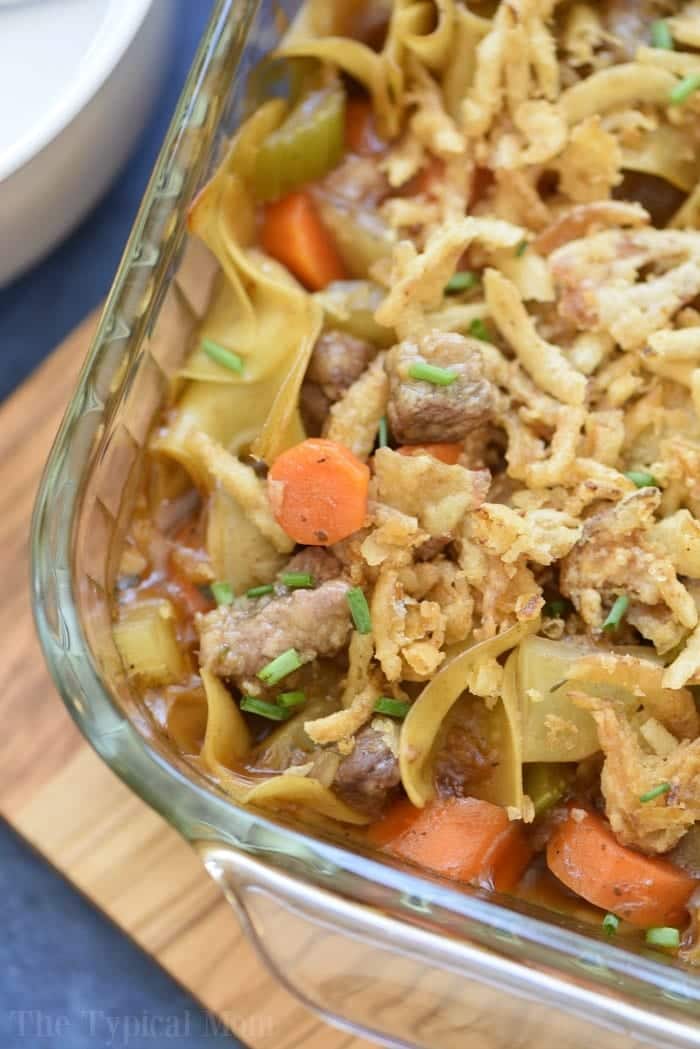 Quick Beef Casserole in Oven
Ok so we make a lot of stew meat recipes around here. If you grew up in the 80s I bet your mom did quite a few too. Why?? Um because that cut is kinda' the leftovers so it is sold super cheap. We buy half a cow each year so we get quite a few packages of it that needs to be used up. I hate wasting food so that isn't an option.
Here are the instructions as well as a video below showing you how to make beef stew casserole at home. You want to dice your vegetables up like you see here, the thicker the carrots the more turgid they'll be.
Next I cut the beef stew meat into very small bite size pieces (the smaller the more tender they will get, you can substitute with ground beef too if you prefer). I like lean meat, or trim fat off while I'm dicing the meat.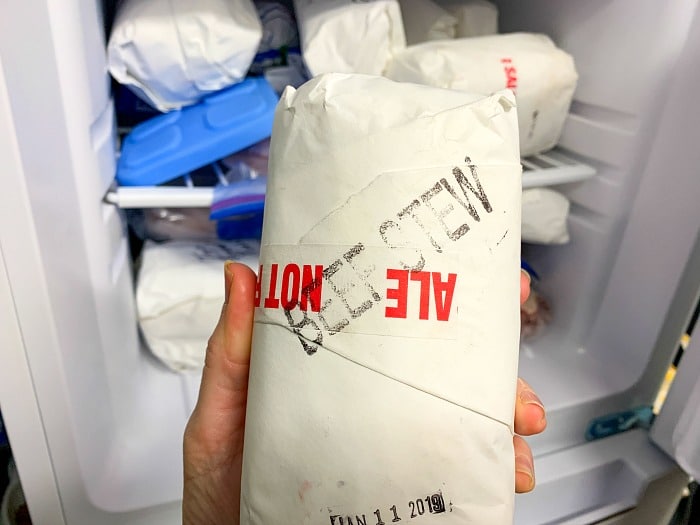 Beef Stew with Noodles
Then pre-cook (boil) the egg noodles just so they're slightly al dente (they will cook more in the oven). You could certainly cook it all and just serve it right out of the pot as is. It won't thicken quite as much but would save time if you skipped the whole oven timing all together.
Add beef pieces with olive oil, brown outsides, and simmer all ingredients together in a large pot on medium high heat.
Then whisk a bit of beef broth in a small bowl with a packet of beef stew seasoning until it's smooth.
Then I add my egg noodles, stir, and pour it all in a 9×13 or so baking dish.

You could probably use a dutch oven instead of a casserole dish too.

After 30 minutes of baking I take the foil off and sprinkle with crunchy fried onions and put back in for 5 min. to get crispy. (yes the ones you put on green beans, so good)
Sprinkle with salt and pepper, serve and enjoy!
Now on to the detailed directions below so you can make this easy beef stew casserole yourself!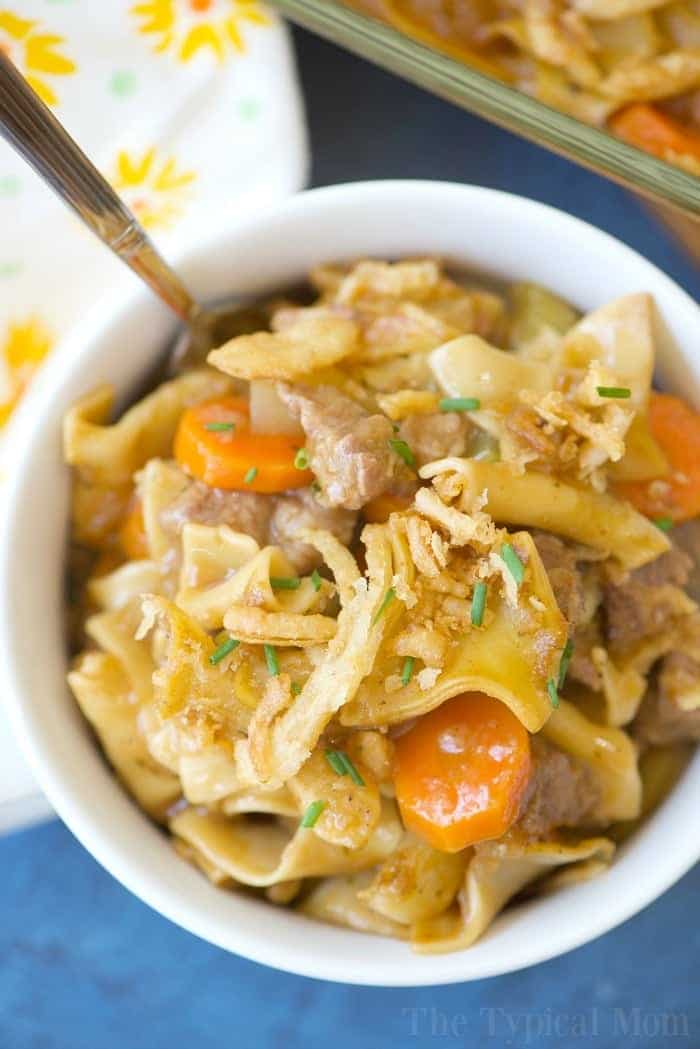 Easy beef stew casserole
I use a 9×13 glass pan for this one. You could use a bit larger or a casserole dish around that size too if that is what you have.
Stew meat

or dice up any type of beef or steak
you could even use ground beef if you'd rather

Egg noodles
Celery
Carrots
Potatoes
Onion
Flour
Packet of beef stew seasoning
Beef broth
French's canned onions
If I do have time I will make our own crispy fried onions. That isn't always the case so I always have a container or two of the other handy.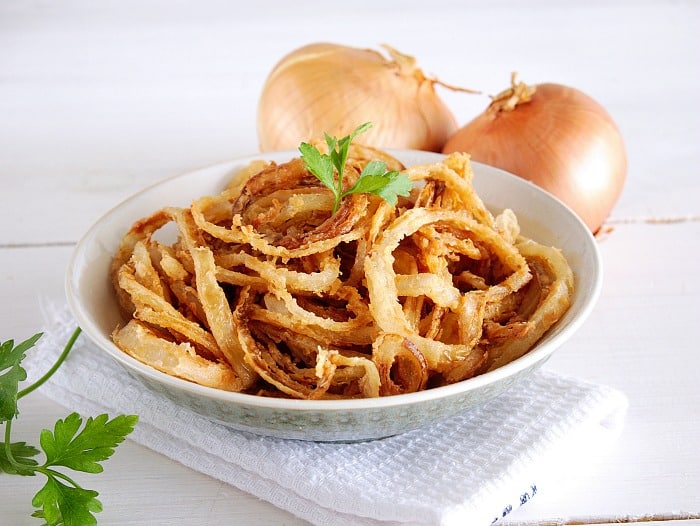 Easy Stew Meat Casserole
If you love carrots but not fond of celery, then just add more of those. If you like them really soft then make sure to slice your carrots thinner, or thicker.
The larger the vegetables are the firmer they will be once this is done. The ones you see here turned out soft but not mushy which is how I prefer them.
Same goes with your potatoes. I dice those pieces so they are nice and soft when this beef stew casserole is one, and topped with some green onions or chives it's just an amazing comfort food I am sure your whole family will love.
Looking for more casserole recipes?
Slow cooker stew is another method of cooking.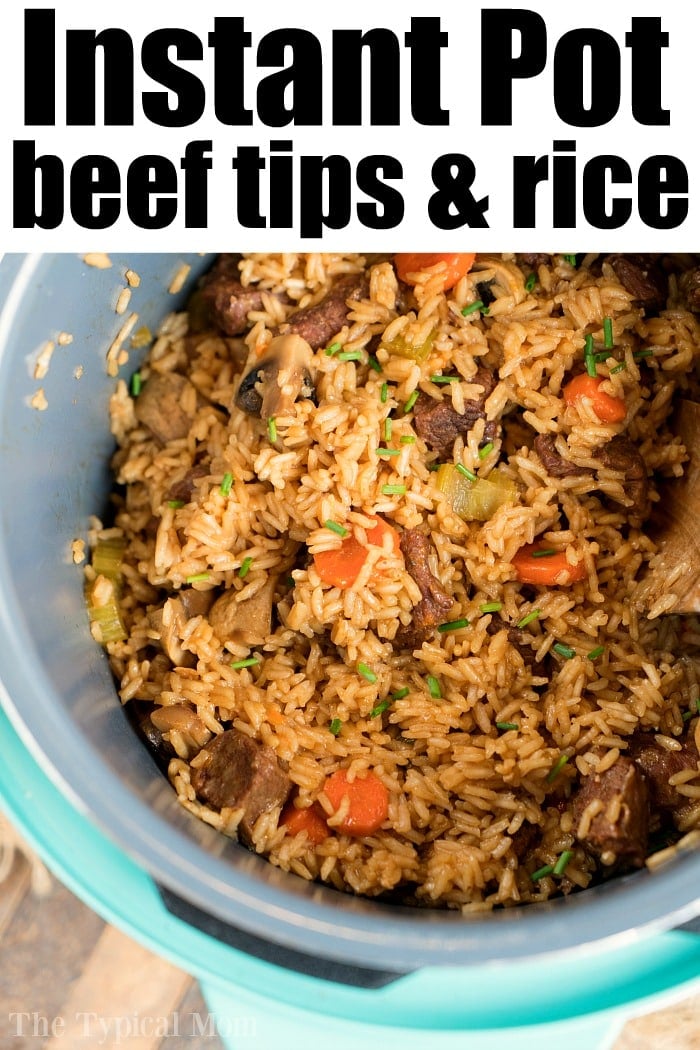 What is the difference between a casserole and a stew?
I feel like you can call anything whatever you want really but the distinction between the two is the cooking process. A stew or chicken stew is where heat is applied to the bottom of the pot, over a fire or on a stove, versus a casserole that is generally baked in the oven.
They are both one pot meals where you can throw in ingredients you have on hand and love it.
Keep in mind that the smaller the pieces of meat and veggies are the more tender they will become.
Thus I make beef pieces small, and vegetables larger so they don't fall apart.
Want to see a few of my favorite things that I am totally obsessed with?? Take a peek and see how many you might already have…twinsies!
Looking for more easy family recipes and tips? LIKE The Typical Mom Facebook page?
Then sign up for my free newsletter, and follow me on Pinterest! 😉
***** If you LOVED this recipe give it 5 Stars below and let everyone know what you thought about it. 😉
Easy Beef Stew Casserole
This easy beef stew casserole is comfort food at it's finest!! Packed with tender meat, a thick sauce and lots of vegetables you and your kids are sure to have seconds! Use stew meat or ground beef to make this simple casserole that may become your new family favorite meal.

Instructions
Cut up your carrots and celery. Skin all or half the skins off your potato and dice into small pieces. Dice your onion.

Cut your beef stew meat pieces into smaller pieces (in half or 3 pieces each)so they get nice and tender when cooking.

Toss beef stew meat in flour using a baggie so outside is coated.

Add olive oil to a pot and add your stew meat.

Brown the outsides, then add your beef broth.

Keep on medium heat so it begins to boil.

Add all of your vegetables and stir.

In another bowl add your beef stew seasoning mix and scoop some of your warm beef broth into that bowl. Whisk together well.

Pour this mixture into your pot and stir. Allow to boil for about 5 minutes.

In a separate pot on the stove add your 4 c. of uncooked egg noodles and cook until al dente.

Drain and add noodles to beef stew pot, stir.

Pour beef stew / noodle mixture into a 9×13 casserole dish and cover with foil.

Put into the oven at 350 degrees for 35 minutes. Uncover and sprinkle crispy fried onions on top.

Bake uncovered for 5 minutes.
Nutrition Facts
Easy Beef Stew Casserole
Amount Per Serving (6 oz)
Calories 286
Calories from Fat 108
% Daily Value*
Fat 12g18%
Cholesterol 60mg20%
Sodium 441mg19%
Potassium 330mg9%
Carbohydrates 22g7%
Protein 19g38%
Vitamin A 3880IU78%
Vitamin C 2.1mg3%
Calcium 29mg3%
Iron 2.1mg12%
* Percent Daily Values are based on a 2000 calorie diet.