This is how long to cook egg noodles on the stove boiled, in a pressure cooker, cooking noodles in a Crock Pot and how to make them from scratch too.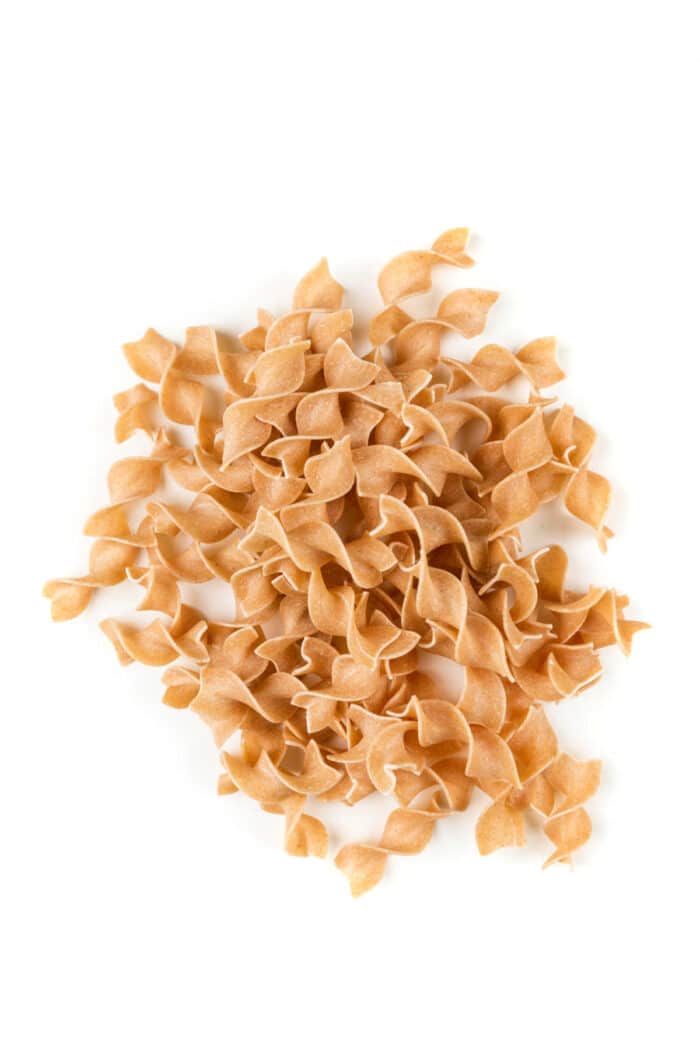 Cooking egg noodles to perfection requires a few essential steps and considerations. Here we will explore how to cook store bought to achieve the best results, to preparing the dough to serve with your favorite mouthwatering dish. (affiliate links present)
How Long do Egg Noodles Take to Cook
Egg noodles are a versatile and delectable addition to various dishes, whether it's beef stroganoff, chicken noodle soup, or our Instant Pot beef and noodles dish. Their delicate texture and ability to absorb flavors make them a popular choice in many households.
Store-bought egg noodles typically come in sealed packages and are often labeled as "egg noodles" or "wide egg noodles." They are made from a simple mixture of eggs, flour, and salt. These ingredients give the noodles their rich flavor and unique texture. When purchasing store-bought egg noodles, opt for high-quality brands to ensure the best taste and consistency in your dishes.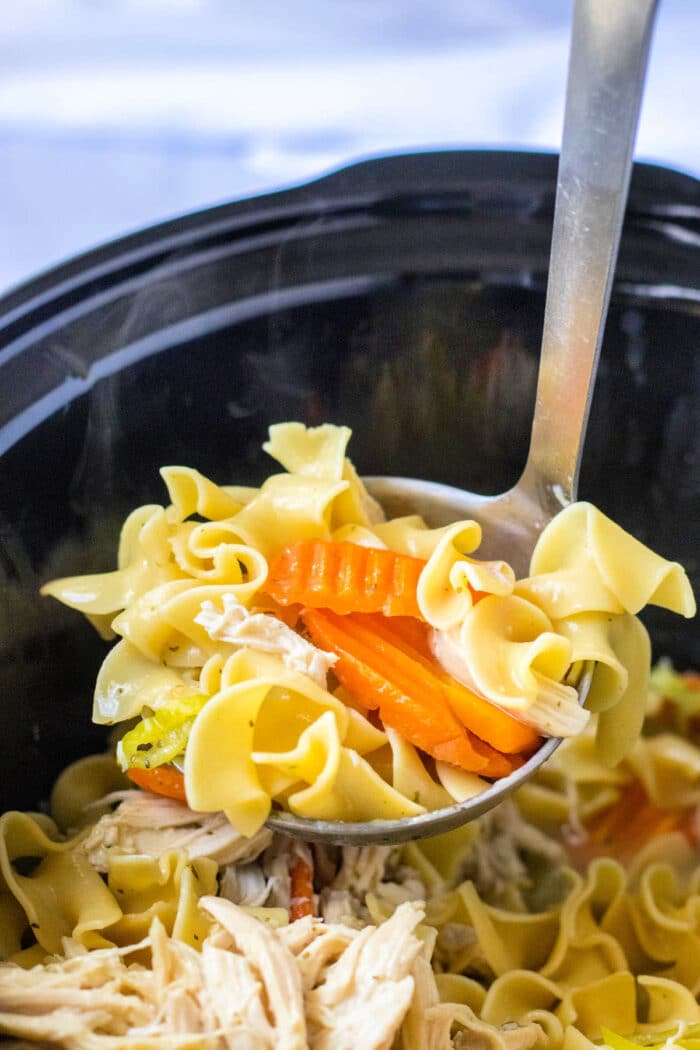 How Long to Cook Egg Noodles in Crock Pot
If you want to cook low and slow I always recommend doing it with other ingredients, like a soup. Our Crockpot egg noodles and chicken as you see here comes out quite well. You can add enough broth at the end for them to be submerged, or cook separately and add them in at the end.
I add them right into the pot with our Crockpot chicken soup that is great when you are feeling down and not so great. I'll tell you that it takes about the same amount of time to get them tender this way as it would if you just boiled them on the stove, but up to you.
How to Boil Egg Noodles
Before cooking the egg noodles, it is crucial to prepare the cooking water. Fill a large pot with water and bring it to a rolling boil. Adding salt to the water not only enhances the noodles' taste but also prevents them from sticking together during cooking. Aim for around 1 tablespoon of salt for every 4-6 quarts of water.
Once the water is boiling and seasoned with salt, carefully add the egg noodles to the pot.
Stir gently to ensure all the noodles are submerged and evenly cooked.
The cooking time for store-bought egg noodles varies, but it typically ranges from 5 to 8 minutes.

Follow the instructions on the package
Be sure to taste the noodles during cooking to achieve your desired level of doneness.
How to Tell if Egg Noodles are Done
To determine if the egg noodles are perfectly cooked, remove a strand from the pot and let it cool slightly. Take a bite and check for the desired texture. The noodles should be tender yet slightly firm or al dente. Avoid overcooking them as this can result in a mushy consistency.
Once the egg noodles have reached the desired level of doneness, drain them immediately in a colander. Avoid rinsing them with cold water, as this can remove the starchy coating that helps sauces adhere to the noodles. However, if you plan to use the noodles in a cold dish like a pasta salad, rinsing with cold water can help stop the cooking process and cool them down.
How Long to Cook Egg Noodles in Pressure Cooker
Store-bought egg noodles can be used in a wide array of dishes, or kept plain like our pressure cooker butter noodles. That makes them a versatile ingredient in any kitchen. They are a perfect complement to beef stroganoff, absorbing the rich and creamy sauce beautifully. Simply cook the egg noodles as instructed and then toss them with your prepared beef stroganoff just before serving.
For a delightful side dish, sauté cooked egg noodles with a bit of butter and herbs such as parsley or thyme. This quick and easy preparation brings out the noodles' subtle flavors and makes a fantastic accompaniment to roasted meats or grilled vegetables.
How to Make Homemade Egg Noodles
If you want to take your egg noodle game to the next level, consider making homemade egg noodles. To create the dough, combine eggs and flour in the right ratio. A common guideline is to use one egg per one cup of flour. Mix the ingredients until a dough forms, then knead it on a floured surface until it becomes smooth and elastic.
Knead the dough to the desired thickness, use a rolling pin to flatten it into a thin sheet. To cut the noodles, you can use a sharp knife or a pasta machine with a noodle attachment. The thickness of the noodles depends on personal preference, but generally, thinner noodles cook faster, while thicker ones offer a heartier texture.
How to Cook Homemade Egg Noodles
To cook , once you have a large pot full of boiling water that has been salted add the fresh noodles and cook them for approximately 2 to 4 minutes. Faster than regular pasta varieties. Timing will depend on their thickness. The key is to monitor them closely and taste test for the desired consistency.
In conclusion, cooking egg noodles is a simple yet rewarding process that can elevate your culinary creations to new heights. Whether you opt for store-bought egg noodles or venture into the realm of homemade pasta, the key lies in the proper cooking technique to achieve the desired texture and flavor. Remember to cook them in boiling, salted water, test for doneness during cooking.
Avoid overcooking to prevent mushy noodles. With these tips in mind, you can now confidently cook egg noodles for your favorite dishes, be it a comforting bowl of chicken noodle soup or a luscious beef stroganoff. Enjoy the delightful taste and texture of perfectly cooked egg noodles in your culinary adventures!
Want to see a few of my favorite things that I am totally obsessed with?? Take a peek and see how many you might already have…twinsies!
Looking for more easy family recipes and tips? LIKE The Typical Mom Facebook page?
Then sign up for my free newsletter, and follow me on Pinterest! 😉
***** If you LOVED this recipe give it 5 Stars below and let everyone know what you thought about it. 😉
How Long to Cook Egg Noodles
Ingredients
6

c

wide egg noodles

1

pinch

salt
Instructions
Bring a pot of water to a boil over medium high heat. Salt the water. Once a rolling boil is achieved turn down to medium and add noodles.

Submerge with a spoon, stir every minute for 6-10 minutes until they are as tender as you would like.

Drain with a colander and run cold water over the top for 15-30 seconds to stop them from continuing to cook and get softer.

Serve as desired. Common to toss with butter and garlic salt to be served as a snack or side dish.
Nutrition Facts
How Long to Cook Egg Noodles
Amount Per Serving (2 oz)
Calories 219
Calories from Fat 27
% Daily Value*
Fat 3g5%
Cholesterol 48mg16%
Sodium 22mg1%
Potassium 139mg4%
Carbohydrates 41g14%
Protein 8g16%
Vitamin A 35IU1%
Calcium 20mg2%
Iron 1mg6%
* Percent Daily Values are based on a 2000 calorie diet.