Here's an easy 10 minute Instant Pot spaghetti recipe that's one of our favorite one pot meals ever! A family favorite dinner that you just dump and go and only requires a few ingredients to make. A complete pasta dish that feeds all five of us for under ten dollars, that's a big win in my book!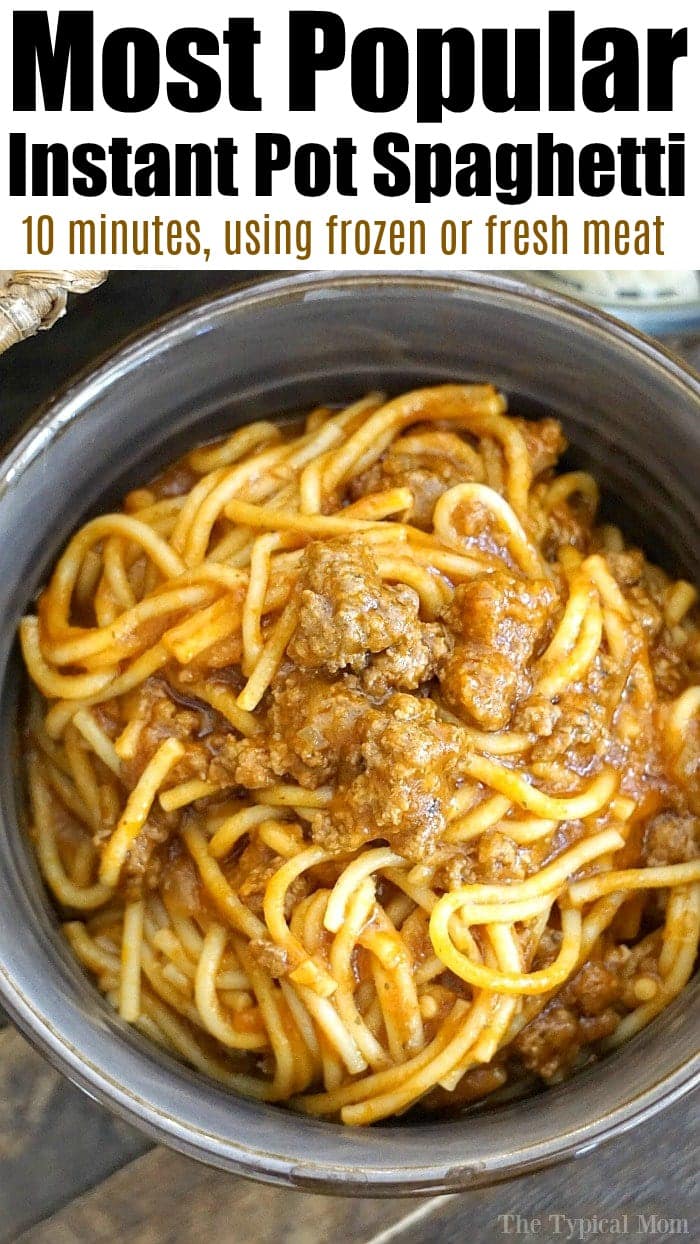 One of our favorite easy recipes was cooked tonight. The cook time was much faster than usual though. I am obsessed with my new pressure cooker! I had to make Instant Pot spaghetti to see just how much easier it would be. Here's how to make this Instant Pot recipe today 😉 (originally published 2/17, affiliate links present)
With everything cooked in one pot it came out perfectly in just 10 minutes AND it's been on the most popular Instant Pot recipes TWO years in a row!
So yummy right??!! It's truly a grab your Instant Pot and set, then GO type of recipe.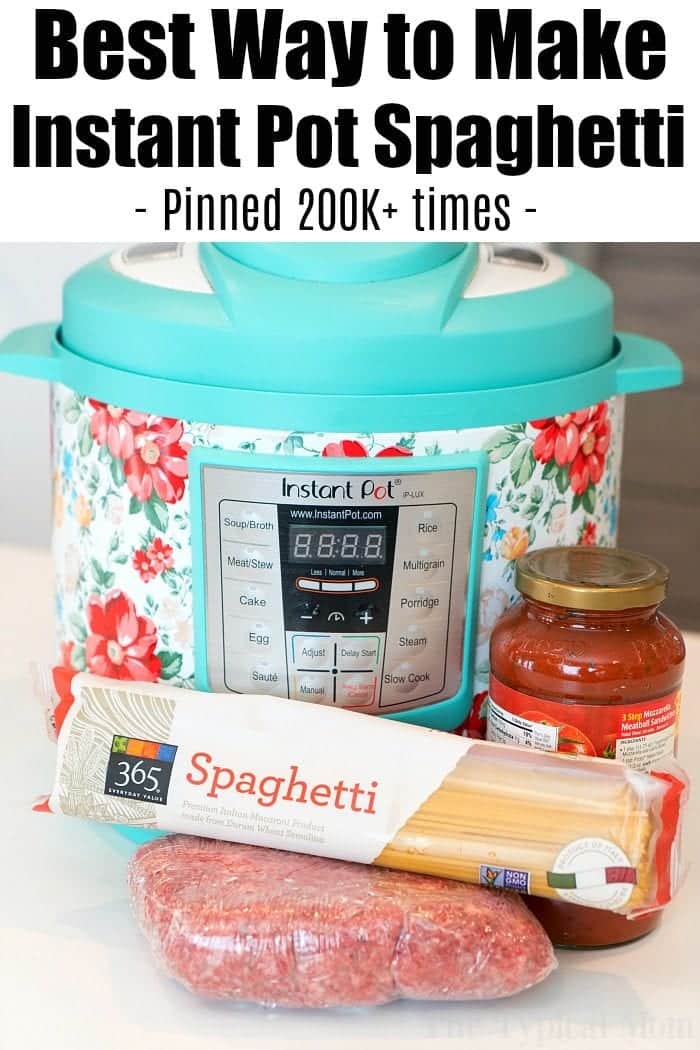 This is what you'll need to make our easy Instant Pot Spaghetti
Ground beef (ground turkey, or the best is to use spicy ground sausage)

here is how to defrost Instant Pot frozen ground beef

Spaghetti sauce (1 jar pasta sauce, this is what I usually use)

or you can make homemade Instant Pot spaghetti sauce

Spaghetti noodles (this is what I usually use, I use half the box)
Onion
Garlic (I use already minced)
Instant pot or pressure cooker (this is the one I have)

I HIGHLY suggest you get a non stick pot too!
If you get an Instant Pot air fryer lid you can melt cheese on the top too!
Optional add ins for this Instant Pot recipe:
Garlic powder
Pinch of Italian seasonings
Salt and pepper
1/2 c. fresh diced tomatoes
If you've never cooked spaghetti in one pot before it is so much easier than cooking everything separately. I love how the noodles turn out cooked in the sauce too.
Instead of boiling them all on their own you're just adding some water to the overall mixture so it absorbs it from there.
You just set Instant Pot to saute
Add the ground beef and cook the meat until it's no longer pink

drain if desired, we buy low saturated fat meat so I don't bother

Add your marinara sauce
Break the spaghetti noodles into 2-3 equal pieces
Gently submerged into liquid
Set to high pressure
Quick release when done
15 minutes later (including prep and browning your meat) you have a quick and easy pot of spaghetti!
Which Instant Pot is best?
I will tell you that I still have and use the "oldest" and first version that came out way back when. It was only $99 then, no fancy preset buttons, and it still works fantastic 3+ years later.
You do NOT need the most expensive "fanciest" Duo, Lux, Plus, Ultra or Smart Wifi versions.
Of course if you're techie and have to have "all the things" then go ahead but simple is best in my opinion.
How much spaghetti do you need for 4?
I would say this recipe serves 6 comfortably, so for 4 people there may be a bit left over. Of course that depends on who you are feeding. We have 1 man, 3 daughters and myself. This recipe feeds all of us with probably 1 serving for lunch I save for leftovers the next day.
If you want more than what the recipe calls for I would recommend making two batches separately. I personally prefer it this way though others have said doubling it works fine for them in their 8 qt.
Here's a video showing you how easy this pressure cooker spaghetti is to make!
If you love our easy Instant Pot spaghetti you may be looking for more easy pressure cooker recipes: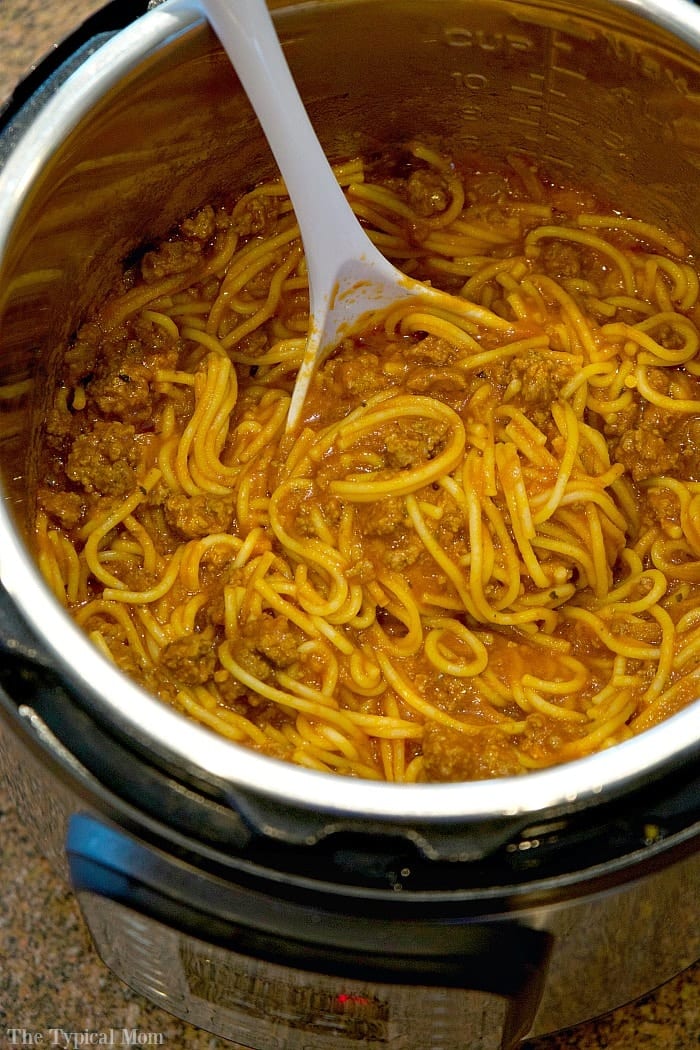 Now if you want to do a twist on an already favorite dinner recipe you could make Instant Pot taco spaghetti too!!
The only difference for this one is you're going to follow our instructions on how to make Instant Pot taco meat.
Then continue with the same directions below from steps 4 on.
It will give your traditional pressure cooker spaghetti dish a bit of a kick with a ton of flavor, we love both really.
Throw a loaf of the best garlic bread in the oven and top with some parmesan cheese and it's one of our favorite Instant Pot recipes. You can find many more easy dishes on my site too if you're looking for another IP meal!
Instant Pot spaghetti is one of our favorite dinners because it is really quick to throw together. I always have the ingredients in my cupboard too.
This is one of the most popular cheap Instant Pot recipes too. It costs less than $10 to feed 5-6 people which is pretty amazing.
How long does it take to cook spaghetti?
Using the traditional stovetop method from start to finish including waiting for the water to boil, then the noodles to come to a boil again until tender I would say 20-25 minutes might be accurate.
This takes closer to 16 minutes which may not be a huge difference in time but there are so many other benefits including:

The noodles have a lot more flavor because they're being cooked right in the sauce itself.
You don't have to watch the water or test the noodles a few times to ensure they're tender and done.
There are less dishes to clean up because all the cooking is done in one pot.
Note: Timing is set to 10 minutes, if you want your noodles more al dente set to 8 minutes instead.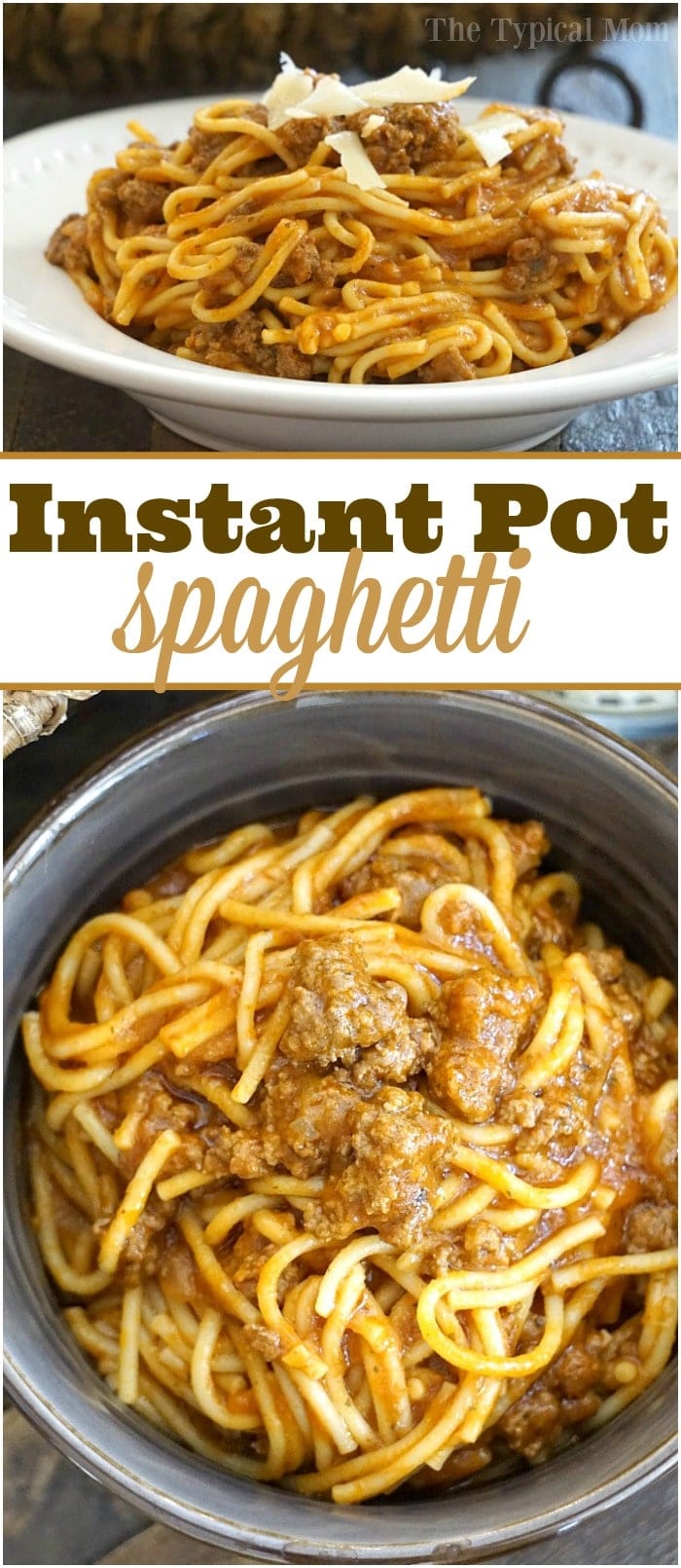 Both of these answer: can you cook pasta in spaghetti sauce?
Yes!
Using a pressure cooker is the easiest method using these directions below.
If using the "old fashioned" stovetop method the instructions are very similar

just thin our your spaghetti or tomato sauce with water or broth
bring it to a boil
add dry spaghetti noodles – I prefer to break them into 3 equal parts so everything is submerged
cook for about 15 minutes stirring occasionally so pasta doesn't stick
Can you overcook pasta this way?
Yes if you don't watch it carefully enough in your pot it can, and noodles will become gummy. It is best to cook until al dente. Using this Instant Pot spaghetti recipe will avoid that as it is timed perfectly.
I hope if you landed here looking for Instant Pot pasta recipes we have helped quite a bit!
If you have a Ninja Foodi you can follow the same instructions below, or use this cheesy Ninja Foodi spaghetti post to guide your way.
Now that you can answer the question of: can you cook spaghetti noodles in a pressure cooker? You may want to try a few others!
If you'd like to use your slow cooker you can try our crockpot spaghetti and meatballs recipe too.
Instant Pot Spaghetti
Here's an easy 10 minute Instant Pot spaghetti recipe that's one of our favorite one pot meals ever! A family favorite dinner that you just dump and go and only requires a few ingredients to make. A complete pasta dish that feeds all five of us for under ten dollars, that's a big win in my book!

Ingredients
1

lb

ground beef

or 1 lb. spicy sausage is our new favorite instead of ground beef

1/4

c

onion

diced

1

tsp

garlic

minced

1

jar

spaghetti sauce

(24 oz)

2

c

water

I pour into spaghetti sauce jar once emptied, shake to get remainder of sauce and pour in pot, could use beef broth for even more flavor

8

oz

spaghetti noodles

2

tbsp

olive oil

1

tsp

salt

optional, to taste
Instructions
Put Instant Pot on saute.

Add olive oil, onions, and garlic and cook until onions are softened a bit.

Add ground beef and cook until pink is gone. Drain grease or leave in, your choice.

Add jar of spaghetti sauce, water, break noodles into 3rds (sprinkle in so they don't lump together) and push noodles into liquid until they are covered. (do NOT stir)

Secure lid, close close steam valve and set to 10 minutes (if you want more al dente set for 8-9 minutes).

Quick release when it beeps, stir and serve. Done!

** Do not recommend doubling this recipe as it will not turn out properly. Make two batches separately if you want more.
Nutrition Facts
Instant Pot Spaghetti
Amount Per Serving (6 oz)
Calories 404
Calories from Fat 180
% Daily Value*
Fat 20g31%
Cholesterol 53mg18%
Sodium 1038mg45%
Potassium 673mg19%
Carbohydrates 35g12%
Protein 19g38%
Vitamin A 490IU10%
Vitamin C 8.6mg10%
Calcium 39mg4%
Iron 3.1mg17%
* Percent Daily Values are based on a 2000 calorie diet.