Here is a really easy homemade Instant Pot spaghetti sauce with ground beef recipe! All you need are a few cans of this and a roll of that to make the most flavorful pressure cooker sauce ever. I literally threw this together in 10 minutes and 20 minutes later it was done.
Throw this together when you want to make lasagna from scratch or use it in our 10 minute Pour over cooked noodles or use to make Instant Pot spaghetti recipe. Way better than any jarred sauce.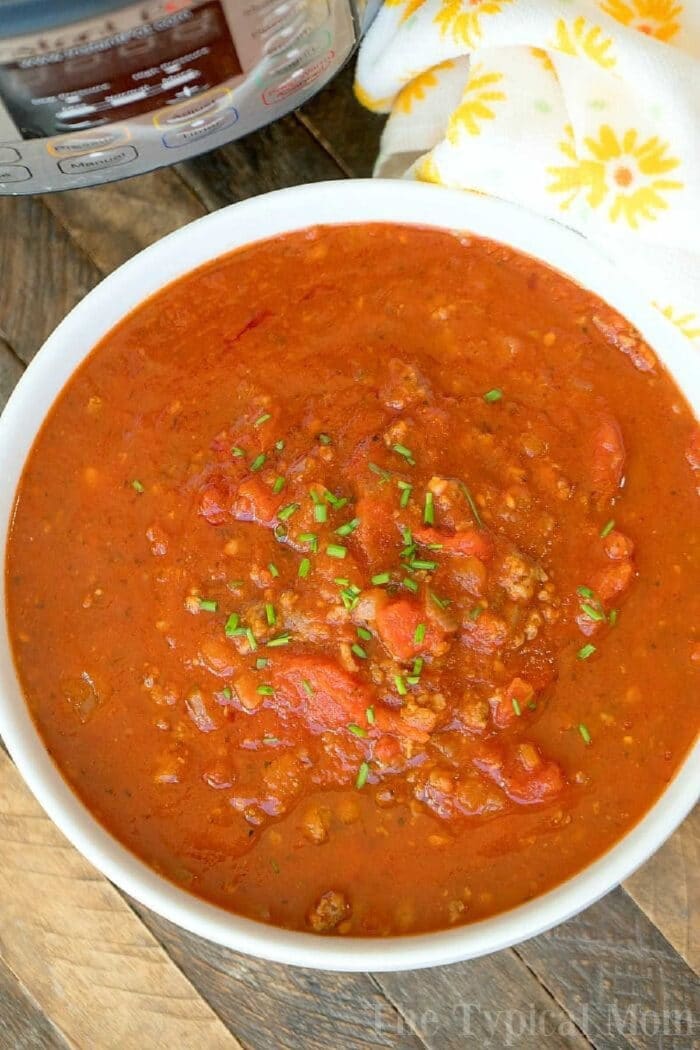 This homemade Instant Pot spaghetti sauce is probably the easiest thing I've made. It happened kind of by accident. Of course I planned to make this in my pressure cooker so I could add it to my collection of Instant Pot recipes, and it went from there. (originally published 3/18, affiliate links present)
Ninja Foodi Spaghetti Sauce
Ok so if you follow The Typical Mom at all you know I am all about easy. Of course you can make slow cooker spaghetti sauce too but this is done in just a fraction of the time.
I assure you that when you make this just once you'll wonder where this recipe has been all your life. 😉 You can make this with or without meat, but we always add it in. Use your IP, Crockpot Express or as an easy Ninja Foodi recipe too. Any of these brands will work just fine, we don't discriminate y'all.
FIRST – You should sign up for my free newsletter so you get new posts emailed to you twice a week and never miss out on anything! Now let's start with a few basic tips:
Make sure to Bookmark our InstaPot recipes page. We add new ones each week!
Then PRINT this —–> Instant Pot cooking times cheat sheet that will help you understand how long meat, vegetables and beans take to cook in your pressure cooker.
For reference, this is the pressure cooker I have (a 6 quart) and use for all recipe creations.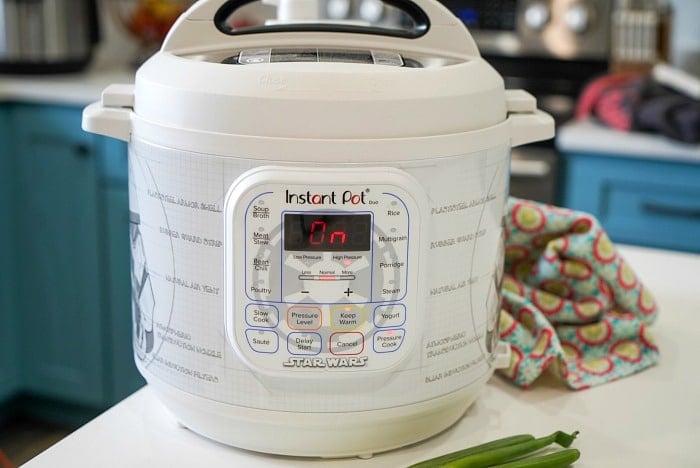 Instant Pot Spaghetti Sauce
Here's the story. I was at the grocery store when I noticed the rolls of spicy sausage in the meat department were just $.99. It's seriously the best, and use it a multitude of recipes so I took one and thought "I'm going to figure out something to make with this today." My initial thought was an easy homemade pasta sauce!
You see when I met my husband this was one of "his recipes" meaning if I asked him to cook there were a few choices and this was one. Hamburgers, pasta with scallops, or he would make his own sauce in a huge pot. There was so much for just the two of us that it was ridiculous, but early on I couldn't break his heart to tell him that.
It was like he was cooking for 12 people and a lot of it go wasted. Took him like all day nursing it to his liking. Although it was good, I wanted it paired down to a normal amount and have the cook time for spaghetti be a lot less.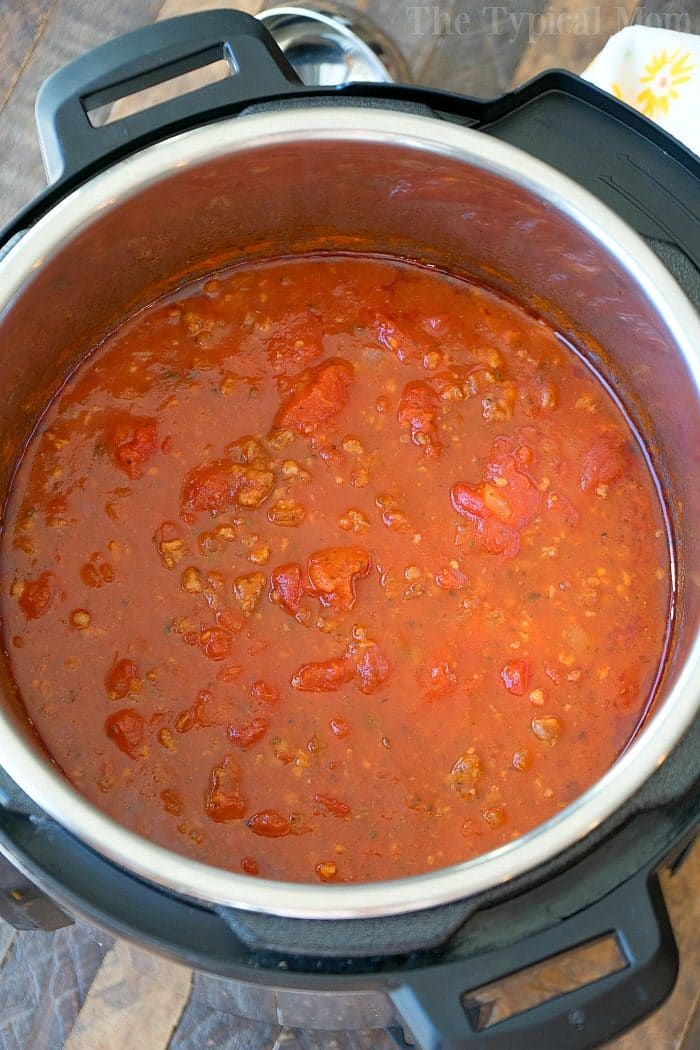 Instant Pot Spaghetti Meat Sauce
I remembered what he added and worked on just that. A pot full that was more for about 6 people so we could make dinner for the now 4 of us and then save some for later. This is what I came up with, and at the end I had enough for a small meal later. Freezing it for later worked quite well, I will talk about that later…..
One of the other many reasons I love this fancy pressure cooker is you only dirty one pot to make the whole thing. Browning the sausage and onions together on saute, and then adding all the other ingredients make it super simple.
For years my husband simmered and babied his sauce in a huge pot on the stove top, and he even had to admit this one was so good there wasn't much difference. HAH…..I win. 😉
I simmered it on the soup setting for 20 minutes. If you were in a hurry you could set it for 10 minutes and I think it would still be great too. You are just warming everything together at that point because the meat is already cooked.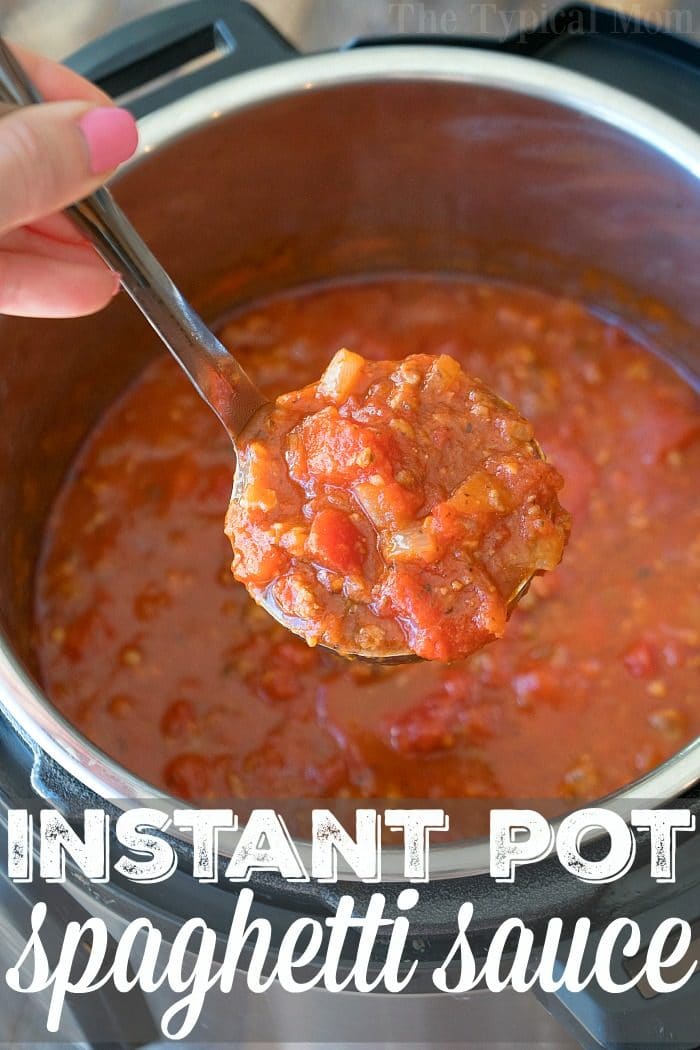 Instant Pot Marinara
One of my earliest Instant Pot recipes was homemade Instant Pot spaghetti, and later Instant Pot penne pasta. They're two of my most popular pressure cooker recipes on my site. For that one I used jarred sauce and it's a great no fail dinner to try for sure.
If you prefer homemade sauce though, you can start with this recipe. Then follow the pressure cooker spaghetti recipe above where you submerge the noodles into the sauce. Then follow timing to cook for a bit longer in order to cook your noodles and homemade sauce all together.
For a lower carb option, make air fryer zoodles and serve this sauce on the top. If you haven't tried this you'll be surprised at just how good it is. Just cook until slightly tender with still some texture to it and toss with this sauce. Even my kids were surprised at how good this option was.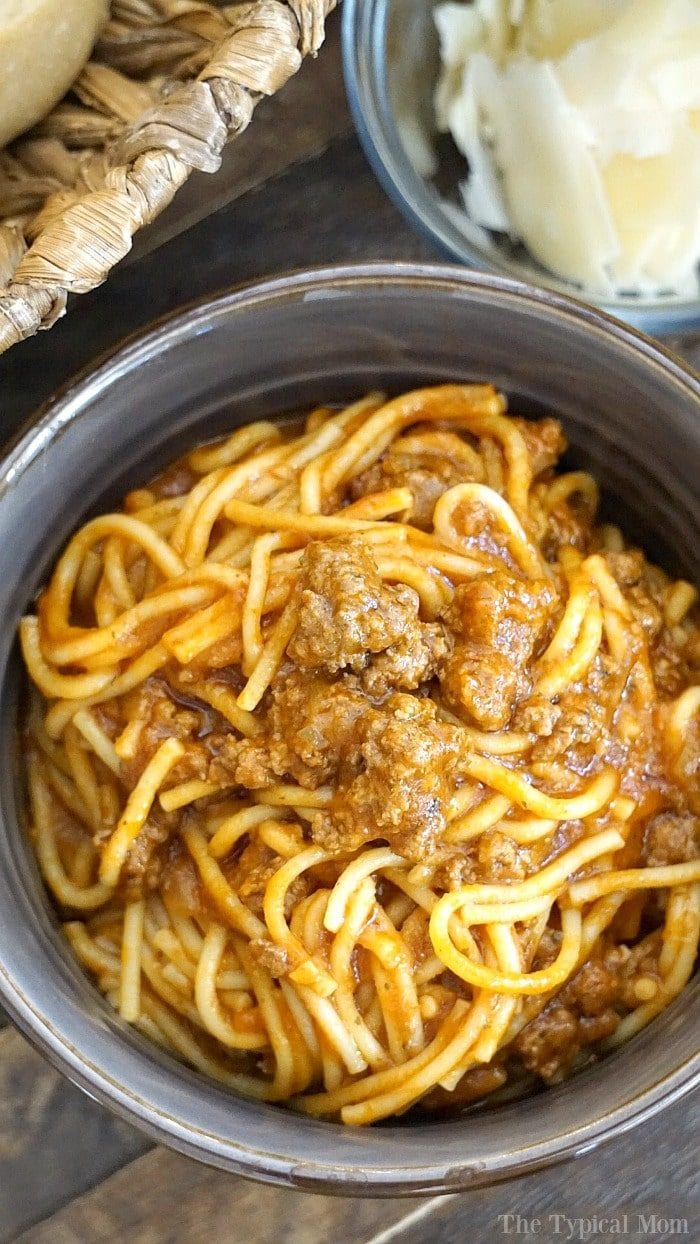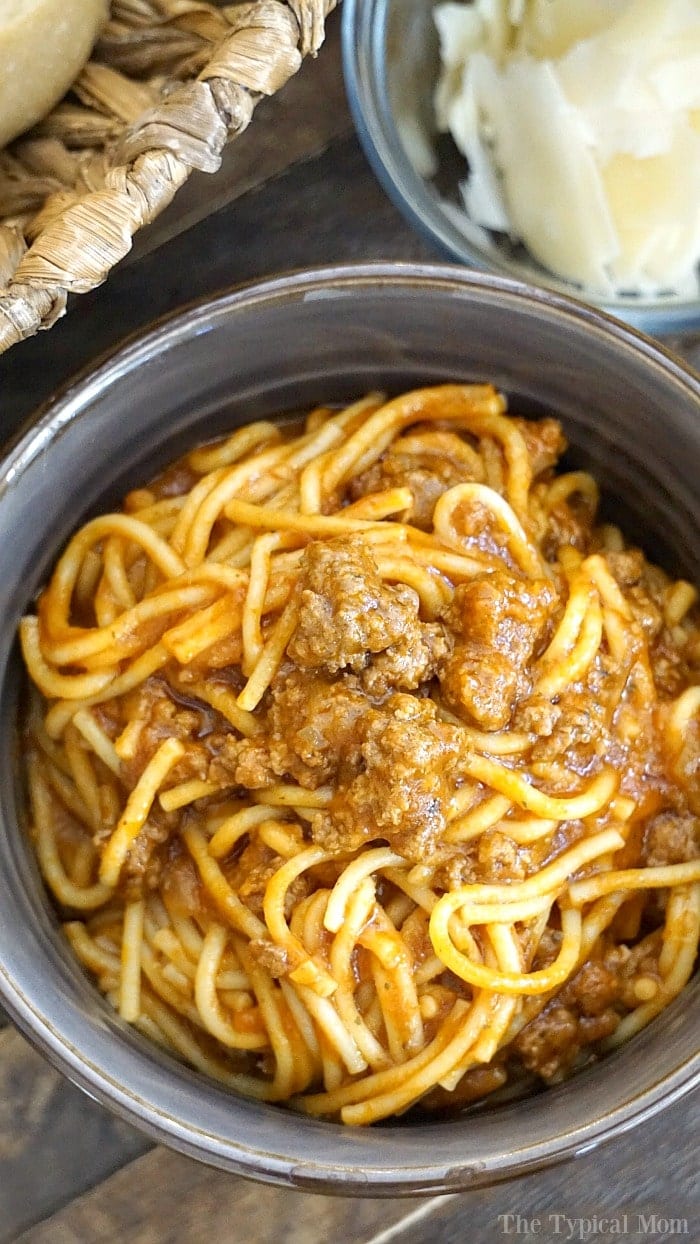 Homemade Instant Pot Spaghetti Sauce with Meat
Some people prefer to boil the noodles separately so it's totally your choice. Either way making homemade spaghetti sauce is now so easy!
Whole peeled tomatoes will give it more texture than just sauce being used.
Spicy sausage – seriously way better than using ground beef, I like Jimmy Dean brand

or make Instant Pot porcupine meatballs and add that into the sauce once this is done
if I have leftovers after making air fryer Italian sausage I'll dice that and add

Tomato sauce we used is listed below, use more or less depending on how thick you want it to be.
Can of tomato paste will help to thicken all of it together.
Diced tomatoes can be bought Italian style, spicy, or plain.
Onion I add to everything, diced finely for flavor.
Spices
Want to make cheesy pressure cooker baked spaghetti too? NO problem, just add a layer of cheese on top and let it melt. I like the Mexican cheese blend at the store that has a few types mixed together with taco seasoning too. It's killer for sure. If you have the CrispLid or Ninja Foodi you can brown the top too.
How long to cook spaghetti sauce in Instant Pot
Here is a quick step by step but I also have a printable recipe card at the bottom of this post as well. Nutritional information will vary slightly if you add meat. I use very lean grass fed beef typically so that is what it accounts for. If I add sausage or it's meatless then it would be different too.
Set pot to saute and add olive oil and sausage (or ground beef) and diced onions. Cook until meat is no longer pink, then turn pot off. Move meat to side and scrape bottom with wooden spoon to avoid burn notice.
Spread meat on to the bottom of the pot. Add diced or crushed tomatoes would work too (or finely diced fresh tomatoes). Then add rest of ingredients. (some like a bit of red wine in the mix too)
Close lid and steam valve. Push soup button for 20 minutes. If you just have high pressure button then use that for 12 minutes. Do a quick release when done.
After pressure cook time is up, remove the lid. If you want it really smooth you could use an immersion blender, we don't.
How do you thicken spaghetti sauce in Instant Pot?
You could put it in on saute. In a small dish whisk together a few tbsp of cornstarch with cold water until smooth. Pour in and stir. Another option is to add a bit of tomato paste, that is quite thick but a strong flavor so more seasonings may be necessary with this one.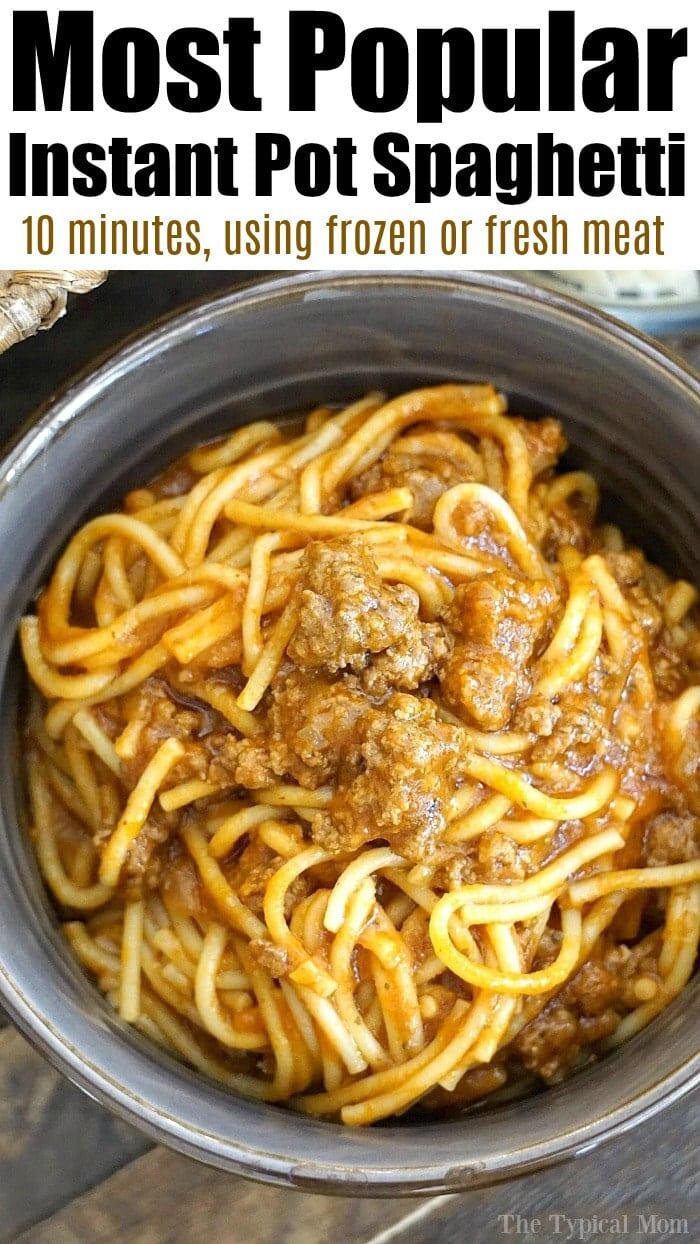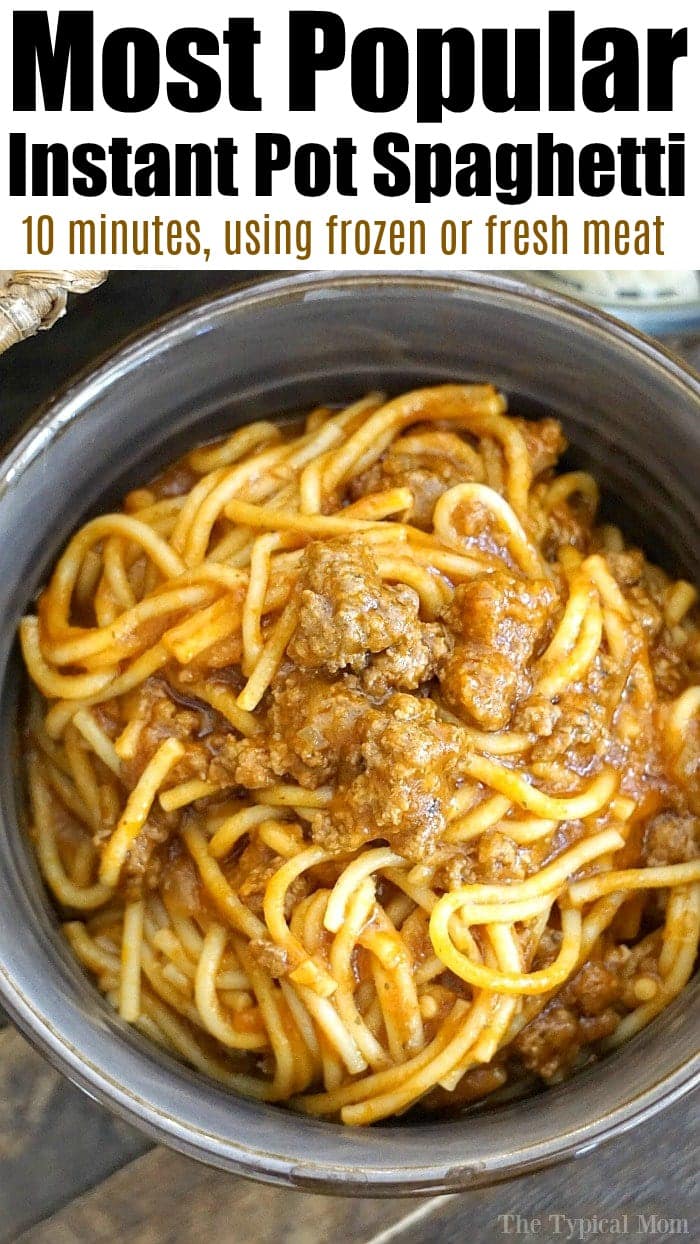 How do you save leftover homemade spaghetti sauce
Ok so when you are done and it is sitting off the burner you will need to wait until it is room temperature. You never want to transfer hot or even warm food from a pot into the fridge right away. It will have a strong chance of growing bacteria because of the dramatic temp. difference.
Use a ladle to transfer it into a large or pint sized freezer bag, depending on how much you have. Zip it tightly and lay it flat in the freezer. Once it is rock hard you can move it around to a different location but flat will save space in there and you can stack them if you have a few. Always remember to mark the date and contents on the outside too.
Do not add noodles into the mix if you are going to freeze it, those will get mushy and a super weird texture if you do. Just the sauce freezes well. If you have some with noodles in it, put in a container with a lid and in the fridge. Reheat in the microwave the next day for lunch for the best results overall.
Print recipe below. You can use this to make Ninja Foodi spaghetti squash pizza pasta or our crockpot spaghetti and meatballs recipes too.
Want to see a few of my favorite things that I am totally obsessed with?? Take a peek and see how many you might already have…twinsies!
Looking for more easy family recipes and tips? LIKE The Typical Mom Facebook page?
Then sign up for my free newsletter, and follow me on Pinterest! 😉
***** If you LOVED this recipe give it 5 Stars below and let everyone know what you thought about it. 😉
Instant Pot Spaghetti Sauce
Here is a really easy homemade Instant Pot spaghetti sauce recipe! All you need are a few cans of this and a roll of that to make the most flavorful sauce ever. I literally threw this together in 10 minutes and 20 minutes later it was done. Way better than any jarred sauce.

Instructions
Put Instant Pot on saute, medium. Spray inside of pot with non stick spray. Add onions and sausage.

Cook until sausage is completely cooked.

Turn Instant Pot off by pushing cancel. Deglaze your pot by scraping stuck on meat off bottom with a bit of your water, if not you may get the burn notice.

Add all other ingredients into your pot and stir. (I cut up the whole peeled tomatoes into smaller chunks).

Close lid and steam valve and set to soup function, medium setting, for 20 minutes.

Quick release, stir and put on top of noodles….or add about 8 oz of spaghetti noodles broken in half, submerge in liquid and set to manual, high, for 8 minutes to cook everything together.
Nutrition Facts
Instant Pot Spaghetti Sauce
Amount Per Serving (8 oz)
Calories 46
% Daily Value*
Sodium 1259mg55%
Potassium 480mg14%
Carbohydrates 10g3%
Protein 2g4%
Vitamin A 575IU12%
Vitamin C 12.4mg15%
Calcium 34mg3%
Iron 1.7mg9%
* Percent Daily Values are based on a 2000 calorie diet.