Easy air fryer fried chicken recipe! With a light breading these chicken drumsticks, wings, breasts or air fried thighs will have moist meat but a nice crispy outside.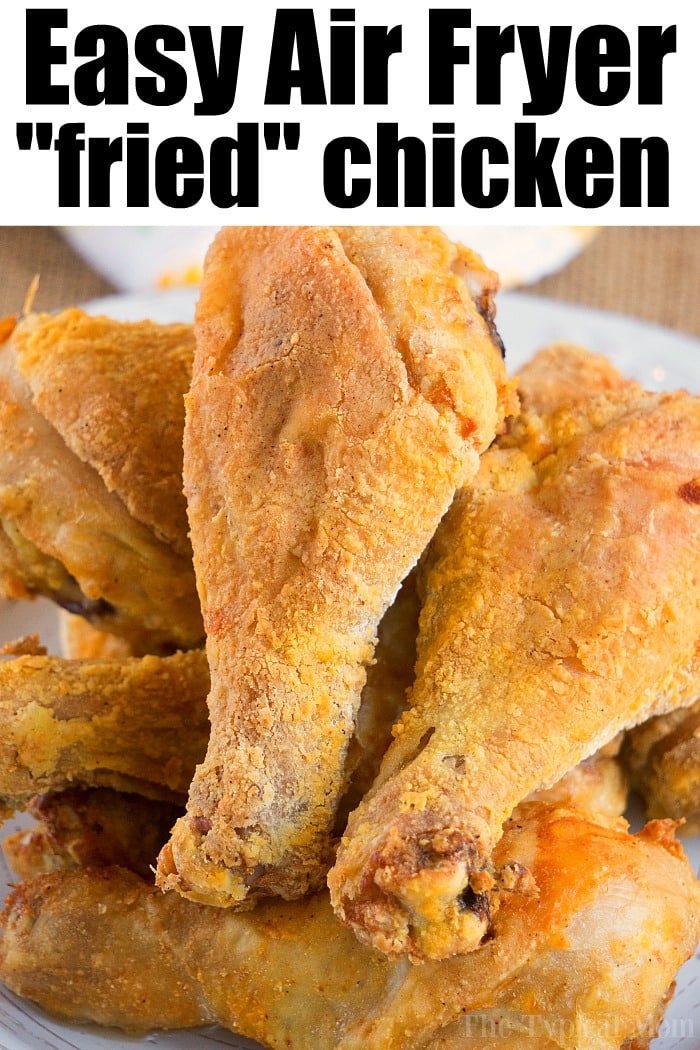 We are a little obsessed with creating new easy air fryer recipes here on The Typical Mom since we got our fancy machine. One of our first creations was this air fryer fried chicken recipe using drumsticks. (affiliate links present, originally published 4/19)
Air Fryer Fried Chicken Drumsticks
Like I said, you could use the same method to make thighs, wings or chicken breasts too but we are focusing on this kid favorite piece though. Just adjust the time for those that are thicker or larger in size. A meat thermometer will help you make sure each piece is just right inside and safe to consume.
I assure you this and our air fryer fried chicken breast pieces will become your favorite dinners too. Coated with a breading so it will remind you of KFC, your favorite fast food joint that cooks just the bird, but way healthier. We call it fried but you know it's the cheater version here. 😉
FIRST – You should sign up for my free newsletter so you get new posts emailed to you twice a week and never miss out on anything! If you love air fryer recipes too, here are some resources to start with: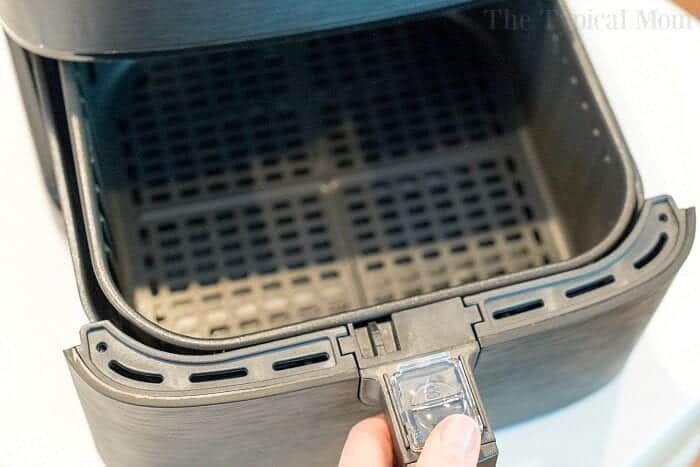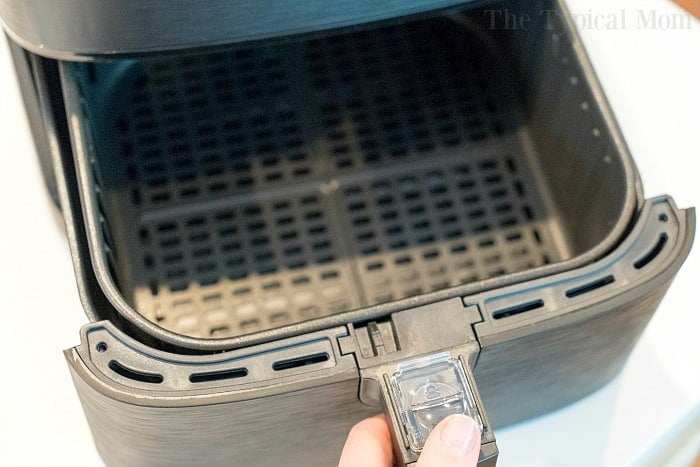 Ninja Foodi Fried Chicken
Do you have a Ninja Foodi pressure cooker and air fryer yet. Or maybe you have another brand and are ready for something crispy for dinner. Whatever style you might have will work for this throw together meal.
Do air fryers work for fried chicken?
Yes and no. You cannot use a wet batter but you can use dry rubs and ready made fried chicken mixes as we did here. Then spray top with olive oil to crisp up!
How long do you leave fried chicken in the fryer?
That depends on how thick and large each piece is. Our air fryer leg quarters take about the same cook time as this air fried chicken. Time ranges from 20-25 minutes until cooked through to 165 F.
"Frying" chicken in an air fryer has never been easier using this method!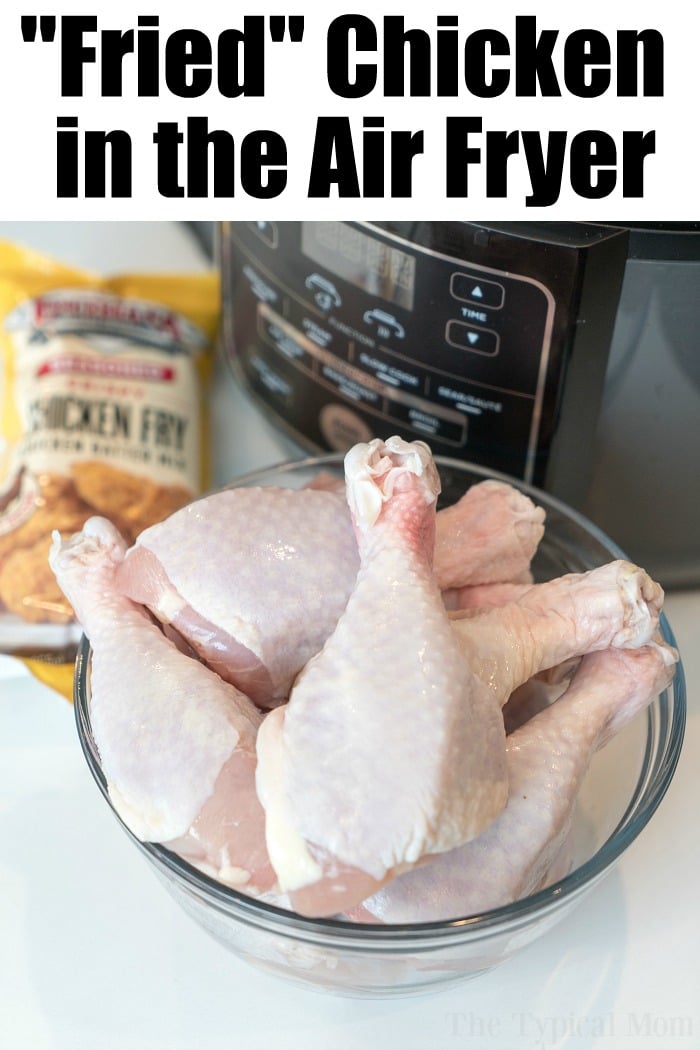 Air Fryer Fried Chicken without Buttermilk
Yes you can add a thick breading dredging each piece in flour with seasonings after marinating in buttermilk, but you don't have to. In order to keep this on the healthy side of things you can just use olive oil. We have a few other methods of breading chicken without eggs to choose from too. This is what I used, literally 3 ingredients is it!
Chicken legs – medium size, don't buy the HUGE jumbo ones
Olive oil – and olive oil spray
Gallon storage bag – if you just wanna shake the coating on
Fried chicken coating
Other ideas you could use to create a crunch on the outside would be the following;
Pork rinds

Dredge legs in whisked eggs
Roll chicken pieces in smashed pork rinds – use food processor to get them fine

Shake n Bake mix
Fried Chicken in Air Fryer with Flour
If you did want more of a thicker coating you could dip in whisked eggs, then in a flour mixture with some seasonings mixed in. You will want to spray the outside well with olive oil when they're in the basket though to crisp the outside. I coated these two different ways.
First you must rub a generous amount of olive oil on your drumsticks
Then you can either roll them in the mix on a plate like you see here
Or at the end it was easier to throw a few legs into a gallon Ziploc filled with coating and shake the mix on
Either way works, just make sure you have plenty of olive oil on each one so it sticks well
The skins will crisp up themselves too so it isn't just the coating
The chicken breading fry mix we used was great because it already had a bit of spice and spices inside. That way I didn't have to add anything. Just rub on olive oil, shake on mix, air fry.
We love this method because as much as we love fried foods sometimes, deep frying isn't good for us. Then you can make a side dish like our air fryer tater tots to go with this!
Note: Timing below works well for medium size chicken legs. If cooking chicken breasts I would recommend medium size and cutting them in half so the middle cooks as evenly as the edges. Breasts will take longer than any other chicken pieces. Air fryer chicken wings will take the least amount of time.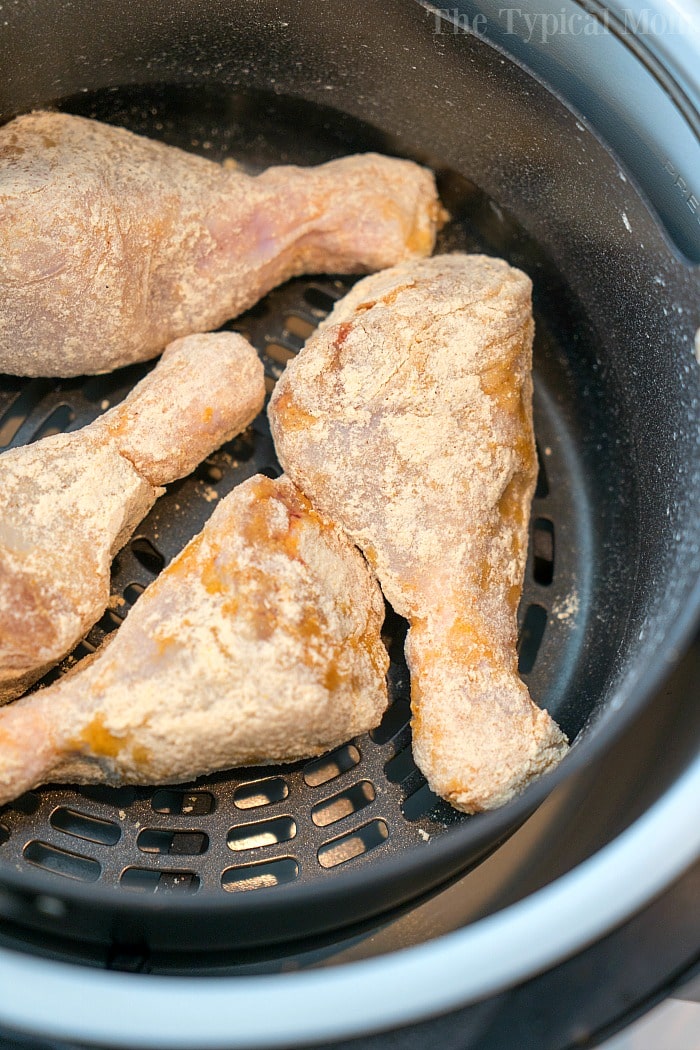 Air fryer fried chicken
The first thing you want to do is make sure the skin is dry so the oil will stick. Use paper towels to do this for best results.
Generously rub olive oil on each piece of chicken

Ensure all pieces are the same size
Important when cooking chicken so they get done at the same time

Roll in coating of your choosing in a large bowl or plate
Lay in your air fryer basket or on to a trivet
Make sure they're in a single layer and not overlapping. If you stack chicken they won't cook evenly or crispy all the way around.
Turn on air fryer (or use air crisp button on Ninja Foodi).

Timing will depend on how thick your meat is but should be done in 30 minutes or less.

Flip pieces about half way through
Before last 2-4 minutes spray chicken pieces with olive oil to really crisp up the outsides.
Check internal temperature when done with a meat thermometer

Needs to reach 165 degrees or more in thickest part of meat

Eat or drizzle barbecue or hot sauce on top.
Using this method you can have crispy chicken pieces in about 25 minutes! If you don't have an air fryer, here's how to bake crispy chicken wings in the oven. You can make this copycat Kentucky fried chicken recipe too.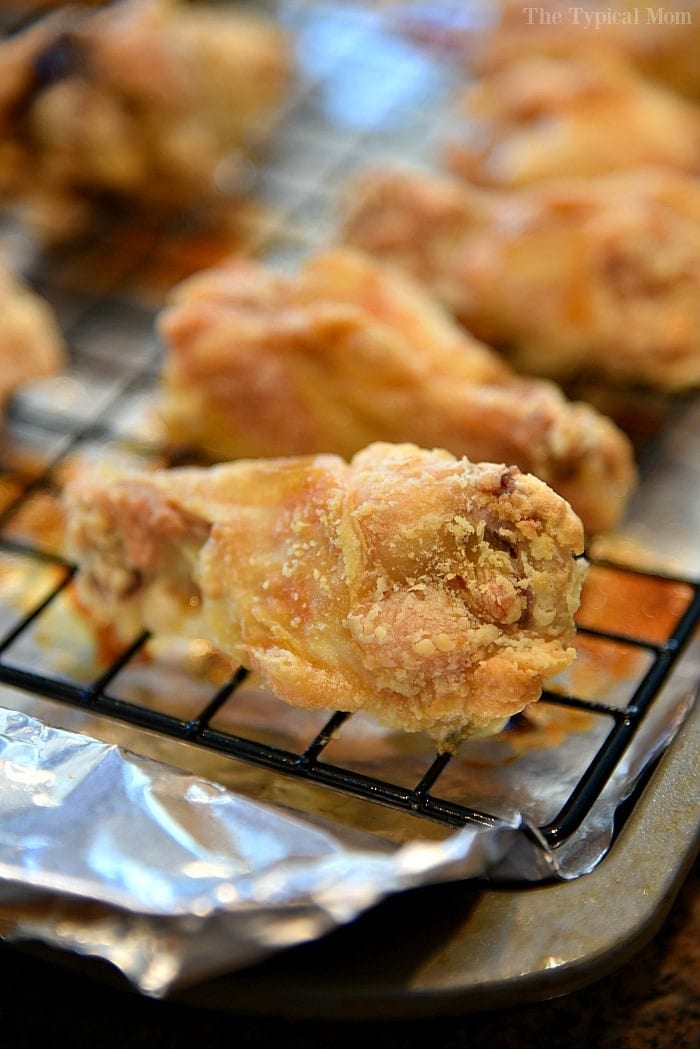 Ninja Foodi Fried Chicken Recipe
Other air fryer recipes you should try:
If you want crispy chicken legs in air fryer with a thicker batter soaked in buttermilk beforehand, try this one too.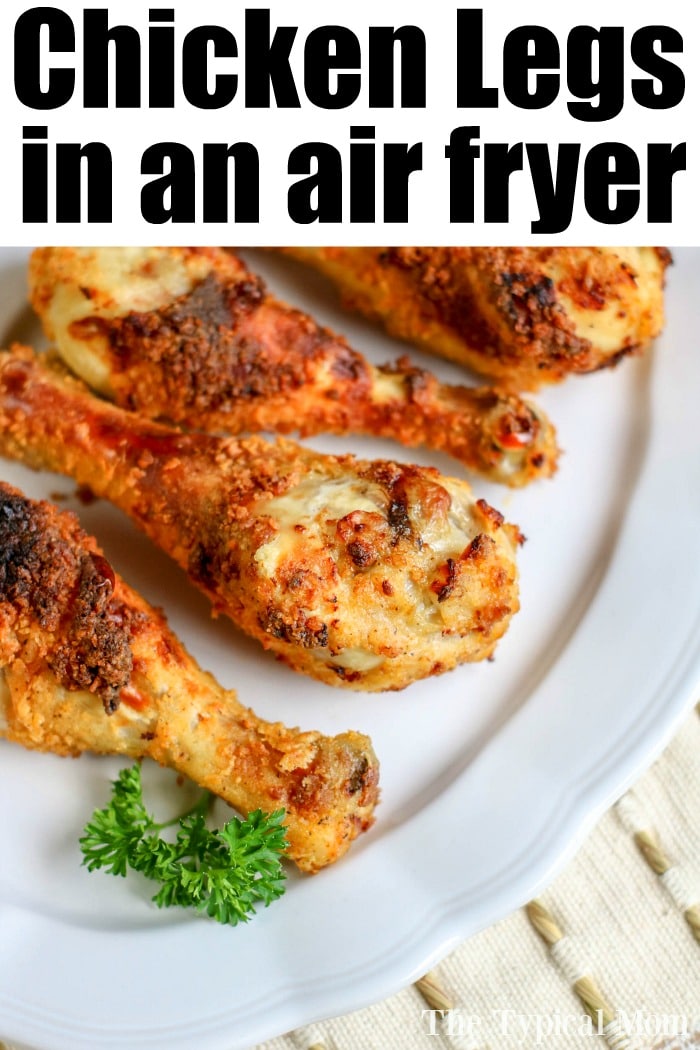 You can find more air fryer dinner recipes here like our homemade chicken tenders, and print directions below to keep them handy.
Want to see a few of my favorite things that I am totally obsessed with?? Take a peek and see how many you might already have…twinsies!
Looking for more easy family recipes and tips? LIKE The Typical Mom Facebook page?
Then sign up for my free newsletter, and follow me on Pinterest! 😉
***** If you LOVED this recipe give it 5 Stars below and let everyone know what you thought about it. 😉
Air Fryer Fried Chicken Recipe
Easy air fryer fried chicken recipe! With a light breading these chicken drumsticks, wings or breasts will have moist meat but a nice crispy outside.
Ingredients
12

chicken legs

or other chicken parts but time below works for drumsticks

2

tbsp

seasoned salt

4

tbsp

olive oil

1

bag

chicken breading

or use flour with seasonings to bread
Instructions
Dry legs with paper towels so skin is dry. Put drumsticks in a bowl and pour olive oil on top. Rub all legs with olive oil so they are coated well. Preheat air fryer for 5 minutes at 375 degrees.

One at a time sprinkle seasoning of your choice all over each drumstick. Or if you are using the bagged seasoned breading we did add mix to gallon baggie and shake with 3 legs inside so they are coated well with powder.

When preheated spray the inside of your air fryer basket lightly with non stick spray.

Lay legs with meatiest side facing down into your basket so they don't overlap, 4 fit nicely in our Ninja Foodi. Spray tops with olive oil spray.

Close your air fryer lid and set for 24 minutes total. Flip legs after 10 minutes, spray with olive oil spray again, then continue cooking other side for 12 minutes.

Spray tops once again and air fry for 2 additional minutes to really crisp the tops if you want it super crispy. Always check chicken to ensure they are cooked thru before eating.

Remove and enjoy…then add another batch.
Nutrition Facts
Air Fryer Fried Chicken Recipe
Amount Per Serving (3 oz)
Calories 633
Calories from Fat 450
% Daily Value*
Fat 50g77%
Cholesterol 239mg80%
Sodium 216mg9%
Potassium 523mg15%
Protein 42g84%
Vitamin A 235IU5%
Vitamin C 0.5mg1%
Calcium 23mg2%
Iron 1.8mg10%
* Percent Daily Values are based on a 2000 calorie diet.