Air fryer tater tots are the bomb! Add cheese to the top and they're a crunchy snack or side dish your family will ask for over and over again.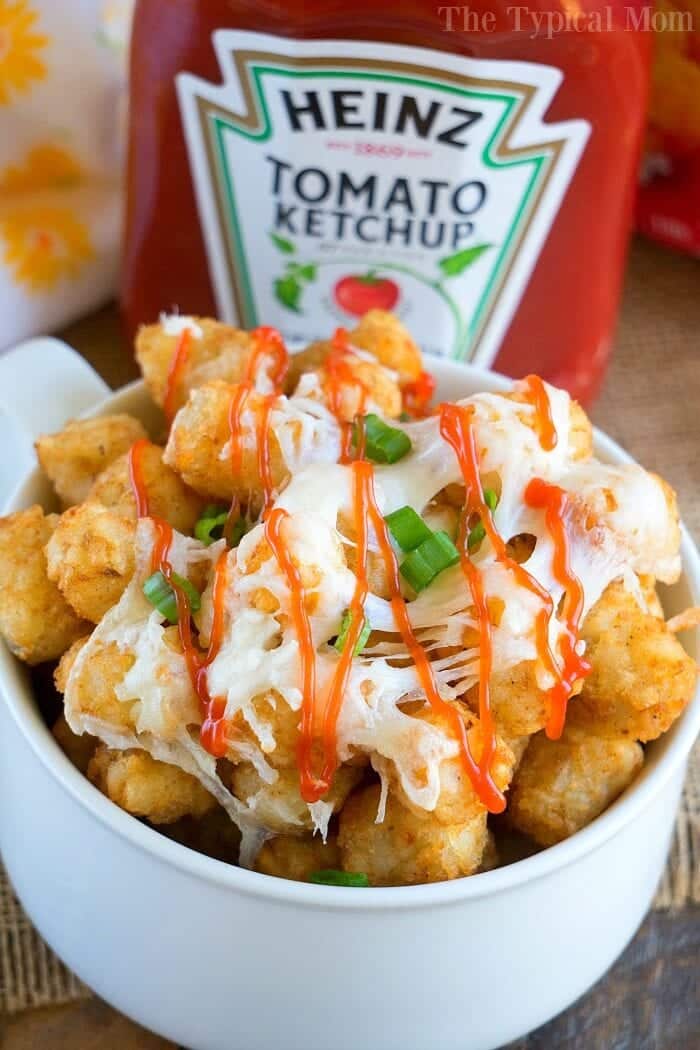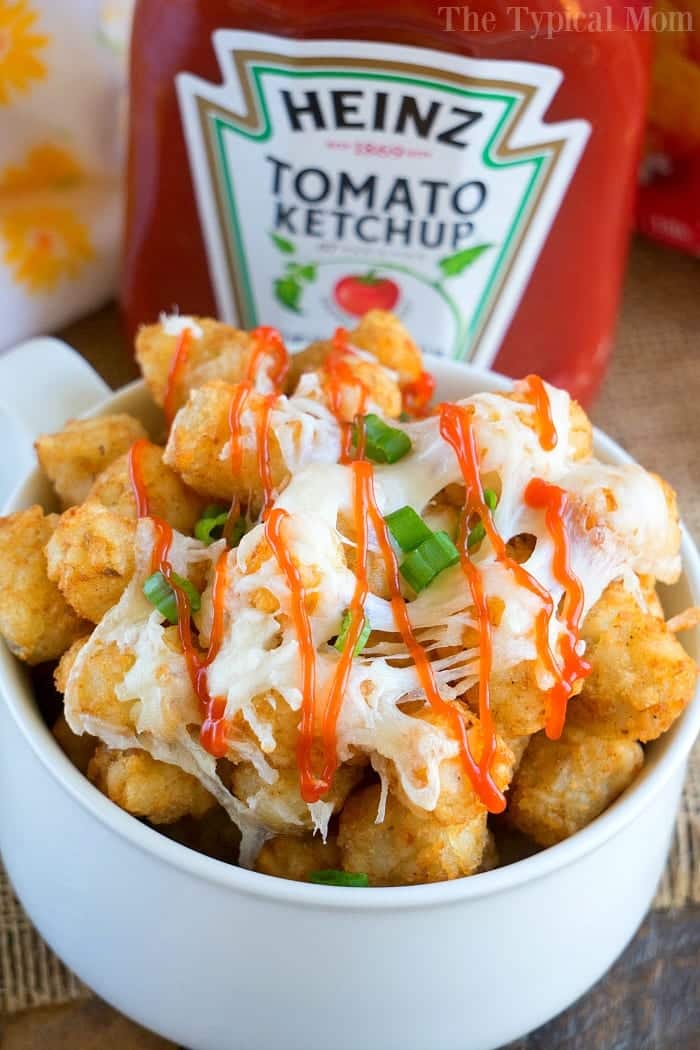 Ready for some crispy air fryer tater tots??!! Smothered with cheese and a drizzle of ketchup, they're a great easy air fryer recipe. Let me show you how to make these in your fancy kitchen gadget. This post has been sponsored by Albertsons. (originally published 4/19, affiliate links present)
Frozen Tater Tots in Air Fryer
I bet you remember these babies from your childhood. Whether they were served alone as a quick snack, or a side dish with meatloaf they are just so yummy. Everyone loves them.
THIS is the new way to cook them though that is WAY better than in the oven y'all.
If you love air fryer recipes too, here are some resources to start with: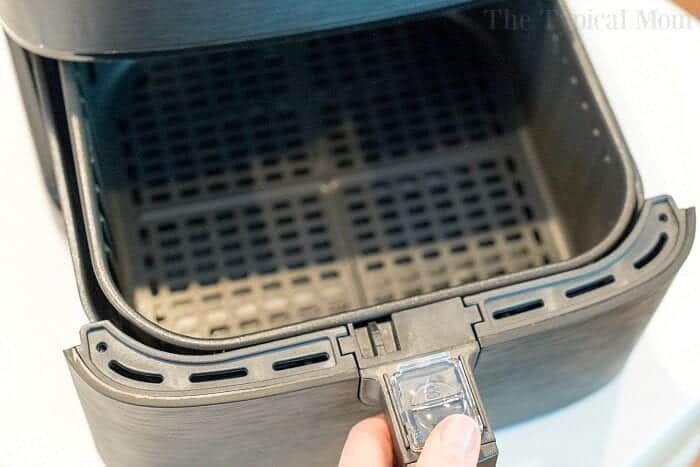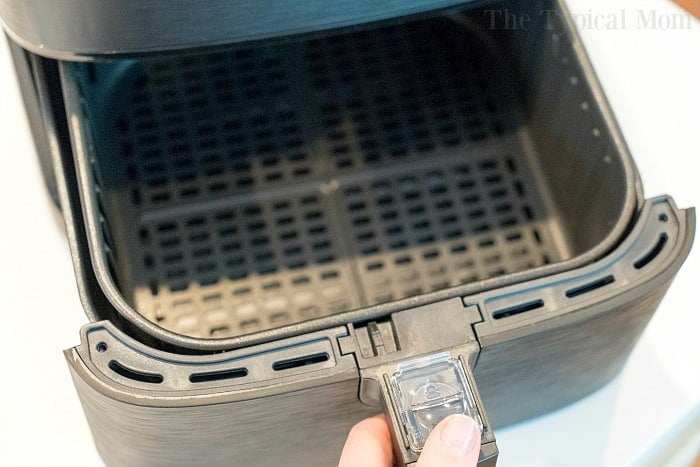 LIKE our easy air fryer recipes page too so you can find new ideas for meals and snack ideas daily!
Air Fryer Tater Tots
Not only can you still collect these fun game pieces you see here but you can play MONOPOLY online! If you have the Albertsons app like I do, it will remind you that there's still time to play!
Here's a peek at our game board. I'm pretty close to getting $100 in cash or a $50 grocery gift card. Cross your fingers for me. 😉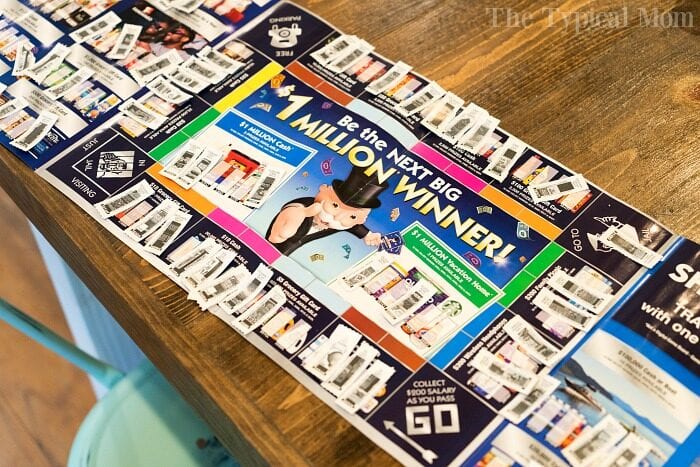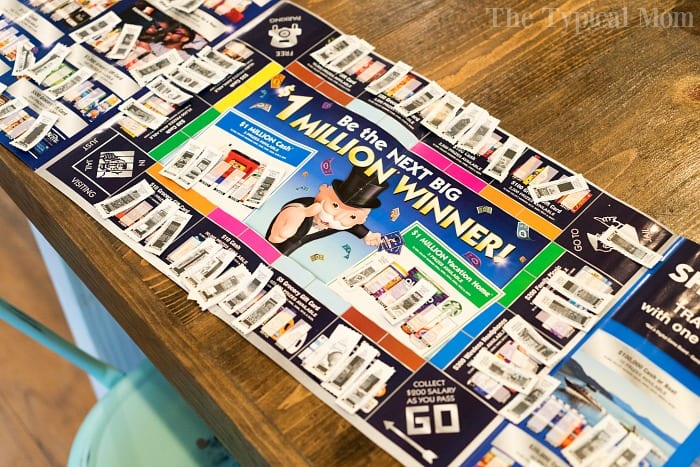 Ore Ida Tater Tots Air Fryer
It is free, so pick up one of these

at your local store

if you don't already have one.
The more you spend on

participating products,

the more game pieces you'll collect. As you can see, we have quite a few…..
How long does it take to cook tater tots in an air fryer?
If making the entire frozen bag: Total of 15 minutes. Half bag: Total of 10 minutes. or so.

You will want to shake the air fryer basket every 5 minutes for best results. Cook until as crunchy as you'd like!
Can I cook frozen tater tots in air fryer?
YES, this is what we're talking about today. I have never let them defrost first and I wouldn't recommend that at all.

If you do the end result won't be as crispy as you'd like them.
How do you cook frozen tater tots?
In the oven you just spread them out on a sheet pan and bake. Directions for that is on the bag.
If you use your hot air machine you'll have better results though! Just 15 min. to perfection!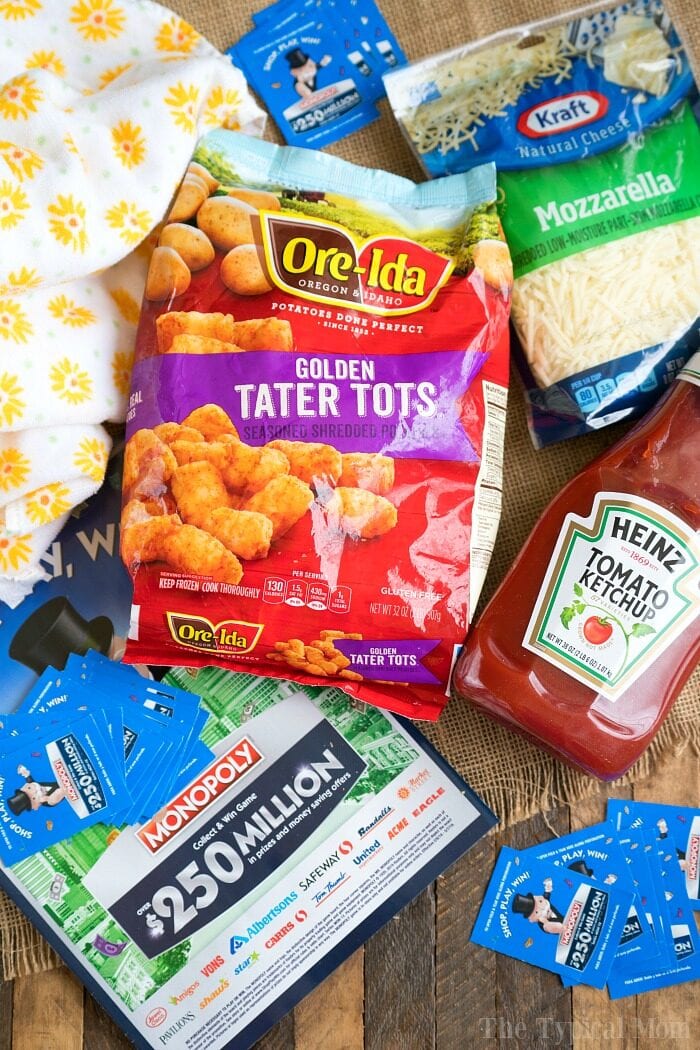 Air fryer frozen tater tots
It's easier than you think and there's NO need to heat up your oven to do so. Handy tip to have when the summertime hits and you aren't about to heat up your house! 😉
Time needed: 15 minutes.
Ninja air fryer tater tots
Preheat

Always preheat your machine for optimal results. Set to 400 for 5 minutes.

Cook

Once it's hot, dump frozen taters in the basket without letting them overlap. This will likely require you to make the whole bag in 2 batches.

Set to 10 minutes for 1/2 the bag and shake every 5 minutes. Increase time if you want them crispier. Remove, and add another batch.
There are tons of different brands who make these too. I personally love these because they created them originally and the outside is crispier than others I have tried.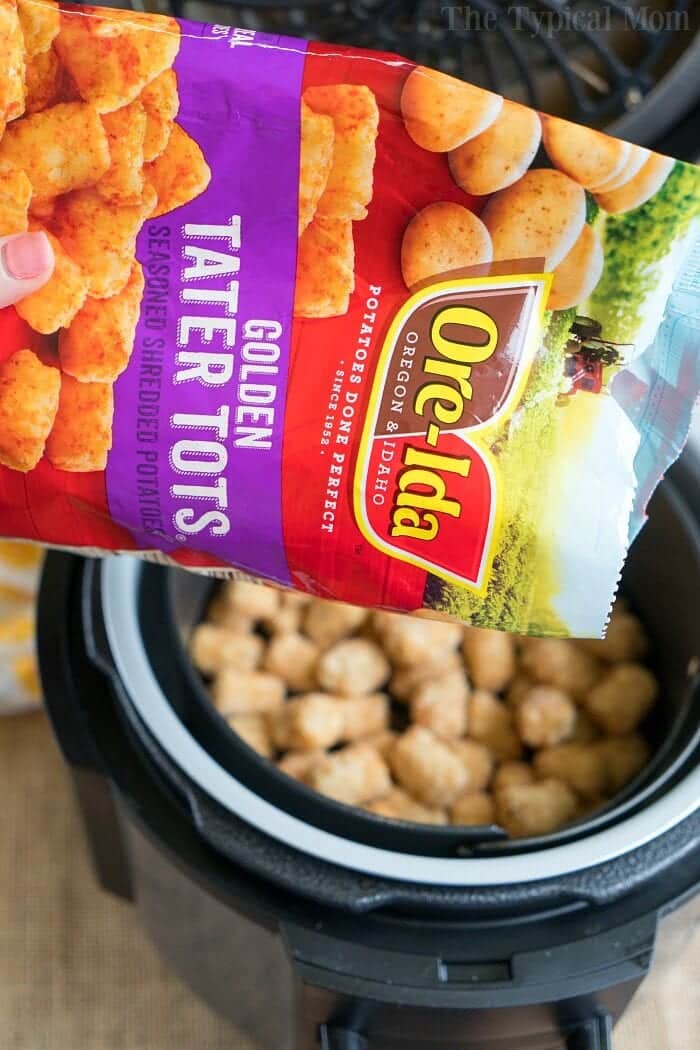 Do you need to preheat your air fryer?
Yes
Preheating is important to get them nice and crispy.
It only takes 5 minutes for this step.
You can cook them without preheating but they won't be quite as crispy.

It's worth it, so just do it.
Frozen tater tots in air fryer
Different brands have various configurations, this is ours with an air fryer lid that closes on the top.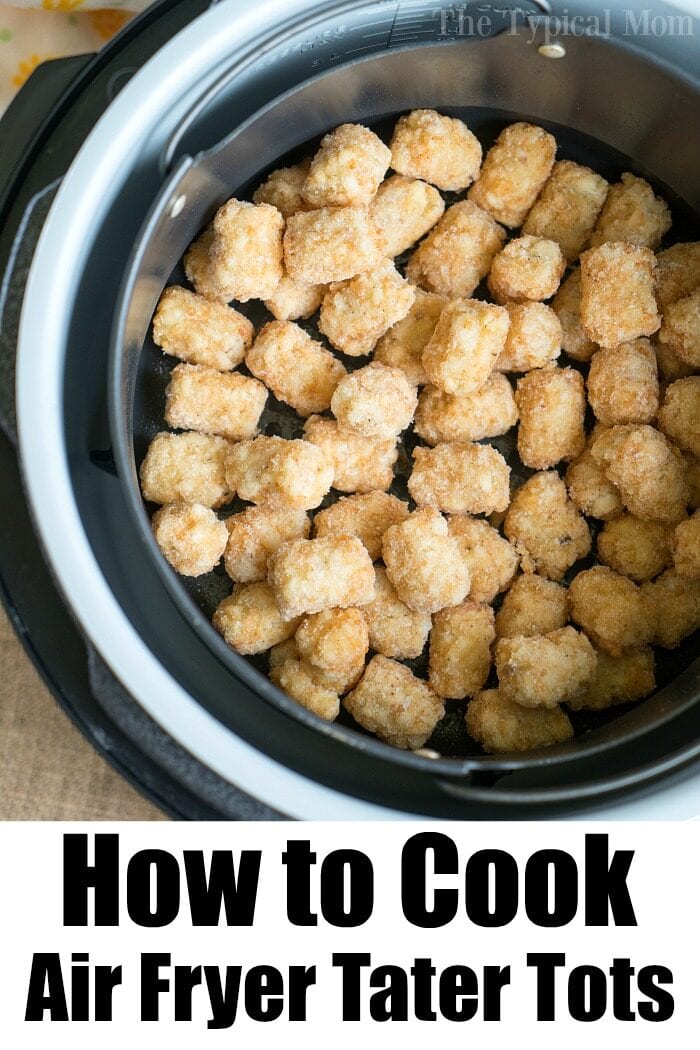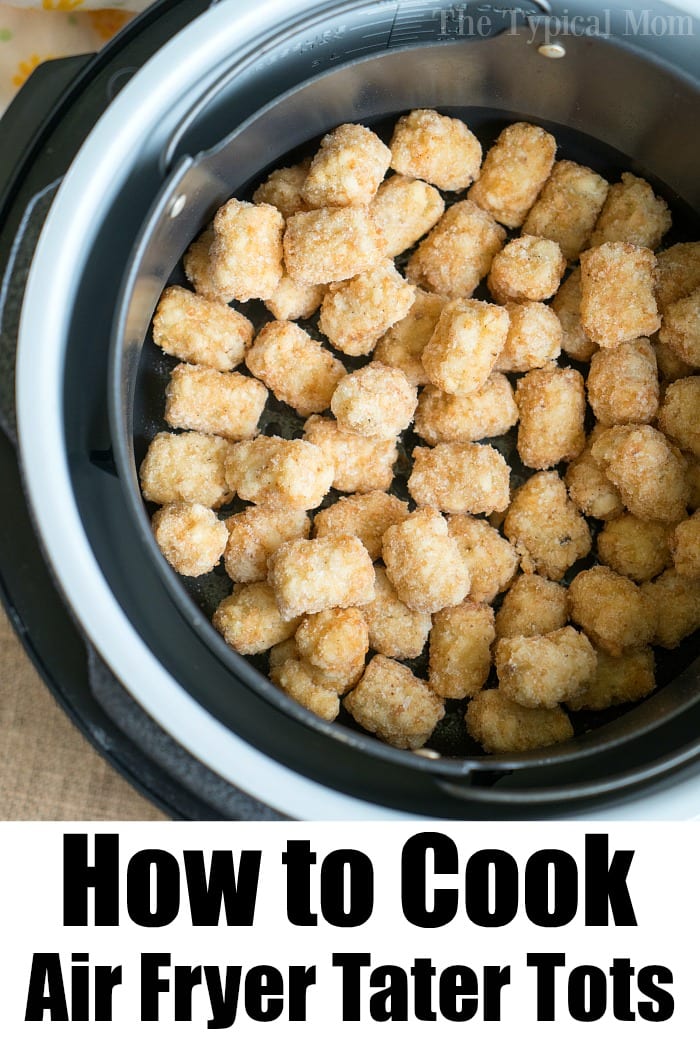 Tater Tots in Air Fryer
Tips to making the crispiest tater tots in air fryer
Preheat your air fryer for 5 minutes at 400 degrees.
Once preheated spray the inside of your basket with non stick spray.
Do not overlap them during the cooking process.

This usually requires you to cook 1/2 a bag at a time.

Use oven mitts to gently toss them in your basket midway through the cooking process.

Using a spoon or spatula to flip them usually breaks them apart a bit.
Flip them in the basket as you see chefs flipping an egg in a pan, but a bit more gentle.

Eat them immediately when done for the crispiest tater tot ever!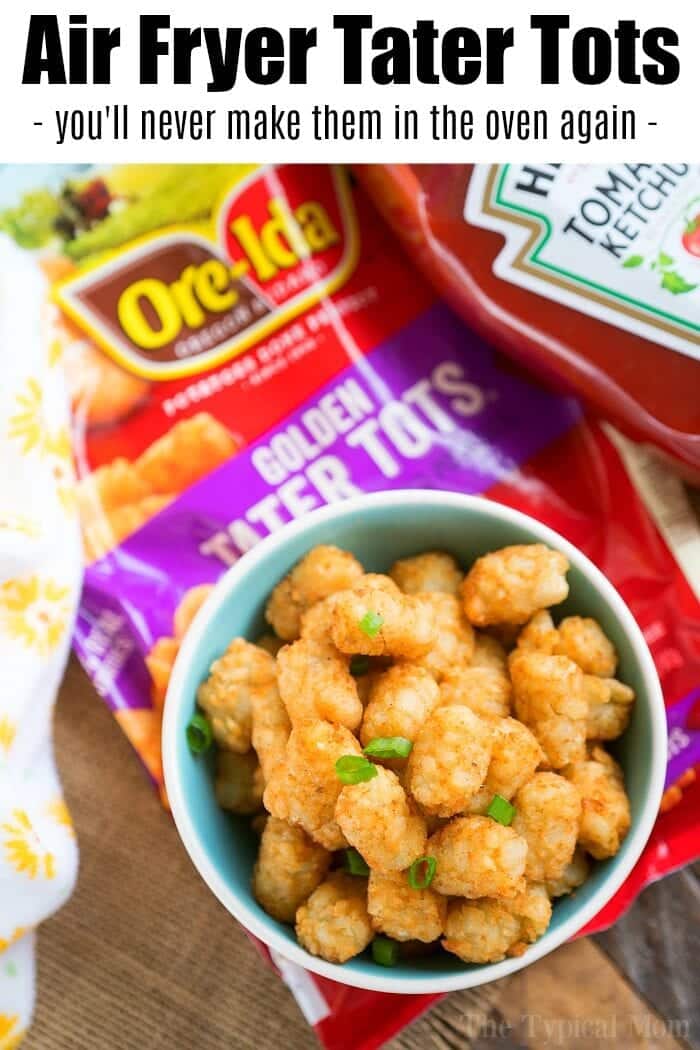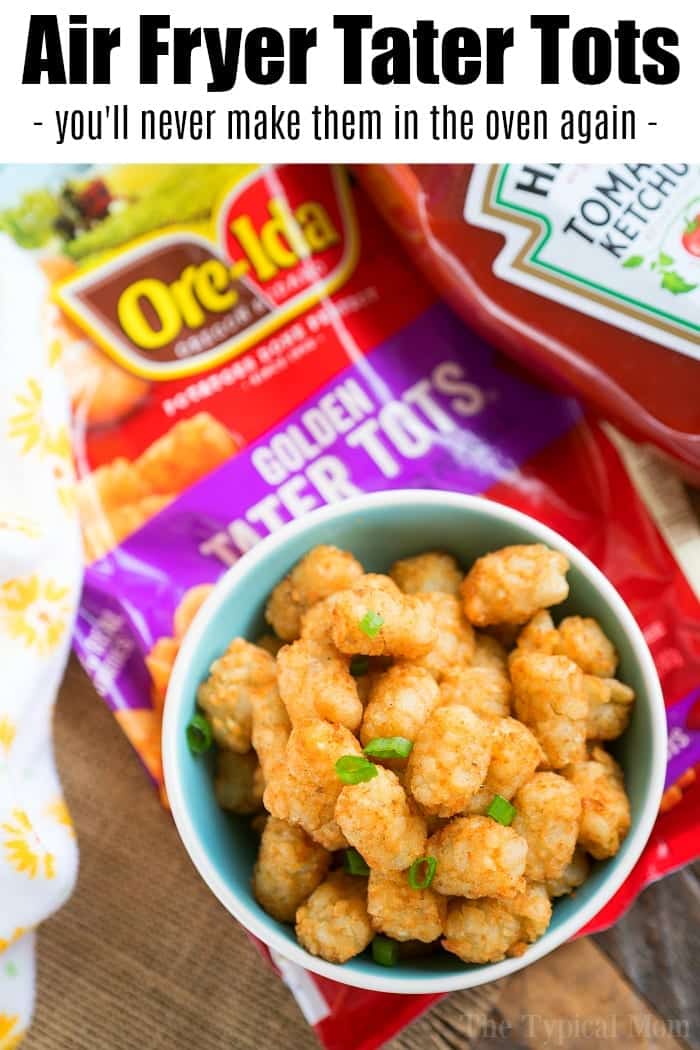 Ninja Foodi Tater Tots
Here is 1/2 a bag done and ready to enjoy!
What if you want cheesy tater tots?
Cook as directed in the recipe card below.
Then sprinkle some shredded Kraft Mozzarella Cheese on top.
Add 2 more minutes at 400 degrees.
Remove and enjoy immediately for stringy cheesy tater tots.
Remember to drizzle some Heinz Tomato Ketchup on top for the ultimate snack.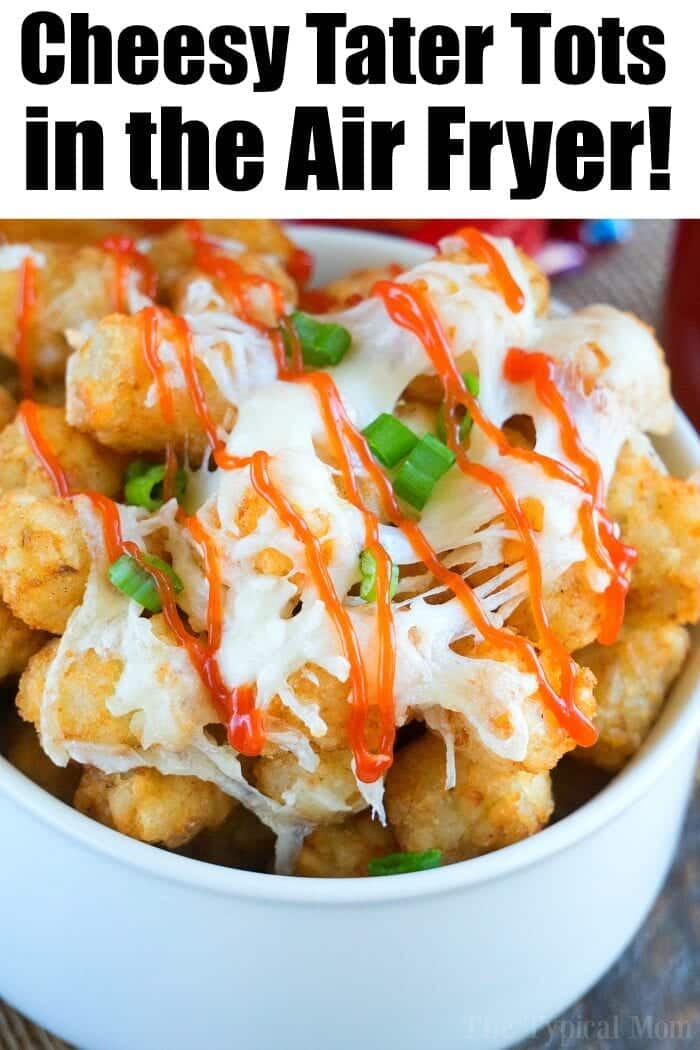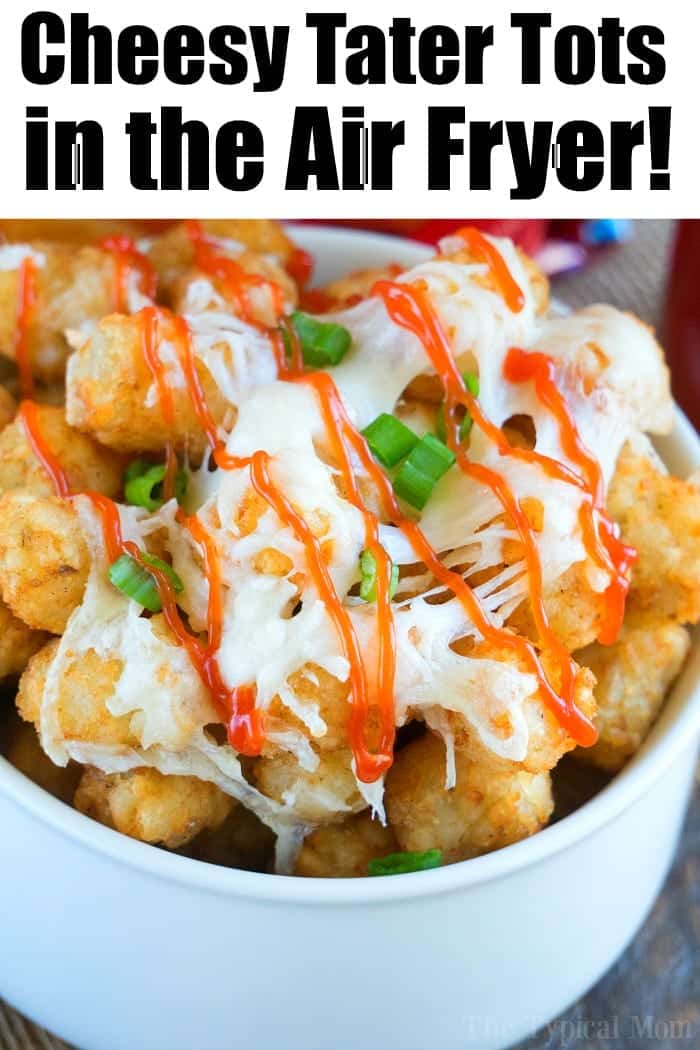 Tater tots air fryer
Ore-Ida Tater Tots – found in the freezer section
Shredded Kraft Mozzarella Cheese – you'll find this near the lunchmeat
Heinz Tomato Ketchup – in the aisle with other condiments
When you don't have time to make homemade french fries these are great! Air fryer pickles are great too served with tots and this fry sauce recipe!
We have frozen french fries air fryer and frozen chicken strips in air fryer instructions here too!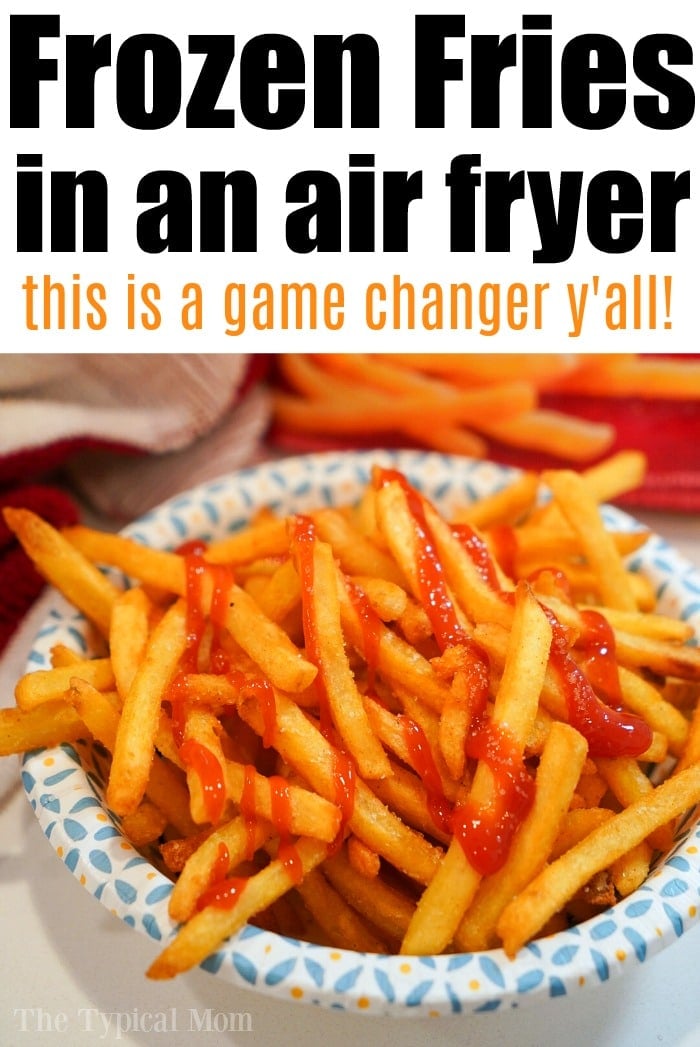 No convection oven needed, just your air fryer! Be sure when you check out make sure to grab your game board and game pieces too!! What have you won so far??
Want to see a few of my favorite things that I am totally obsessed with or visit my Etsy shop?? Take a peek and see how many you might already have…twinsies!
Looking for more easy family recipes and tips? LIKE The Typical Mom Facebook page?
Then sign up for my free newsletter, and follow me on Pinterest! 😉
***** If you LOVED this recipe give it 5 Stars below and let everyone know what you thought about it. 😉
Air Fryer Tater Tots
Ingredients
1

bag

Tater Tots

frozen, Ore-Ida
Instructions
Preheat your air fryer to 400 degrees for 5 minutes.

Spray your air fryer basket with non stick spray and pour in your frozen tater tots.

If making 1/2 a bag set to 10 minutes and flip after 5 minutes.

If making the entire bag set to 15 minutes and flip after every 5 minutes, so 3 times during the process.

Add additional minutes for extra extra crispiness.

If you want to add cheese sprinkle some on top and set for an additional 2 minutes at 400 degrees.

Remove, drizzle with ketchup and enjoy immediately for crispiest results.
Nutrition Facts
Air Fryer Tater Tots
Amount Per Serving (3 oz)
Calories 331
Calories from Fat 135
% Daily Value*
Fat 15g23%
Cholesterol 11mg4%
Sodium 916mg40%
Potassium 474mg14%
Carbohydrates 43g14%
Protein 6g12%
Vitamin A 195IU4%
Vitamin C 12.1mg15%
Calcium 94mg9%
Iron 0.9mg5%
* Percent Daily Values are based on a 2000 calorie diet.