Frozen french fries air fryer style are the best!! Crispy just like at a restaurant but healthier since you do NOT have to fry them in oil. Before trying this, I decided to make homemade air fryer french fries and those came out great so these were next. Game Changer!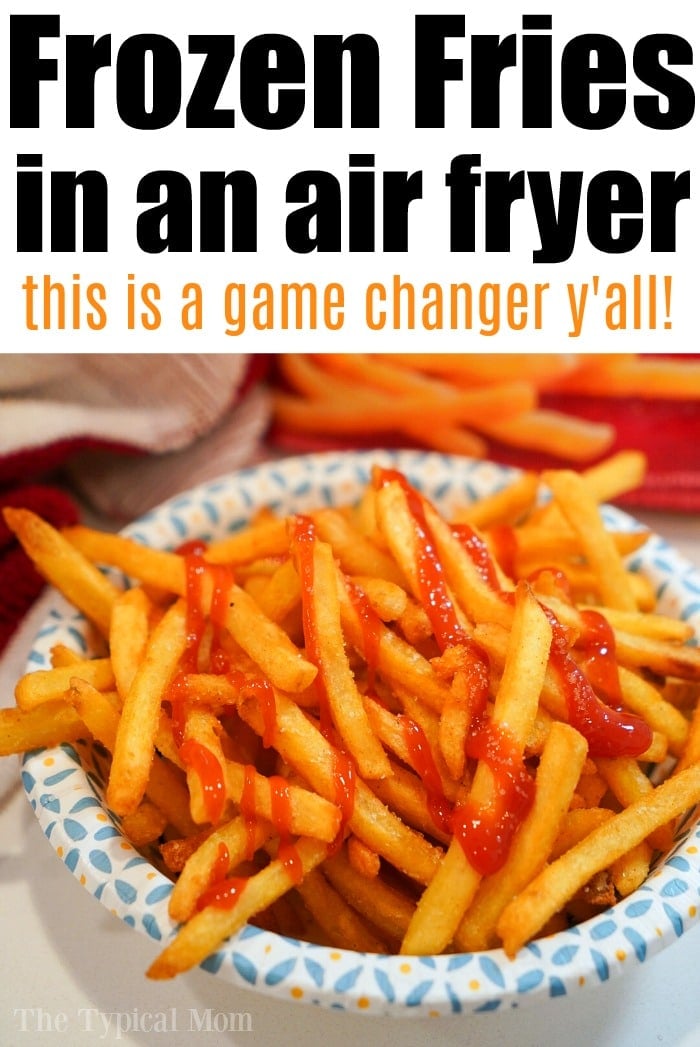 Making frozen french fries air fryer style was a game changer this afternoon! We were all surprised at how crispy they turned out, WAY better than in the oven. This and more easy air fryer recipes can be found here on The Typical Mom blog. (originally published 1/20, affiliate links present)
Ninja Foodi Frozen French fries
Are you ready to air fry everything?? I would say we are because we use our machine at least once a day, maybe more.
We have been obsessed ever since our hot air machine arrived on our doorstep. We've made everything from air fryer carrot fries, to air fryer frozen chicken wings and the list goes on and on. It doesn't matter what brand you have. A Foodie, Cosori, AirWave, they all basically work the same so get going y'all.
FIRST – You should sign up for my free newsletter so you get new posts emailed to you twice a week and never miss out on anything! If you love air fryer recipes too, here are some resources to start with: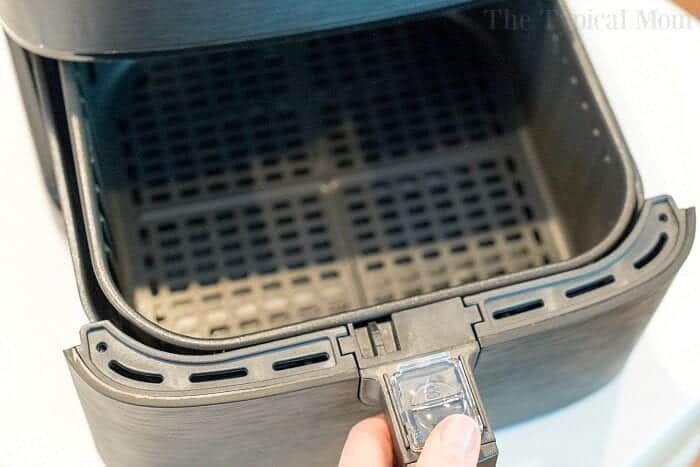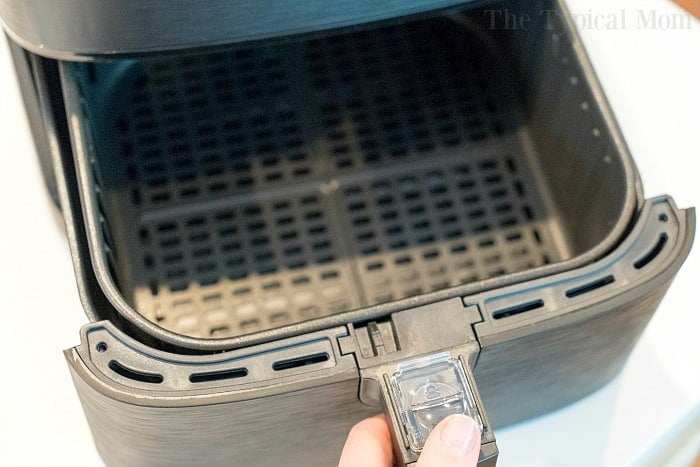 Air Fryer frozen french fries
1 bag frozen fries – I chose extra crispy style which I recommend
Olive oil spray
Salt
Ketchup
That is all you will need. Of course you'll want to pair this with a meal most likely. Frozen fish in air fryer is yummy, or try one of our chicken recipes too. I mean they can just be a quick snack too.
My teens can make them without me which is nice. Just pop them in and they're just as good as at a restaurant.
How Long to Cook Frozen French Fries in Air Fryer
Give or take 15 minutes depending on how many you add. They will get done faster if you add fewer and not overlap the pieces. Then the hot air can rotate around each one but always shake the basket halfway thru the timing.
What can you dip fries in besides ketchup?
Of course they are served with a variety of condiments, especially here in Idaho!! If you visit Boise Fry Co. out here they have a bar full of french fry dips.
You could recreate this at home for a party too which would be fun including:
If you want to try something totally new you should give our bang bang sauce a whirl! I swear it is good on everything!
Air Fryer Crinkle Cut Fries
You can choose the straight or misshapen type like these. The thicker they are the longer they will take to cook thru to the middle though. Keep that in mind.
As far as dips once these are done the list goes on and on, and you don't need anything per say. Love just salt on the top maybe dipped in a milkshake 😉 I mean anything goes but here are a few choices beyond that;
honey mustard
tartar sauce
tzatziki
garlic sauce
ranch dressing
Knowing the correct air fryer frozen french fries cook time is easy with our air fryer cook time printable!
This free printable is key to knowing how long to cook brussel sprouts, air fryer kale chips and more perfectly.
Can I use frozen french fries in an air fryer?
These and air fryer potato wedges take a while longer to make, but give these a whirl too. I should've tried air fryer frozen french fries WAY sooner because they came out amazing.
How long does it take to cook frozen french fries in the air fryer?
About 15 minutes is perfect. Of course each brand is different, some are thicker than others and may take an extra minute or two.
Yes you can put them on a baking sheet and into your oven but during the summertime I do NOT turn my oven on first of all.
Plus, the difference in crispiness between the two methods is HUGE I tell you. There's no comparison if you ask us. Here we go with our batch for the afternoon y'all……
Do I need to defrost frozen french fries before frying?
When air frying French fries, do not let them thaw beforehand!!
They should be kept completely frozen which guarantees that the surface of the potato is sealed during the cooking process, resulting in a crispy, high quality fry.
How to cook frozen foods in an air fryer
You can follow the temp and times in our air fryer cook time chart. This has been a game changer for us. Like making air fryer corn dogs instead of throwing them in the microwave, they're SO much better!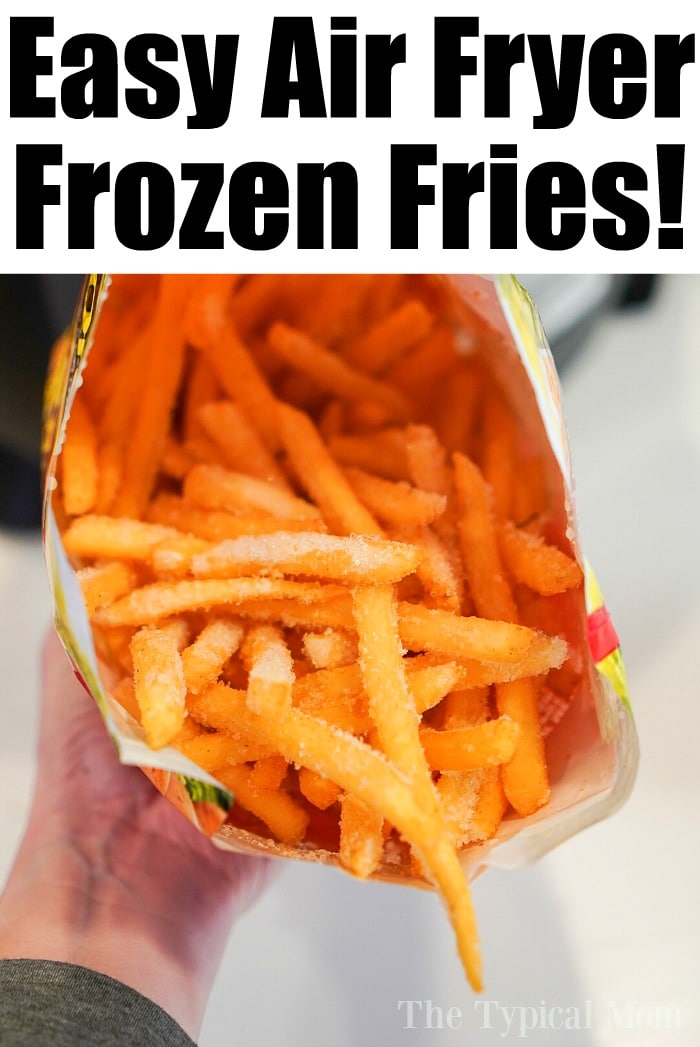 What are the best frozen French fries?
Well, I think that is really subjective but I guess statistics can tell you which ones are the best sellers amongst them all.
Ore-Ida Country Style Steak Fries come in at #1
Alexia Seasoned Waffle Fries are next because of the seasoning on them which is great
Ore-Ida Golden Twirls are fun especially with kids, in at #3
Trader Joe's Chipotle Ranch Fries are amazing if you can find them and like a bit of heat
Many of these brands have other things you'll love too like onion rings and more. Like I said, I really like this extra crispy style, I found these at our local grocery store.
Frozen French Fried Potatoes
Air fried french fries
When cooking frozen french fries it is all about short stints of time and a few shakes of the basket throughout the 15 minute cook time.
Oil added near the end will ensure they crisp up to perfection and taste like deep frying too. If you don't want to make homemade french fries in the oven this is a great second best.
Time needed: 15 minutes
Frozen French Fries in Air Fryer
Preheat

First preheat your air fryer to 400 degrees.

Add food

Pour half your bag into the air fryer basket, spread out so they're not overlapping or very little.

Cook

Close lid and air fry at 400 for 5 minutes, then shake the basket and continue cooking for another 5 minutes. Then shake the basket again, spray top layer of fries with olive oil spray, sprinkle with salt and cook for an additional 5 minutes.

If you wanted it to be a little less time intensive you could cook for 16 minutes, flipping halfway through cooking.

Tips

This timing and steps make perfectly cooked fries for us, if you want to make them REALLY crispy add 2 minutes at the end.

Once you're done with these you should try our potstickers, frozen mozzarella sticks in air fryer and air fryer tater tots too!!
How to cook frozen french fries in Ninja foodi
Use the same directions in the printable recipe card below. The button says air crisp which is the same as fry.
I would highly recommend you get an appliance specifically for air frying vs. the Instant Pot CrispLid device. They work much better for making dinners and side dishes on a regular basis and getting all edges really crispy.
Are frozen french fries already cooked?
In fact, bagged frozen fries have already been cooked, twice in fact. They're cooked in the factory first where the potatoes are blanched in hot water, then fried in vegetable oil.
Can frozen fries go bad?
No matter which brand you buy the safe freezer time is the same. A bag of frozen french fries will last for approximately 10 to 12 months if sealed properly in an airtight bag or container.
Want to see a few of my favorite things that I am totally obsessed with?? Take a peek and see how many you might already have…twinsies!
Looking for more easy family recipes and tips? LIKE The Typical Mom Facebook page?
Then sign up for my free newsletter, and follow me on Pinterest! 😉
***** If you LOVED this recipe give it 5 Stars below and let everyone know what you thought about it. 😉
Ninja Foodi Frozen French Fries
Frozen French Fries Air Fryer
Frozen french fries air fryer style are the best!! Crispy just like at a restaurant but healthier since you do NOT have to fry them in oil. Game Changer!
Ingredients
1

bag

french fries

26 oz, frozen

1/4

tsp

salt
Instructions
Preheat your air fryer to 400 degrees for 5 minutes.

Pour half your bag of frozen fries into the air fryer basket and close lid for 5 minutes of cook time.

Then shake basket and cook for another 5 minutes. Once that is done shake the basket once more, spray top of fries with olive oil spray lightly and salt lightly too.

After 15 full minutes fries should be perfectly crispy. If you want them crispier leave in fro 2-3 more minutes.
Nutrition Facts
Frozen French Fries Air Fryer
Amount Per Serving (2 oz)
Calories 1
Calories from Fat 9
% Daily Value*
Fat 1g2%
Sodium 73mg3%
Carbohydrates 1g0%
Protein 1g2%
* Percent Daily Values are based on a 2000 calorie diet.