Here are a list of must have Crock Pot Express accessories to make your pressure cooker experience easier! Which vegetable steamer to use and which pans you need to make things like a Crockpot Express cake and more! Yes you can bake as well as cook a quick dinner in your favorite new kitchen appliance.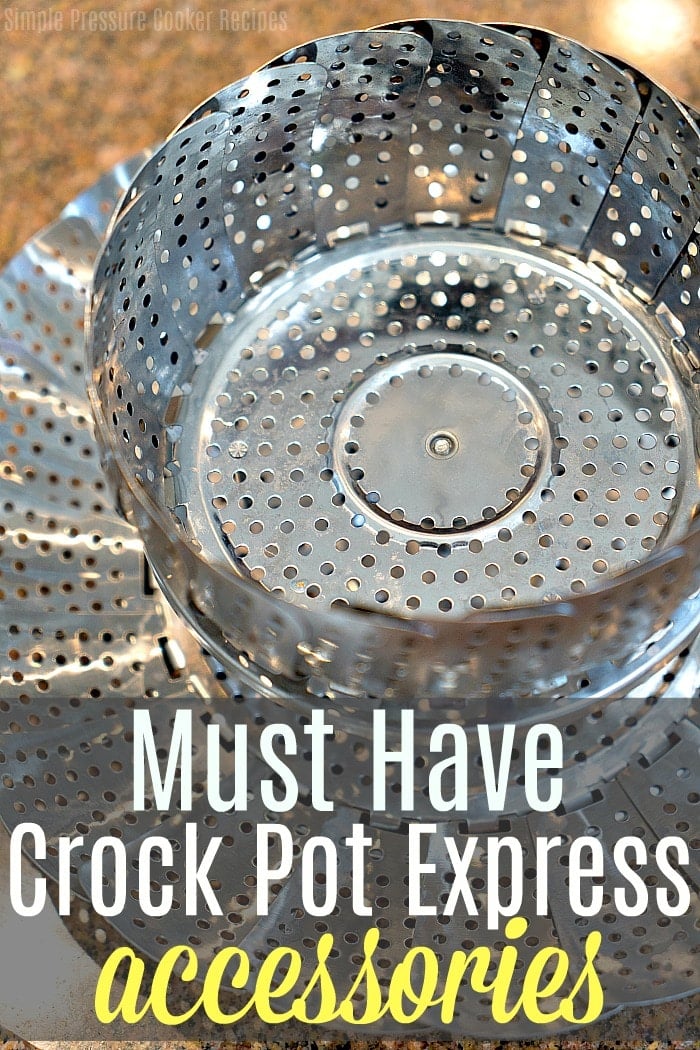 If you just took your new pressure cooker out of it's box and wondering what Crock Pot accessories you really need, and which ones you could go without. I have a few answers for you here! I have been using an Instant Pot for a year and now I'm using this almost on a daily basis, depends on what mood I am in. Then you can go on to make all the Crockpot Express recipes from there. (originally published 4/18, affiliate links present)
You do not need every gadget out there but there are a few items that I use often and have created lots of wonderful pressure cooker recipes. Many accessories I use are interchangeable between my two fancy pressure cookers too which is handy.
Crockpot Express Accessories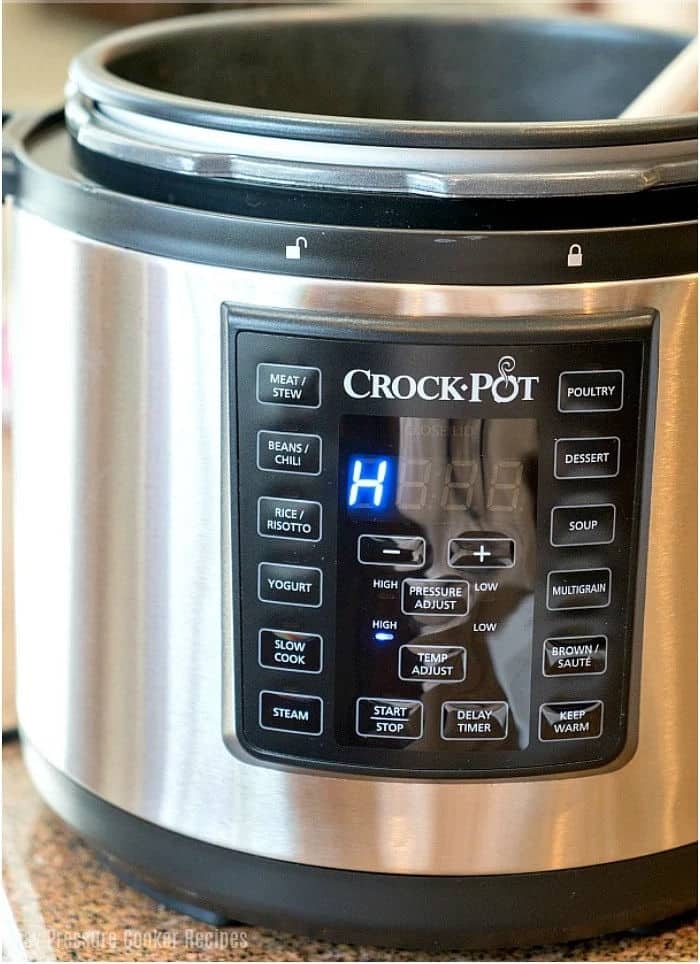 Crock Pot Express Parts
I talk about Instant Pot vs Crock Pot Express here and honestly I love them both but there are differences. Both come with stainless steel pots but this one has more of a non stick coating inside which I really do appreciate, especially during cleanup.
Pressure Cooker Accessories
And like everything else, these work in any brand you might have. SO if you decide to buy a larger 8 quart Instant Pot later so you can cook more than one thing at once these will be interchangeable. You can totally bake in this too though if you want.
If you want to make a pressure cooker pizza, cake, or need a larger pot to cook things like Crockpot Express grits this set has everything you need and more

(says for air fryer but works fantastic in an Instant Pot and Crock Pot Express pressure cookers

This single level Crock Pot Express vegetable steamer is great for steaming vegetables like artichokes and just about anything else

(most things listed for Instant Pot will work in this pot). Note the feet on the bottom elevates it out of the water.
There's a great double decker vegetable steamer we have too! It's so popular that it is out of stock frequently and you have to keep an eye on it but it is great.
Accessories for Crock Pot Express
Since the inside of your pot has a great non stick coating you want to make sure that you have wooden utensils so you don't scrape and damage the inner pot. One of the most important Crock Pot accessories you can get! I have a few spoons like this one but didn't have many so I purchased a few more since I got my Crockpot Express pot. I love the fact that it has a non stick pot!!
If you are still apprehensive about actually using it don't be. Start with something really simple like our Crockpot Express Pinto Bean Soup and go from there, you really can't mess that one up if you follow the directions. I always give step by step directions so there won't be any confusion. 😉
Now that you are set with a vegetable steamer, spoons, and small pans that will cook just about anything go for it!! You can refer to the list at the top and then move on to the others. Remember that it doesn't matter what brand it is, all of them work just great in this brand of CPE machine. You'll do great I promise.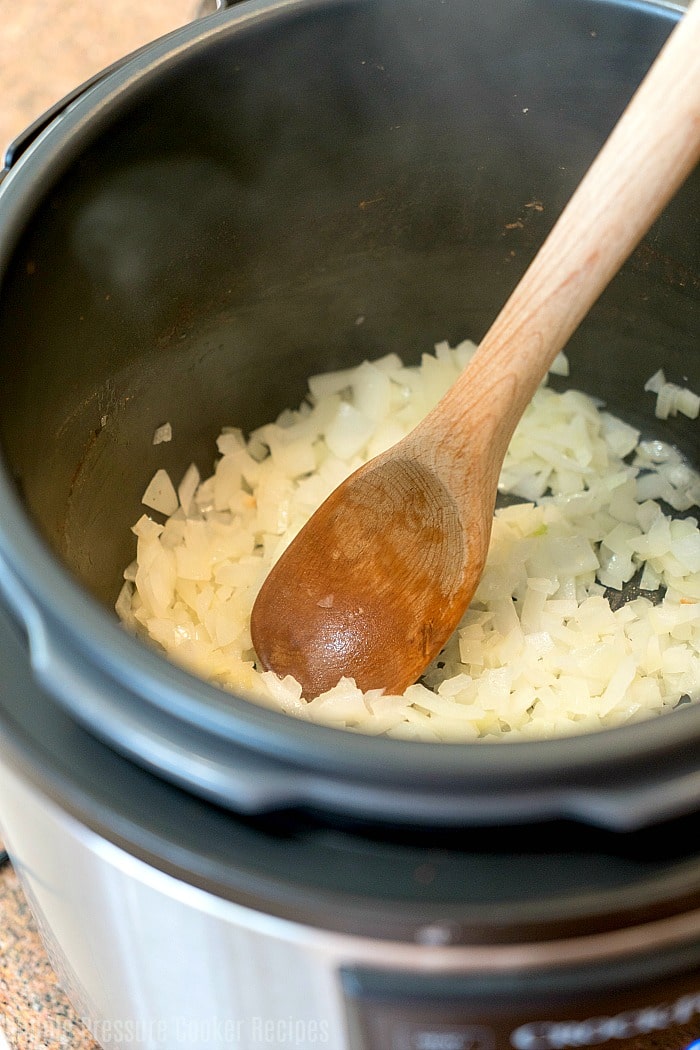 Crock-pot express 10 quart accessories
All of these will fit all the sizes out there which is nice. I'll say that for a family of up to 6 a 6 quart is plenty large enough to use. I have never had a 10 because for me it would take up way too much counter space. I've never had a problem fitting anything.
I'll say though that if you have a really large family you might need the room. Another reason would be if you wanted to let's say cook a few racks of Crockpot express ribs. I can only fit 2 if I cut them into smaller riblet pieces. If you were feeding a crowd regularly you could fit almost double with this big size.
I'll say that most everything I make on a regular basis like Crockpot express rice, casseroles or beans don't need anything at all. You just pour everything in and cook. You may need to saute at the beginning which doesn't require an additional apparatus either.
Crockpot Express Air Fryer
There are a few options you can take advantage of if you want to air fry in this same pot. CrispLid was once the only way but they have recently come up with their own version. You can buy it with a new pot or as a side item. I will say that if you don't want to buy an additional machine this will work better than not having anything.
HOWEVER I have to be honest and say that I much prefer to have the two different machines. Each one is great with the function it was meant to do initially. At first I did try to use this and was convinced by the ads that it was just as good, not. Then I broke down and bought a Ninja Foodi and it was way better. Then I went further…..
I had to see if buying a specific air fry machine was even better than that, it was. SO if you really want the best of the best and have a little spot in your pantry to keep the second I would break down and buy a Cosori too. There are so many things you can make in that, and crisp what comes out of this too. There is just no substitute for either one. They both work great for THEIR purpose.
Want to see a few of my favorite things that I am totally obsessed with?? Take a peek and see how many you might already have…twinsies!
Looking for more easy family recipes and tips? LIKE The Typical Mom Facebook page?
Then sign up for my free newsletter, and follow me on Pinterest! 😉
***** If you LOVED this recipe give it 5 Stars below and let everyone know what you thought about it. 😉