Color by number free printables for all holidays are here! Summer, Spring, Winter, Fall, Easter, Thanksgiving, Christmas pages and more.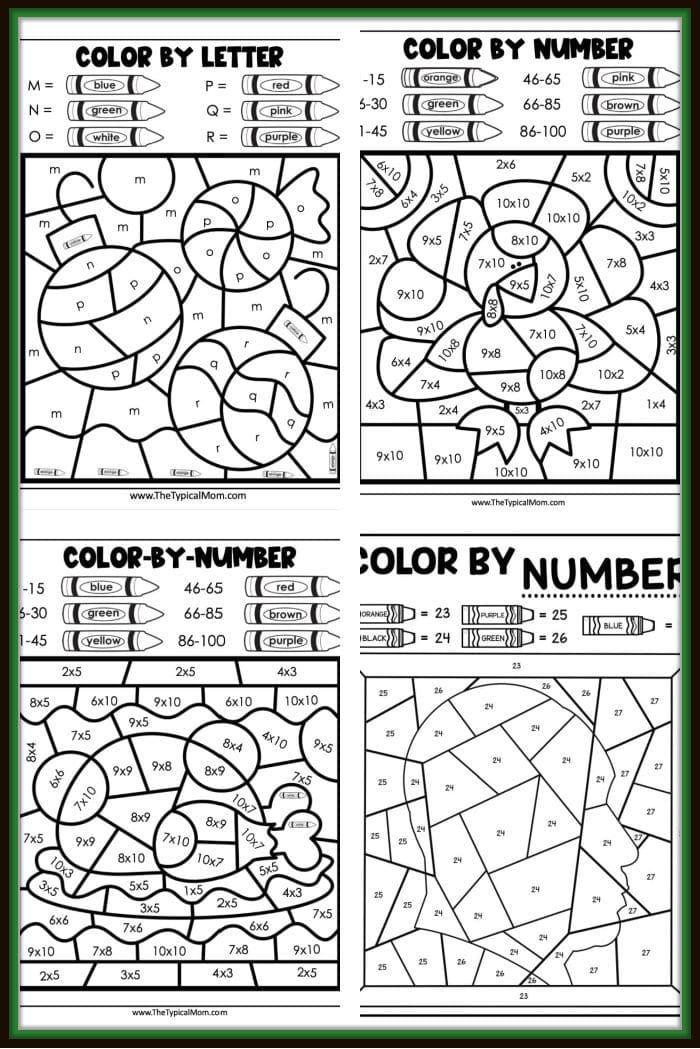 We have a ton of color by number free printables here for you. It's one of many holiday printables offered on our site because free is just my style. Keeping kids busy is a must too if you're a busy mom like I've been for 21 years (yikes).
Color by Number Sheets
Sometimes you're in for a rainy day and you need to keep the kiddos busy. All of these are fun but with a little learning along the way…how great is that??!! Between all of these and our long list of educational websites for kids you can fill an entire weekend with brain activity that they didn't even know was happening. 😉
You can print all 2-8 offered in each set or you can see a screenshot of how to print just one page right here. It is quite easy and once you do it the first time you'll understand for the next time and thereafter.
You'll want to click on the hard or easy color by number printable link sheets you want and let that pop up. Then instead of hitting the printer icon, click file on your computer.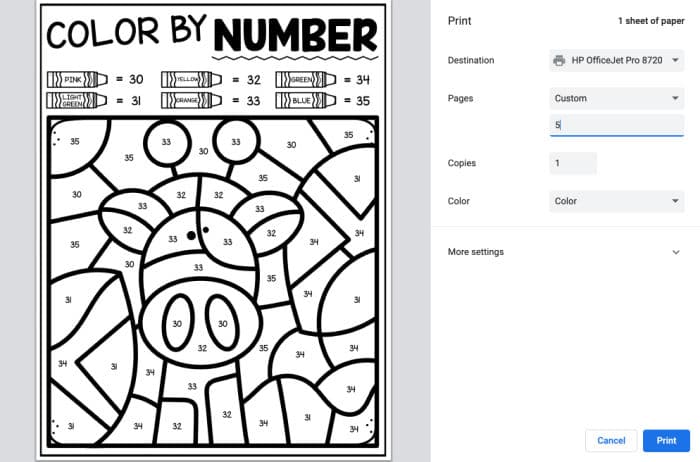 Color by Number Pages
Then next to pages hit the toggle to change from all to custom like you see here. Below that you can choose the numbered page you want. So if you only want the giraffe on page 5 and not the other 4 in the lot you can specify just that one. Put in the number of copies you want and print. They are all black and white so color won't change.
This works for every single one we offer. From dinosaur color by number coloring pages featuring addition and multiplication problems to Earth Day and more. For younger children you can match sight words with our color by number Kindergarten pages.
Color by Number Coloring Sheets
Let's start with the beginning of the year and some holidays you might be celebrating. In January you might like a few winter activities for kids where we feature a snowman coloring page. There are a lot of other Winter color by number printables here too. Those are always fun for all ages.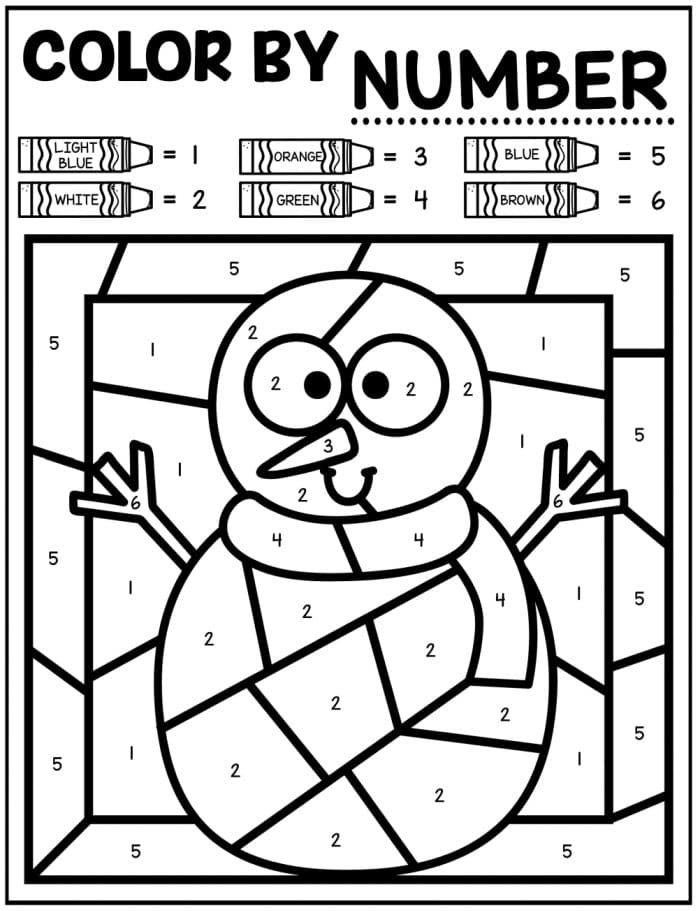 Color by Numbers Printables
If you love freebies like I do you will love this post. We have even more in the printables tab on the website so you can check that out and bookmark it after you get what you want here too. Some are really simple just with number recognition practice like our coloring pages Star Wars sheets and others have math problems etc.
They are great for rainy day indoor activities for kids or to use color by number animals sheets for a giraffe or lion birthday party!
Later in the month you might like this Martin Luther King Jr color by number printable here. It's great if you're teaching about black history month, or celebrating his birthday in the classroom or home. Depending on the start date of your school, it may be close to grabbing 100 days of school printables with addition and subtraction problems.
Free Color by Number Worksheets
As a former teacher I always loved finding free color by number worksheets. I started teaching Kindergarten but subbed older kids too and all ages just loved these. You can find them simple with just color matching, or math problems like our color by number dragon design.
The simple ones where you're just matching numbers can be seen as basically color by numbers coloring pages like our Pi Day one. I do have more difficult ones with math problems on them too that can add a bit of education into the mix too. We have all sorts of different ones you can choose from here.
I don't know if you live in snowy states like we do but there is always a lot of rain, clouds and such this time of year. That is why we created these 6 weather color by number pages. One features a tornado, an umbrella and all the things you'd expect in Jan and Feb.
Flower color by number pages with math problems on them can be used year round too. For an easier task you can find number recognition practice sheets in our Chinese New Year color by number pages.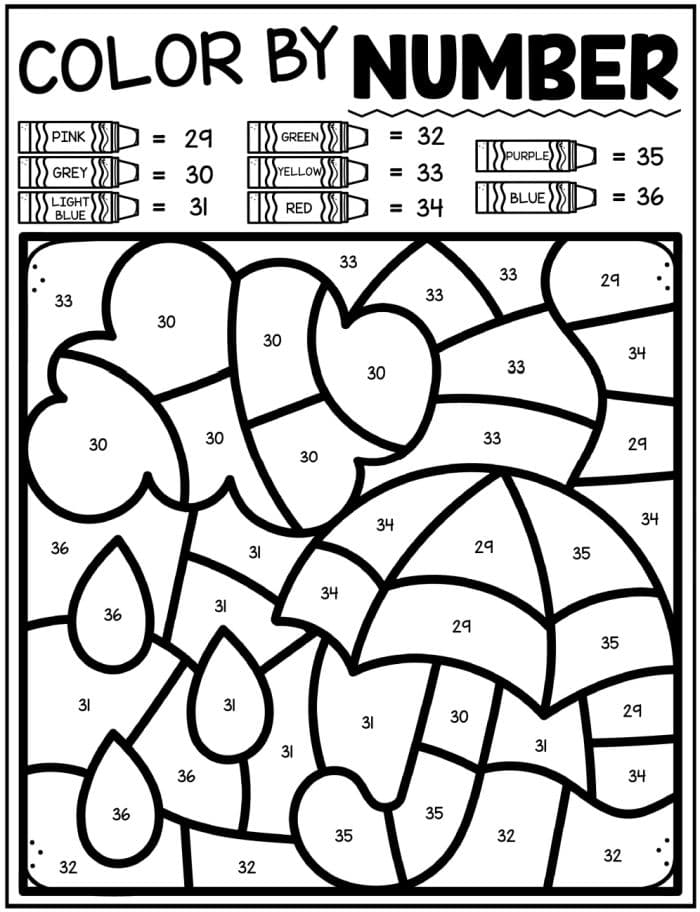 Simple Color by Number
We do have simple number recognition sheets like our Pirate Coloring Pages without problem solving too. Now let's move on to the next holiday in the year that is always fun for kids. Most classrooms celebrate Valentine's with treats, centers for younger kids, and cards for friends exchanged.
I have two multiplication and an addition color by number sheet available during this time to choose from. You can use both or just one of them for your kiddos depending on their age(s). Once the problems are solved they can use the key at the top of the page to color away.
Same thing goes with our unicorn color by number sheets. There are 6 to choose from with match problems. But we have other fun versions with hidden picture pages. If you haven't seen these yet, take a peek at our Harry Potter Pixel Art for instance.
My preference is providing crayons or colored pencils as markers can get messy, stain, and most of all leak thru to the other side. You can find both Valentines Day color by number coloring sheets here.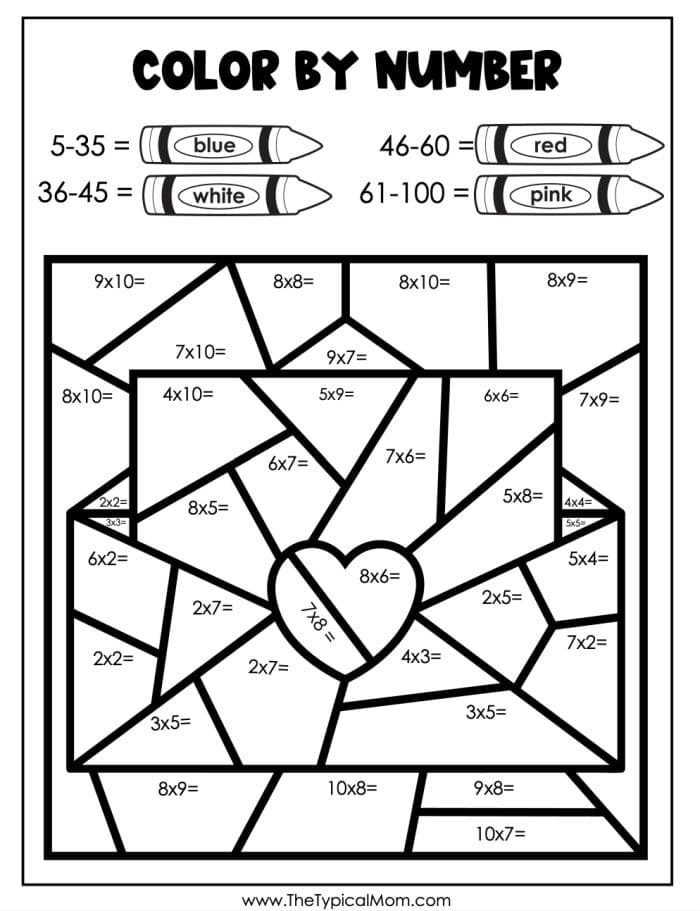 And then if you want to celebrate the next green days you'll love our St Patricks Day color by number sheets. We have a bunch of them to choose from.
Multiplication Color by Number
Then we will move on to April when we want Easter color by number pages all things recycling. We have Earth Day coloring pages, color by number pages here too.
Moving along to May, let's start with Cinco de Mayo coloring pages. We also have Mothers Day color by number and 8 different Fathers Day coloring pages for you as well.
And then at the end of May to Summer brings you Memorial Day and 4th of July color by number worksheets. All appropriate for both holidays.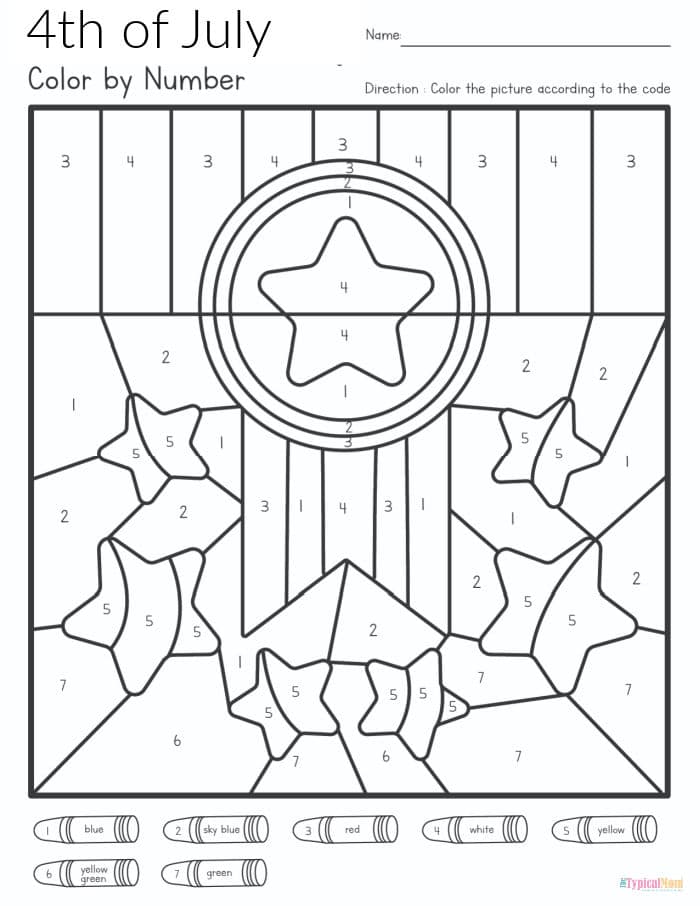 At the end of the year I am always looking for free holiday printables for kids. I guess that comes from when I was a teacher and every bit of freebies helped since many of us had to supplement the cost of many supplies. That is when I got hooked on finding and then later as a blogger creating them for myself and sharing them with you.
We always had a costume party of sorts with centers that are themed for that time. One of the pages we used was our Halloween Color by Number.
There are many on our site that are free coloring pages with characters your kids will love. They can be used throughout the year, not just during the holidays like our Pokemon color by number sheets.
We will start with our Thanksgiving color by number printables first. This is always a big holiday filled with friends and family in your home. If you have a lot of kids coming over you will want to keep them busy. I have 2, one with color by letter for little ones and the other is multiplication color by number.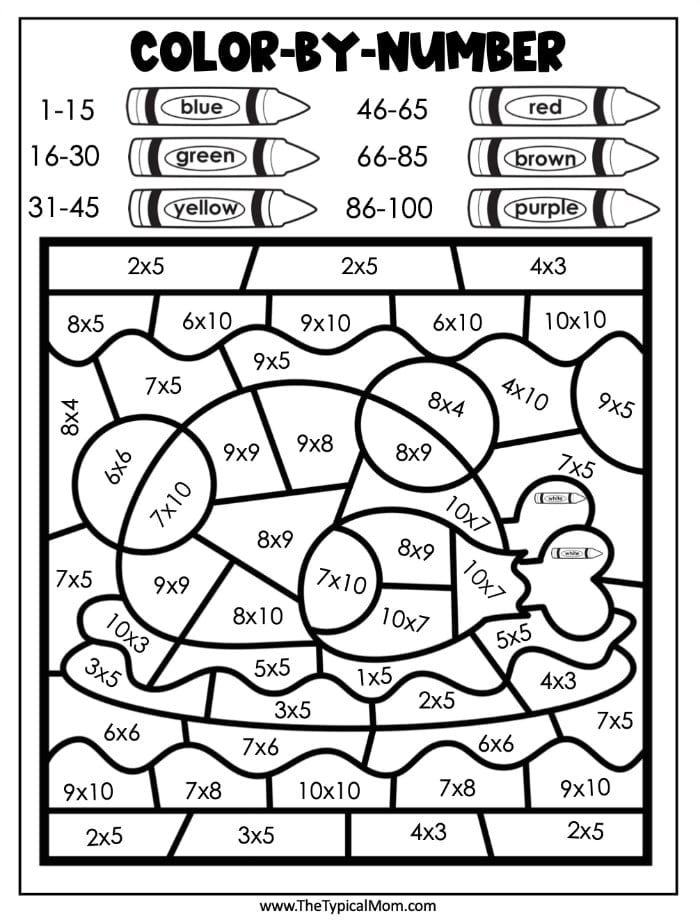 Printable Color by Number
Looking for something difficult like maybe an algebra color by number sheet? I have a few of those too with our Free Printable Color by Number for Adults sheets.
And then as soon as that day is over the other big one approaches very quickly as you know. Just as the other it is usually a large gathering with children of all ages. That is why I like to offer a few different versions so everyone can enjoy the "game" together. Number Recognition Worksheets would be for the really little ones.
You can offer it up just as an activity or you can make it a friendly competition of sorts to see who can get all the boxes correct and color it well. We have a few Christmas color by number pages here that everyone will surely get a kick out of.
AND a few nativity color by number sheets too which are fun. This is what the preschool color by number would look like, letter matching is always a good skill.
If you have little ones you may want a little learning involved, and fun. For this we did come up with a few free Kindergarten printables and color by number preschool for that. As you know there are about 100 words children should be able to memorize and read before starting school. To make learning fun we came up with these coloring pages.
There are 6 different sight word color by number pages to choose from here. You can see one of them below. Simple enough for even Preschool kids or even toddlers if you want to start that early.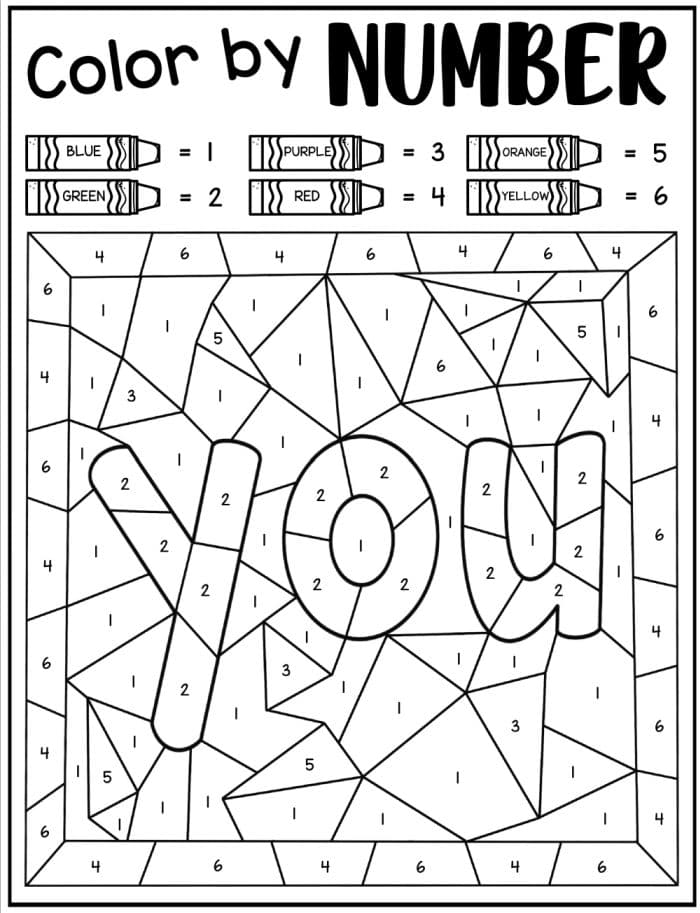 Birthday Party Color by Number
Disney is a fave right? Well we do have an Encanto coloring page actually 12 of them free for you here. If you have younger ones they may be more into Cat in the Hat books. You can enjoy these Dr Seuss color by number pages with either fractions or matching.
Now, we have added a few pixel art color by number sheets too. It's all the rage with girls and boys. Fun as you can see, kinda' a mystery picture that comes to life when you follow the key above. We started with color by number Mario versions and moved on from there.
If you are looking for a specific character we are adding new ones all the time. Of course you can choose different animals with the link above but if you want something like a Minecraft color by number we have those too.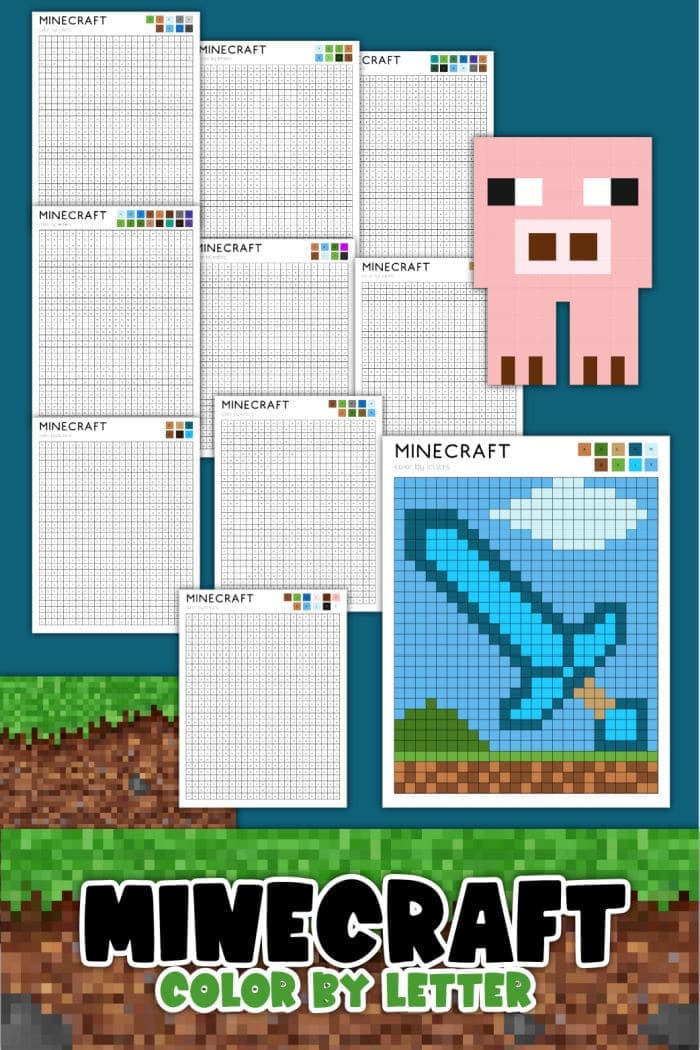 If you want just free printable coloring pages we have those too for the holidays. There are a bunch of free Disney printables on our site too if you love that.
Want to see a few of my favorite things that I am totally obsessed with?? Take a peek and see how many you might already have…twinsies!
Looking for more easy family recipes and tips? LIKE The Typical Mom Facebook page?
Then sign up for my free newsletter, and follow me on Pinterest! 😉
***** If you LOVED this recipe give it 5 Stars below and let everyone know what you thought about it. 😉