Free pirate coloring pages and color by number printables are here! Fun pirate themed treasure maps, ship, booty, parrot sheets to decorate.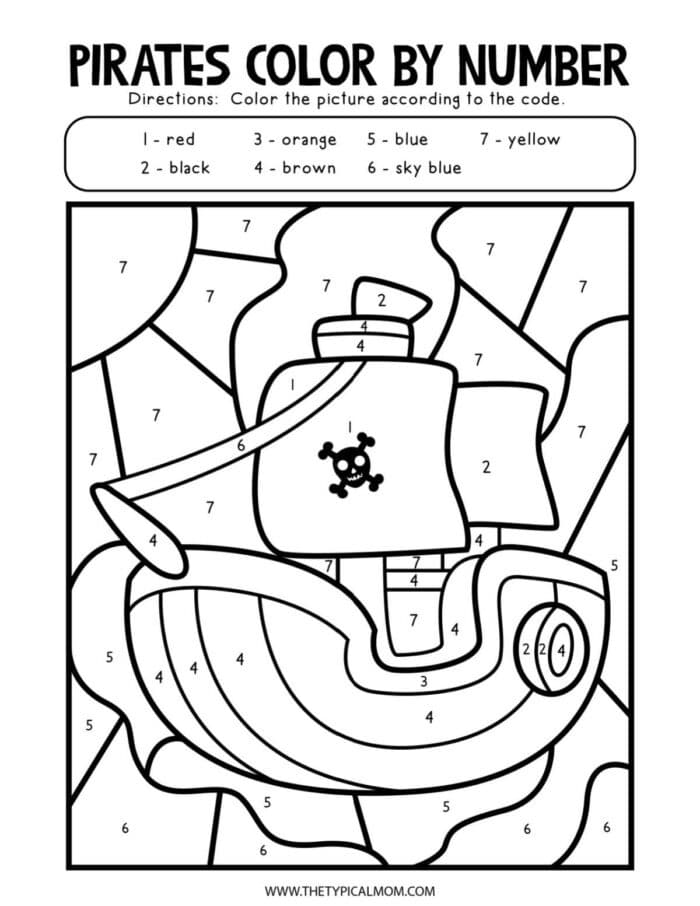 Avast, here are a few fun coloring adventures you can enjoy right from the comfort of yer own ship—er, home! Set sail on a voyage of imagination with our collection of free Pirate Coloring Pages that'll practice number recognition, fine motor skills and are just fun printables kids can enjoy. Grab one or a few with our Free Pirate Treasure Map and get started. (affiliate links present)
Pirate Color by Number
Ye can't have a proper pirate tale without a parrot squawkin' on a shoulder or a peg-legged pirate stompin' on deck. From vibrant feathers to crazy designed wooden pegs, these Number Recognition Worksheets / coloring pages let you bring these iconic characters to life with a flourish of colors.
No pirate adventure would be complete without a majestic ship to sail the high seas. Channel yer inner artist and imagine the details of sails billowing in the wind, cannons ready for action, and a crew of hearty swabs at the ready. Ye can decide if yer ship flies the Jolly Roger or a flag of friendship!
Since you're here I know you are looking for all the free printables for kids you can find. I add more each week so make sure you bookmark the blue link above and check back often.
First you should subscribe to our free newsletter to get more via. email too. Feel free to print one or as many as you like for rainy day activities that boys and girls will all enjoy! Here are our favorite items to use on coloring pages, word searches and color by number printables;
Pirate Birthday Party
If you are throwing a party for your kid(s) it is great to find fun activities that cost you nothing. We first used these Star Wars coloring pages one year and they were such a hit that we just kept going. Depending on your theme we have a lot of possibilities on our site.
I'm a former Teacher and wish I had a resource like this one when I was looking for sheets that were educational for those done with their work ahead of time. That is what I used these for, as well as at home. We have a lot of other free printables for kids here too if you are looking for other ideas.
Free Pirate Coloring Pages
X marks the spot! Dive into the world of hidden treasures, buried chests and pirate flags with these free printable coloring pages. Use yer artistic skills to create golden doubloons, glittering gems, and mysterious printable maps. Remember, the more creative ye get, the more valuable yer treasure becomes!
Pirates be known for their distinctive attire—tricorn hats, eye patches, and billowy shirts. Let yer imagination run wild as ye color in these fashion-forward buccaneers. Ye can even come up with yer own unique pirate fashion trends!
Islands with hidden coves, secret caves, and lush vegetation await ye in these coloring pages. Ye can decide what kind of flora and fauna inhabit these lands, whether they're inhabited by friendly natives or treacherous foes.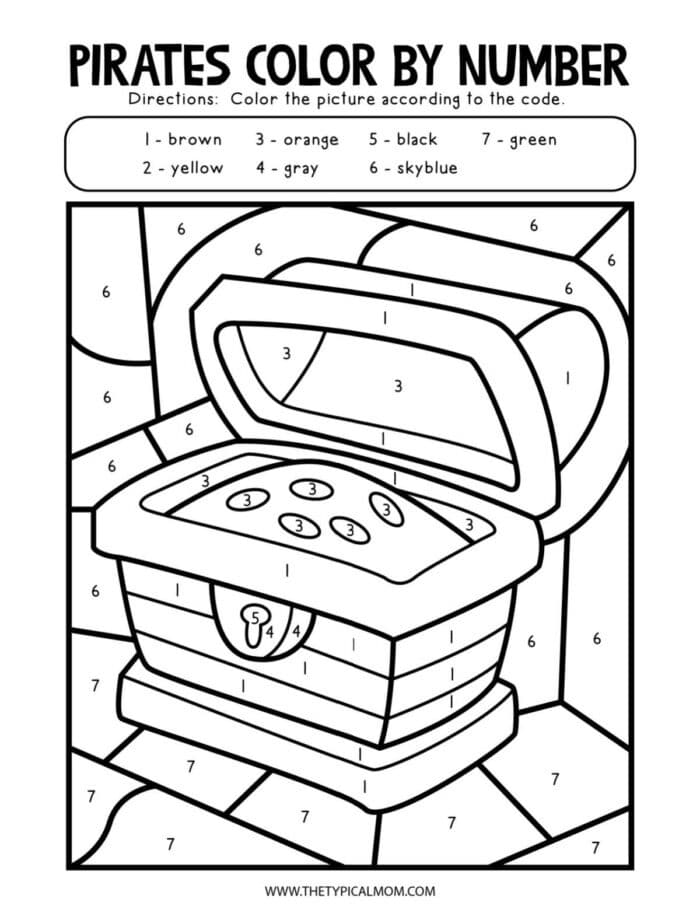 Pirate Map Coloring Page
Bravely face the tempestuous waves and raging storms as ye color in the high seas. Use shades of blue, gray, and white to capture the tumultuous nature of the ocean. Don't forget to add lightning bolts for an electrifying touch! Color by number worksheets add a bit of education (when they don't know they're even learning).
Every crew has its own code of conduct. Use these boy coloring pages to depict the pirate code, which includes principles like loyalty, courage, and the camaraderie of shipmates. Teach the young buccaneers about honor among thieves as they add hues to the pages.
From the infamous Blackbeard to the legendary Captain Kidd, there have been many notable pirates throughout history. These coloring pages give ye the chance to color in the likenesses of these pirate legends, adding yer own artistic flair.
Printable Pirate Ship Color Page
So, me hearties, whether ye be a young matey or a seasoned swab, these Pirate Color Pages offer an exciting journey into the world of adventure, courage, and imagination.
Grab yer colored pencils, markers, or crayons, and let yer creativity run wild as ye bring these pages to life with vibrant colors and bold strokes. Set sail on the sea of imagination, and remember—there be no rules when it comes to coloring like a true pirate!
** NOW HERE ARE YOUR Pirate Color Pages to download.
Want to see a few of my favorite things that I am totally obsessed with?? Take a peek and see how many you might already have…twinsies!
Looking for more easy family recipes and tips? LIKE The Typical Mom Facebook page?
Then sign up for my free newsletter, and follow me on Pinterest! 😉
***** If you LOVED this recipe give it 5 Stars below and let everyone know what you thought about it. 😉