Free number recognition worksheets are here! If your child is learning numbers, coloring pages are a fun way to practice them at home.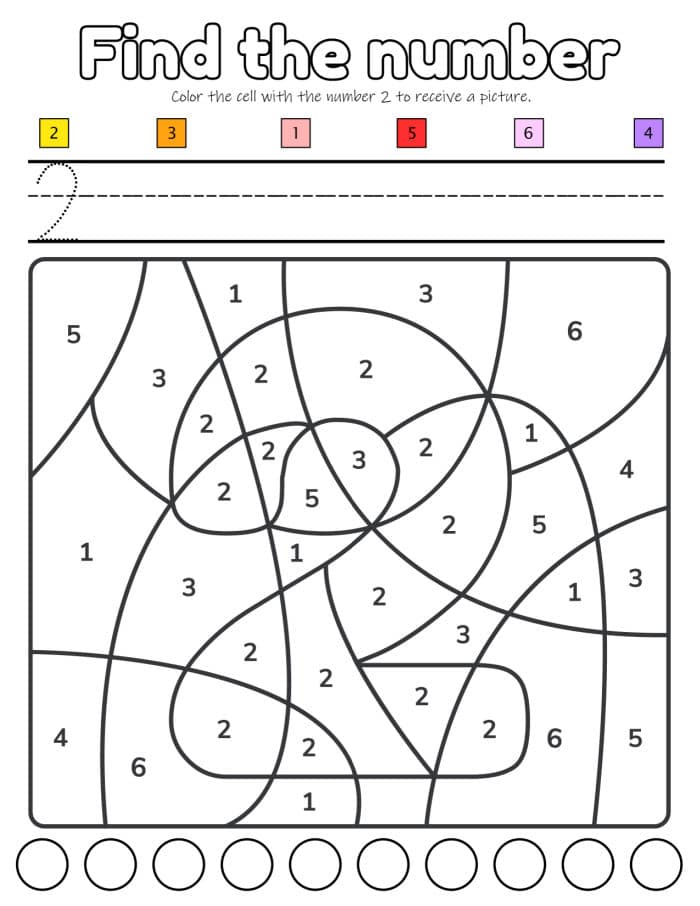 We have number color by number printable pages that are so fun for little ones. If you're looking for educational printables for your kids it is always great to find something that costs you nothing. Beyond these we have a lot of other color by number free printables here as well. (affiliate links present)
I was a teacher back in the day, that's right. It was so much fun teaching my Kindergarteners and then moving up to second grade. As we all know budgets are tight. Even back then I had to supplement the fun I wanted to integrate into my lesson plans. SO if I could find freebies I was all about them.
Number Color by Number
When I transitioned into blogging full time I always remembered those days and have created tons of holiday printables and learning pages like this one over the years. I hope these are helpful to y'all too.
Since you're here I know you are looking for all the free printables for kids you can find. I add more each week so make sure you bookmark the blue link above and check back often.
First you should subscribe to our free newsletter to get more via. email too. Feel free to print one or as many as you like for rainy day activities that boys and girls will all enjoy! Here are our favorite items to use on coloring pages, word searches and color by number printables;
Number Recognition Worksheets
Now you can print one of these if you only want one specific number you are working on in the classroom or all of them. If you want all then you just need the link below and just hit the print button on your computer. Doesn't work quite as well on your phone so I'd use a desktop or laptop instead.
When I was teaching I liked to start with just one thing, a digit and one letter to work on until they got it just right without being frustrated. These were great for that as well as my color by number Preschool sheets that focus on letter recognition.
You can use the same colored pencils or crayons for both and they are fun as well as having a learning element to each one. And free!! I'd work thru them all in preparation for starting school. Knowing both is vital for what your child should know before Kindergarten.
Number Coloring Pages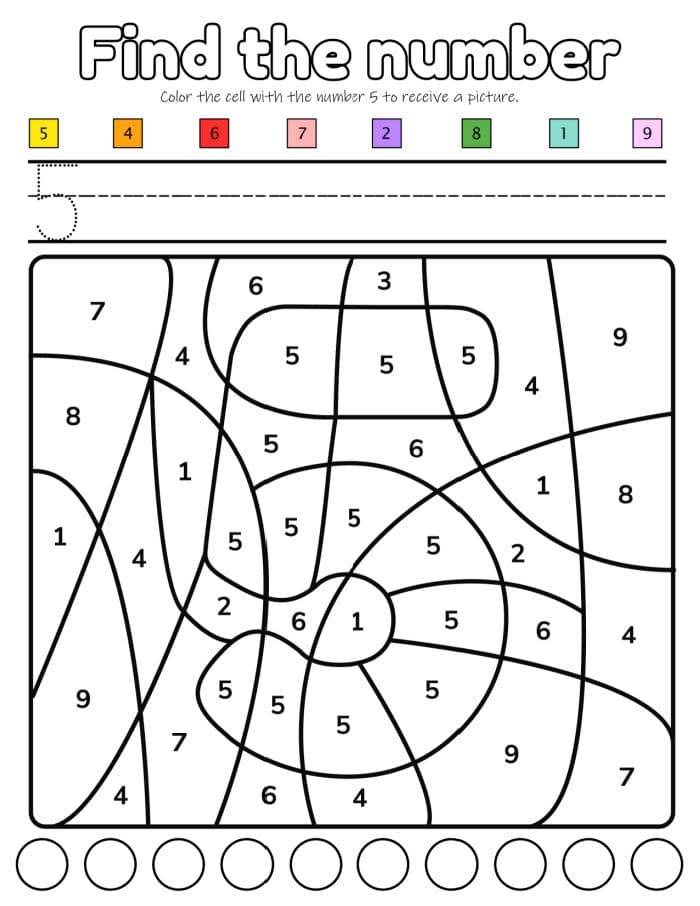 Learning Numbers for Toddlers
Now if you only want one of these specifically still click on the blue link below. Instead of just hitting print you can instead hit file, then change all next to pages to the one you want. Then you can print just one of those or many of the same page that you desire.
Time needed: 5 minutes
Learning numbers worksheets
Print

You can click on the blue link and print any or all of these color by number worksheets here. Each one has fun pictures that are free to color sheets of all kinds. Helps kids to learn their single digits.

Color

I always suggest using colored pencils or crayons for printable worksheets to color the picture instead of markers, especially with kiddos.
Learning Numbers
We have more number recognition pages with our Star Wars color by number sheets too. Boys and girls love doing those.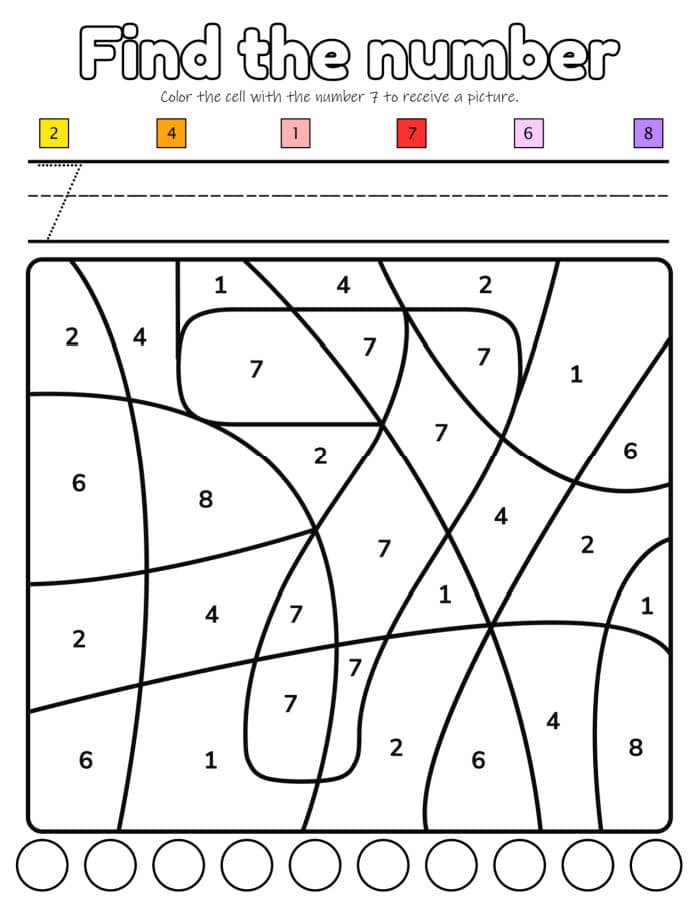 How to teach children their numbers
Teaching children numbers can be a fun and rewarding experience. These and our Pirate coloring page options here are fun ways to do it but there are others;
Sing counting songs and nursery rhymes that involve numbers. Songs like "One, Two, Buckle My Shoe," "Five Little Monkeys Jumping on the Bed," or "Ten in the Bed" can make learning numbers enjoyable and memorable for young children.
Use number flashcards with colorful images and corresponding numbers. Show the cards to children and ask them to identify the numbers.
Incorporate hands-on activities to make learning numbers more interactive. Use building blocks, beads, or counting toys to help children understand the concept of numbers through touch and play.
Play games that involve number recognition. For example, show a number and ask the child to find that number among a set of other numbers. You can also use magnetic numbers on the fridge or a whiteboard for interactive learning.
Read books that focus on numbers. Look for picture books that feature numbers prominently and engage children in counting objects and animals.
Encourage children to count everyday objects around them. Count the number of apples, toys, or steps while climbing stairs. This real-life practice reinforces their understanding of numbers.
Provide opportunities for children to trace and write numbers. Use worksheets or create your own with large, dotted numbers for them to trace. This helps develop their fine motor skills while learning numbers.
Introduce number puzzles and games that require matching numbers with the correct number of objects. This can be a fun and challenging way for children to learn and practice their numbers.
Utilize free educational apps and websites that offer interactive number games and activities for children. Many of these resources are designed to be engaging and enjoyable for young learners.
Incorporate simple math games that involve basic addition and subtraction with numbers. Use toys, counters, or fingers to make learning math concepts playful. Be patient and repeat number lessons regularly. Children often need repetition to reinforce their understanding of numbers.
Praise and encourage children as they learn using any of these fun activities or printable coloring pages. Positive reinforcement can boost their confidence and motivation to continue learning.
Remember, each child learns at their own pace, so be patient and make learning numbers a positive and enjoyable experience. Through a combination of playful activities, repetition, and positive reinforcement, children will gradually build their number skills and develop a solid foundation for future math learning.
Want to see a few of my favorite things that I am totally obsessed with?? Take a peek and see how many you might already have…twinsies!
Looking for more easy family recipes and tips? LIKE The Typical Mom Facebook page?
Then sign up for my free newsletter, and follow me on Pinterest! 😉
***** If you LOVED this recipe give it 5 Stars below and let everyone know what you thought about it. 😉