Air fryer dessert recipes are here!! If you're ready to learn how to make an air fryer cake or brownies in a Ninja Foodi, we're here to guide you along. Plus a new one for fruit hand pies is included too.
Love air fryer dessert recipes?? We have a bunch to choose from right here. From chocolate cake to donuts, sticky buns and more. If you love easy air fryer recipes you're in for some treats. (affiliate links present, originally published 3/21)
Ninja Foodi Dessert Recipes
You can use any brand you have. My Cosori works just as good as my Foodi, just use your favorite one. Most of these do not require air fryer accessories except maybe our pizookie which is incredible. The biggest difference amongst them all would be the size of the basket.
Obviously larger versions allow you to cook more food at the same time which means fewer batches and a quicker bake time. Perfect when you just want some sweets after a meal when there are just two of you though. Who wants to turn on the oven to make a few cookies right?
FIRST – You should sign up for my free newsletter so you get new posts emailed to you twice a week and never miss out on anything! If you love air fryer recipes too, here are some resources to start with: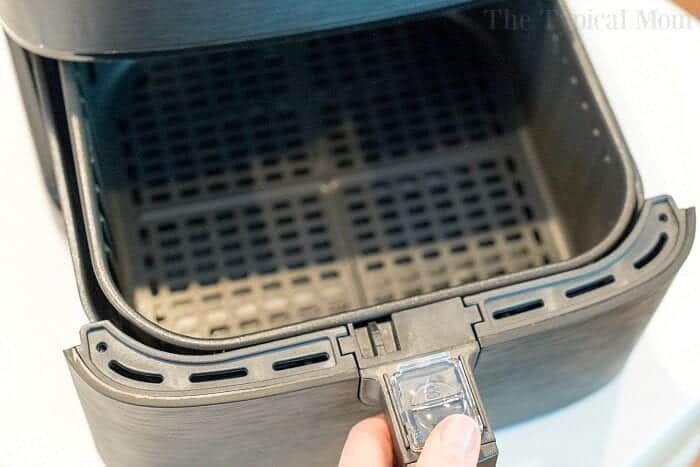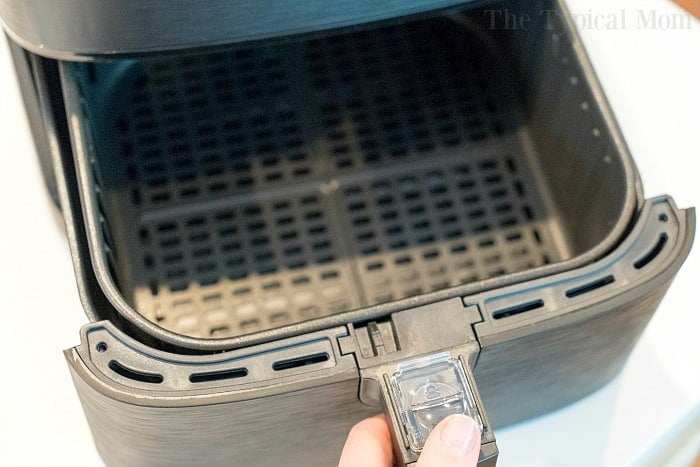 Air Fryer Desserts for One
If you have an air fryer basket you're set. They will all work in your Ninja Foodi too so it doesn't matter what model you have. Want to take all of these to the next level? Grab a gallon of vanilla ice cream to top them with too. The great thing about using this method is you can make a smaller amount, like our toll house cookies a few at a time.
Air Fryer Desserts Apple
If you want to work with fresh fruit it is easy too. You can make apple fritters this way with a homemade dough. Use ramekins to make apple crisp in a mug essentially which you can enjoy all by yourself.
Can you bake in an air fryer?
Well I haven't found anything that doesn't work. I mean I have made air fryer ribs even and those worked well. I suppose something submerged in water like white rice might not work as well.
You can really air fry everything though and it's so much better than in the oven. On the sweeter side you can make homemade churros in air fryer or fill the insides with chocolate too.
What can I bake in my air fryer?
Chocolate chip cookies are fun and always a win with the kiddos for sure. You can easily mix this one up with different flavors like peanut butter too.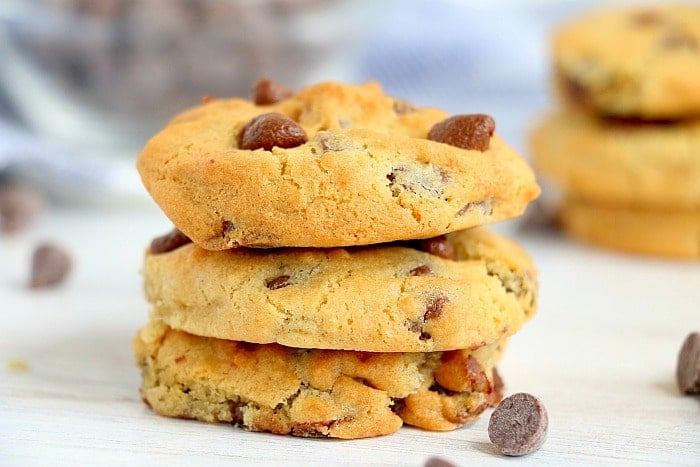 Can I bake a cake in the air fryer?
YES! If you love chocolate you can make an air fried cake with ooey gooey chocolate ooozing out of the center. We've got this air fryer pumpkin pie you've got to try.
Made in individual servings to satisfy your cravings, you can cook just a few air fryer gingerbread cookies at a time which is great for just a couple or yourself. 😉
Can you use ramekins in an air fryer?
Remember, it is a convection oven after all! You probably have some ramekins or mini baking dishes in your cabinet already, you don't need a special type.
Also tea cups work great too if they are oven safe. The size of your air fryer will determine what size you can fit, and how many can be put in at a time.
I love single serving treats. They don't get me into trouble as much I guess. lol
You can make as many or as few as you want too so they're warm and fresh every time.
Looking for the best air fryer donut recipe around? Search no further because we have these cinnamon sugar beauties! They're made super easy using refrigerated cinnamon rolls. Next to pop tarts they're my girls' favorite treats.
Air Fryer Dessert
In our list of easy air fryer breakfast recipes we have the recipe for air fryer zucchini bread too. This can be a morning treat or an air fryer dessert recipe as well.
I kid you not. Between my Instant Pot and this air fryer I hardly ever turn on my oven nowadays. Seriously, you can even bake in this thing!
There is nothing I cannot make in either of these "magical" multi functional kitchen appliances.
They're both taken with us when we travel in our RV too because they work so much better than the stove, even though it's brand new.
We've also trying to eat healthier BUT I love comfort foods to give them all up. THIS machine is the answer! You still get crispy foods without them being laden with oil and fat.
Next, you need to make our refrigerated sticky buns in air fryer. Don't stop there though because our semi homemade version of sticky buns is beyond amazing.
You MUST try these as they're incredible and taste homemade. A next step further to homemade, you can air fry lemon filled donuts or holes this way too.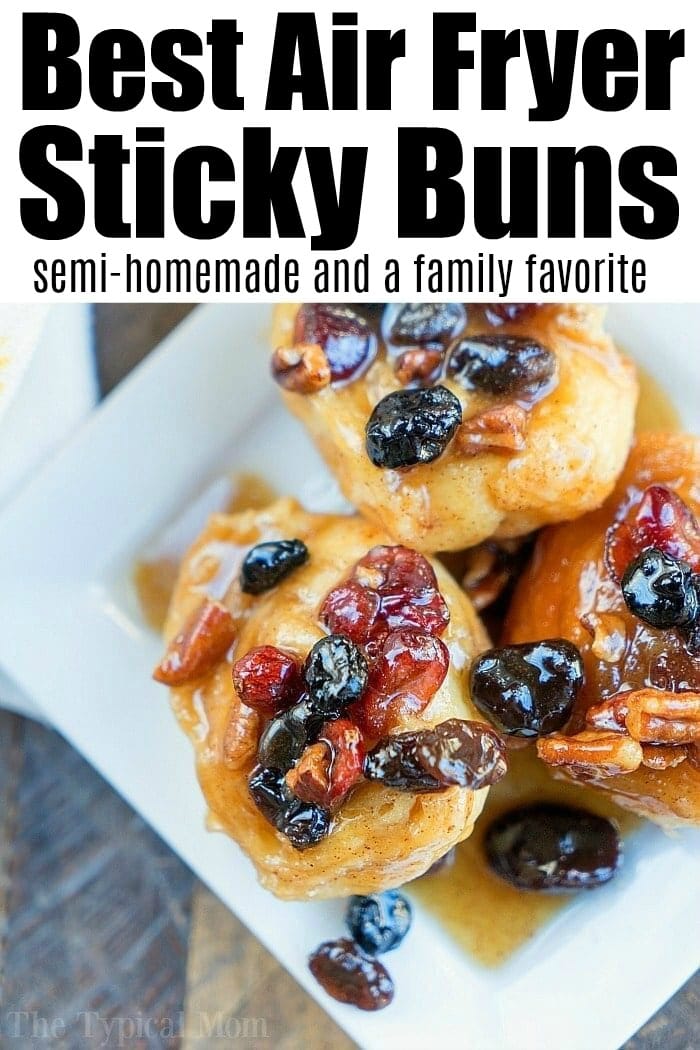 Desserts in Air Fryer
It is great not to have to turn on your oven during the summer to make air fryer cupcakes. Make just a small batch if you like with your kids and enjoy after dinner.
You can make a batch of air fryer brownies using a box of ready made mix.

It just requires an egg mold or mini bunt pan to do. We've made pressure cooker brownies too which are amazing but this way you get that crusty edge you probably love too.

Want to make an air fryer cake??!! You can do that pretty easily now too.
If you're ready for a Mexican treat you can throw in a batch of churros too.
NOW for an original one that you are going to love! You can use any type of canned pie filling but this time lemon was used. Here's how we made these:
Lemon Hand Pies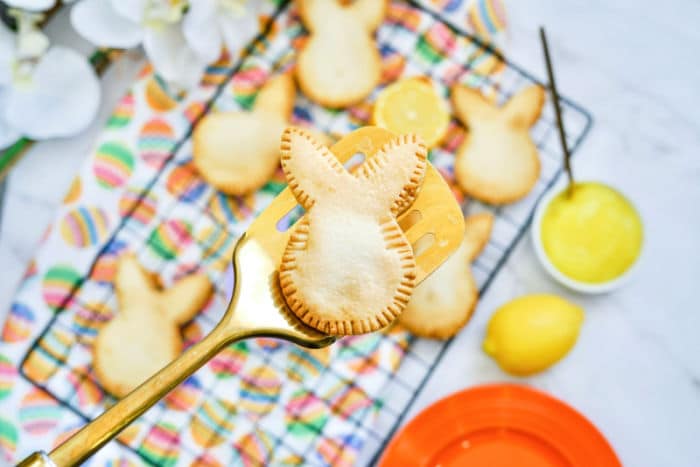 You can use refrigerated pie crust for the outside, cut into the shape you want to make and then spoon filling into the center of it.
Use a fork to press the edges together tightly so the middle won't ooze out.
Any shape will work but for an Easter dessert this is a fun one.
Then preheat your machine to 375 F. for 5 minutes and cook for about 6.
It doesn't take very long so keep an eye on them.
A bit of egg white or olive oil spray is good on the top so they don't dry out. That is really it. Think of all of the possibilities you could make with all different types of cherry, blueberry, pumpkin filling!
Want to see a few of my favorite things that I am totally obsessed with?? Take a peek and see how many you might already have…twinsies!
Looking for more easy family recipes and tips? LIKE The Typical Mom Facebook page?
Then sign up for my free newsletter, and follow me on Pinterest! 😉
***** If you LOVED this recipe give it 5 Stars below and let everyone know what you thought about it. 😉
Air Fryer Dessert
Lots of air fryer dessert recipes like fruit hand pies, turnovers, cake, cookies, brownies and more.
Instructions
Allow refrigerated pie crust to sit on counter for a good hour so it rolls out easily and doesn't break.

On a cutting board carefully unroll and lay flat. Use a cookie cutter to cut as many pies you want (you'll need 2 pieces per hand pie).

Preheat air fryer to 375 F. for 5 minutes.

Spoon about 1 Tbsp of pie filling in the middle of one of your pieces. Lay the 2nd piece on the top and use a fork to press and seal the outside well so nothing leaks out.

Lay inside air fryer basket and spray tops with non stick cooking spray. Close and cook for 5-8 minutes (larger will take longer than small ones) or until golden brown on the top.
Nutrition Facts
Air Fryer Dessert
Amount Per Serving (1 oz)
Calories 38
Calories from Fat 9
% Daily Value*
Fat 1g2%
Sodium 18mg1%
Potassium 17mg0%
Carbohydrates 10g3%
Protein 1g2%
Vitamin A 9IU0%
Vitamin C 1mg1%
Calcium 2mg0%
Iron 1mg6%
* Percent Daily Values are based on a 2000 calorie diet.