Lava air fryer cake will become your new favorite dessert! Ooey gooey chocolate lava cake made in ramekins inside your Ninja Foodi or other brand.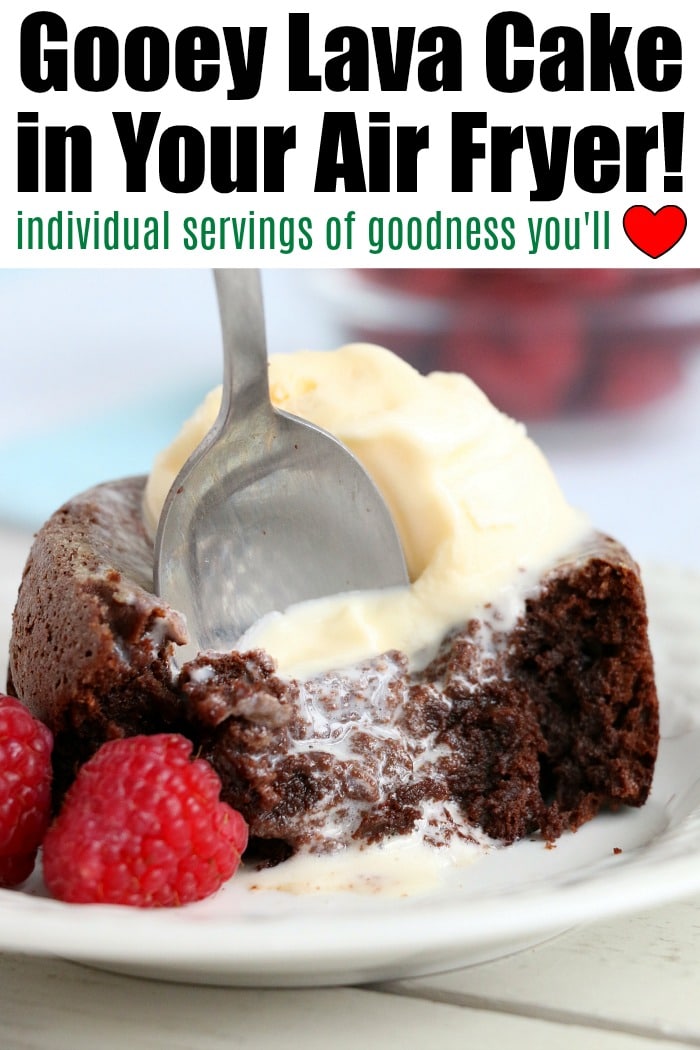 Have you tried an air fryer cake yet? Not a normal cake, but individual lava cakes that are pure bites of heaven I tell you. If you love chocolate and want to try a new air fryer recipe this week, this is it! (originally published 11/19, affiliate links present)
Cake in Air Fryer
These are just heavenly. Good thing they're made portioned out in ramekins or I might go overboard for sure. Add lots of chocolate in the center and oh my you're in for a treat.
We first made a Ninja Foodi cake using just a box of cake mix. That turned out well and you can do that as well if you want a quick dessert.
FIRST – You should sign up for my free newsletter so you get new posts emailed to you twice a week and never miss out on anything! If you love air fryer recipes too, here are some resources to start with: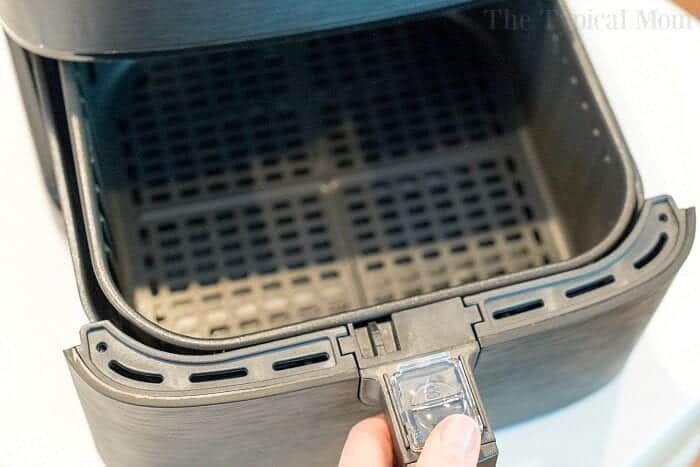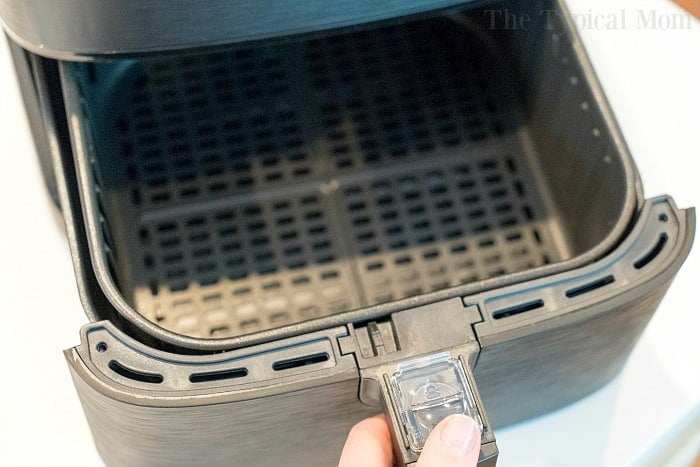 Air Fryer Lava Cake
It's called this because it's so ooey gooey when it is done a bit like a volcano that flows out when it erupts. I you haven't "baked" in this hot air machine yet you might be questioning things. Here are a few common questions I thought I'd answer before moving forward.
Can you make cake in an air fryer?
I wasn't so sure how well it would work to be honest. If you follow this cooking method though, it works great! I like how they're already portioned out and come out super moist too.
Can you use ramekins in an air fryer?
It is a convection oven after all so yes! Don't forget you probably have some in your cabinet already you can use. Tea cups work great too if they are oven safe. The size of your air fryer will determine what size ramekins you get. Here's a peek of this being made in the kitchen. I know, midway it even looks irresistible, but just keep reading.
How to Bake a Cake in an Air Fryer
I suppose you could use boxed cake mix for this but the homemade chocolate cake recipe below is better and super easy.
When making a boxed cake in air fryer that way I used the bake function. If your machine doesn't have that, this method won't work.
Is air fryer better than oven?
While a convection oven and an air fryer both use a fan to move hot air around, an air fryer circulates the it more rapidly.
This speeds up the cooking process for everything you cook in this thing I swear. Air fryers are healthier than deep frying and there's no risk of an oily mess.
It's also nice because if you want to make a small batch of air fryer banana bread or cake you can! It won't heat the whole house up either.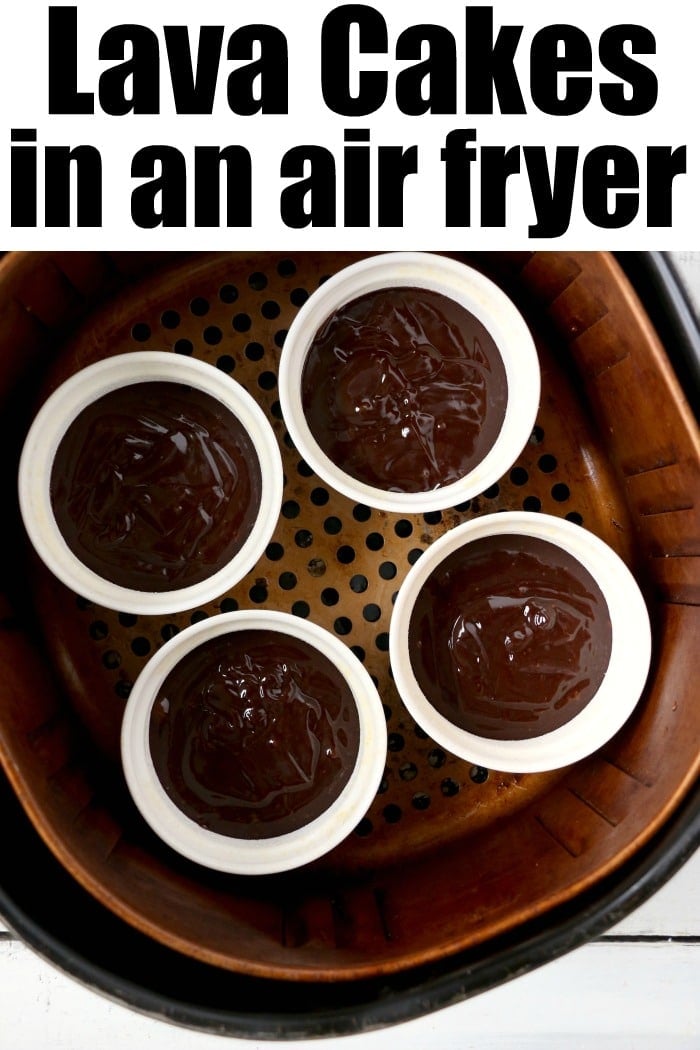 Lava Air fryer cake
4 ounce ramekins were used for this. I like how it was just the right amount for one person so you didn't have to serve anything other than the dish.
if using different sizes the cooking timing will just need to be adjusted more or less

non stick cooking spray is very helpful if you want to serve on plates

Butter
Lots of Chocolate chips of course. Dark or semi sweet are best if you ask me.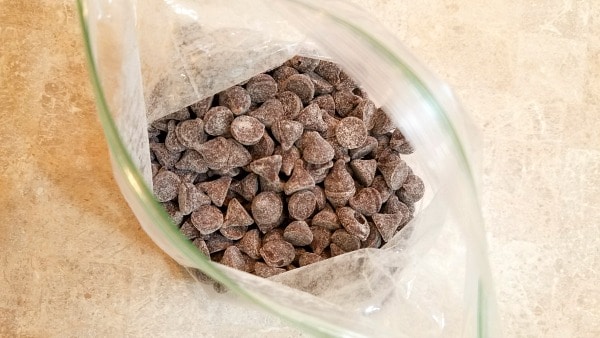 You can add more chocolate chips on top if you want them to be really ooey gooey and wet when they're done. Of course adjust things as you go but for your first batch I'd follow the instructions as written.
Experiment from there and make a few other air fryer dessert recipes too!
Air Fryer Lava Cake for Two
This is the air fryer we used for this batch. Some air fryer baskets are rather small so you may only be able to fit 2 or 3 of them at a time. Just cook in batches until you have as many as you'd like.
Time needed: 12 minutes.
Air Fryer Cake
Mix ingredients

Melt butter and chocolate chips until smooth. Can be done in a microwave for 30 seconds at a time, stirring in between sessions.
Whisk together sugar and eggs, then combine the two.

Fold in flour until well combined, then add into greased ramekins. divide between 4 equally.

Preheat

Preheat air fryer at 370 for 5 minutes.

Bake

Put baby cake pans into air fryer basket and cook at 370 degrees for 10 minutes, take out once toothpick comes out somewhat clean when pushed into the middle (you want a bit of gooey)

Cool

Allow to sit on cooling rack for 2-4 minutes to solidify if you want to flip on to a plate and stay in tact.
This whole process will take about 15 minutes before your dream dessert is done! Since they are already in small individual containers there is NO messy slicing or additional plates required to enjoy them. 😉
Can I bake in my air fryer?
Hope in this post, this question will be answered for you. YES you can! It is just one of the many ways we've made desserts at home. Here are a few other delicious ideas you might want to try after this one:
If you want another great one person simple dessert, this is how to make a brownie in a mug!!
Air fryer cookies are fabulous and you can really use whatever type you love best.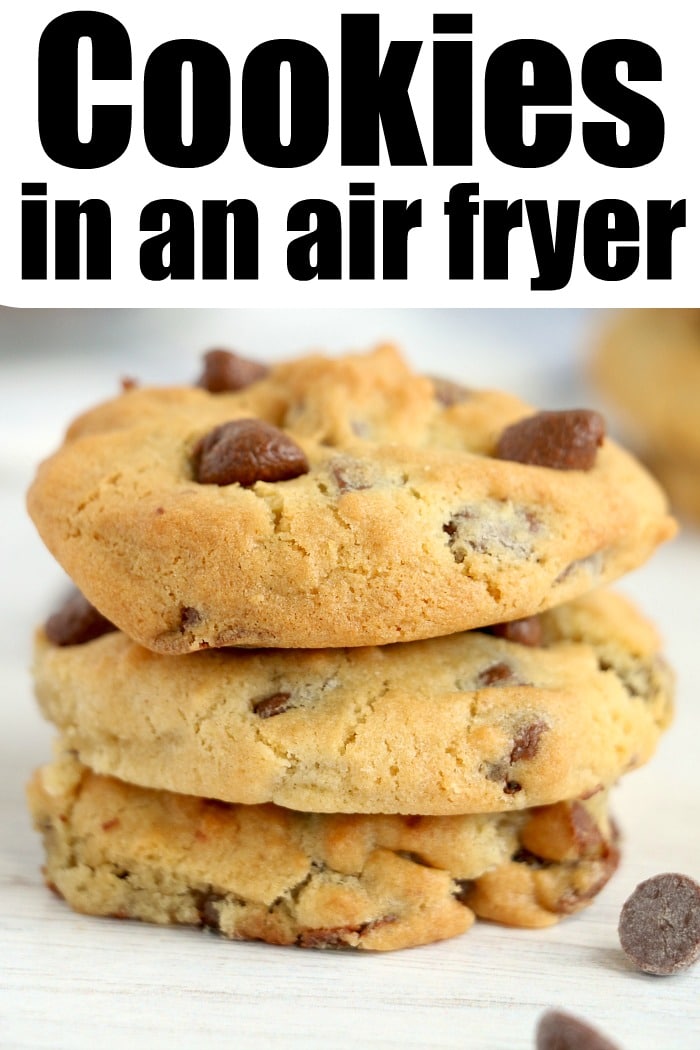 Boxed cake in air fryer
Bake a cake per the cake mix instructions on the back of your package. Then set the air fryer safe pan with the cake mix inside of it into the air fryer. Set the time for 20 minutes at 320 degrees F.
You can bake other things in it as well like air fryer cornbread and homemade or refrigerated cinnamon rolls in air fryer.
Use boxed muffin mix to make air fryer muffins now too.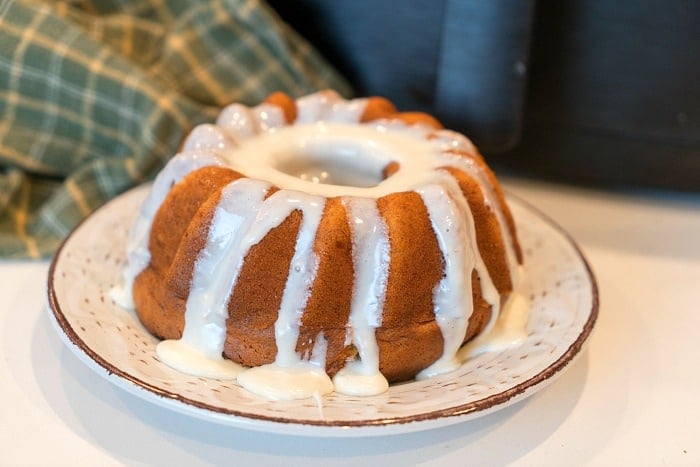 Want to see a few of my favorite things that I am totally obsessed with?? Take a peek and see how many you might already have…twinsies!
Looking for more easy family recipes and tips? LIKE The Typical Mom Facebook page?
Then sign up for my free newsletter, and follow me on Pinterest! 😉
***** If you LOVED this recipe give it 5 Stars below and let everyone know what you thought about it. 😉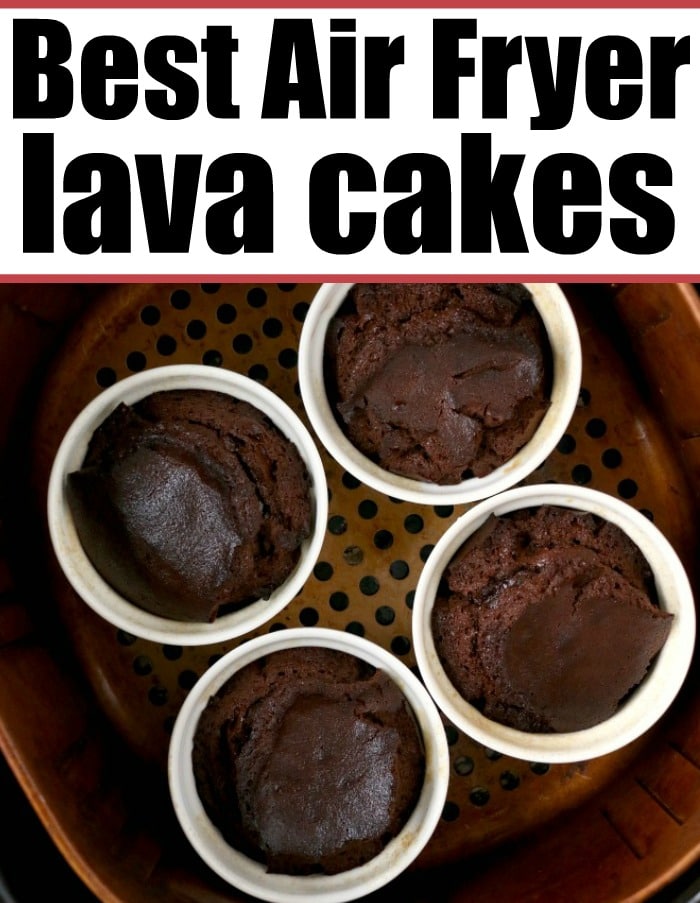 Air Fryer Cake
Air fryer cake will become your new favorite dessert! Ooey gooey chocolate lava cake made in ramekins inside your Ninja Foodi or other brand.
Instructions
Melt chocolate chips and butter together in the microwave. Put in for 30 sec., stir, 30 sec. until it is melted and smooth.

Whisk together eggs and sugar in separate bowl. Then whisk egg mixture and chocolate together until combined and smooth.

Then mix in flour until smooth.

Pour batter equally into 4 oven safe ramekins. Fill 3/4 full.

Put in air fryer basket for 10 minutes at 370 degrees, then allow to cool for 2 minutes before flipping over on to plates (or eat right out of them but they will be hot).
Nutrition Facts
Air Fryer Cake
Amount Per Serving (2 oz)
Calories 483
Calories from Fat 297
% Daily Value*
Fat 33g51%
Cholesterol 141mg47%
Sodium 237mg10%
Potassium 30mg1%
Carbohydrates 43g14%
Protein 5g10%
Vitamin A 832IU17%
Vitamin C 1mg1%
Calcium 70mg7%
Iron 1mg6%
* Percent Daily Values are based on a 2000 calorie diet.