Air fryer breakfast ideas are here, plus the best air fryer banana bread recipe to make in the morning or for dessert. From eggs to sweet and more!
We have several easy air fryer breakfast recipes to choose from here + a recipes for air fryer banana bread too! Try them all with your family and let us know which air fryer recipe is your favorite in the comments below! (affiliate links present)
I have 3 different machines I use: My Ninja Foodi works great for all of these. Recently I received 2 different electric air fryer brands which I love too. One is a large air fryer for bigger families. Any brand will work to make any and all of these.
Make sure to LIKE our easy air fryer recipes page before you move on to get new ideas for meals and snack ideas daily!
What's the most popular food for breakfast?
Cold cereal would come in at number 1 followed by two out of 10 people eating eggs (with or without bacon or ham) first thing in the morning. Just over one in 10 usually have a bagel, toast, muffins or pastry.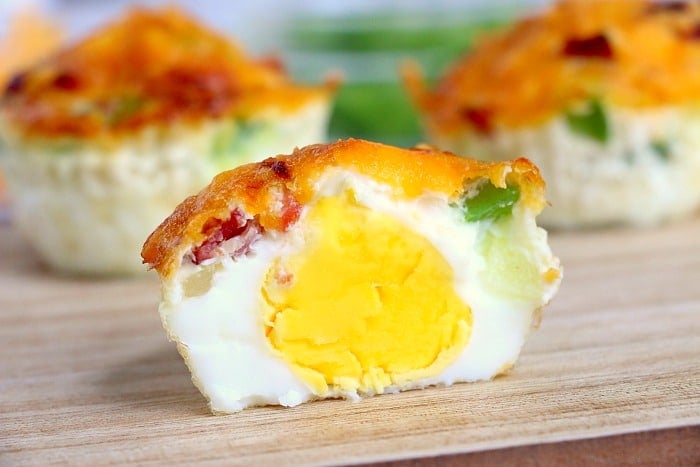 Don't these look amazing??!! They're super versatile because you can make them plain in muffin cups, or with tons of toppings like we did here.
I highly suggest adding some protein, diced onions and bell peppers. Seasonings are always a must with eggs too.
Here's what you'll need to pick to make this air fryer breakfast
Air fryer basket
You'll need these silicone cupcake liners
Medium bowl to whisk egg mixture
Eggs
Cheese
Bacon crumbled, or packaged real bacon bits
Onion
Bell pepper
Salt and pepper
Can you scramble eggs in an air fryer?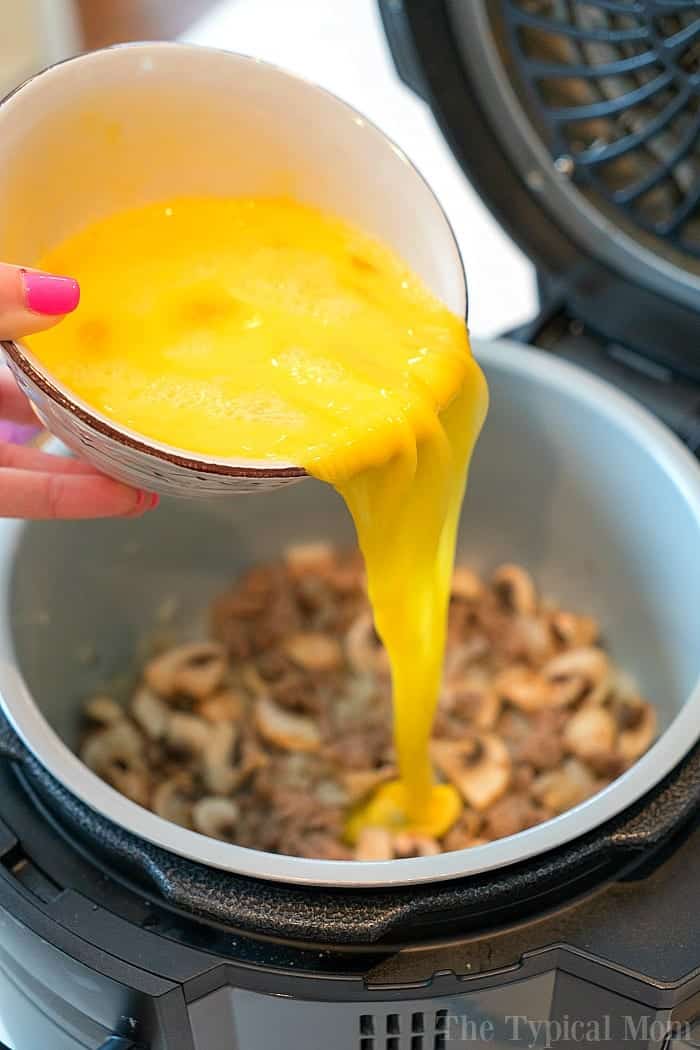 YES! We have made air fryer scrambled eggs in our Ninja Foodi by adding them into the pot itself, closing the air crisp lid, and stirring intermittently until done.
In a traditional machine you'll need to use a pan inside. Spray with butter, preheat to 220 degrees.
Cook for about 1 minute
Scramble
Repeat until the eggs are done the way YOU want
Let's move on to some breakfast stuffed peppers! You can make air fryer bread with some jam on top and it's a complete meal.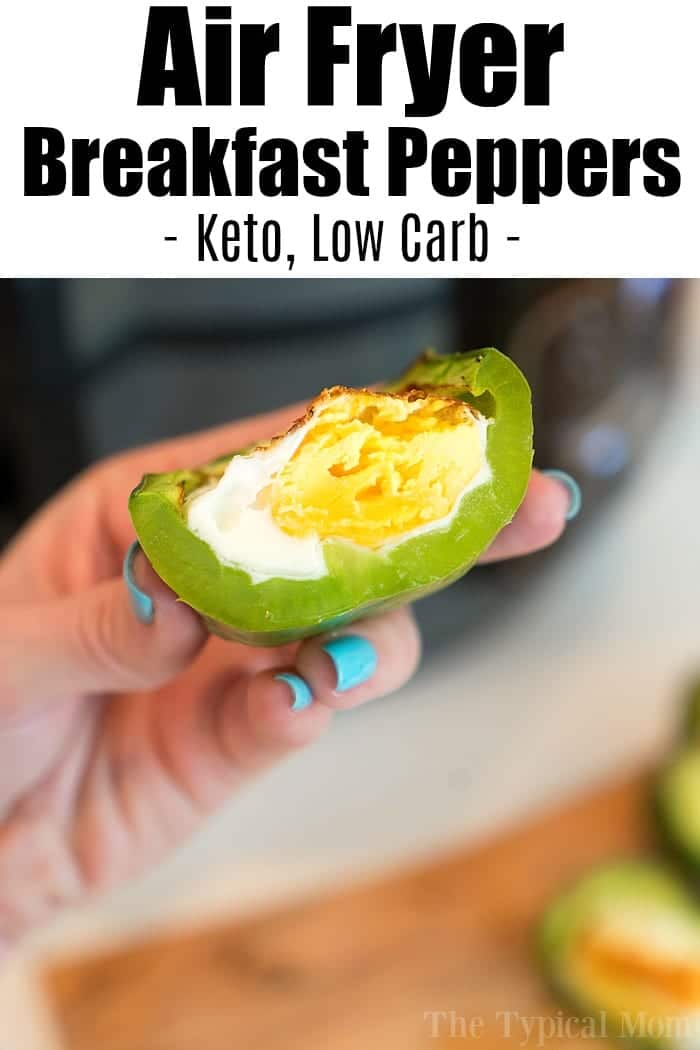 Once again you can add lots of goodies into these. If you need a keto breakfast recipe this one is great. Pick the color bell peppers you love the most, and get to filling them in.
You really could pressure cook them instead to make the outsides softer, but we're focusing on breakfast air fryer recipes right now. 😉 Sorry, sometimes I get a bit distracted.
This is what you need to make these air fryer eggs inside peppers
Bell peppers – any color you prefer
Eggs – I prefer 2 inside of each halved bell pepper
Olive oil cooking spray
Salt and pepper – a pinch of dry Sriracha flakes are yummy too for a little heat
Want something sweet like semi homemade air fryer cinnamon rolls.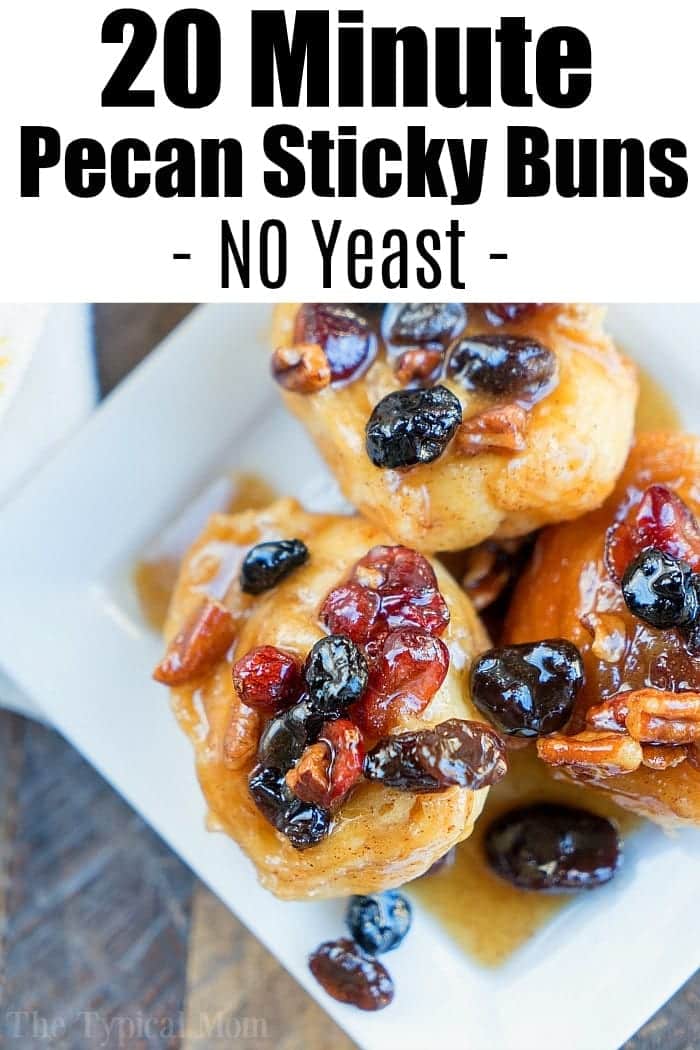 I use a springform cake pan for all the gooey ingredients, then dip in cinnamon and sugar before setting them inside.
You could drizzle some melted cream cheese frosting on top too but let me tell you they're sweet enough as is.
If you too want to make these out of this world 20 minute air fried sticky buns too you're in for a treat.
Pair them with a side of hash browns or breakfast potatoes and you're set!
Another favorite are these churro bites in the morning!
Now ready to learn how to make banana bread in air fryer? I found and followed my friend's recipe who also created this air fryer cookbook for two you can pick up! She has a ton of other great recipes you can make that are perfect for just 2-3 people.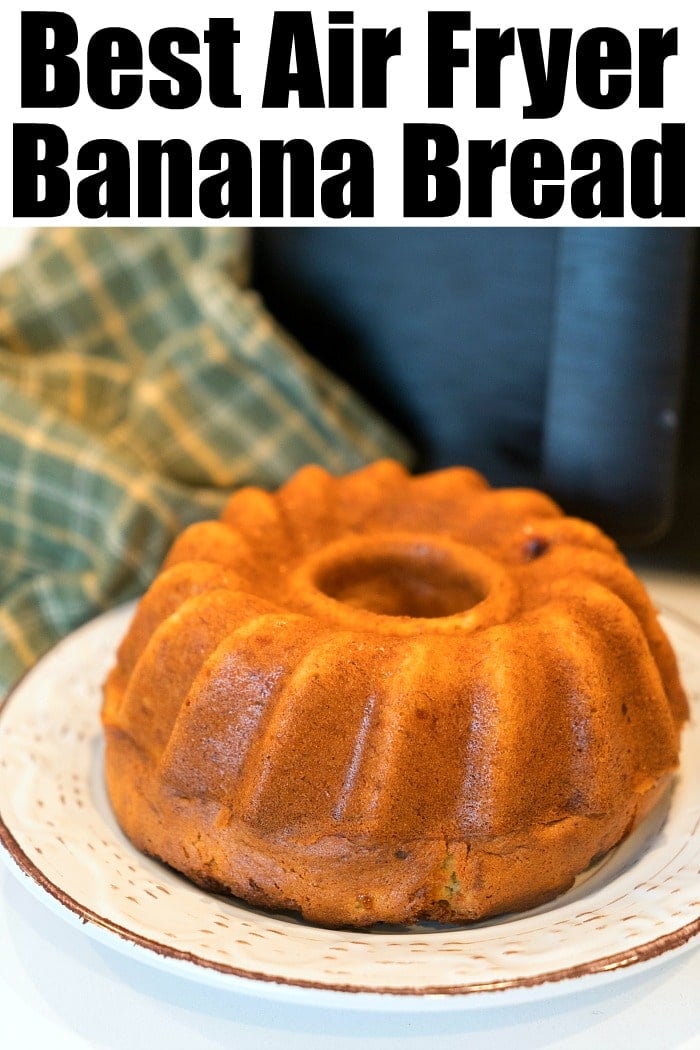 This is what you need to make this banana bread:
Flour
Sugar and oil
Salt
Baking soda
Egg
Vanilla
Sour cream which makes this a really moist bread
Mini chocolate chips would be optional as well as chopped nuts
Of course you can make a batch of traditional or pumpkin banana bread in your oven, but baking in an air fryer is great too!
Wondering: can you bake cake in an air fryer? YES! It works very similar to how we made this air fryer banana bread.
It is best if you use this 7″ bundt pan because it bakes more evenly vs. using a springform pan.
Serve it with some bacon and you're set.
Why does banana bread taste better the next day?
First of all if you have leftovers, make sure to wrap it in plastic wrap and then put it into a freezer bag and refrigerate it. By the second day, a lot of the moisture in the bananas has left them, making the loaf even sweeter.
There are a many more easy Ninja air fryer recipes you can also choose from for the beginning of the day or dinnertime.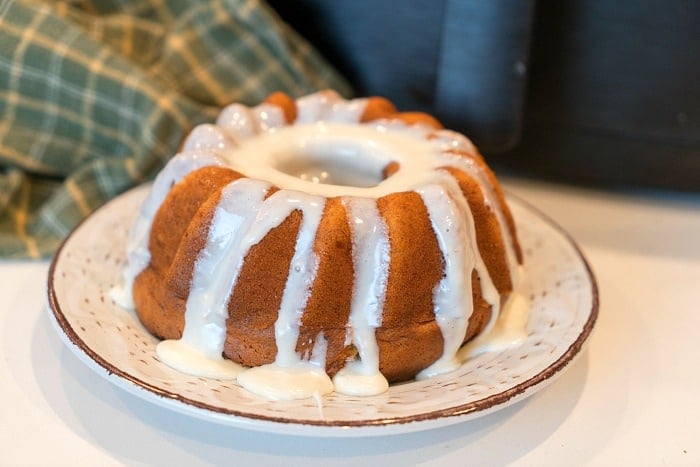 Once you're done with these, try these air fryer dinner recipes and we have tips on how to air fry everything else too!
For more easy recipes, tips and free printables please LIKE The Typical Mom on Facebook and follow me on Pinterest! You can also sign up for my free weekly newsletter which is packed with goodies I know you'll love.
Air Fryer Banana Bread
This air fryer banana bread is a fantastic air fryer breakfast recipe to try tomorrow morning! Drizzle with glaze and serve with fruit for a yummy treat.
Instructions
Mix dry ingredients in one bowl and wet in another. Slowly combine the two until flour is incorporated, do not overmix.

Spray inside of 7" bundt pan with non stick spray and pour in batter.

Place inside air fryer basket and close. Set to 310 degrees for 28 degrees.

Remove when done and allow to sit in pan for 5 minutes. Then gently flip over on a plate. Drizzle melted frosting on top, slice and serve.
Nutrition Facts
Air Fryer Banana Bread
Amount Per Serving (2 oz)
Calories 198
Calories from Fat 81
% Daily Value*
Fat 9g14%
Cholesterol 24mg8%
Sodium 121mg5%
Potassium 136mg4%
Carbohydrates 28g9%
Protein 2g4%
Vitamin A 93IU2%
Vitamin C 3mg4%
Calcium 14mg1%
Iron 1mg6%
* Percent Daily Values are based on a 2000 calorie diet.