2 ingredient air fryer bagels bites come out crispy with a soft chewy center and can be made into stuffed bagel bites which we love. Easy and delicious in your Ninja Foodi or other model.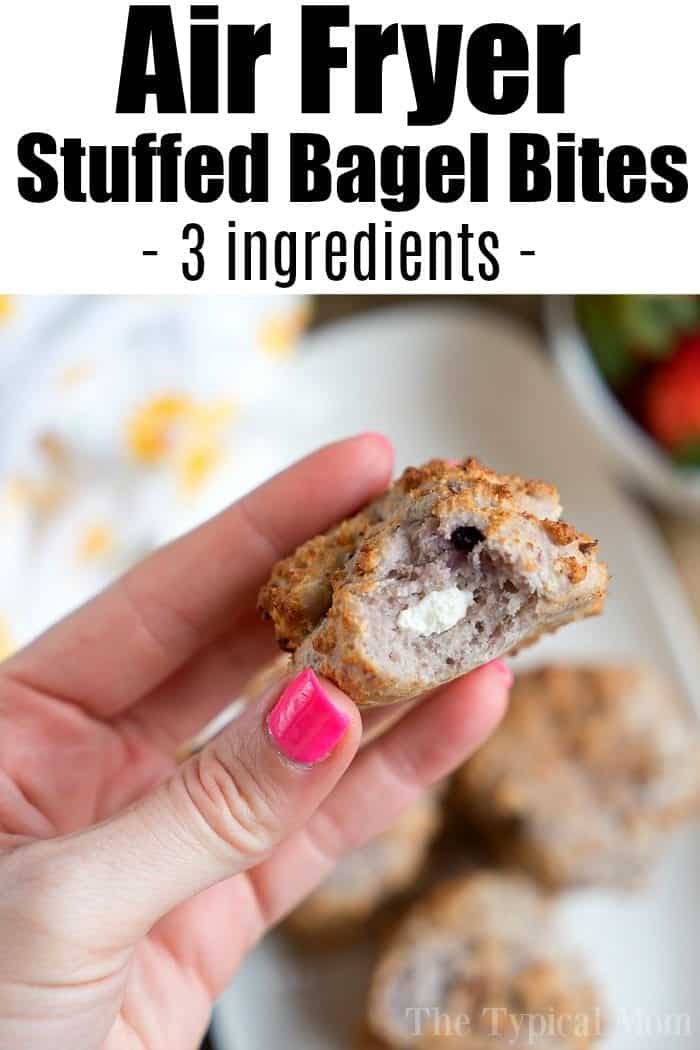 Ready for some air fryer bagels stuffed with cream cheese (or plain)?? You can make these into whole 2 ingredient bagels, or make them into bagel bites in no time at all. It's one of our favorite air fryer recipes here on The Typical Mom blog. 😉 (originally published 2/19, participant in the amazon program, affiliate links present)
With a cream cheese center they're the perfect on the go snack! Listed as weight watcher approved snacks you won't feel guilty at all.
Air Fryer Bagel Bites
You can make an air fryer bagel in any brand of air fryer but we have the new Ninja Foodi which pairs an air fryer with a pressure cooker and we're obsessed with it!
If you love air fryer recipes too, here are some resources to start with: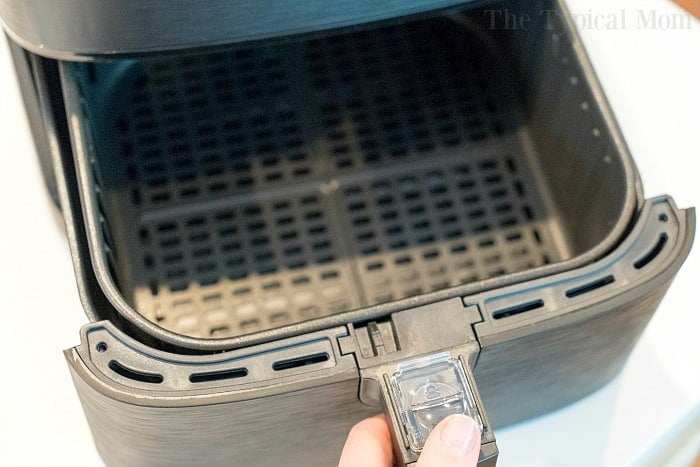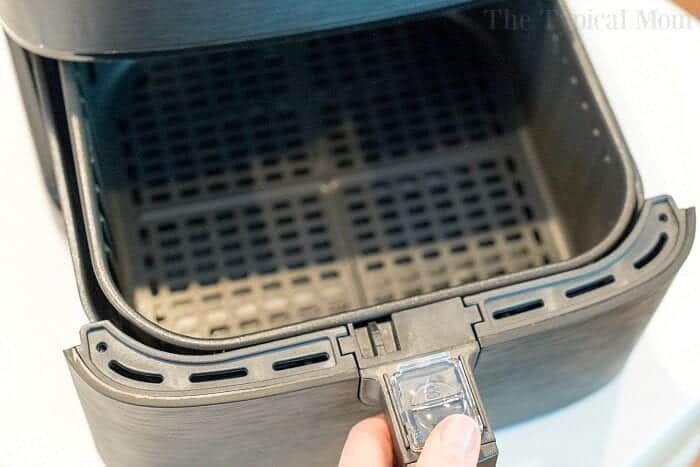 How do I make bagel bites in an air fryer?
That's what I wondered when I got my fancy machine, so I got to experimenting and figured it out!
These are homemade bagel bites but if you have frozen bagel bites and just want to warm them the instructions are as follows:
Preheat your air fryer for 3 minutes at 360 degrees.
Place frozen bagel bites (like Bantam bagels or the ones from Trader Joes) in a single layer for 6 minutes.
There should be no need to flip these.
Enjoy!!
How do you toast a bagel in an air fryer?
That is possible too if you're in need. Just slice it in half and set your temperature to 370 degrees.
Put in for about 3 minutes, then remove and put some butter on each side.
Place back into your air fryer basket and toast for 3 more minutes.
This will make it nice and crispy just like if you used a toaster oven.
If you just got your air fryer you may have found a few recipe groups to help you gather a few ideas of what you should make first…and in the weeks ahead.
I have a Ninja Foodi Easy Recipes group you can join if you're looking for more ideas too. 😉
Like I said, these air fryer bagels only need 2 simple ingredients to make which is just my style.
I decided to make them into bagel bites but you could make whole bagels as well.
I made a sweet bagel using blueberry Greek yogurt but you could use plain yogurt and then sprinkle savory ingredients on top instead of cinnamon and sugar.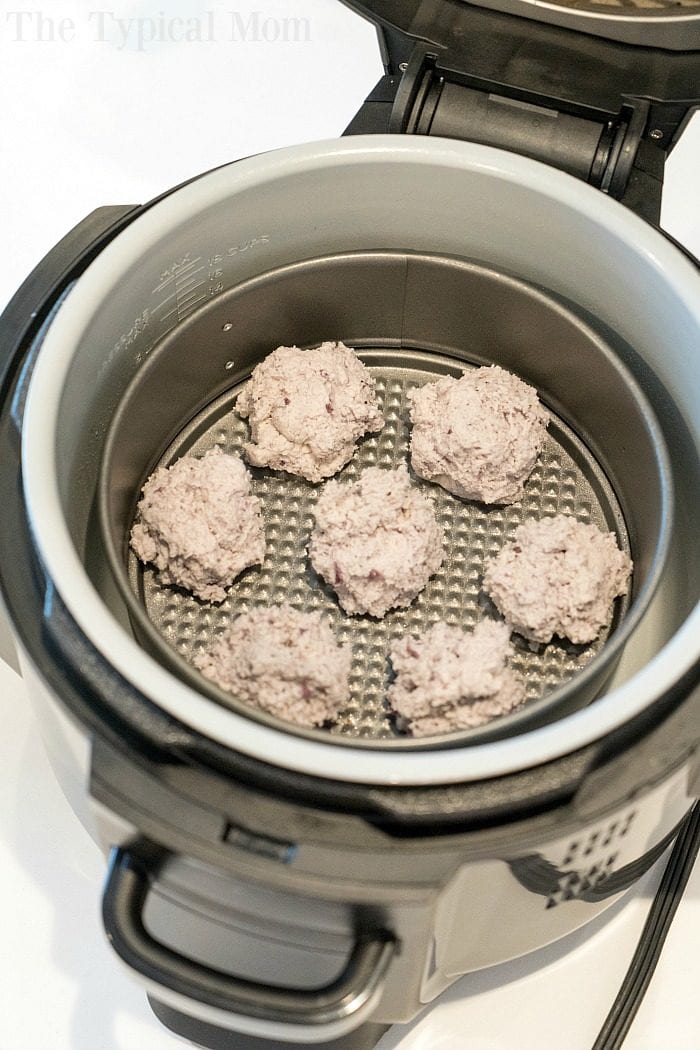 Air fryer bagels
Greek yogurt – any flavor you like, or plain, we used blueberry
Self rising flour – don't use all purpose it won't work

I like having both in my pantry at all times so I am covered no matter what recipe I want to make
If you want to make homemade bagel dough you can do that too

I used this trivet with the handles folded in so it was flat
And placed this 8″ springform pan on top to put my bagel bites in
Timing will differ depending on whether you make bagel bites or whole bagels, I will share both versions in the recipe card below.
Photos are of our homemade cream cheese stuffed bagel bites though.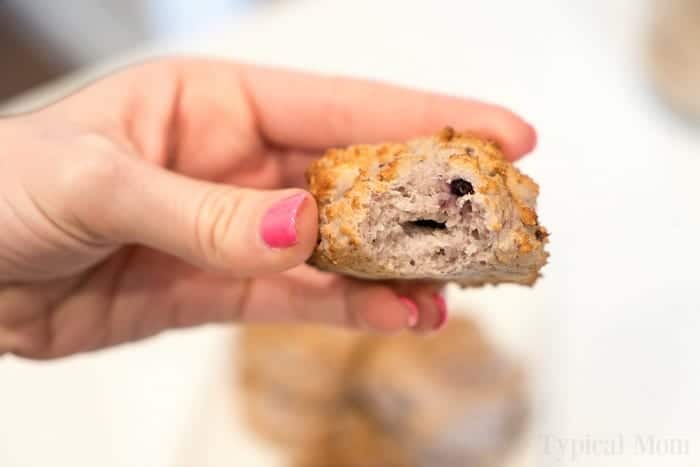 Bagel Bites in Air Fryer
If you don't want to make a sweeter version like we did with blueberry yogurt, no problem!
Just use plain or vanilla greek yogurt with some egg wash on top and sprinkle with bagel seasoning.
You're free to use parchment paper under them if you'd like but they didn't stick for us.
How to make bagel bites filled with cream cheese
I took them out of the baking pan I used and put them on a paper towel to cool completely
Using a very small knife to make a cut on the side of each bagel bite
I put whipped cream cheese in a freezer baggie. Pushed all the air out and zipped it closed. Then I cut off the tip and squeezed some into the middle.
Then I used the small knife again to open the hole just a bit more
The open end of the ziploc was put into the opening and I squeezed cream cheese into the center until it looked like it was going to start oozing back out (meaning it had gone in as far as it could into the bagel)

Using a pastry bag with a hard tip would have been easier and more effective but at the time I didn't have that so I used what was available

We enjoyed them!
2 Ingredient Air Fryer Bagels
Other Ninja Foodi recipes you'll love:
Our air fryer pretzel bites are fun snacks too!
If you want to make a delicious recipe in the oven alongside these our breakfast bundt cake is the bomb!

Ninja Foodi bagels
Entire time to crisp is approximately 15 minutes. If you're looking to make other frozen or fresh things in your machine, print out our air fryer cooking times chart so you're all set.
Printable instructions for our 2 ingredient bagel recipe is below.
Want to see a few of my favorite things you might want to write on your Christmas list this year??!! 😉 Take a peek and see how many you might already have…twinsies!
Looking for more easy family recipes and tips? LIKE The Typical Mom Facebook page?
Then sign up for my free newsletter, and follow me on Pinterest! 😉
***** If you LOVED this recipe give it 5 Stars below and let everyone know what you thought about it. 😉
Air Fryer Bagels
Air Fryer bagels come out crispy with a soft chewy center and can be made into stuffed bagel bites which we love. Easy 2 ingredient bagel recipe included.
Instructions
Mix together your self rising flour and greek yogurt until it forms into a dough consistency.

Spray the inside of your springform pan with non stick spray or put parchment paper on a trivet (recommend using the pan).

Form dough into equal sized balls (a heaping tbsp full) and place into your pan with space in between each one, fits 7 comfortably in the pan.

Can sprinkle with a mixture of equal parts cinnamon and sugar if desired at this point.

Close air fryer lid (one that is attached on the Ninja Foodi) and set to 325 degrees for 5 minutes for bagel bites, 9 minutes if you made 3 whole bagels.

Lift lid and flip over (can sprinkle with cinnamon and sugar again if desired), set again on air crisp at 325 degrees for an additional 4 minutes, 6 minutes if cooking whole bagels.

Remove from pan and set aside to cool completely before filling with cream cheese, if desired.

If cream cheese is added wait until bagel bites are cool, use a small knife to put a hole in the side of each one. Use a pastry bag with a tip that is filled with whipped cream cheese and squeeze into the hole.
Nutrition Facts
Air Fryer Bagels
Amount Per Serving (3 oz)
Calories 957
Calories from Fat 369
% Daily Value*
Fat 41g63%
Cholesterol 134mg45%
Sodium 438mg19%
Potassium 563mg16%
Carbohydrates 102g34%
Protein 42g84%
Vitamin A 1525IU31%
Calcium 350mg35%
Iron 1.6mg9%
* Percent Daily Values are based on a 2000 calorie diet.