Air fryer pretzel bites are fun after school or party snacks to make at home! Using just 3 ingredients we have an easy pretzel recipe, plus a honey wheat homemade pretzel dough you can try as well!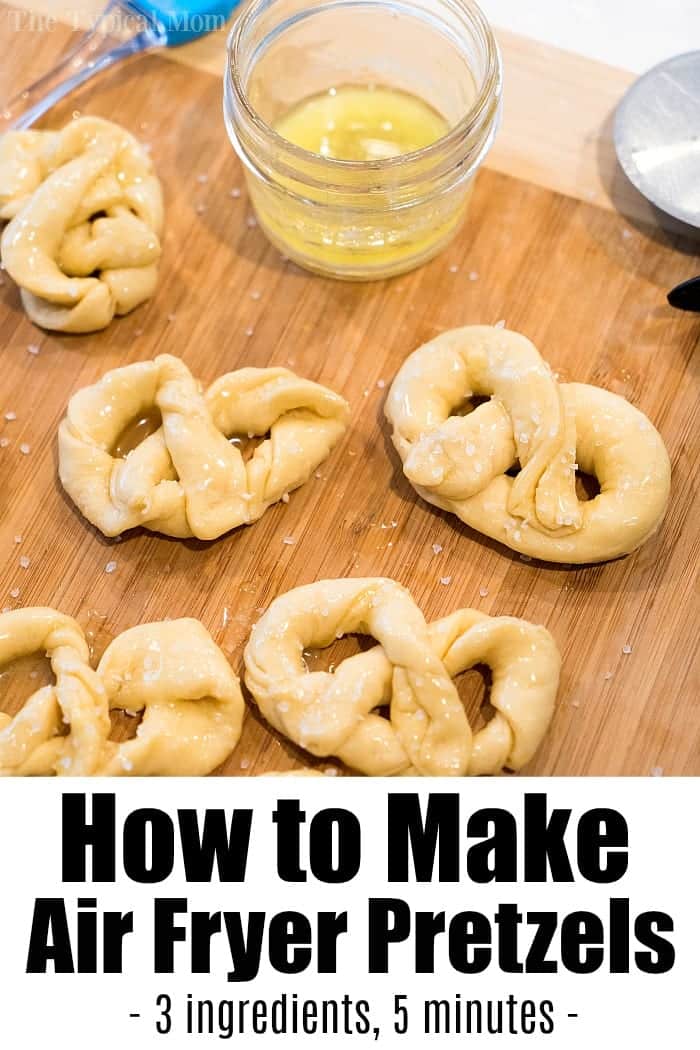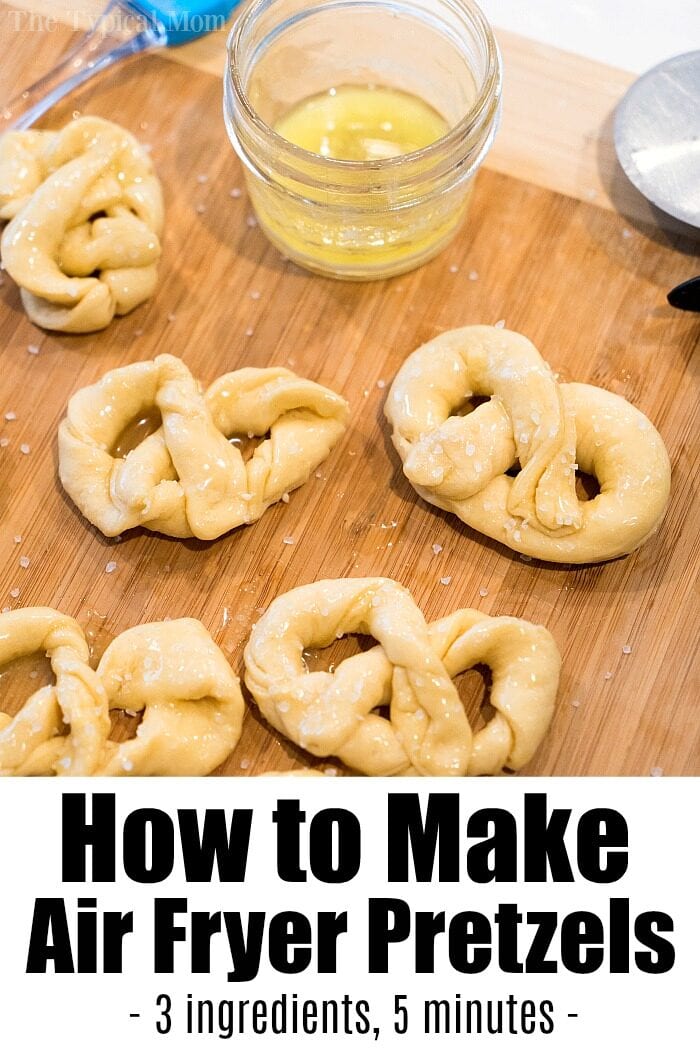 Ok so I am all about easy recipes and since I have three kids I'm always thinking of fun after school snacks to make too. Semi homemade is where it's at for me, and that's how these air fryer pretzel bites came about. You could call them crescent roll pretzels too, whatever…they were fun and only took 10 minutes total to prepare and bake in my air fryer. Try this super easy recipe today. (affiliate links present)
Any brand works but if you have this pressure cooker and air fryer you can find this and others on our page full of easy Ninja Foodi recipes.
Ever since I got mine I've used it almost daily and I cannot believe it took me this long to buy one!! (okay my husband bought it, he gets a bit of credit there)
As you will see below we made a few shapes using this easy pretzel recipe but you could easily make small air fryer pretzel bites as well…the possibilities are endless I tell you!
Here's a peek at how it is done…….
So my "cheater" way of making pretzels involves a package of refrigerated crescent rolls! No need for parchment paper or boiling water and baking soda required for these semi homemade pretzels.
Tips for making these semi homemade soft pretzels
Spray the inside of your air fryer basket with non stick spray
Slice all your pieces (that you will shape and/or twist into shapes) into the same thickness so they all cook evenly
Lightly brush the outside top and bottom with melted butter
Dip the top and bottom in salt or this everything bagel seasoning is the best!
Take out when done and let them sit for a few minutes so they stiffen up a bit and are easier to handle without falling apart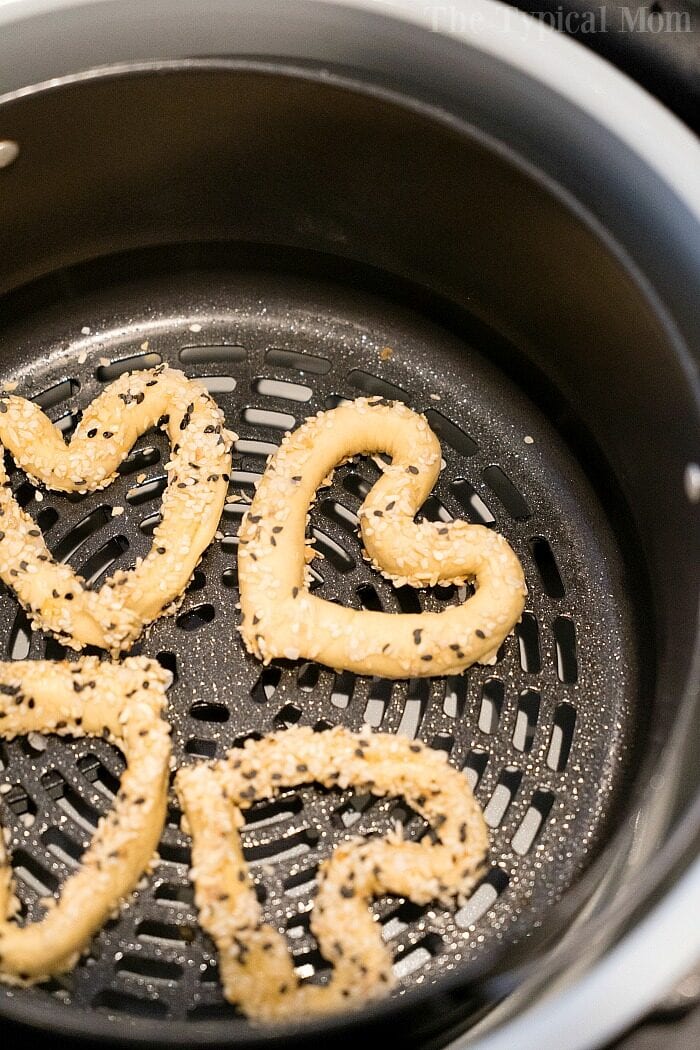 Of course you don't have to make your air fryer pretzel bites into hearts but it is close to Valentine's Day so I did these and regular shapes too.
This is what you'll need to make quick air fryer pretzels:
Air fryer – we have the Ninja Foodi air fryer and pressure cooker
Container of crescent rolls

you could use this gluten free pretzel dough mix
or this no yeast packaged soft pretzel dough mix
others have used pizza dough too
haven't tried the above yet, but will and add info. when I do

Non stick spray
Butter
Salt or this Everything Bagel Seasoning is really the best to use
Any dipping sauces you like
Of course you can make your own homemade pretzel dough and make them that way, though I typically don't make recipes with yeast. I will share our no yeast pretzel bites recipe we have tried below though. 😉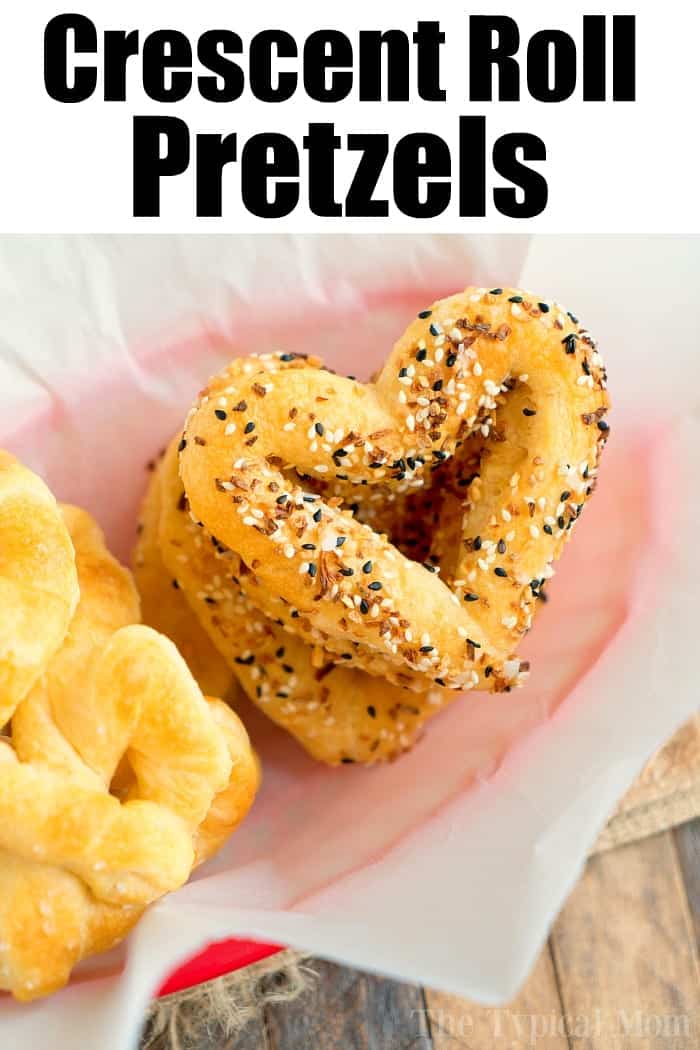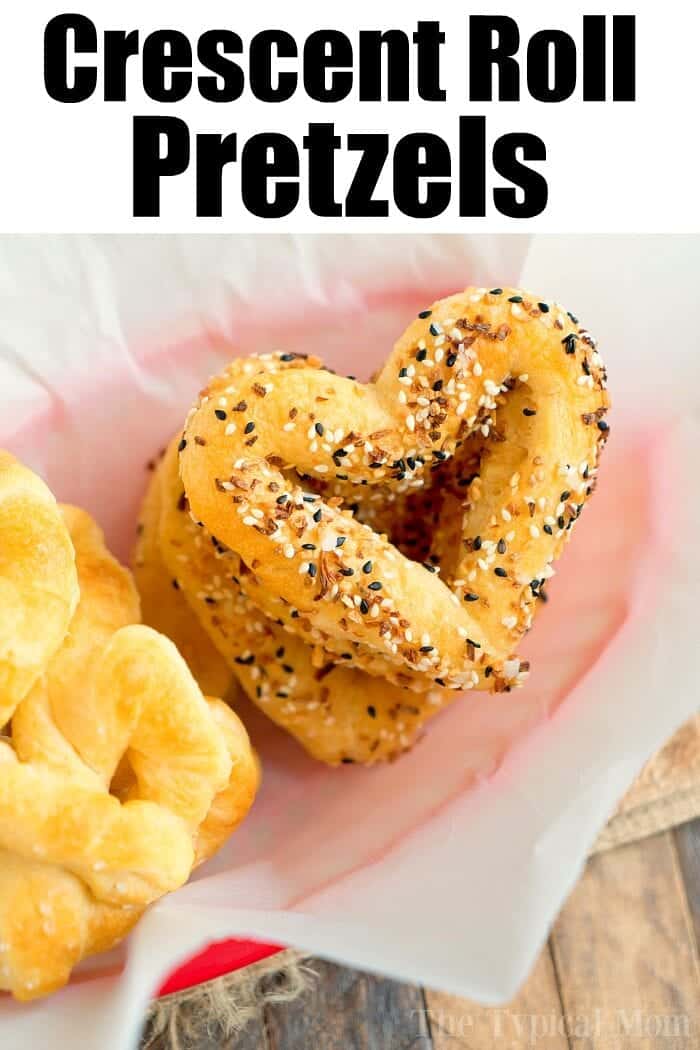 We have used a version of our bread in a bag dough and made honey wheat homemade pretzel bites in the air fryer that way as well.
Here's what you'll need for this method:
1.5 c all purpose flour
1.5 c whole wheat flour
1/4 c honey
1 c buttermilk
1 tsp baking soda
Kosher salt
2 tbsp melted butter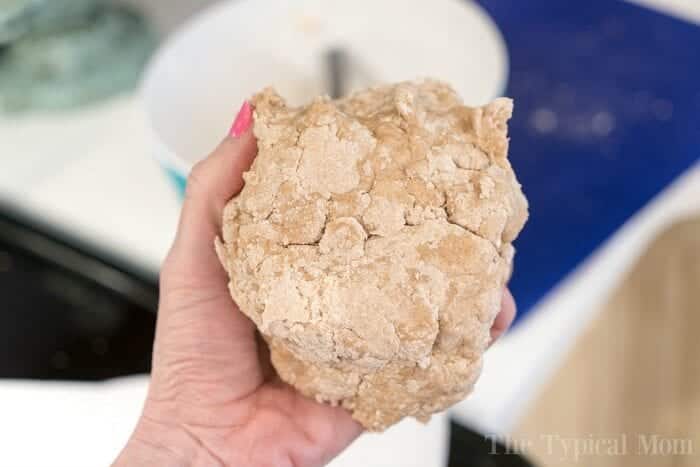 Directions:
Combine your 2 flours and baking soda well in a bowl
Add your buttermilk and blend, then add your honey and knead together with hands
Take dough out (there will be some flour left in the bowl, try to combine with dough but discard the little bit left
Break apart into pretzel bite size pieces, brush with butter, sprinkle with salt
Put into air fryer basket that has been sprayed with non stick spray at 330 degrees for 6 minutes
Enjoy!!
Want to make homemade soft pretzels? We have a recipe for that traditional dough too.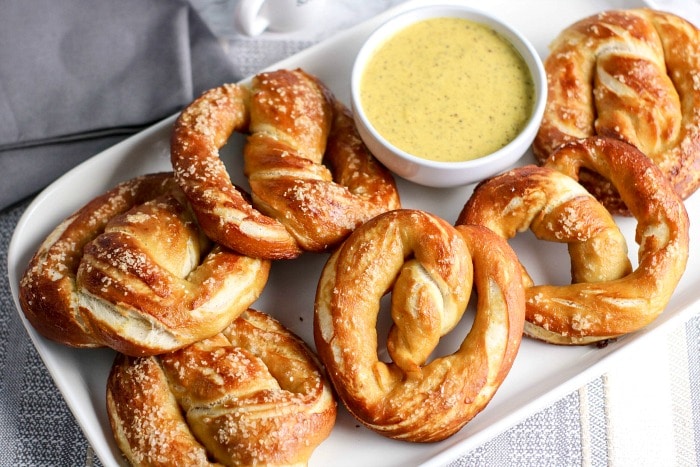 Can you bake pretzel bites in the oven?
Yes!
Preheat oven to 400 degrees for these honey wheat pretzel bites and bake for about 8-10 min. or until golden brown
For the crescent roll pretzels follow directions on the package but check after the min time to ensure they don't get too brown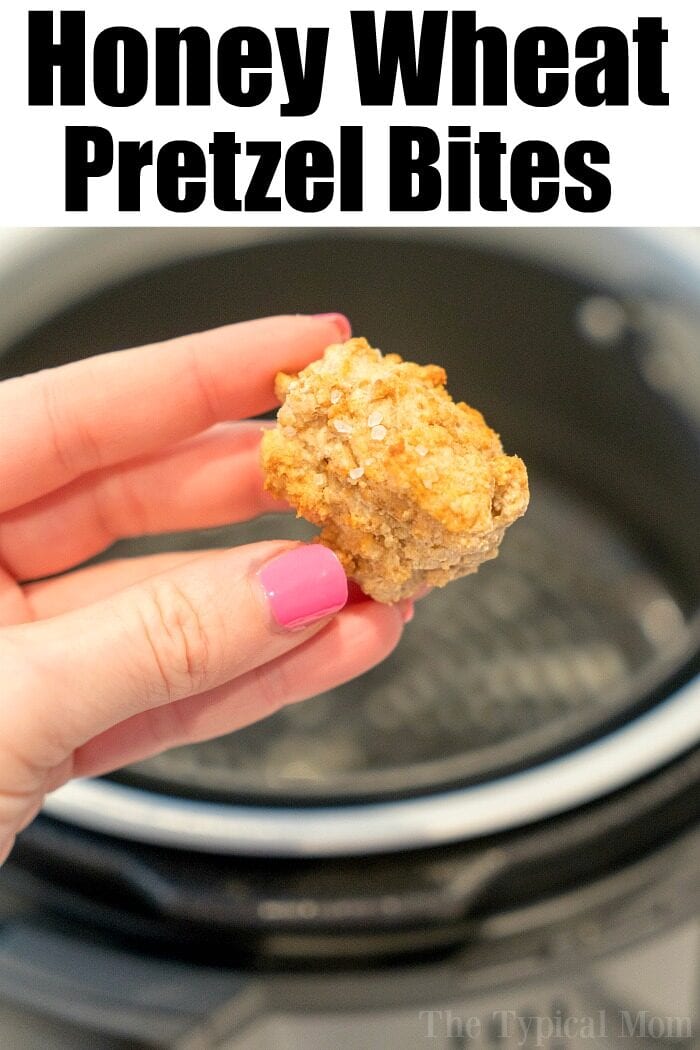 Air fryer benefits:
Food is lower in fat because there is no need for oil
Dishes cooked in an air fryer come out crispy on the outside but still tender and soft on the inside
Using an air fryer cuts down on cook time since you don't need to wait for oil to heat up
It just tastes better – no oily after taste to food
Dip your pretzels in a bit of mustard and you have yourself a fun air fryer snack!
If you're ready to create more in your new machine too here is a printable air fryer cook times chart and a few more ideas below:
Air fryer cinnamon rolls sticky buns are incredible
These air fryer breakfast stuffed peppers are low carb, keto friendly and a yummy breakfast
Air Fryer Pretzel Bites
Air fryer pretzel bites are fun after school or party snacks to make at home! Using just 3 ingredients we have an easy pretzel recipe, plus a honey wheat homemade pretzel dough you can try as well!
Ingredients
Instructions
Unroll your crescent roll roll of dough on a cutting board, keep in one long piece.

Use a pizza cutter to slice into long strips, 11 cut width wise like we did.

Twist each piece or shape as you wish. Brush with melted butter and either sprinkle with salt or put everything bagel seasoning in a bowl and dip top and bottom in that.

Spray inside of air fryer basket with non stick spray and put prepared pieces inside so they don't touch.

Close lid and set to air crisp 330 degrees for 5-6 minutes or until tops are golden brown (times vary depending on how large your pieces are, check after 5 minutes.

Take out and rest on a paper towel to cool and stiffen up a bit before eating.
Nutrition Facts
Air Fryer Pretzel Bites
Amount Per Serving (3 oz)
Calories 124
Calories from Fat 72
% Daily Value*
Fat 8g12%
Cholesterol 7mg2%
Sodium 2863mg124%
Carbohydrates 11g4%
Protein 1g2%
Vitamin A 90IU2%
Calcium 2mg0%
Iron 0.4mg2%
* Percent Daily Values are based on a 2000 calorie diet.
For more easy recipes, tips and free printables please LIKE The Typical Mom on Facebook and follow me on Pinterest! You can also sign up for my free weekly newsletter which is packed with goodies I know you'll love. 😉