Air fryer pretzel bites are fun after school or party snacks to make at home! Using just 3 ingredients we have an easy pretzel recipe, plus a honey wheat homemade pretzel dough you can try as well!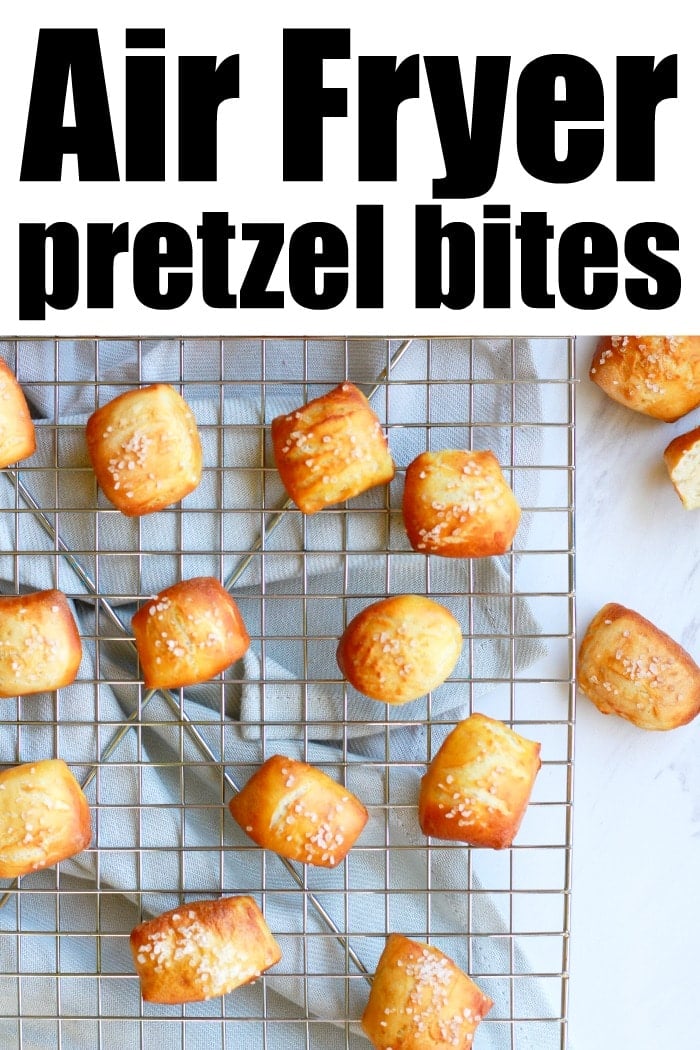 Have you made air fryer pretzel bites yet? They were fun and quick to make with my kids. Fluffy salty bites of goodness you'll love. One of our favorite easy air fryer recipes now. (originally published 2/19, affiliate links present)
I craved these air fryer snacks while I was pregnant. Didn't have a hot air machine way back then but wish I did.
My favorite place to get them is Auntie Annes in the mall, but we live in the middle of nowhere and there isn't one. So I created them…
If you love air fryer recipes too, here are some resources to start with: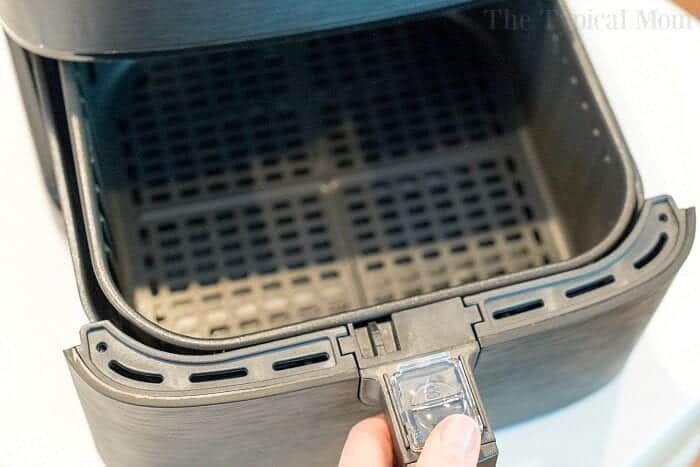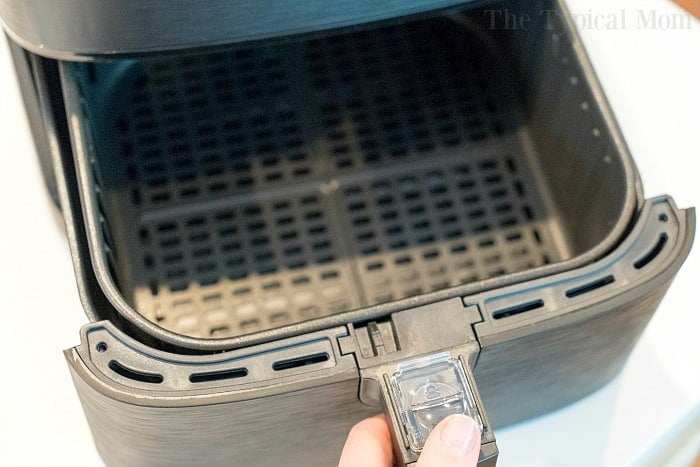 Ever since I got mine I've used it almost daily and I cannot believe it took me this long to buy one!! (okay my husband bought it, he gets a bit of credit there)
Air fryer soft pretzels
Our homemade pretzel dough is quite easy. There is only a 10 minute rest time necessary and no rising required.
I will share our no yeast pretzel bites recipe below too. 😉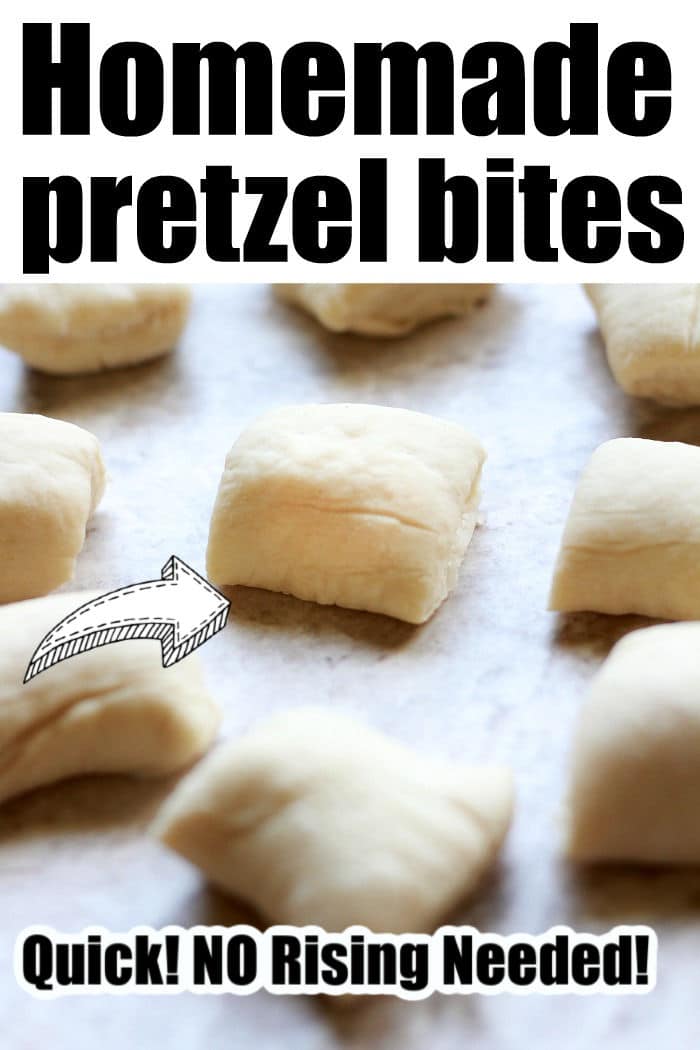 Here are a few questions you might have before you get started on these:
Can you air fry pretzels?
Yes, we will show you how to make homemade pretzels in air fryer here today. Make them whole or as snacks like our pretzel bites. Either way they are great.
Can you cook soft pretzels in an air fryer?
Yes, we will show you how to do that here. Use homemade pretzel dough with no rising required and they're a great snack.
Can you air fry frozen pretzels?
You can. There are 2 ways. You can microwave as directed and then crisp for 1 minute in your air fryer. Or put in and bake at 300 degrees F for 3 minutes.
Don't these just look amazing?? My kids and I just love them and never last long in our house.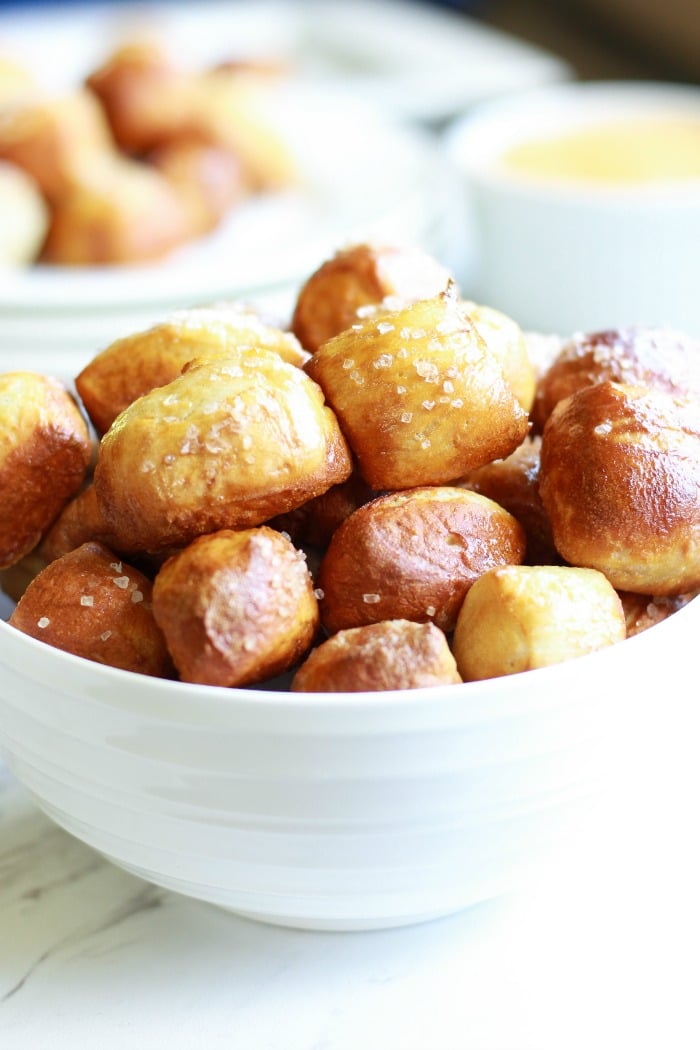 Ninja Foodi Pretzels
We have used a version of our bread in a bag dough and made honey wheat homemade pretzel bites in the air fryer that way as well.
There's another "cheater" way of making pretzels with a package of refrigerated crescent rolls too. Here's how you make those.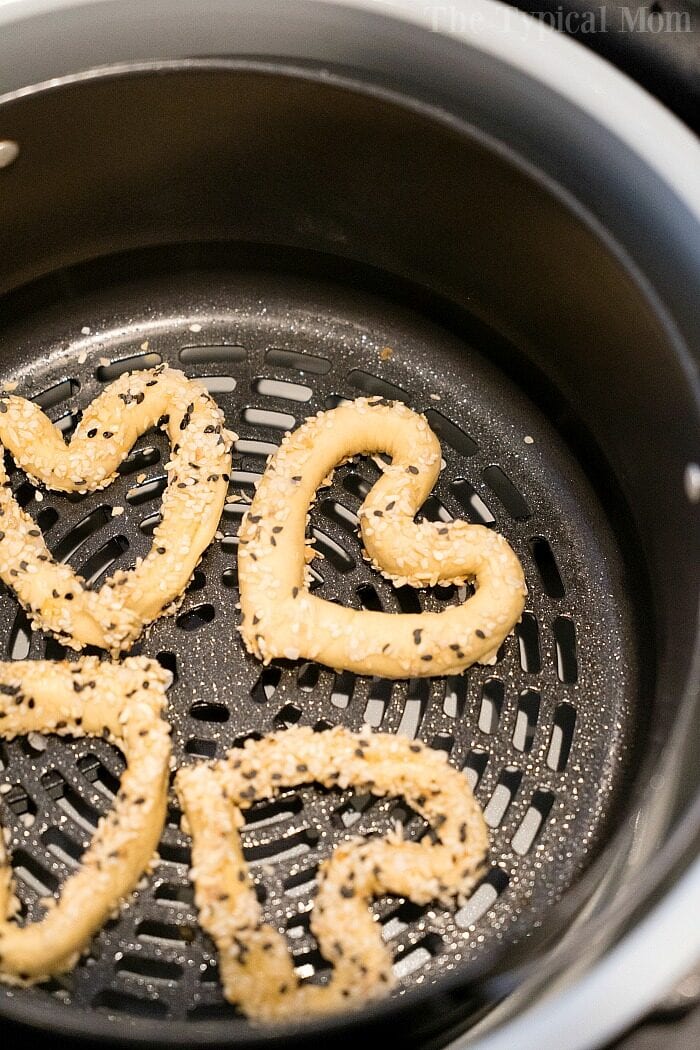 Air fryer pretzels
This is what you'll need to make the SECOND version of our crescent roll air fryer pretzels
Air fryer – we have the Ninja Foodi air fryer and pressure cooker
Container of crescent rolls

you could use this gluten free pretzel dough mix
or this no yeast packaged soft pretzel dough mix
others have used pizza dough too
haven't tried the above yet, but will and add info. when I do
Non stick spray is needed for just about everything cooked in this basket. I like olive oil spray specifically.
Butter
Salt or this Everything Bagel Seasoning is really the best to use
Cook at 330 degrees F for about 5 minutes until they're browned on top
Serve with any dipping sauces like mustard pretzel dip or cheese.
Want to make larger homemade soft pretzels? We have a recipe for that traditional dough too.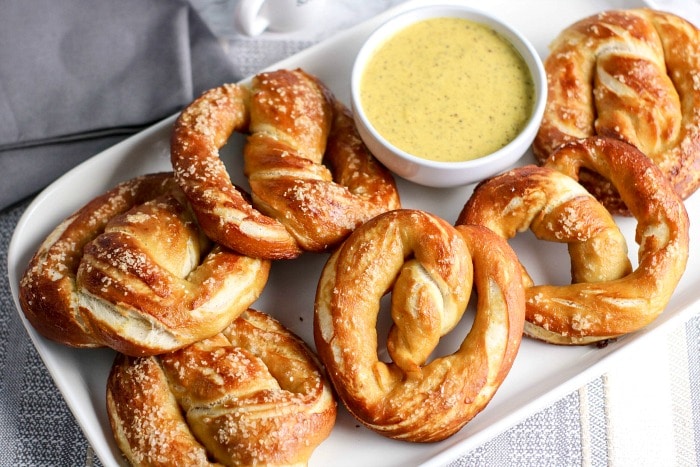 Can you bake pretzel bites in the oven?
Yes!
Preheat oven to 400 degrees for these honey wheat pretzel bites and bake for about 8-10 min. or until golden brown
For the crescent roll pretzels follow directions on the package but check after the min time to ensure they don't get too brown
Food is lower in fat because there is no need for oil
Dishes cooked in an air fryer come out crispy on the outside but still tender and soft on the inside
Using an air fryer cuts down on cook time since you don't need to wait for oil to heat up
It just tastes better – no oily after taste to food
Air fryer cinnamon rolls sticky buns are incredible These air fryer breakfast stuffed peppers are low carb, keto friendly and a yummy breakfast too.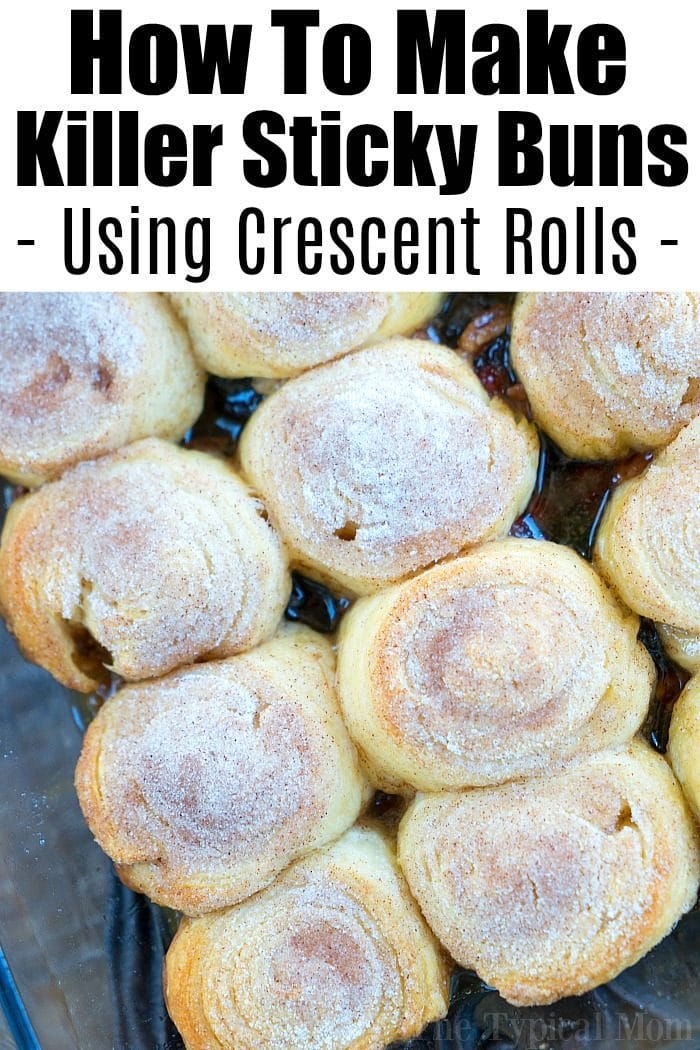 If you're ready to create more in your new machine too here is a printable air fryer cook times chart.
A quick step by step is below but there's a printable recipe card at the bottom of this post too.
Add warm water and yeast until dissolved. If boiling water, allow to cool until it's still warm but cool enough to touch before adding. Add brown sugar and table salt to bowl and mix with flour after that.
Add 1 cup at a time using a stand mixer and dough hook. May need a bit more than 3 cups, add a bit at a time until dough is no longer sticky.
Leave dough in bowl and allow to rest for 10 minutes untouched. On a floured surface roll the dough into "snakes" and then slice into bite size pieces. Make sure they're all the same size so they cook evenly.
In a pot boil water and baking soda, then put bites (10 at a time) into liquid for 20 seconds. Use slotted spoon to remove, place on lined baking sheet with parchment paper on top. Sprinkle with sea salt.
Spray air fryer basket with non stick spray and cook at 390 degrees F for 5 minutes until browned. Brush with butter and serve.
Want to see a few of my favorite things that I am totally obsessed with?? Take a peek and see how many you might already have…twinsies!
Looking for more easy family recipes and tips? LIKE The Typical Mom Facebook page?
Then sign up for my free newsletter, and follow me on Pinterest! 😉
***** If you LOVED this recipe give it 5 Stars below and let everyone know what you thought about it. 😉
Super easy recipe to follow and print out if you'd like is below.
Air Fryer Pretzel Bites
Air fryer pretzel bites are fun after school or party snacks to make at home! Homemade pretzel dough that needs no time to rise.
Instructions
Start by combining the water and yeast in a small bowl, allowing the yeast to dissolve. Add brown sugar and salt, whisk until well combined.

In a bowl slowly add flour to yeast mixture 1 cup at a time. Use a stand mixer preferably with a dough hook for this. Add more flour, 1/4 c at a time until dough is no longer sticky.

Once this is achieved allow dough to sit in the bowl for 10 minutes.

Lightly flour a cutting board and cut dough into 8 equal pieces. Roll each piece into "snakes" and slice each one into "bites". Make sure all pieces are the same size.

In a pot bring your 4 c water and baking soda to a boil. Then put 10 pieces at a time into the water and remove after 20 seconds with a slotted spoon.

Put these pieces on a lined baking sheet with parchment paper on top. Once they're all done sprinkle with coarse sea salt.

Preheat air fryer to 390 degrees F for 5 minutes.

Spray air fryer basket with non stick cooking spray and place some in with space in between so they can rise.

Cook for 5 minutes or until they're as brown as you'd like. Take out and brush melted butter on the top before serving.
Nutrition Facts
Air Fryer Pretzel Bites
Amount Per Serving (2 oz)
Calories 228
Calories from Fat 54
% Daily Value*
Fat 6g9%
Cholesterol 15mg5%
Sodium 2589mg113%
Potassium 50mg1%
Carbohydrates 37g12%
Protein 5g10%
Vitamin A 177IU4%
Calcium 12mg1%
Iron 2mg11%
* Percent Daily Values are based on a 2000 calorie diet.