We will show you how to make and bake whole wheat bread in a bag right here. A fun baking science experiment you can do with your kids that they can eat at the end! Ziploc bag bread activity inspires kids to do something new they've never tried before.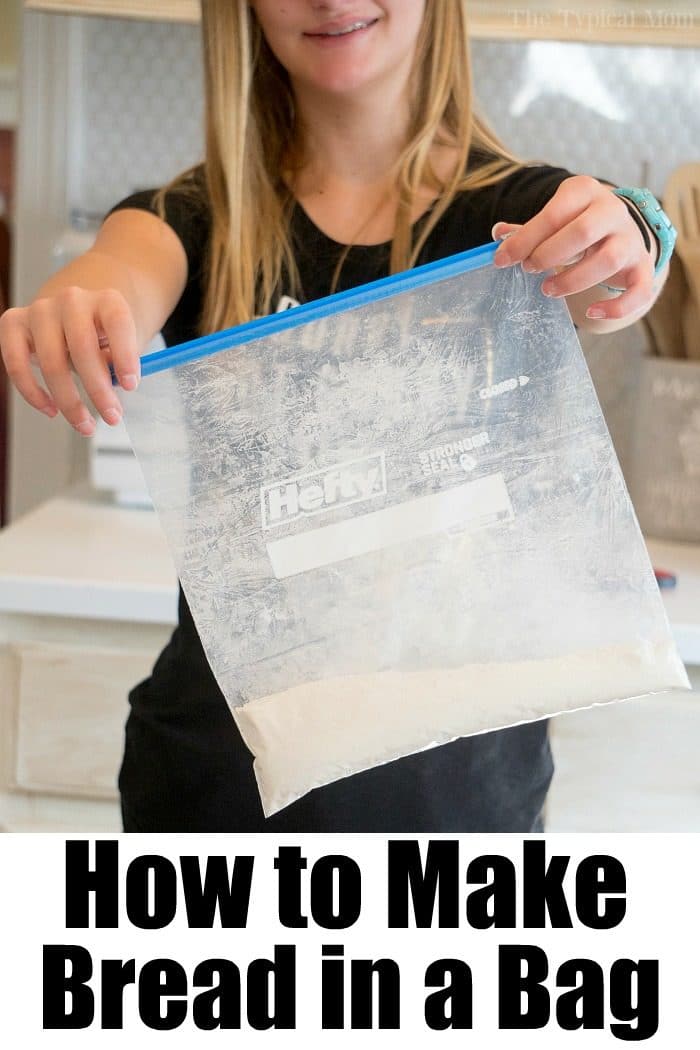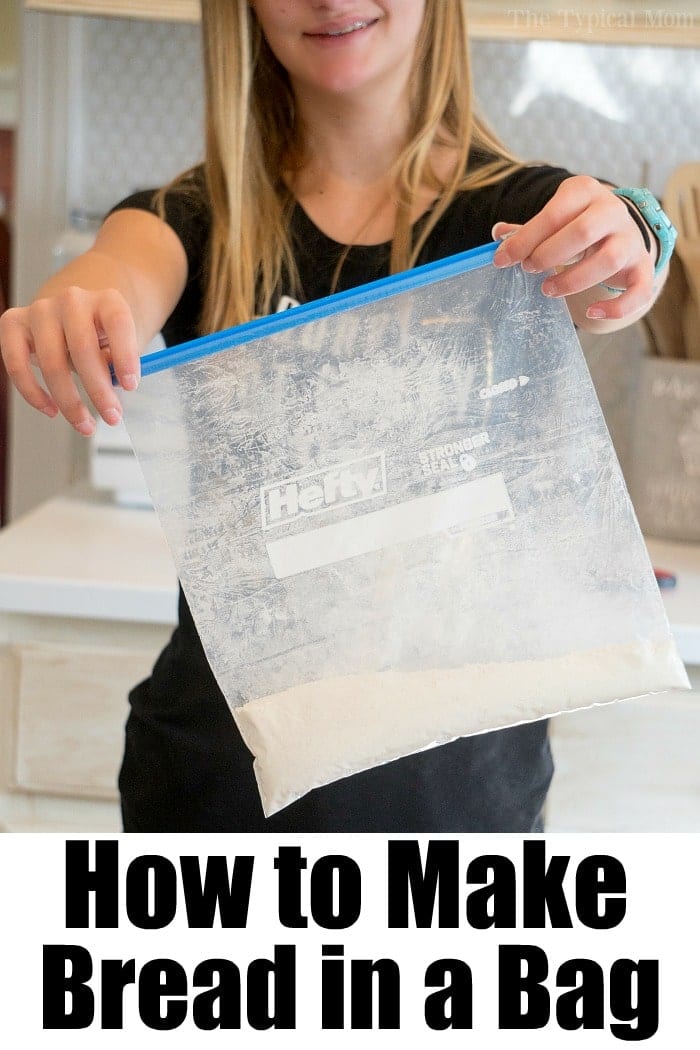 Do your kids love to bake, or do you wish you had a simple idea to get them started in the kitchen and inspire them to cook more?? Well, this easy bread in a bag recipe is fun and definitely creates a love for the kitchen, at least it did for my girls! Sponsored by 4H. (originally published 10/18, affiliate links present)
Ziplock Bag Bread
My 3 daughters already have an interest in cooking, but they hadn't explored baking a lot yet. It was time to bake bread at home this week!
This is a simple bread recipe where you do not need a bread machine or even a stand mixer. Just use a lightly floured surface once you've mixed all ingredients in a freezer bag and bake.
Once we partnered with 4-H and looked thru their new Inspire Kids to Do Activity Guide, this bread in a bag activity stuck out as something really fun to try!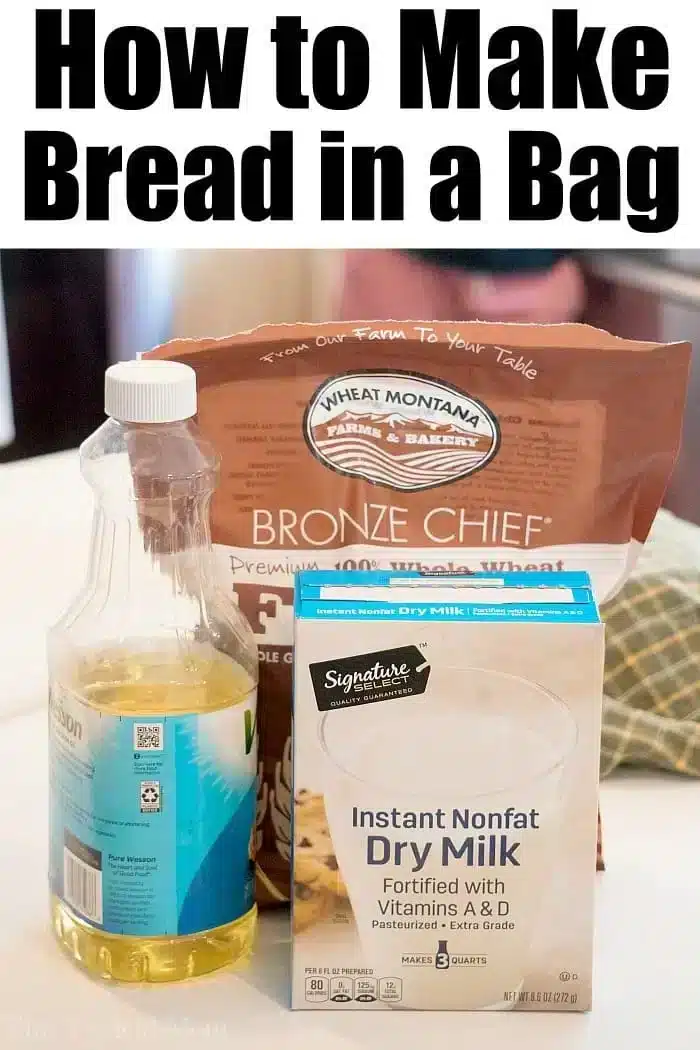 Bread in a Bag Ingredients
Another thing about baking bread this way is that there is no warm spot needed in order for it to rise which makes for a faster end result.
I suppose you could use mini loaf pans instead of a traditional size too. Just alter the cook time for the smaller size.
Like it says in its name, the program is to inspire kids to do something new they may have not experienced before.
Last month we shared what the 4-H Program is all about and how you can find a chapter near you. I'd recommend getting involved!
Here's a peek at our activity we did together and how easy it was……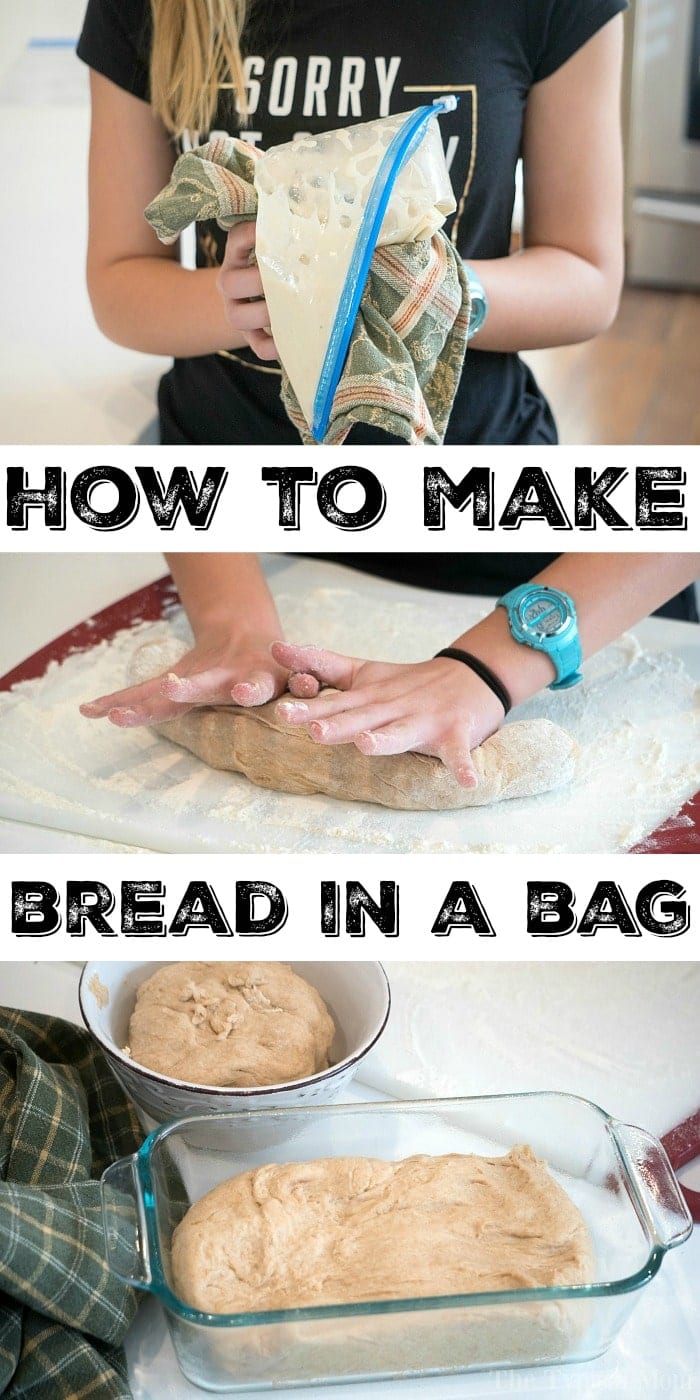 Bread in a Bag PDF
We got the instructions from Inspire Kids to Do Activity Guide here and I had them follow the directions themselves. I told them I was here to help but I really wanted them to see that they could do it and create bread in a bag from start to finish themselves and they did!
Of course I was there when they needed clarification, and the 2 who participated are 10 & 11 years old.
If your kids are younger you'd of course need to help more, but for the most part they loved seeing how the ingredients transformed into dough.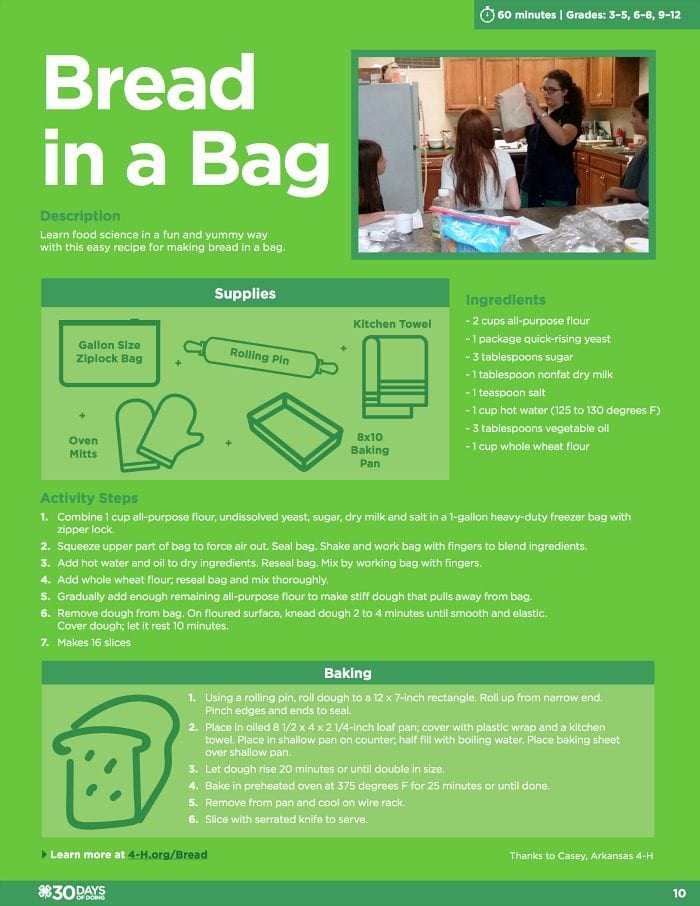 Making bread in a bag
Add dry milk, flour, sugar and a yeast packet into a large freezer bag zipped at the top.
Get air out of the bag before closing
Mix all those ingredients together well using your hands.
Add oil and a cup of very hot water (I helped with this). We used the Keurig to heat it up easily and pour that in.
Use a dish towel wrapped around the freezer bag to mix those ingredients together. Really knead it with your fingers so it is combined well.
Add whole wheat flour and knead for a while until it resembles bread dough. Open bag.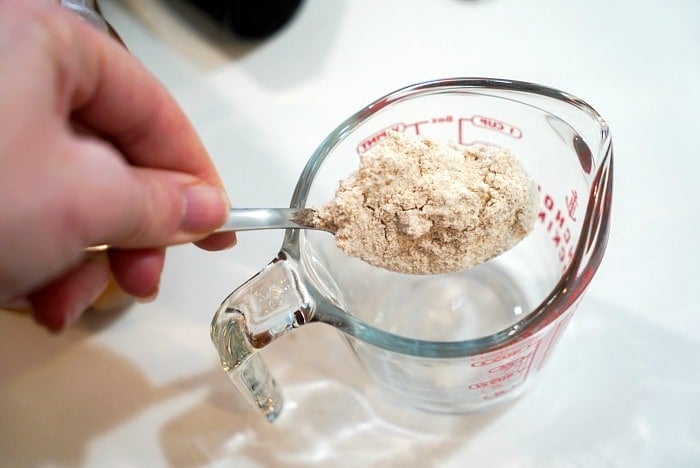 Bread Made in a Plastic Bag
Next, add the final cup of flour a little at a time until it reaches bread consistency.
Then they learned how to knead the dough on a cutting board with the palms of their hands. Something totally new to them.
Allowing it to rest for 10 minutes. They learned this is a necessary element of making bread.
Deciding whether they wanted to make a loaf of bread or rolls was next. 1 chose the loaf and 1 chose rolls which was good so we could see which we liked better.
Bake at 375 degrees for about 25 minutes to 30 minutes.

Talk about why you preheat oven to 375 before putting it in, or it won't bake properly.

Check to make sure it is done by inserting a knife into the center.
Slice, dip in melted butter and enjoy.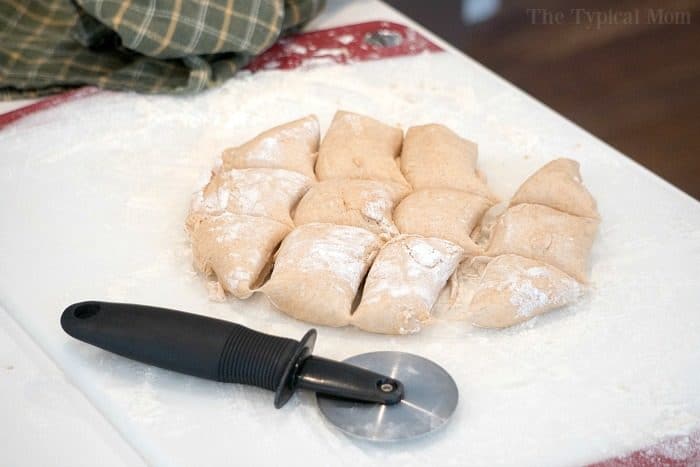 Here she is with her loaf done. Bread in a bag success!
If baking isn't an interest of yours there are tons of other fun activities to do with your kids on the 4-H Inspire Kids to Do Activity Guide.
Put some time aside this weekend and look at it together. See what stands out and then get everything ready. It is a great way to connect with your kids. We all want that right??!!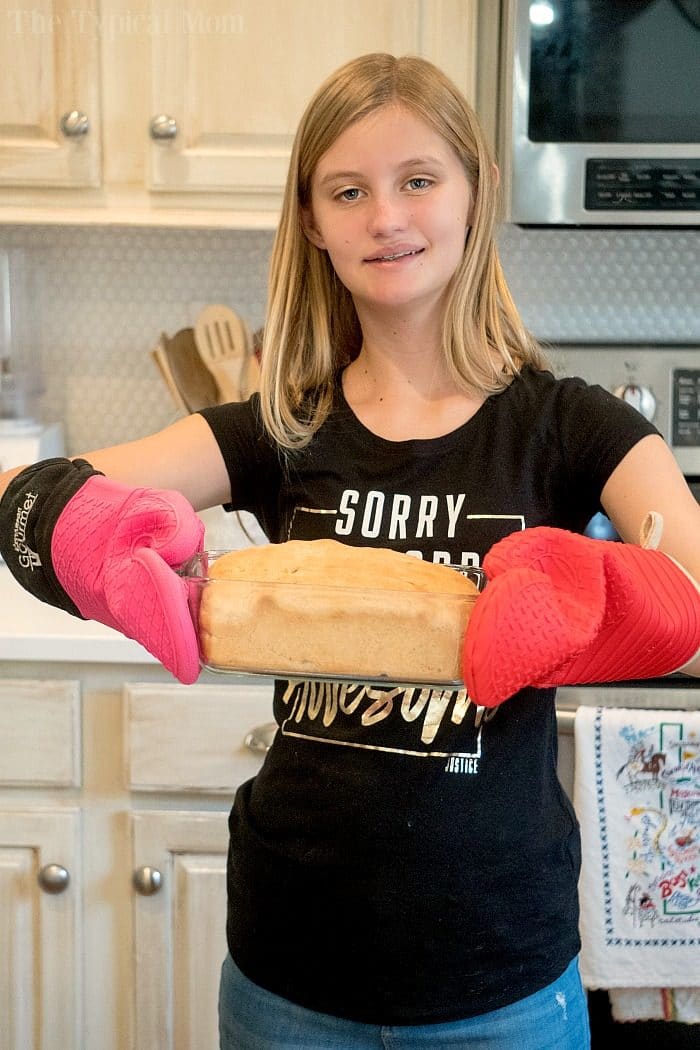 Bread in a Bag Recipe
If you're interested in the Inspire Kids to Do activity that we did together here are complete instructions.
All-purpose flour

this is how to measure flour correctly

Wheat flour
Gallon Ziploc bag
Hot water

we used our Keurig to get hot fast, help them once you combine 1 cup into the bag

Oil
Salt
Non fat dry milk
Yeast
Sugar
Dishtowel or oven mitts to do the mixing
Rolling pin, or if you don't have one kneading well with the palms of your hands works well too
Cutting board to knead the dough
Looking for more bread recipes? Of course you can make homemade white bread, or others below!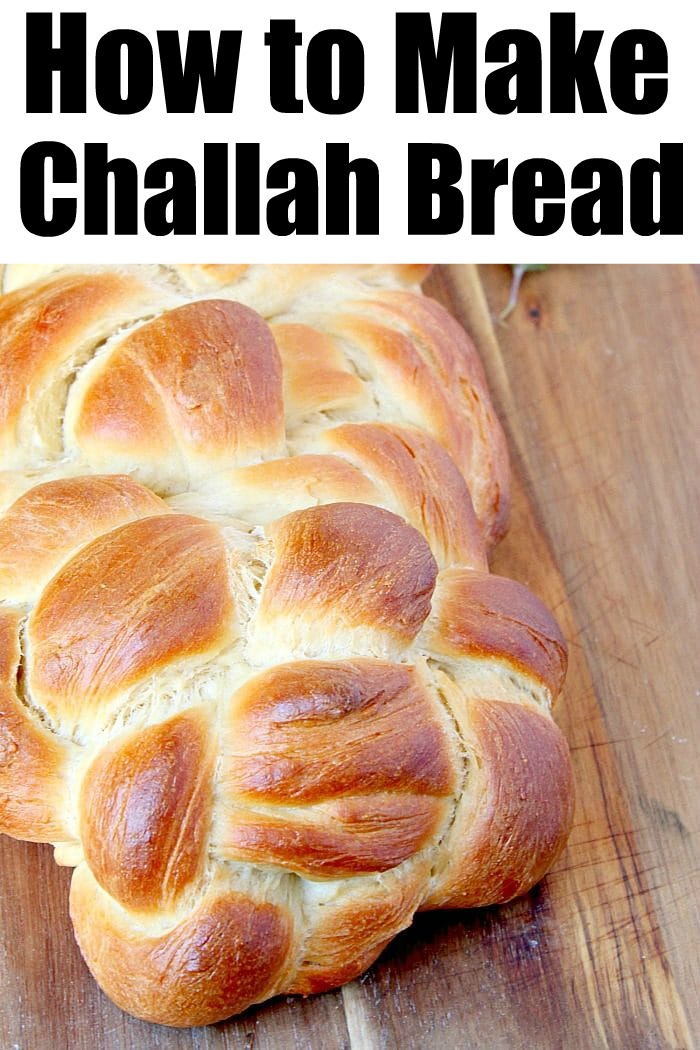 Baking Bread with Kids
The complete directions are below in the printable version.
If you want to know how to half a recipe to make less, read this post. Tip: Spray your pan with non stick spray to clean a pot.
Want to see a few of my favorite things that I am totally obsessed with?? Take a peek and see how many you might already have…twinsies!
Looking for more easy family recipes and tips? LIKE The Typical Mom Facebook page?
Then sign up for my free newsletter, and follow me on Pinterest! 😉
***** If you LOVED this recipe give it 5 Stars below and let everyone know what you thought about it. 😉
Whole Wheat Bread in a Bag
Whole wheat bread in a bag science experiment! Ziploc bag bread activity inspires kids to do something new they've never tried before.
Instructions
Combine 1 c all purpose flour, yeast, sugar, dry milk and salt into a freezer bag, squeeze air out and zip closed.

Shake to blend ingredients, then add your hot water and oil into this mixture.

Reseal your bag and work together using your fingers until well combined.

Add whole wheat flour, reseal bag and mix again thoroughly.

Add a bit of the remaining 1 c. all purpose flour at a time, kneading in the bag in between, until the dough stiffens and begins to pull away from the bag.

Once this is achieved, remove dough from bag and put on a floured cutting board to knead with your hands.

Knead for 2-4 min. until smooth and elastic, cover dough in a bowl and let it rest for 10 minutes.

Use a rolling pin to roll dough into a 12×7″ rectangle, place in loaf pan that has been sprayed with non stick spray.

Cover with plastic wrap and a kitchen towel. Put in warm location for 20 min or until dough doubles in size.

Bake in preheated oven at 375 degrees for 25 min. or until top is golden brown and knife inserted into middle comes out clean.
Nutrition Facts
Whole Wheat Bread in a Bag
Amount Per Serving (3 oz)
Calories 153
Calories from Fat 27
% Daily Value*
Fat 3g5%
Sodium 198mg9%
Potassium 69mg2%
Carbohydrates 26g9%
Protein 3g6%
Vitamin A 15IU0%
Calcium 14mg1%
Iron 1.3mg7%
* Percent Daily Values are based on a 2000 calorie diet.