How to make Challah braided bread easily at home. Ingredients you will need and technique for making this special bread in Jewish cuisine.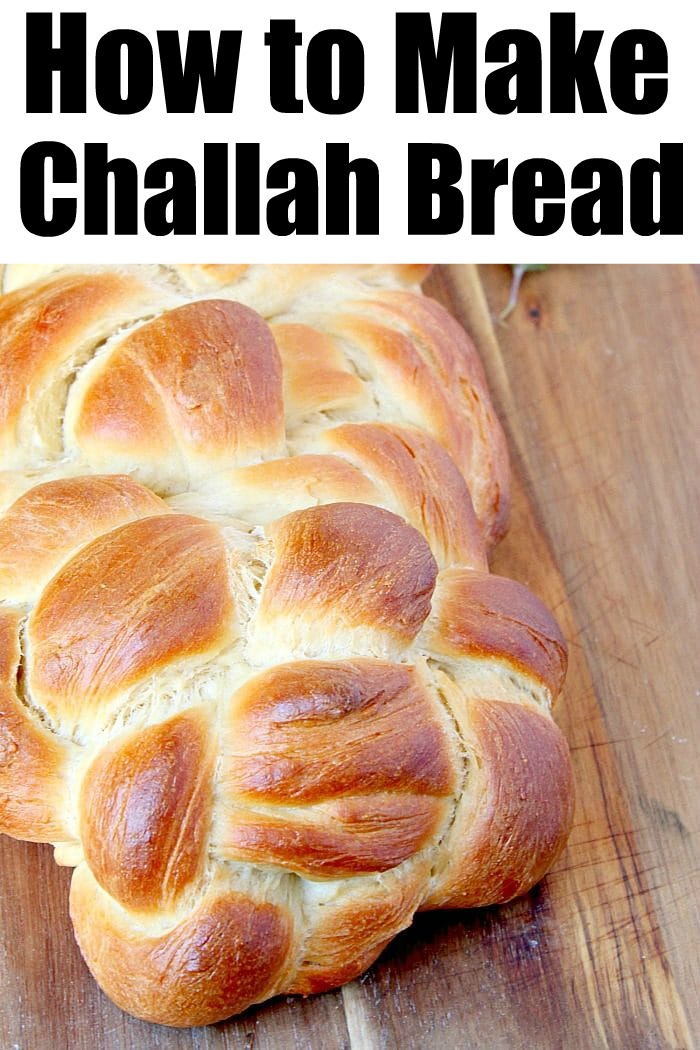 This is how to make Challah! A braided bread eaten on ceremonial occasions such as Sabbath and major Jewish holidays (other than Passover). It's pretty, light and delicious. (affiliate links present)
If you have never had this sweet loaf of goodness you're missing out. It is not something you can find at a local grocery store though, it's mainly homemade.
How to make Challah bread may be easy to those who have done it year after year. If you've never made it though you may need some easy directions. We hope this helps you.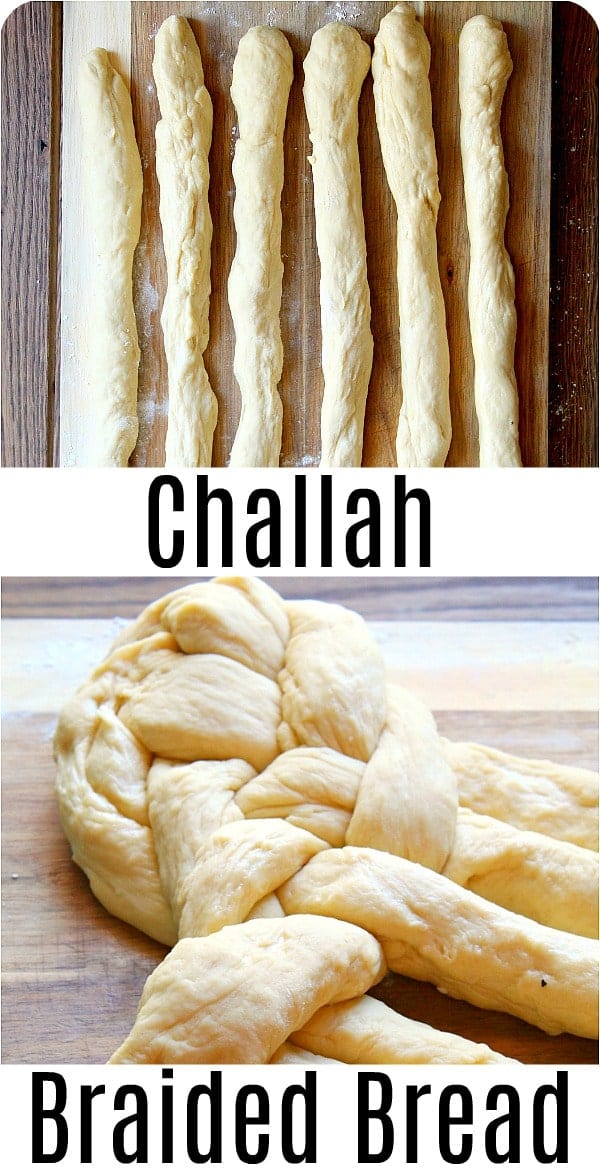 I will start by saying this is a guest post. I have eaten this many many times growing up because my best friend was and is Jewish. It is such an important recipe to her (an my memories) that I wanted to have someone make this who had done this many times before.
What is a Challah loaf and what does it symbolize?
Challah' actually refers to the tiny portion separated from bread dough that is a reminder of the Temple service, not the loaves themselves. The loaves are typically covered with a fancy cloth too. The reason for this is to symbolize the dew that fell on the manna in the desert.
The word comes from a reference in the Torah where God instructs Moses to set aside a portion of each loaf as an offering to local Jewish priests. The tradition is known as the separation of the challah.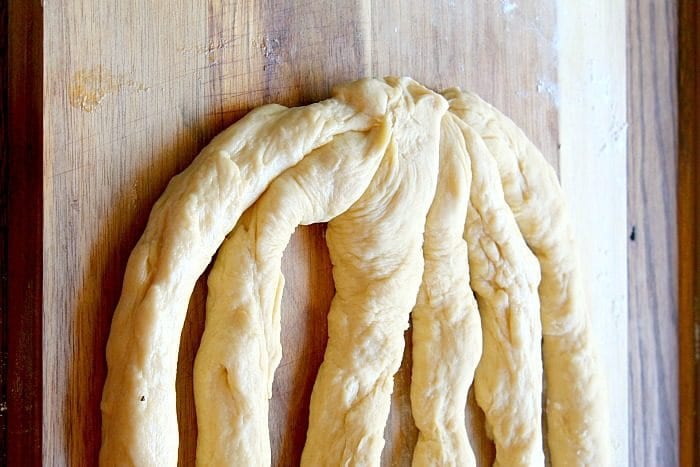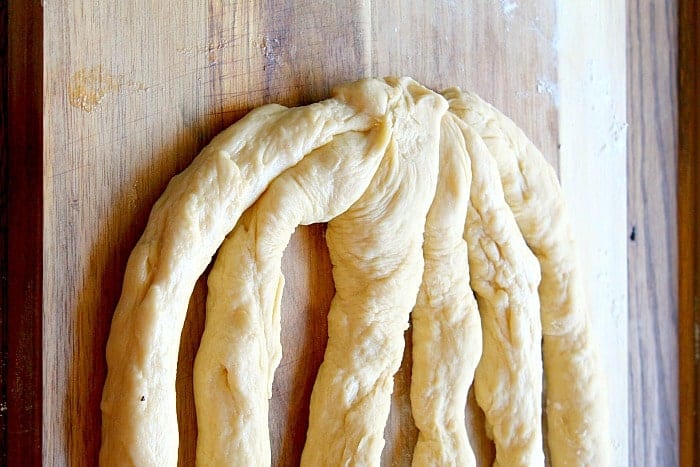 What you need to make this Challah recipe
Active dry yeast

Warm water
Flour

plus added flour if it is too sticky

Sugar
Salt
Eggs and egg yolks
Vegetable oil
Lined baking sheet lined with parchment paper
Plastic wrap to save any leftovers
This should take you about 20 minutes to prepare. Then it will need to rise for about an hour.
Why do you eat Challah on Shabbat?
This is served rather than normal bread because it is both sweeter and richer. Being made with egg as well as wheat it's said to be "rich man's food" and a more fitting symbol of the Manna which God provided.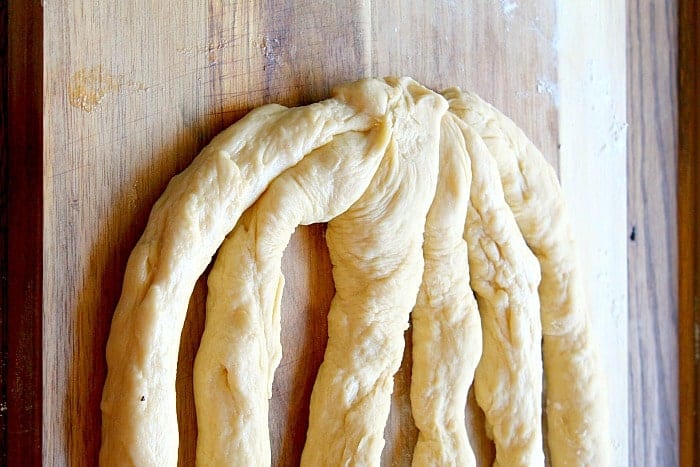 Like I said, I spent a lot of time learning bits and pieces about the Jewish religion growing up from my friend's family. They were kind of like my second family. I remember watching her mom make this braided loaf many many times, sat at their table for dinners and tried gefilte fish! The traditions they had amazed me, and I loved learning about what each thing signified.
My long time friend is now a Rabbi and makes braided Challah herself. She. Is. Amazing. I think the meaning of this beautiful bread is so interesting. I wanted to share it with you too.
What does Challah mean in Hebrew?
Originally it refers to the mitzvah of separating a portion of the dough before braiding. As you can see you divide the dough into long pieces. These will then be braided together, similar to braiding hair. The portion of dough that has been set aside is said to be a tithe for the Kohen.
In Hebrew this commandment is called hafrashat challah, or separating challah. The word likely comes from the Hebrew root halal.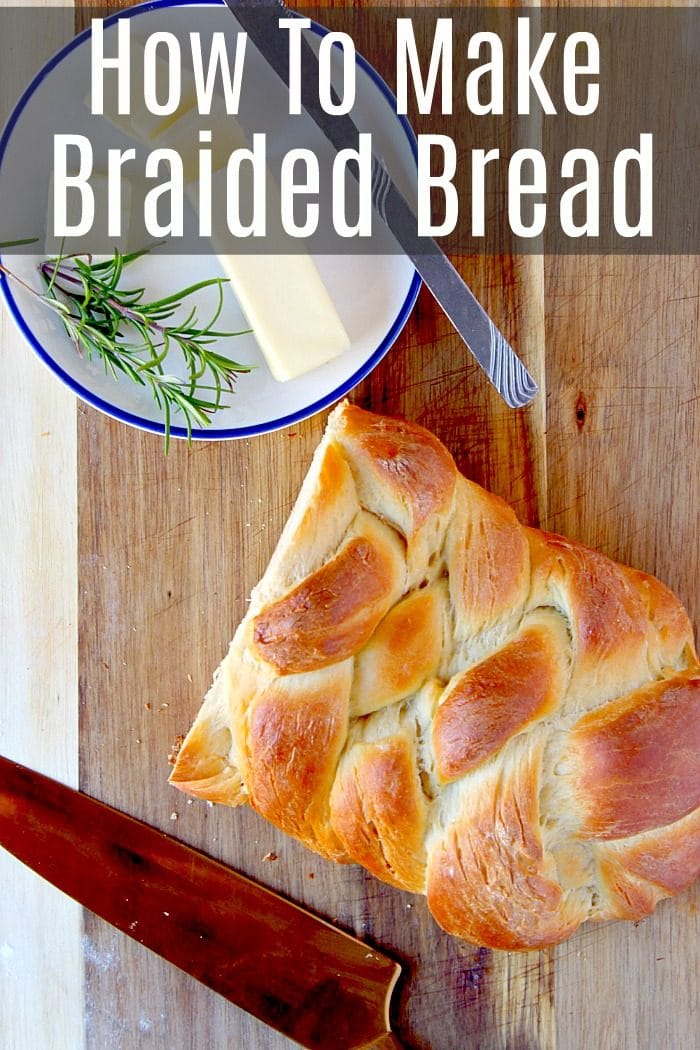 What do you serve Challah with?
Slice Challah and make french toast with apple butter
Day old can be used for delicious bread pudding
Nutella or brie grilled cheese is delicious
Avocado toast is a fave
Remember to save the egg whites from the 2 egg yolks. This will be used to brush over the top of the loaf so it gets golden brown on top as it bakes.
Looking for other bread recipes?
Here's an easy roll recipe
Garlic pull apart bread is semi homemade
How to Make Challah
Ingredients
Instructions
Sprinkle the yeast over the water in a small bowl, and add a healthy pinch of sugar. Stir to dissolve the yeast and let stand about 5 minutes.

Whisk together 4 cups of the flour, sugar, and salt in a large bowl. Make a well in the center of the flour mixture and add the eggs, egg yolk, and oil. Use a fork to gently combine the egg and oil, bringing in a little bit of flour from the sides.

Pour the yeast mixture in the center of the flour with the egg and oil. Mix the yeast, eggs, and flour with a long-handled spoon until you form a shaggy dough that is difficult to mix. Knead the dough for 6 to 8 minutes.

If the dough seems very sticky, add flour a teaspoon at a time until it feels tacky, but no longer like bubblegum. The dough has finished kneading when it is soft, smooth, and holds a ball-shape.

Place the dough in a well-oiled bowl, and flip the dough once to coat with the oil. Cover with a kitchen towel, and let the dough rise until doubled in bulk, 1 1/2 to 2 hours.

Separate the dough into three or six equal pieces, depending on the type of braid you'd like to do. Roll each piece of dough into a long rope roughly 1-inch thick and 16 inches long. If the ropes shrink as you try to roll them, let them rest for 5 minutes to relax the gluten and then try again.

Gather the ropes and squeeze them together at the very top. If making a 3-stranded challah, braid the ropes together like braiding hair or yarn and squeeze the ends together when complete.

If making a 6-stranded challah, Take the strand furthest to the right and weave it towards the left through the other strands using this pattern: over 2 strands, under 1 strand, over 2 strands. Repeat with this pattern, always starting at the furthest right strand, until the whole loaf is braided.

Line a baking sheet with parchment and transfer the challah to the prepared baking sheet. Sprinkle the loaf with a little flour and drape it with a clean dishcloth.

Let it rise until puffed and pillowy, about an hour. About 20 minutes before baking, heat the oven to 350°F.

When ready to bake, whisk the reserved egg white with a tablespoon of water and brush it all over the challah.

Be sure to get in the cracks and down the sides of the loaf. Bake for 30 to 35 minutes. Allow cooling before slicing.
Nutrition Facts
How to Make Challah
Amount Per Serving (2 oz)
Calories 224
Calories from Fat 54
% Daily Value*
Fat 6g9%
Cholesterol 43mg14%
Sodium 400mg17%
Potassium 61mg2%
Carbohydrates 36g12%
Protein 5g10%
Vitamin A 60IU1%
Calcium 12mg1%
Iron 2.1mg12%
* Percent Daily Values are based on a 2000 calorie diet.