We will answer the questions of what is a Matzo ball, what is Matzah meal and what does it taste like. Then make our no fail recipe to make them fluffy and add into a soup for an easy 30 minute dinner or serve as an appetizer.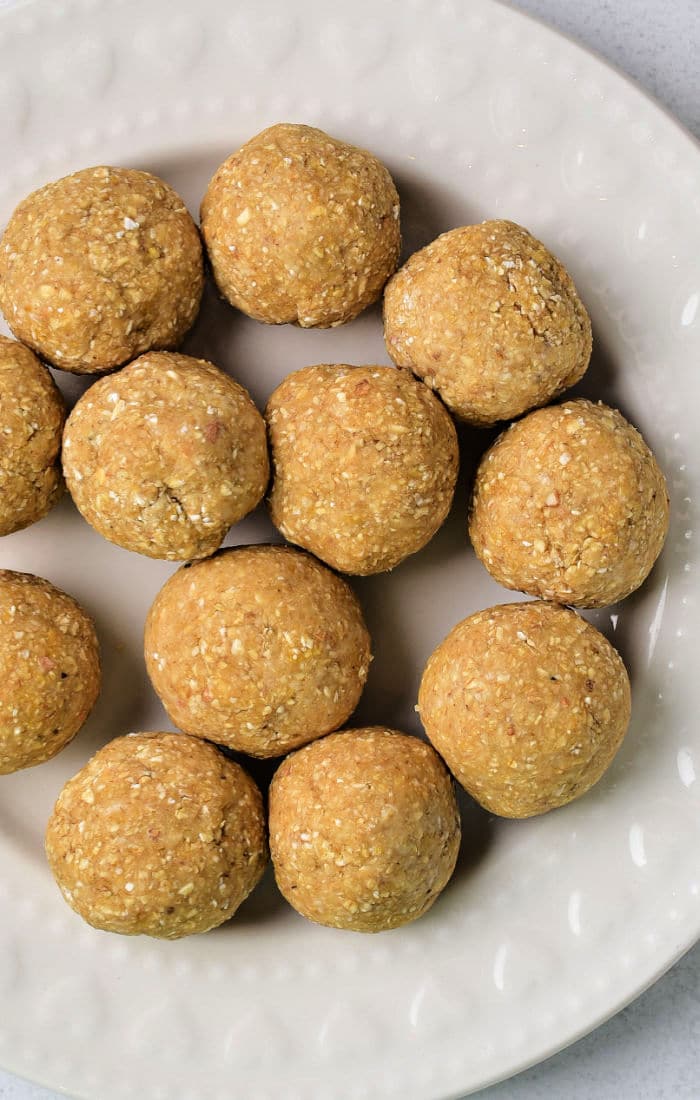 So what is this anyway right?? Well if you have never had them, but curious as to what all the hype is about and how to make matzo balls we're here to help! This is essentially a Jewish soup served at Seder with these "dumplings" inside a simple broth. You'll love it! (affiliate links present)
What Are Matzo Balls Made of
Made from a mixture of matzah meal, beaten eggs, water, and a fat they are simple. Matzah is a hard, cracker like bread made from a dough of only flour and water which has not been allowed to rise. These large pieces with holes in them you see here represents the unleavened bread Jewish people ate while fleeing Egypt.
Now there is a key to getting yours fluffy and not as dense too, baking powder is it. Including just a pinch will create the lightest "floater" style matzo ball soup you'll ever taste and see. Alternatively carbonated water or seltzer with whipped egg whites may give you the same result, but the powder is just easier.
When is Matzo ball soup eaten? Traditionally this is made and eaten during the Passover holiday when flour is forbidden. Of course you can make and consume it year round but typically it is consumed during this time more than any other. Some insist on a bowl during Hannukah with our air fryer latkes but not the other way unless you used the meal instead of flour.
What is Matzo Meal
What you are using here, and in every other base of other recipes, are Matzo crackers. You can see them above and can be found in a really big box at the store. These are essentially ground up into a fine meal which is then called a meal. The texture resembles a gritty wheat flour with a slightly darker color.
You can easily smash and grind it yourself at home but easier yet they sell it online here or at the grocery store often, especially around the Jewish holiday of Passover in April. There is often times a small display with gefilte fish and other Kosher items.
If you want to go super simple many times you can even find a ready made matzo ball mix where you just add water or something and then that is that. Add a large container of chicken soup and use the two for a cheater method of sorts. 😉
Matzo Ball Recipe
First off you can omit the powder if you are against it or don't have any on hand. I will say that there is a big difference in texture if left out.
Matzo flour or you can finely grind it yourself at home
Egg
Olive oil
1/3 tsp salt and pepper

plus any other seasonings that you may enjoy

Baking powder
You will need a bowl to incorporate all of the ingredients together into a dough of sorts. When you form them I suggest using a Tablespoon to scoop up a heaping amount. Use your hands brushed with some oil to roll into balls that are all the same size so they cook at the same rate.
Pour the ground matzo flour into a bowl, make a well in the center and add the egg.
Add also olive oil, salt, pepper and baking powder.
Knead until you get a firm dough.
If the egg is small, you can add a little water if it feels a little too dry and can't incorporate all the meal.
With wet hands, form dough into balls 1-1 1/2 inches in diameter.
Once you have your stock or bone broth made and it is at a low boil over medium heat add and cook matzo balls for 5-7 minutes or so. You could use boiling water too but then they won't have much flavor. During this time they will increase slightly in size and swell showing you that they are puffing up, cooking and getting nice and fluffy.
What do Matzo Balls Taste Like
If you have never bitten into one you might expect it to resemble a meatball or something, it's not at all. I mean there isn't any meat in it so there's that to begin with….. If you had ever had a vegetarian version of those then that is closer, but not that either. It is literally just a light fluffy texture that breaks apart when bit easily that tastes like the broth it is in.
Essentially whatever your Matzah balls are boiled in that is what they will taste like. As they absorb the liquid in the pot they swell as you will notice and suck all of the flavors up. With that said season your homemade chicken broth well.
Matzo Ball Broth
There are two main ways to make the base for your soup, or just to cook these in. The easiest is to just use a package of it from the store, it can be found canned too. If you want to avoid all of the preservatives, just boil a whole chicken with salted water yourself. Drain, spoon off chicken fat and use that broth. Then use the protein however you'd like beyond that. Shredded chicken breast in your soup is great.
Can You Freeze Matzo Balls?
Yes but you really should do so before you cook them. If you do so after they have been boiled the texture won't be as good once you defrost and reheat them. Instead, make our Matzah ball recipe here, form into balls, lay on a sheet pan, freeze and then transfer them into a freezer bag for up to 3 months!
How many days in advance can I make matzo balls?
If you are prepping for a large gathering it is sure helpful to prepare anything you can the day before. You can certainly make the dough beforehand, store in a freezer bag without any air inside in the fridge. I wouldn't do it longer than 24 hours before. When ready sit on the counter for an hour, form into balls and you're set! Broth can be made ahead of time and stored in mason jars in the refrigerator.
Variations you can make; vegetable oil can be used other than olive if you would prefer. You can just make a few. If you cut it into fourths with 1/4 cup meal then decrease everything else accordingly. If made outside of Passover it is great served with challah.
Want to see a few of my favorite things that I am totally obsessed with?? Take a peek and see how many you might already have…twinsies!
Looking for more easy family recipes and tips? LIKE The Typical Mom Facebook page?
Then sign up for my free newsletter, and follow me on Pinterest! 😉
***** If you LOVED this recipe give it 5 Stars below and let everyone know what you thought about it. 😉
What is a Matzo Ball
What is a Matzo ball and a simple recipe to make them in a broth to make soup for Passover, the Jewish holiday. Using unleavened bread with this meal, egg, and oil.
Instructions
Pour the matzo meal into a bowl, make a well in the center and add the egg. Add also olive oil, salt, pepper and baking powder. Knead a firm dough. If the egg is small, you can add a little water.

Boil your broth on the stove and add balls for 5-7 minutes until they swell up and cook in your soup. Enjoy.
Nutrition Facts
What is a Matzo Ball
Amount Per Serving (1 oz)
Calories 146
Calories from Fat 54
% Daily Value*
Fat 6g9%
Cholesterol 31mg10%
Sodium 141mg6%
Potassium 60mg2%
Carbohydrates 20g7%
Protein 3g6%
Vitamin A 45IU1%
Calcium 17mg2%
Iron 1mg6%
* Percent Daily Values are based on a 2000 calorie diet.