The best chicken matzo ball soup is here! If you're looking to make this traditional Jewish soup for the Passover holiday this is by far the most delicious. We will share our easy homemade matzo balls recipe to add and you can pack the vegetables in too.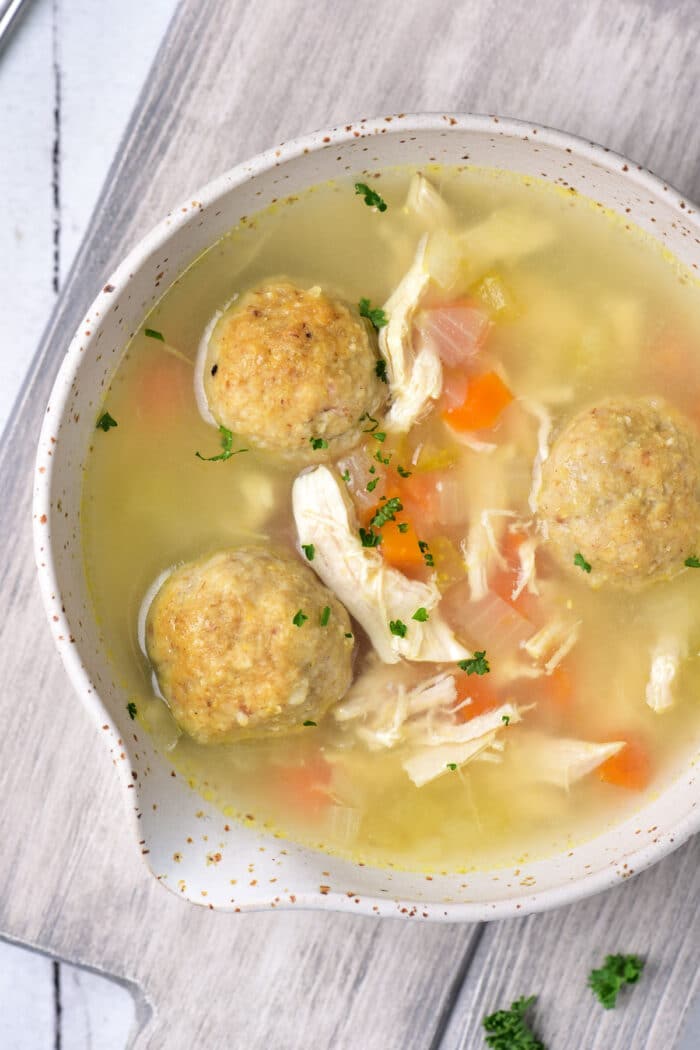 This Matzo ball chicken soup is a fun tweak to the traditional Jewish Passover meal served during the Seder. Packed with protein you can add meat or leave vegetarian, either way this is delicious for dinner or served before your main dish. (affiliate links present)
Chicken Soup with Matzo Balls
You can certainly make this and air fryer latkes year round of course, but typically it is made and eaten during the Jewish holiday of Passover. At this time there are also readings, songs, prayers, wine, and specific foods are eaten (like this one). Meat is not typically part of it, but like I said can be a nice addition if you're looking for something different.
Make this in a Dutch Oven on your stove as directed below or in your pressure cooker too. You can even make soup with frozen chicken if that is all you have on hand friends!
What does matzo soup taste like?
The soup is a simple broth base. Carrots and celery with onions are traditionally added but you could choose different vegetables than those. Matzah balls alone don't have a lot of flavor, they soak and take on the taste of the soup itself as they swell.
Are matzo good for weight loss?
Yes! By themselves they are in fact fat free so great for weight loss if that is your goal. Everything in moderation of course.
Depending on their size typically there are only 100 calories in two.
Homemade is always best so you know what is in them. Our recipe for these is linked at the top of this post and in the recipe card itself. Easy to make, or you can buy a mix where you just add water.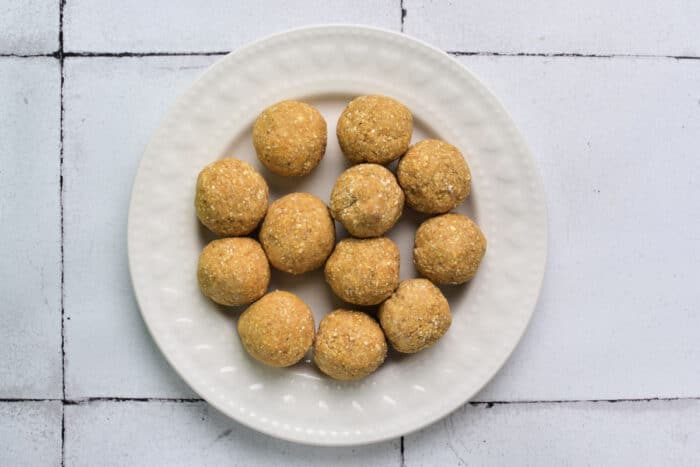 Matzo Ball Soup Jewish
I mean you don't have to be this particular religion to make or enjoy this dish. I'm not but I grew up with a close friend who was and went to her house often during the holidays. We went to festivals where gefilte fish were served, I helped her mom make challah many times, and I learned about the Hanukkah tradition there.
It was there that I had my first bowl of this soup. It was different, interesting, but had a story to it which was kinda' cool. If you're new to this and wonder why these came about it is because no leavening should be eaten during this time of year.
SO instead of flour, Matzah meal is used. You can buy it ground or do that yourself.
It's made from those huge white cracker like things with all the holes in it. A similar look to a saltine cracker it has sorta the same taste (not much) and is in fact unleavened so it can be consumed. Of course there are many traditions when it comes to this recipe and you may have some you remember.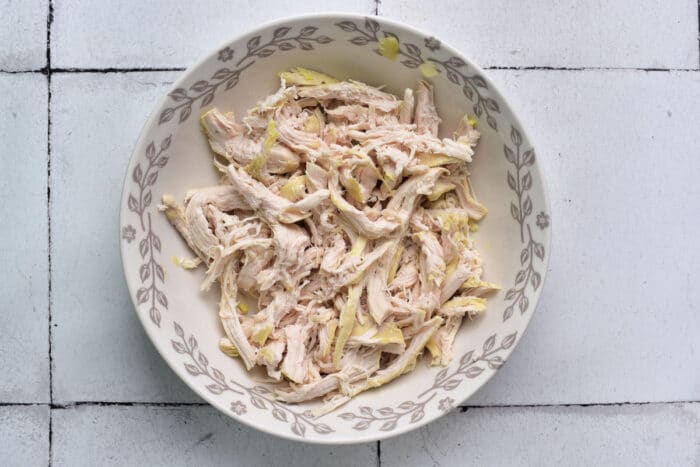 Vegetarian Matzo Ball Soup
You can use this base and take it from there. If you do not want any poultry added that is okay. Just use vegetables to make a rich broth and then go from there.
Easy peasy. You can even leave out the sliced carrots and celery if you wanted to and just go with the broth and balls themselves. Period.
How is vegetable broth made? You can literally make vegetable broth with scraps that you would normally throw away! Alternatively you can add whole or halved veggies of your choice into boiling water with salt and pepper and other seasonings of your choice. A bay leaf is a great add in too. Boil for about 20 minutes, strain, and use that!!
2 chicken breasts – optional if you are making a chicken soup base
Chicken broth can make a richer broth, use water for vegan
1 onion diced
Peeled sliced carrot
Celery sliced
Minced garlic or 2 whole cloves
Olive oil
To make homemade cooked matzo balls you will need;
1 c matzo meal
Egg
2 tbsp olive oil
Salt and pepper (as well as other seasonings of your choice like fresh dill, thyme….)
Baking powder is used to make them fluffier, but could be left out
Then you will need a large bowl to make your matzo ball mixture into dough. Wet your hands to roll and make sure they are all about the same size so they cook evenly.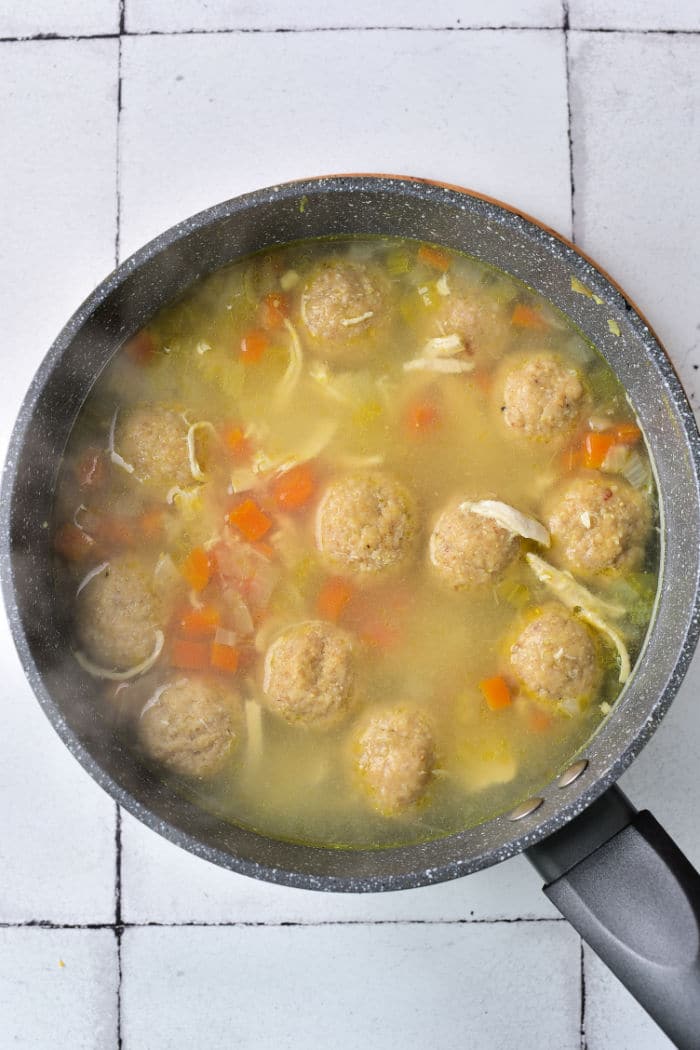 Frozen Matzo Ball Soup
If you wanted to batch cook ahead of time you could make a lot of these and freeze for future use, or make dough 24 hours before and wrap in plastic wrap. That would cut down the prep time for you quite a bit when you are ready to make a meal with them. You will want to NOT cook them before freezing though for the best results. You basically make the dough and roll them up.
With a sheet of parchment paper on a baking sheet add them in a single layer and freeze matzo balls a few hours. Once rock hard put them into a freezer bag or thick plastic bag and zip closed. They can stay this way for up to 3 months. When you are ready take enough out you wish and put back on a baking sheet separated for 30 minutes to an hour so they can defrost.
Then make your soup by boiling a whole chicken or use packaged chicken stock. Add them as you would if they were freshly made.
Boil until they have doubled in size and then you're ready to enjoy. Nobody will ever know they came out of the freezer y'all. This way you can make this all year long, even at the end of the year with your Sweet Potato Latkes!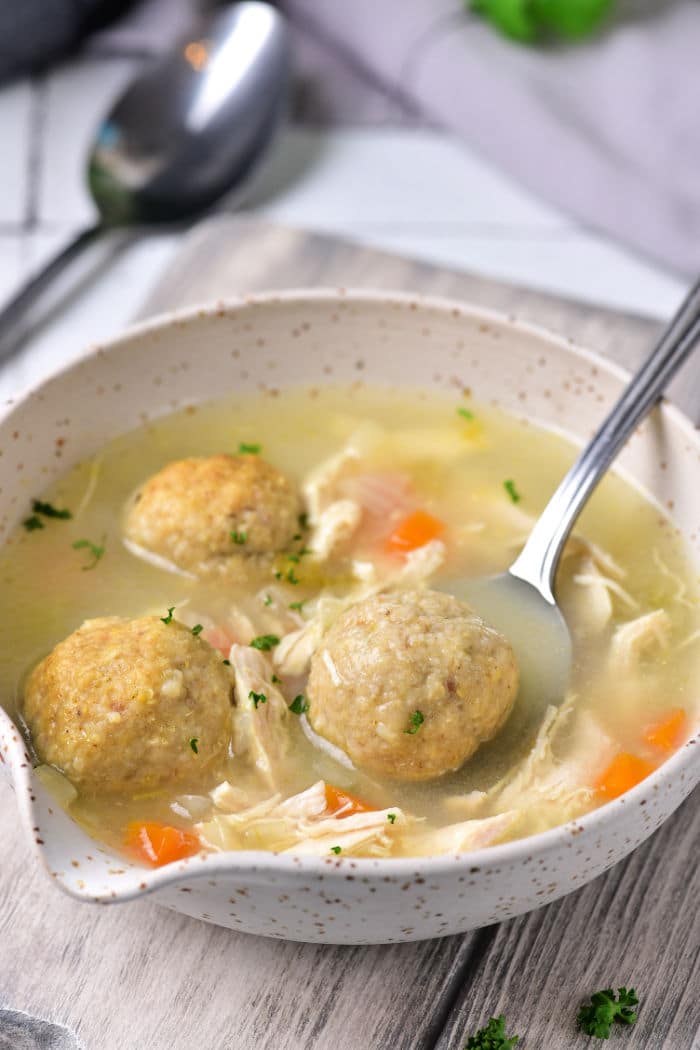 Instant Pot Matzo Ball Soup
If you wanted to make this in your pressure cooker you could. You'd follow the directions below for making the main star of the show, set those aside. Then use the ingredients below with the timing for our chicken noodle soup. When done set to saute and add your balls and allow to boil for about 5 minutes or until they double in size.
Want to see a few of my favorite things that I am totally obsessed with?? Take a peek and see how many you might already have…twinsies!
Looking for more easy family recipes and tips? LIKE The Typical Mom Facebook page?
Then sign up for my free newsletter, and follow me on Pinterest! 😉
***** If you LOVED this recipe give it 5 Stars below and let everyone know what you thought about it. 😉
Chicken Matzo Ball Soup
The best chicken matzo ball soup is here! We will share our easy homemade matzo balls recipe to add and you can pack the vegetables in too.
Instructions
Fry chopped onions, carrots, celery and garlic in olive oil. Turn on low heat and stir. After 5 minutes, put chicken in a saucepan and pour in the broth. If the broth does not cover the fillets, add more broth or water. Boil for 20 minutes or until meat is cooked thru.

Take meat out of the broth and tear it with two forks. Put the chicken back into the broth. With wet hands, form the mixed matzo dough into balls 1.5" or so in size. Put into the broth and cook for another 5-7 minutes.

During this time they will increase slightly in size and soak up the liquid. Soup can be served now.
Nutrition Facts
Chicken Matzo Ball Soup
Amount Per Serving (2 oz)
Calories 269
Calories from Fat 90
% Daily Value*
Fat 10g15%
Cholesterol 77mg26%
Sodium 536mg23%
Potassium 446mg13%
Carbohydrates 23g8%
Protein 20g40%
Vitamin A 1822IU36%
Vitamin C 3mg4%
Calcium 37mg4%
Iron 1mg6%
* Percent Daily Values are based on a 2000 calorie diet.