This is what to cook with chicken breasts boneless skinless or bone in chicken breast recipes. All can be made quickly, are family friendly and packed with protein for a healthy meal.
Chicken breast recipes are a versatile and protein-packed. Using other simple ingredients, you can easily transform your meat into something savory or into a casserole. From comforting classics to contemporary delights, there's no shortage of options when it comes to cooking with chicken breasts. (affiliate links present)
First we shared What to Cook with Ground Beef and it was a hit. I like to have options when I see a sale so I thought I would make a roundup with poultry too.
Chicken Breast Recipes
You may be craving a quick and easy meal or preparing for a busy week of meal prepping. You impress your dinner guests with any of these choices. We oven baked, slow cooker and Air Fryer Chicken Breast Recipes have got you covered.
What Does Chicken Breast Go With?
When it comes to comfort food, few dishes can compete with the soul soothing flavors of Chicken Piccata. This Italian inspired dish is a true culinary delight that balances the richness of boneless, skinless chicken breasts. With the vibrant tang of lemon and the depth of capers, it's amazing.
Despite its gourmet taste, this dish can be whipped up in just 25 minutes in the oven. Makes it an ideal choice for both weeknight dinners and special occasions. To create this full-flavored masterpiece, start by lightly dredging the meat in flour, then sauté them until golden brown.
A quick pan sauce, consisting of white wine, lemon juice, chicken broth, and capers, infuses the dish with a burst of zesty complexity. You can slo cook it low and slow using our slow cooker lemon chicken recipe, just add capers and you're set!
What to Serve with Boneless Skinless Chicken Breasts
If you want to go super healthy you should skip the breading entirely. You can still get a TON of flavor with just seasonings like our baked thin chicken breast recipe shows. If you want to dredge with a bit of egg and coat with breadcrumbs you will add some calories, but not much! An easy way to change things up.
In the case that it is the summertime and you don't want to turn the oven on, here's How Long to Cook Thin Chicken Breast in Air Fryer too! Easy peasy way to cook a meal, then serve with slices of vegetables tossed with olive oil, salt and pepper for about 6 minutes and enjoy together. 😉 BUT if you want more flavor you can stuff the insides and/or add a sauce!
Stuffed Chicken Breast
For a delightful surprise that's sure to impress, Air Fryer Stuffed Chicken Breasts are the answer. This dish combines the juiciness of boneless, skinless chicken breasts with a variety of fillings that elevate the meal to new heights. The best part? It takes just 30 minutes from start to finish.
Start by carefully cutting a pocket into the chicken breasts, then stuff them with your choice of ingredients. From spinach and feta to sun-dried tomatoes and mozzarella, the possibilities are endless. After stuffing, sear the chicken to seal in the flavors, then finish them off in the oven for a perfectly cooked result. The result is a dish that's as visually appealing as it is delectable.
Sheet Pan Chicken
In the realm of quick and easy meals, sheet pan dishes reign supreme. Sheet pan chicken recipes offer a harmonious blend of flavors and textures while requiring minimal effort and cleanup. For those busy days when time is of the essence, This is How Long to Cook Chicken at 400 quickly.
Begin by seasoning with a chicken dry rub, herbs and spices. Place them on a baking sheet alongside an assortment of colorful vegetables, such as bell peppers, zucchini, and onions. Drizzle everything with olive oil and how long to cook chicken breast in oven 350. In just a short time, you'll be rewarded with a wholesome and flavorful meal that's as satisfying as it is convenient.
Chicken Stir Fry
Stir-frying is a cooking technique that allows you to create an explosion of flavors in a matter of minutes too. By thinly slicing boneless, skinless chicken breasts and tossing them with an array of fresh vegetables and aromatic seasonings, you can whip up a delectable stir-fry that's both quick and packed with flavor.
To embark on your stir fry chicken adventure, heat a pan or wok to high heat and quickly cook the chicken until it's golden and cooked through. Remove from the pan and add an assortment of veggies, such as bell peppers, snap peas, and carrots. Toss back in with a sauce!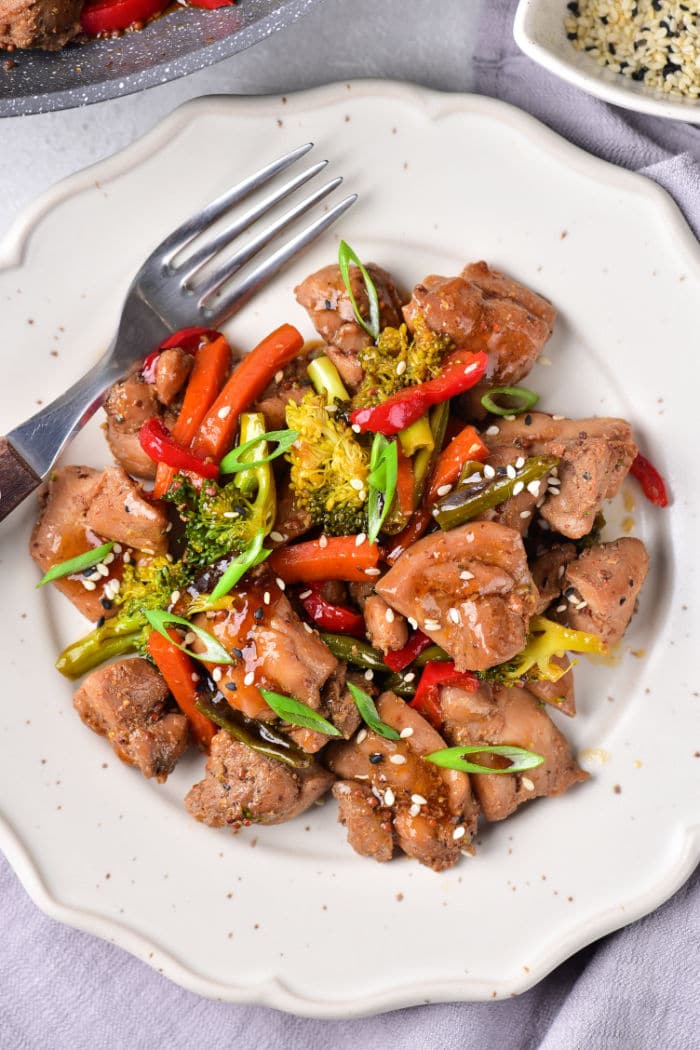 Chicken Fajitas
When you're in the mood for a classic chicken dish that's brimming with bold flavors, chicken fajitas in air fryer – grilled or in Crockpot are the way to go. This Tex-Mex favorite is a medley of marinated and grilled boneless, skinless chicken breasts, sautéed bell peppers, and onions, all wrapped up in warm tortillas. It's a crowd-pleaser that's as versatile as it is mouthwatering.
To prepare these, marinate chicken breasts in a blend of spices, lime juice, and oil. Grill them to perfection, then slice them into thin strips. In a hot skillet, sauté bell peppers and onions until tender and slightly caramelized.
Combine the proteins and vegetables for a colorful and flavorful filling that's perfect for assembling your fajitas. Top them with your preferred toppings, such as sour cream, salsa, and guacamole, and enjoy a fiesta of flavors in every bite.
In today's fast-paced world, meal prepping has become a lifesaver for busy individuals looking to maintain a balanced and healthy diet. You can make this favorite meal even easier with our slow cooker chicken fajitas method too!
Consider cooking a batch of seasoned and grilled boneless, skinless chicken breasts at the beginning of the week. These can be portioned out and used as the base for salads, wraps, sandwiches, Chicken Casserole with Noodles or grain bowls. Their versatility means you can enjoy different meals throughout the week without sacrificing flavor or nutritional value.
Air Fryer Chicken Breasts
The air fryer has revolutionized the way we cook, offering a healthier alternative to traditional frying methods while still delivering crispy and delicious results. When it comes to quick dishes that are both flavorful and guilt-free, the air fryer is your secret weapon.
You can create fresh or air fryer frozen chicken breast recipes, start by seasoning them with your preferred herbs and spices. Place the chicken in the air fryer basket and cook at a high temperature until the exterior is golden and crispy, while the interior remains tender and juicy. The result is a quick and easy chicken dish that's satisfyingly crispy without the excess oil.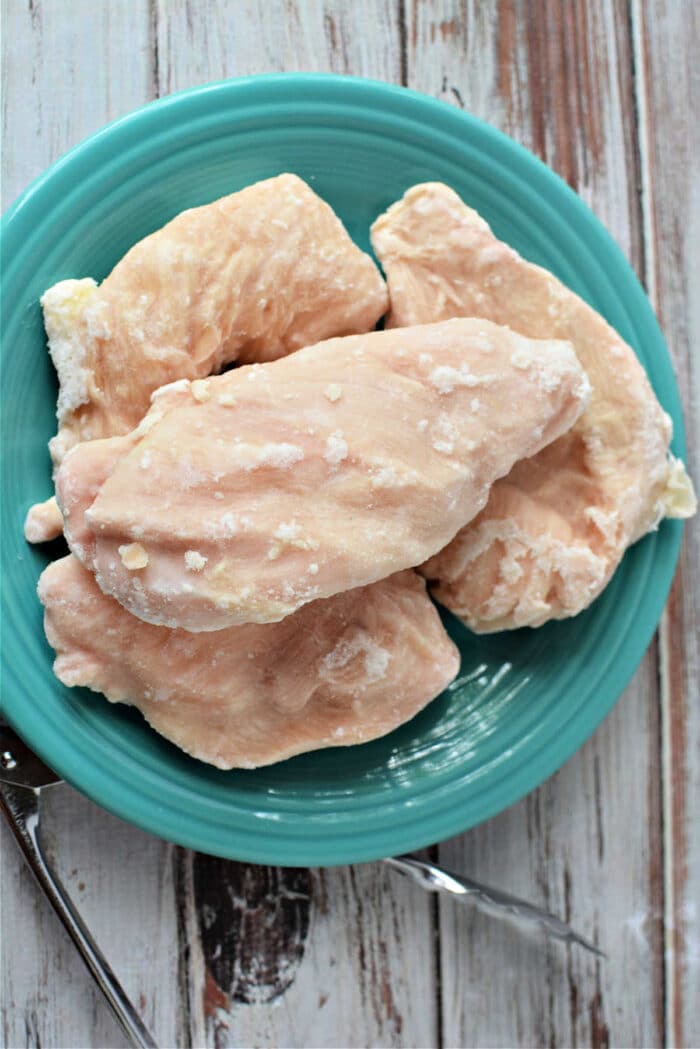 Grilled Chicken
Grilled or smoked chicken breasts is the epitome of summer dining. Flavorful, healthy, and boasts that irresistible smoky char. The simplicity of grilled chicken allows its natural flavors to shine, making it a go-to option for those seeking a delightful chicken dinner. Lather with sauce during the last 30 minutes to get it nice and caramelized too!
Marinate in your favorite blend of seasonings and aromatics. Then, fire up the grill or Traeger and cook the until it's perfectly charred and cooked through. The result is a dish that's both succulent and satisfying, offering a delightful contrast between the tender interior and the slightly crisp exterior.
Recipes with Chicken Breast Meat
Chicken breasts are a culinary canvas waiting to be transformed into a myriad of flavorful and delightful dishes. Start with Chicken Piccata to sheet pan recipes, the speed of stir-fry, and the sizzle of chicken fajitas here. We have a few others you have got to try once cooked and shredded!
Chicken Tortilla Bake is wonderful with freshly pulled or leftovers from the night before!!
For a creamy dish served on slider buns, give our Crockpot crack chicken a whirl!
And you can use thighs or white meat to make our Instant Pot Butter Chicken.
Whether you're looking for a quick and easy meal you'll find something here for you. If you need help on How to Cook Frozen Chicken right out of the freezer we have the answers! Try one of our easy recipes here and let us know what you think.
Want to see a few of my favorite things that I am totally obsessed with?? Take a peek and see how many you might already have…twinsies!
Looking for more easy family recipes and tips? LIKE The Typical Mom Facebook page?
Then sign up for my free newsletter, and follow me on Pinterest! 😉
***** If you LOVED this recipe give it 5 Stars below and let everyone know what you thought about it. 😉
What to Cook with Chicken Breast
This is what to cook with chicken breast in the oven, slow cooker, grilled, in a pressure cooker or air fryer is here. Easy family friendly recipes with white meat.
Instructions
Season breasts on both sides with salt and pepper. In a skillet melt 1/4 c butter, brown pieces of chicken on both sides. Remove, spray inside of crockpot with non stick spray.

Put chicken breasts at bottom of the pot. Add broth or stock into skillet and scrape with a wooden spoon to remove stuck on bits. Add lemon juice from both lemons to skillet. Pour this mixture over your chicken pieces.

Put sliced or wedges of red onion on top of meat. Top with lemon zest, minced garlic, a bit more ground pepper, and remaining butter cut into small cubes.

Cook on low for 5-6 hours depending on thickness of meat – until thickest part reaches 165 degrees F. Remove, keep warm on a plate.

Pour broth from pot into a pot on the stovetop over medium heat. Add parmesan cheese and whisk together. Then add heavy cream and cook until reduced by half whisking along the way. Serve meat with this sauce poured over the top.
Nutrition Facts
What to Cook with Chicken Breast
Amount Per Serving (2 oz)
Calories 553
Calories from Fat 369
% Daily Value*
Fat 41g63%
Cholesterol 200mg67%
Sodium 624mg27%
Potassium 776mg22%
Carbohydrates 8g3%
Protein 40g80%
Vitamin A 1280IU26%
Vitamin C 23mg28%
Calcium 172mg17%
Iron 1mg6%
* Percent Daily Values are based on a 2000 calorie diet.