Best dry rub for chicken wings that is sweet and savory. NO sauce needed when you use this. Bake, grill, air fry or deep fry to cook. If you haven't tried our dry rub air fryer chicken wings yet, you've gotta' start with those!
Dry rub for chicken wings takes an otherwise ordinary appetizer to an out of this world finger food in minutes. Just mix it up in 5 minutes or make it in bulk and use it often on all the things. So good you can use it on a whole chicken, drumsticks, thighs and breasts too. One of many tips we have shared lately on our site. One of many dry rub recipes on our site. (affiliate links present)
Chicken Wing Dry Rub
You can see the end result above. I know, amazing right?? We have even used this same mixture on our air fryer turkey wings and OMG. It's good on all the things my friends, not just the smallest part on the bird. Once you mix this up for the first time you will want to make it in bulk and we will show you how to save that best as well.
I am sure you have all of the ingredients necessary in your pantry or spice cabinet. I don't do weird and hard to find things, that is not me. Think of this as a base. What I mean by that is as is written below in the printable recipe card is already perfection BUT you can add heat.
Love spicy chicken wing dry rub? NO problem, just add more chili powder, dry Sriracha or red pepper flakes into the mix. Taste along the way to transition to more of an air fryer hot wings mix.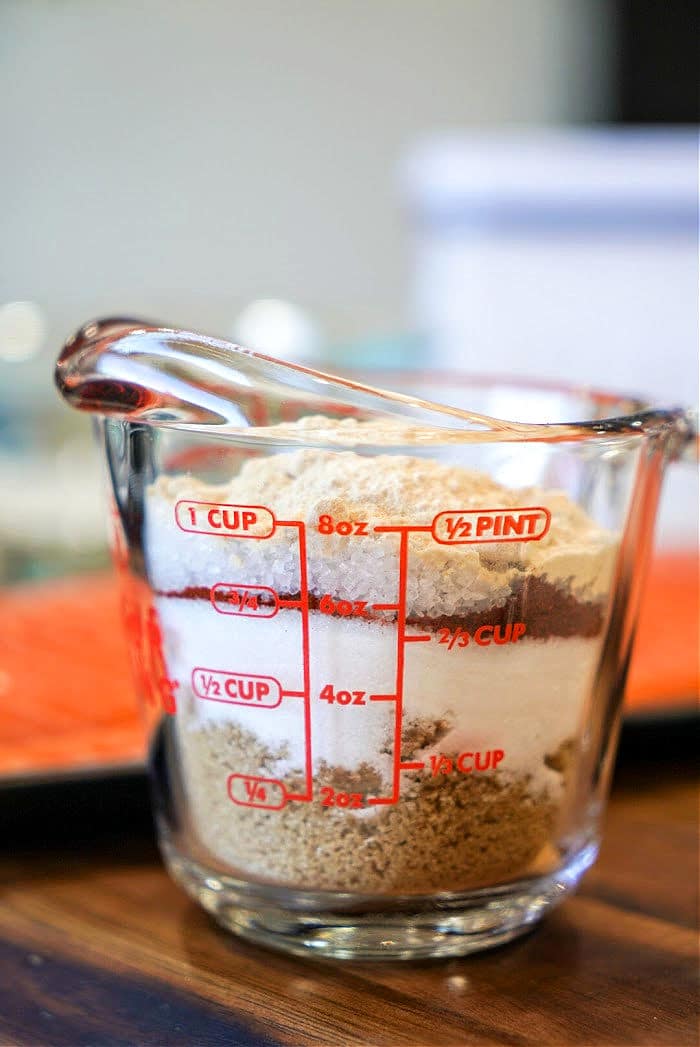 Dry Rubs for Chicken Wings
Yes you can find bottled ready made mixes at the store or online but it is really simple to make your own. Why should you do it yourself? Well homemade dry rub is always best if you ask me so you know exactly what's in it AND you can adjust the heat this way too.
Dry Rub for Wings
There are a few ways to make it spicy too, and I'll give you the options below.
You'll need brown sugar to bring some sweetness, and a small bowl
Salt and pepper wings are great, just savory, I do like sea salt if I have it on hand because the pieces are a bit larger
Paprika is an easy one
Garlic powder and salt

really garlic powder or onion powder works, either one

Cayenne and chili powder brings a bit of heat but keeps it mild to slightly medium with the amounts listed

dry Sriracha will bring more heat and has a great flavor to it as well
red pepper chili flakes works well to make them hotter too
or just increase the amount of cayenne into your mix
Do you add dry rub before or after cooking wings?
Before is way better. I will show you how to get it to really stick nicely. If you wait until after they are already cooked some will stick on the outside for sure, but not nearly as much. If you want a thicker coating do it beforehand, with just a light seasoning you could do it after.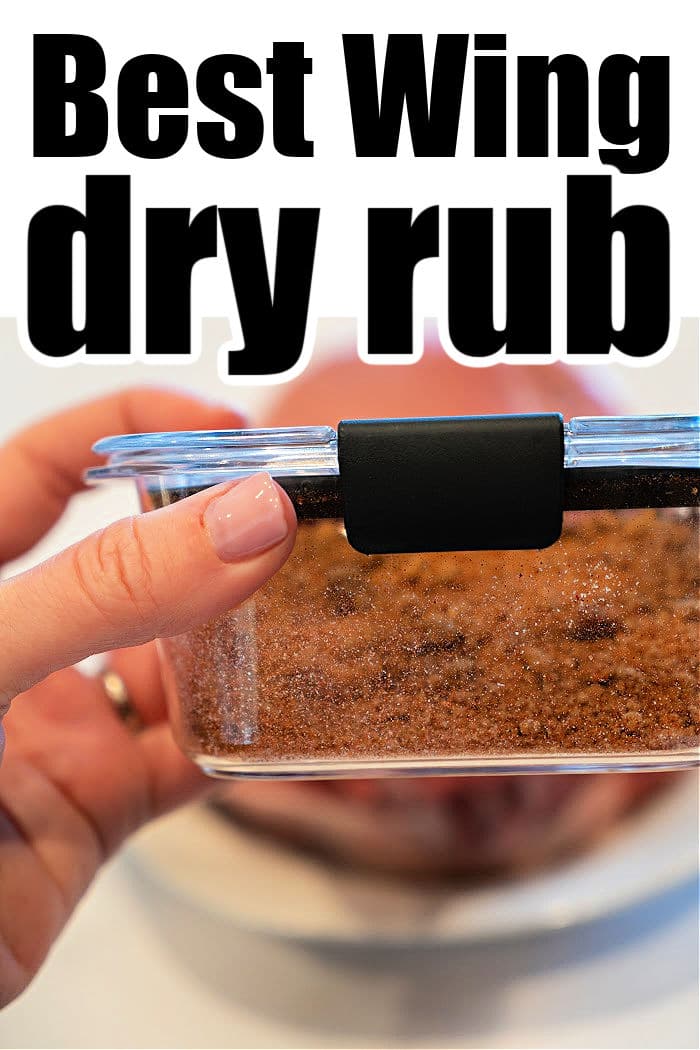 Best Dry Rub for Wings
I use this so often that I make it in bulk so I don't have to measure everything out every single time. Take note that the amounts listed below coat about 12 pieces or so. What I do is triple everything and store in a container like you see here above. That way the next time I can just spoon it on.
How do you get the rub to stick on wings?
There is a trick to this but it is not complicated. All you need are a few paper towels!! I suggest doing this every single time you make Ninja Foodi wings or our air fryer chicken wings baking powder too. It is an important step to get anything to really adhere to the outside. If you skip it the skin won't be as crispy and it will slide right off.
Just lay a few pieces on the bottom, lay pieces on and then cover with a few more. Gently press down so the water on the outside will get soaked up by the paper towels. That is it!! Seriously, compare both ways (doing it this way and without) and see the big difference.
Once the moisture is gone you are ready to roll around in your wings dry rub mixture and it will coat nicely.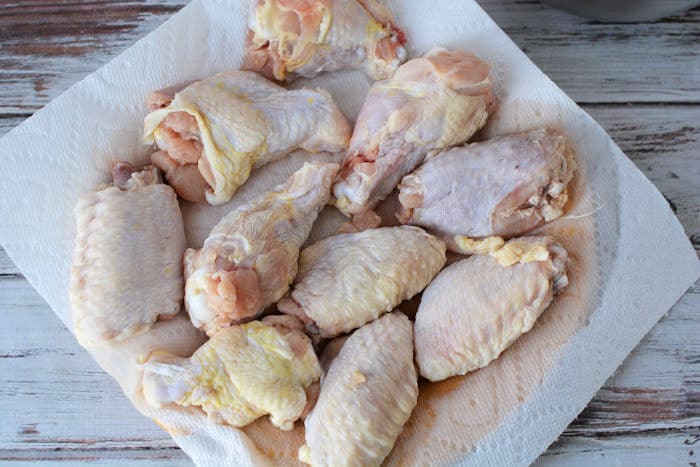 How do you make dry rub wings?
Once you follow the steps I explained below by drying the chicken skin, coating with your seasonings you are ready to cook. You can use a baking sheet, this is how to bake crispy chicken wings in the oven. I use my Ninja Foodi often with the air crisp mode because it makes it as crunchy as possible without heating up my entire house.
I don't deep fry anything but you could. Just wait until the oil is nice and hot before dunking each one underneath. Using a pressure cooker works too but take note that the skin won't get crisp that way.
How long can you leave dry rub on chicken wings?
You should allot for a good 30 minutes but if you wanted to make them ahead of time, or the flavor to be really deep it could sit for up to 7 hours or so. If you wait longer than half an hour make sure to put plastic wrap over the top and put into the fridge so they don't warm up and possibly grow bacteria.
Make sure to store what's left over so you can use it again and again. A sealed container like a mason jar or freezer bag is best. Just make sure you label it so you remember what is inside and write the date too. I mean it is good for a year easy but it is always good to know when it was made. After a while it will not be as flavorful.
Easy Dry Rub for Chicken Wings
You won't need any dipping sauces for chicken wings since there is TONS of flavor in this but go ahead if you want more wow. So what are you waiting for y'all? Mix it up and try it as is. Then tweak to your liking if you want it more mild or spicy. This isn't just great on drumettes and wingettes though, we use it on our air fryer whole chicken too.
In a bowl add everything, break up so it is smooth and you're ready to go. Tips when making baked chicken wings or any other method is to always lay in a single layer without overlapping. That way they'll get crispy but also the rub won't "rub off" if you get what I mean.
If oven baked, ensure the baking rack is in the center, for pressure cooker wings you'll need a trivet to keep them out of the water below. Working with Instant Pot frozen chicken wings? You'll have to sprinkle this on at the end right before you broil them to get crispy. Won't be as potent but still does the trick to add lots of YUM to the dish.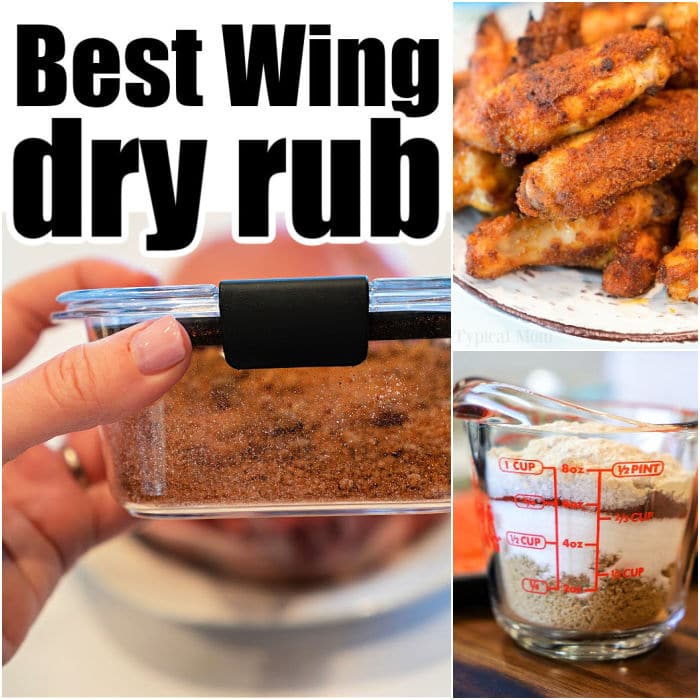 It is great on our lollipop chicken drumsticks too as you could imagine. Use it on all the things because you really cannot go wrong.
There is a printable dry wing recipe mix below. If you want to make several batches and store get a large bowl out. You can make it fresh of course when you're waiting to preheat the oven but it's so much easier if it is already mixed up when you have a busy game day party going on and you're preparing a bunch.
Want to see a few of my favorite things that I am totally obsessed with?? Take a peek and see how many you might already have…twinsies!
Looking for more easy family recipes and tips? LIKE The Typical Mom Facebook page?
Then sign up for my free newsletter, and follow me on Pinterest! 😉
***** If you LOVED this recipe give it 5 Stars below and let everyone know what you thought about it. 😉
Dry Rub for Chicken Wings
Best dry rub for chicken wings that is sweet and savory. NO sauce needed when you use this. Bake, grill, air fry or deep fry to cook.
Instructions
Mix all ingredients together with a fork and break up larger pieces so it is smooth.

Lay wings on paper towels and gently press down to dry them off. Then coat outside with this dry rub, lift up to allow excess to fall off and cook as you wish.
Nutrition Facts
Dry Rub for Chicken Wings
Amount Per Serving (0.5 oz)
Calories 30
Calories from Fat 9
% Daily Value*
Fat 1g2%
Sodium 880mg38%
Potassium 33mg1%
Carbohydrates 8g3%
Protein 1g2%
Vitamin A 286IU6%
Vitamin C 1mg1%
Calcium 9mg1%
Iron 1mg6%
* Percent Daily Values are based on a 2000 calorie diet.