Pressure Cooker hoisin chicken has tender meat with a sweet sauce your whole family will love! In just 5 minutes you too can have this perfect dinner. Make it in your Instant Pot, Ninja Foodi or Crock Pot Express tonight!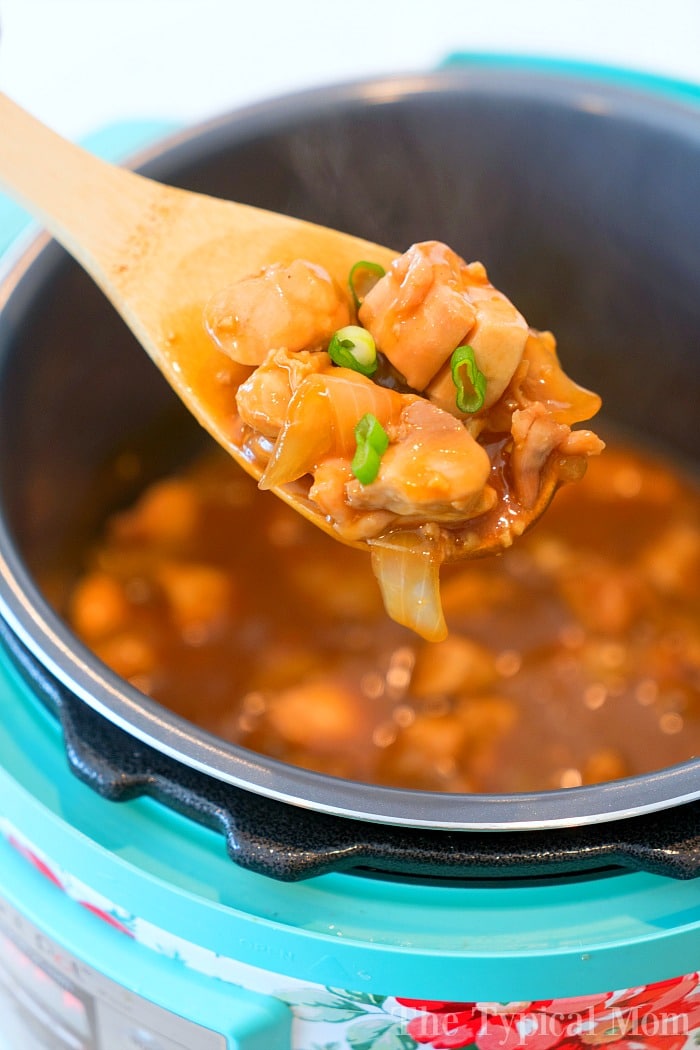 Ok so I didn't know quite what to call this Instant Pot chicken recipe. I literally threw together a few ingredients I knew would go together well and voila! Pressure cooker hoisin chicken was created. That's the name and I'm stickin' to it. 😉 It was an Instant Pot recipes hit in our house. (originally published 5/19, affiliate links present)
We've made it since then in our Ninja Foodi too so it doesn't matter what brand you have. Crock Pot Express machines would the same as well.
What is hoisin sauce made of?
It's composed of starches such as sweet potato, wheat and rice. Some sugar, soybeans, white vinegar, salt and garlic are in it too.
What does hoisin taste like?
For the most part it is a sweet, thick, sticky sauce that is delicious no matter what you put it on. A bit like teriyaki and soy sauce combined. Seriously. Here's a peek at what I had on hand and threw in the pot.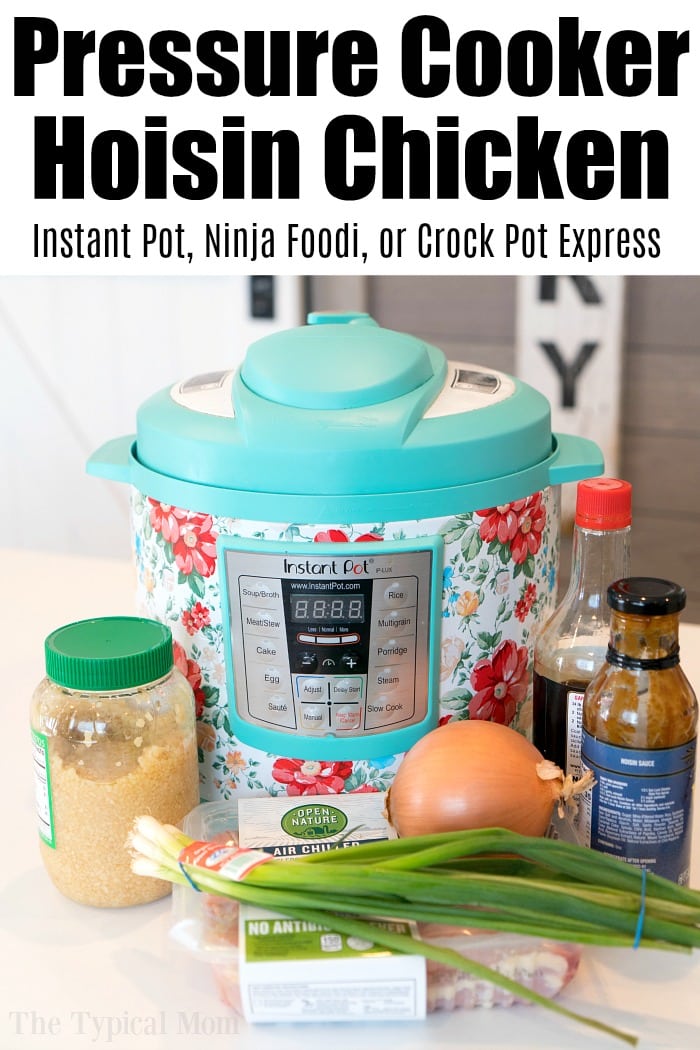 This is what you need to make our pressure cooker hoisin chicken recipe
Pressure cooker

If you have an Instant Pot I HIGHLY suggest you get this non stick pot

Chicken – I used boneless, skinless, chicken thighs

you could use chicken breasts as well but thighs are cheaper and more tender

Hoisin sauce – duhhhh
Brown sugar
Soy sauce
Onion
Minced garlic
Green onions
Worcestershire sauce
Honey
1/2 cup Chicken broth
Cornstarch – to thicken the sauce at the end
We then served this over Instant Pot white rice but you could make brown rice as well.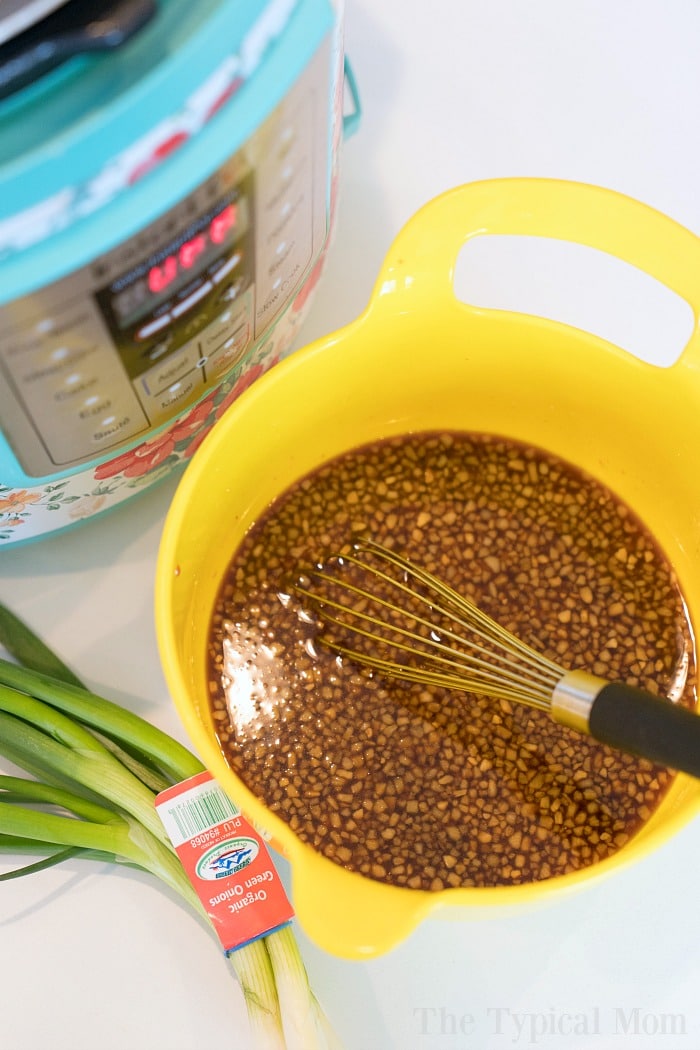 This is a great recipe because you can serve it over rice, or in small flour tortillas topped with cheese.
What can I substitute for hoisin sauce if I don't have any?
Try this:
If you don't have this non stick pot yet and you have an Instant Pot I suggest that you do.

It will avoid any false burn notices from appearing with all recipes.

1 c. thick barbecue sauce
3 tbsp. molasses
4 tsp soy sauce
4 tsp yeast extract
2 1/2 tsp Chinese five-spice powder
Here's how to make this:
Cut up your chicken into bite size pieces. I prefer to use thighs but you could use boneless skinless breasts if you prefer. I feel like chicken thighs come out more moist but it is personal preference really.
Whisk together your sauce in a bowl. It will not be smooth because of the minced garlic but just ensure that the brown sugar dissolves and the honey isn't one big clump.
Slice your onion into thick pieces. They will soften quite a bit so if you dice them small they may disappear once you cook it all together.
Put your chicken, onions, and sauce into your pot. Adding green onions now is optional.
Use pressure cooker function to cook chicken in just 3 minutes!
Do a quick release. Do not naturally release as chicken will overcook and become a bit dry. Turn your pot off so it doesn't overheat. Then press the saute button so the sauce begins to boil.
Whisk together your cornstarch with some hot liquid in the pot. Make sure it's smooth before dumping into your pot. Just a few minutes after adding this it will thicken up nicely. Serve immediately over rice for best taste!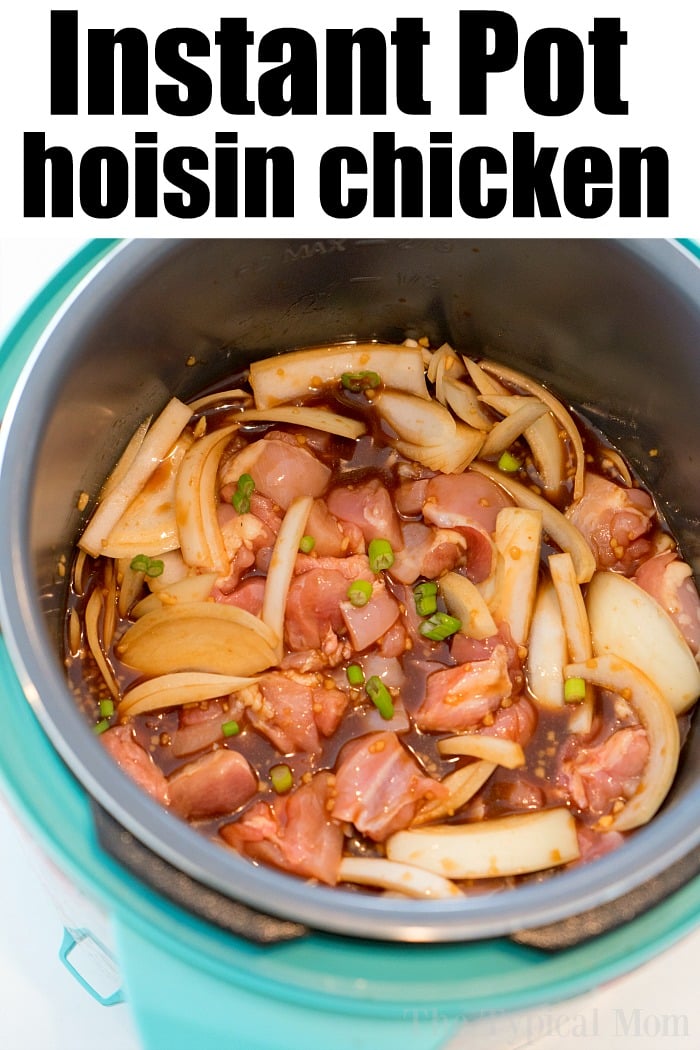 I prefer dark meat when it comes to Instant Pot chicken recipes. This is why I say that.

It comes out tender every time.
Chicken thighs are SO cheap too.

If you're really on a budget this helps.
Purchasing them with the bone-in are even cheaper. Since you're dicing it up you can buy either type.
The cooking time is literally 3 minutes once it reaches pressure! You don't need to pre cook the chicken at all. It will cook perfectly tender in that short cook time using high pressure.
I know there isn't a lot of liquid per say when you look at the ingredients. DON'T WORRY. When the chicken cooks it will release more chicken broth of sorts and it will be just fine.
However – Like I said, I would really recommend that you get this non stick pot. You can see mine here. Not only will it prevent the burn message from showing up, but it's SO much easier to clean. It's $20 well spent!
After 3 minutes just do a quick release and turn the pot off. Then you can press the saute button.
You can serve it as is but I prefer to thicken up the sauce. You can do this by sauteeing at the end so everything bubbles. Then whisk some of your hot liquid with your cornstarch until smooth.
Pour this mixture in and in about 2 minutes it will thicken up nicely. Then serve over rice with some green onions on top!
Pressure cooking makes it all happen in 30 minutes including prep time and all. We love it!!
What else can you use hoisin sauce for?
We use it in our spicy teriyaki chicken thighs and Instant Pot sesame chicken too.
Or our pressure cooker cashew chicken!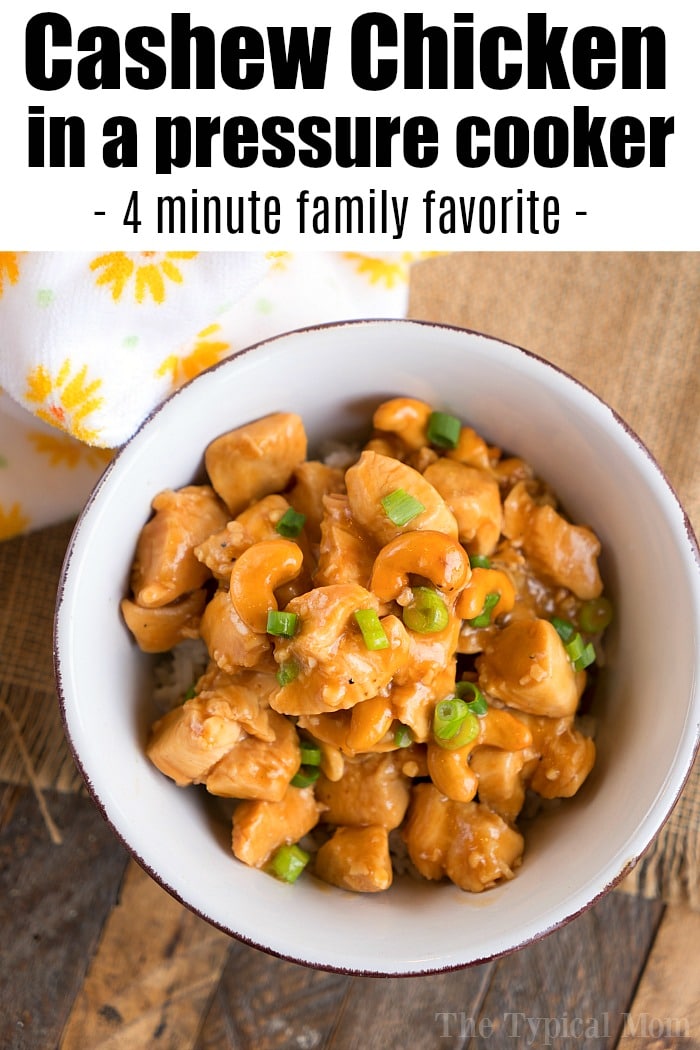 Here are some more easy pressure cooker chicken recipes?
You can make this in any pressure cooker brand including the 3 I have as well as the Mealthy.
Pressure Cooker Hoisin Chicken
Pressure Cooker hoisin chicken has tender meat with a sweet sauce your whole family will love! In just 5 minutes you too can have this perfect dinner.
Instructions
Cut chicken thighs into bite size pieces and put it into your pot. Slice onions and add those too.

Whisk together in a bowl your broth, brown sugar, soy sauce, W. sauce, hoisin, minced garlic and honey until smooth.

Pour this into your pot. Add half of your green onions and stir all contents so chicken is coated.

Close lid and steam valve and set to high pressure for 3 minutes.

Do a quick release. Then turn pot off. Push saute button and it will begin to bubble.

In a small bowl add your cornstarch and 3-4 tbsp of hot liquid from your pot and whisk that together until it is smooth.

Pour this into your pot once liquid is bubbling and stir slowly for 1-2 minutes so sauce can thicken. Then turn pot off.

Sauce will continue to thicken as it sits.

Serve over rice or in soft tortillas. Top with rest of green onions.
Nutrition Facts
Pressure Cooker Hoisin Chicken
Amount Per Serving (4 oz)
Calories 316
Calories from Fat 162
% Daily Value*
Fat 18g28%
Cholesterol 110mg37%
Sodium 657mg29%
Potassium 320mg9%
Carbohydrates 17g6%
Protein 19g38%
Vitamin A 130IU3%
Vitamin C 3.1mg4%
Calcium 25mg3%
Iron 1.3mg7%
* Percent Daily Values are based on a 2000 calorie diet.