Do you use cornstarch to thicken sauces and gravy when cooking? Wondering how it works and what is the best method to add it in? Here's how.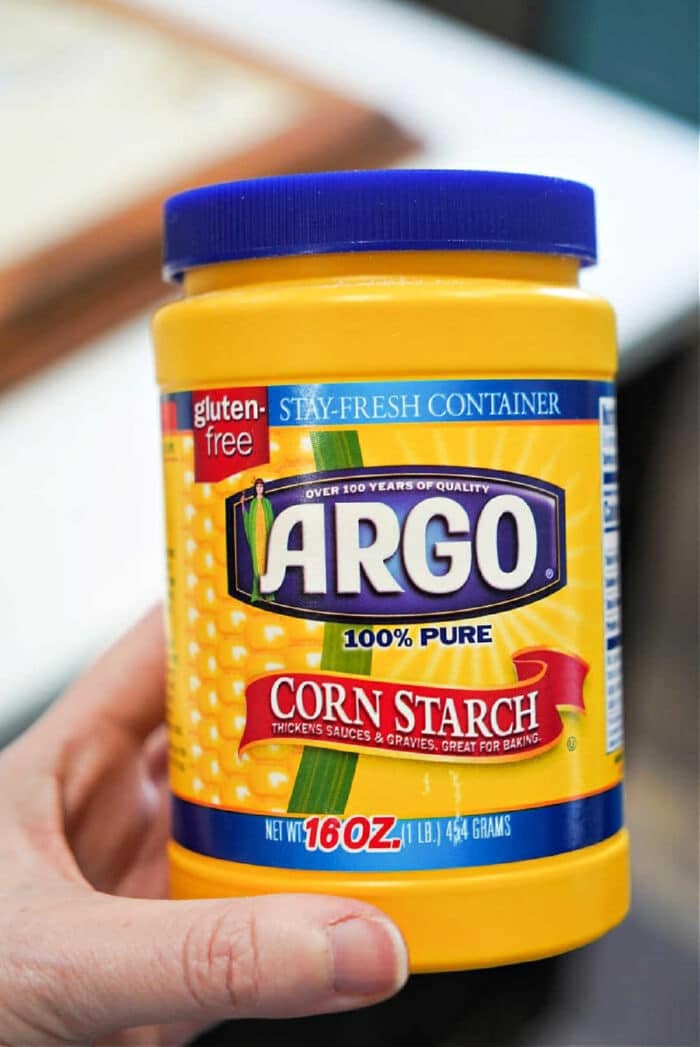 I use cornstarch to thicken sauces all of the time! It took a bit to learn the best method so it didn't clump up and here to share my cooking basics tips with you. (affiliate links present, originally published 3/21)
How to Use Cornstarch
This powder looks quite similar to flour, but it's not. Lighter in nature I prefer it over the other and buy it in bulk I use it so often. A little goes a long way for sure with this stuff.
In the past my mom used to make a roux this way. Pouring flour into a pan on the stovetop after sauteeing vegetables it created a thick paste. This was used to thicken gravy at Thanksgiving. It worked okay…..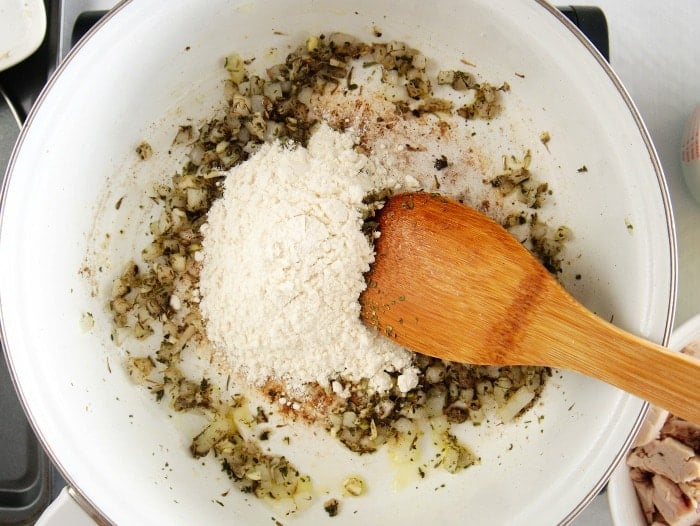 Cornstarch Soup Thickener
I will admit it wasn't always smooth and you'd likely get a clump of thickener in your bite, it wasn't pretty.
Now that I create my own easy Instant Pot recipes, and gravy for the holidays I have a different method. It works much better and is so simple to do. Instead of adding your thickener in your dish dry, it's important to whisk it with some liquid first.
Then when you add it into your recipe and allow it to bubble a bit, your mushroom gravy or sauce(s) will become thicker without those pesky lumps! I mean you want thick like comfort food for things like slow cooker meatballs and gravy type dishes so….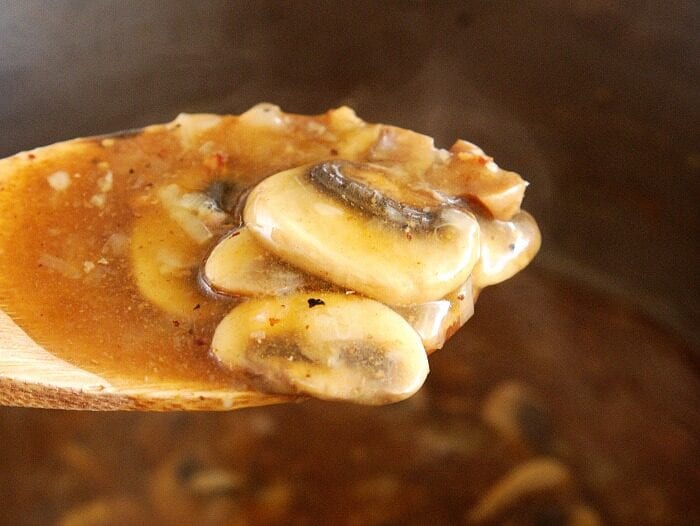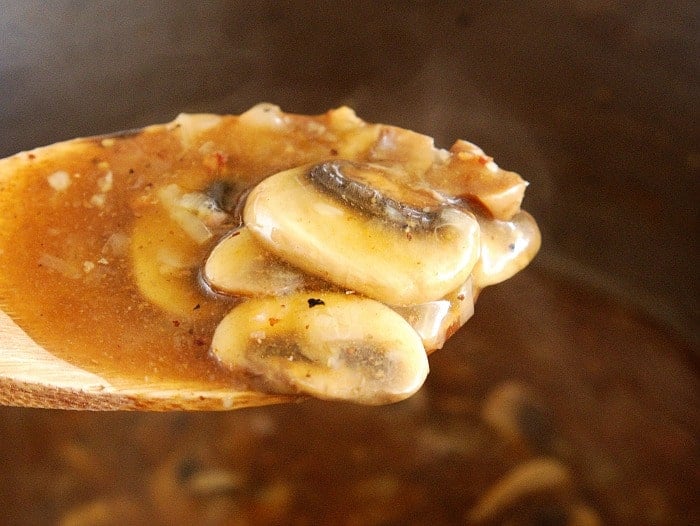 How to Use Cornstarch to Thicken
Keep in mind that 1 Tbsp. of corn starch is equal to 2 Tablespoons flour. If you're used to using the latter this is a good gage to use. Start small. You can always add more cornstarch slurry later.
In a small bowl or ramekin add the cornstarch starting with 1 – 2 Tablespoons of cornstarch at the beginning.
Pour in twice as much cold water as thickening powder you've added. (i.e. 1 Tbsp cornstarch + 2 Tbsp. water)

I have also just used some of the hot liquid from my pot instead of using cold water. I've done this in cases where I didn't want to add any more liquid into my dish. It works just as well as long as you whisk it well.
Can I substitute cornstarch for tapioca starch?
You can! The measurements are that 2 Tablespoons of tapioca flour is equal to only 1 tablespoon of cornstarch. Use this as a more readily available substitute if you wish.
How much cornstarch do you use to thicken?
It depends but typically 1-3 Tbsp. is plenty to start to thicken soups and sauces. Add thickening agent to cup of liquid and whisk until smooth before adding. Stirring constantly as it boils so it stays smooth.
Then use a fork to whisk the slurry together so it is nice and smooth. It won't necessarily look thick in of itself but will do the job once you add it into your recipe.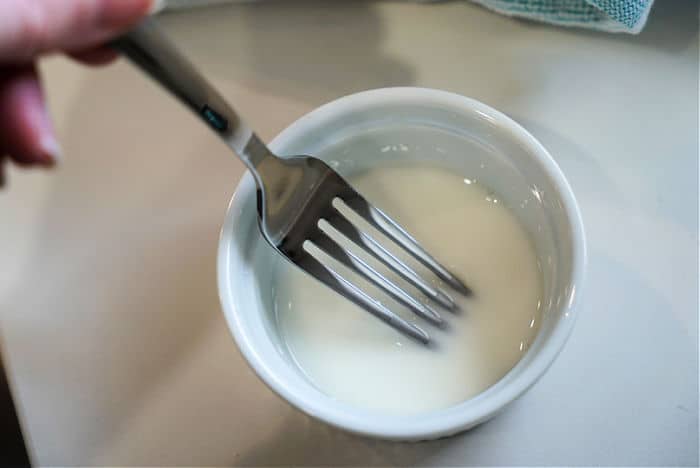 Cornstarch to Thicken Soup
Ideally you want your sauce or soup to be at a slow rolling boil when you add this. Keep it at that temperature and stir slowly and consistently to keep your mixture nice and smooth.
If after it's cooked this way for about 2 minutes it isn't as thick as you'd like it to be then follow the same steps again. Add 1 more Tbsp with liquid until smooth, add in and stir.
Remember!! As your dish cools down it will get even thicker so do not add too much. Cornstarch to thicken is the best!!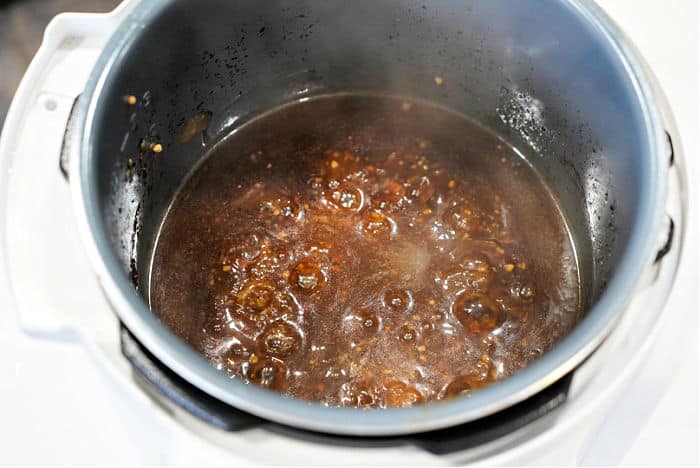 The beauty of a rich hearty sauce is that it takes your oven baked pork chops or Ninja Foodi recipe from good to OH MY out of this world. Pour it on top of your protein and mashed potatoes for the best meal ever.
Especially when it comes to making a large chunk of meat or roast, you really do need a thick sauce poured on top to keep it moist.
If you follow this easy tip you can create wonderful sauces or soups of all kinds.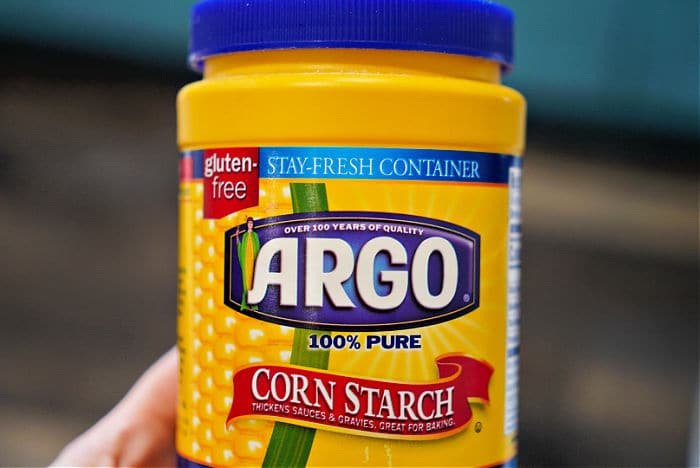 Time needed: 5 minutes
Cornstarch to Thicken
Whisk

In a small bowl whisk together 1 or 2 Tbsp of corn starch with twice as much cold water. I have also used some hot liquid from my broth as my liquid thickener.

Do this until your roux is very smooth.

Thicken

Pour this into your sauce that is at a rolling boil and consistently stir. It will become thicker in about 2 minutes. If you want it thicker follow the same process with 1 more Tbsp.

Tips

Remember it will continue thickening as it cools so do not add too much. Serve your soup or gravy immediately for best results. Store powder in an airtight container.
Want to see a few of my favorite things that I am totally obsessed with?? Take a peek and see how many you might already have…twinsies!
Looking for more easy family recipes and tips? LIKE The Typical Mom Facebook page?
Then sign up for my free newsletter, and follow me on Pinterest! 😉
***** If you LOVED this recipe give it 5 Stars below and let everyone know what you thought about it. 😉