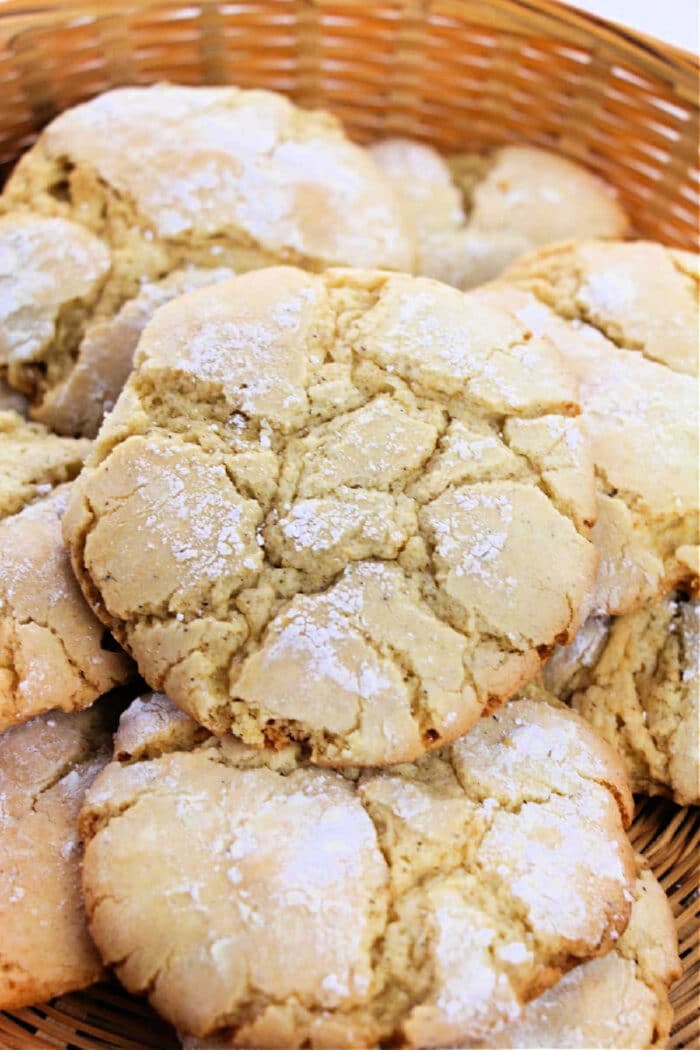 If you've ever just wanted sweets after dinner but didn't want to hassle with homemade, this easy cake mix vanilla cookie recipe is the bomb. You can use any flavor cake mix you like to change it up and color them for fun too. One of our quick easy dessert recipes on our site. (affiliate links present)
Vanilla Cake Mix Cookies
Yes we have made tons of different boxed cake mix recipes. Why?? Because amping up an already ready bag of goodness just makes things more simple. We will share with you how to make boxed cake mix better here. From cookie recipes to brownies and even cooking them all in your air fryer, there are tons of possibilities.
If you're finding this in the Fall you may want to give our pumpkin cookies with cake mix a whirl too. Using spiced instead of vanilla you can create the ultimate October treat. Love red velvet? That is a fun one to use especially during Valentine's Day too.
Cake Mix Vanilla Cookies
We will go with this "basic" flavor though this time. I just want you to know that the add ins below would work with any other flavor you may want to try in the future. Once you have the dough ready, you can also add other goodies like sprinkles, mini chocolate chips, or roll in powdered sugar like we'll show you.
Yes you could make a batch of homemade shortbread cookies but if you want EASY this is where it's at.
A box of your favorite cake mix

you could use a gluten free variety too if you wanted

Eggs
Vegetable oil
Vanilla is optional but will enhance flavors
You can roll dough in granulated sugar or powdered sugar if you want for a prettier look
Adding a tsp. of vanilla extract can give it a stronger flavor if you like
Then if you want to make them into cake mix crinkle cookies you'd want a bowl full of confectioners sugar to roll them in before baking. You can see below how we do this. It takes an extra maybe 3 minutes and creates this really fun look to them. If you add a bit of food coloring to the batter you can see the crinkles even better.
Adding a little bit of sprinkles will accentuate the look as well so use your imagination and change them up a bit just for fun. Want to add different colors like we did with our cake mix whoopie pies? That is an easy tweak too.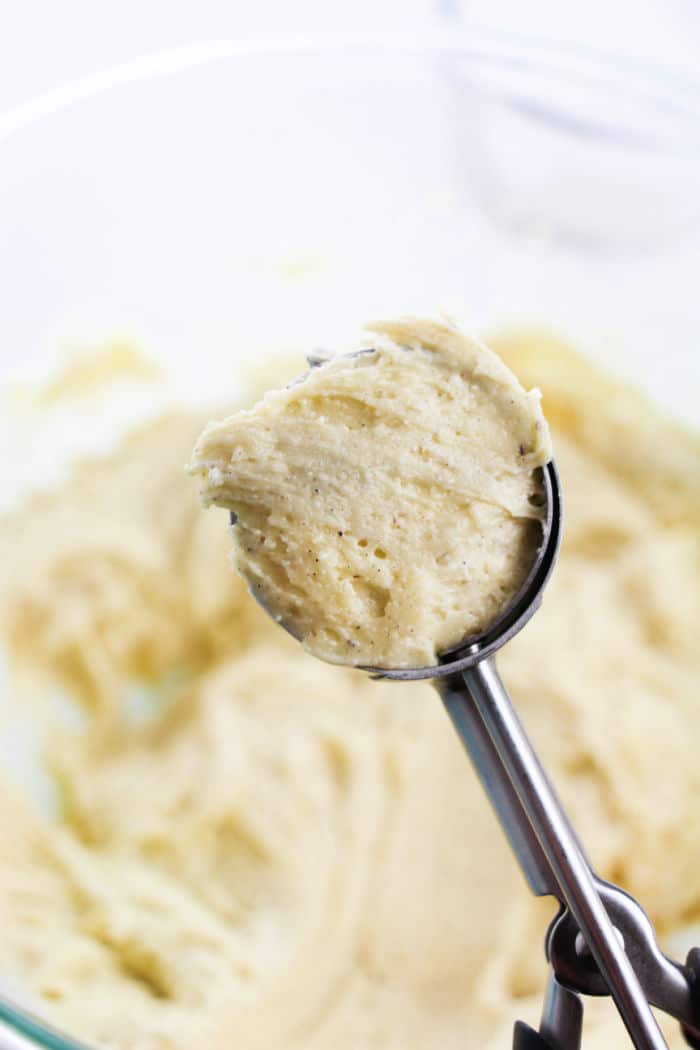 Cake Mix Cookies
Once simple ingredients are blended together it will be a bit soft. If you want to roll them into balls so the shape is more consistent, or roll them in something do this first. Leave the batter in the bowl, cover with saran wrap and put it into your fridge for an hour and 30 minutes or so. That will stiffen it up a bit so you can handle it easier.
Alternatively you can just scoop and plop right on to your sprayed cookie sheet. You could use parchment paper instead of spray if you preferred too. Whatever makes them easier to remove and clean up later is the way to go as far as I'm concerned.
Sprinkle some chocolate or rainbow sprinkles on top of each one before popping them into the oven like our Chocolate Chip Yellow Cake Mix Cookies and you're set. For a crinkle look you just roll each in some powdered sugar so it sorta' cracks. Of course you can leave that part off if you'd rather but it is simple and adds a prettiness to them this way.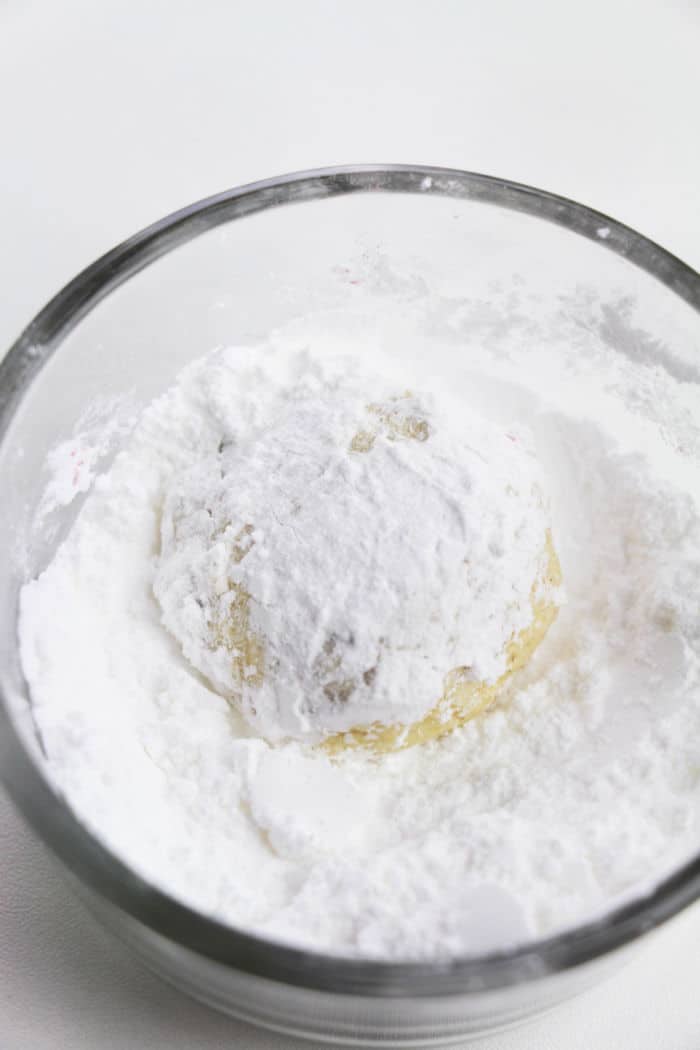 Vanilla Crinkle Cookies
Refer to the printable recipe card at the bottom of this post for exact amount of each ingredient you need and instructions. LIke our cake mix cookie bars do not follow the directions on the back, use these. Here is a real quick step by step though so you can get the drift.
Start out by preheating the oven to 350 degrees. Line two baking sheets with parchment paper or use non stick cooking spray.
Mix together the first 4 wet and dry ingredients into a large bowl. (you could add a pinch of white chocolate chips too)
Easier if dough is a bit stiffer to roll into balls, so refrigerate soft vanilla dough for an hour or so.

Chilling the dough will help them keep their shape more.

Scoop up a ball full and make into a ball. Roll dough into the powdered sugar if you'd like it to look like a crinkle cookie. If not just put on prepared baking sheet with space between them.
Bake for about 10 minutes baking time or until the edges are lightly browned and middle is no longer wet.
Remove and set on a cooling rack with cookies on tray until cooled. Then remove and enjoy.
With these and our brownie crinkle cookies you do NOT want to overbake them. The key is to wait until edges are golden brown but center still looks just a tad wet. If you then leave them on the cookie sheet while hot they will continue baking and stiffen up until room temperature. Soft and chewy is way better than crispy and crunchy.
Food coloring can be added during the holidays so they can be red and green for Christmas if you want.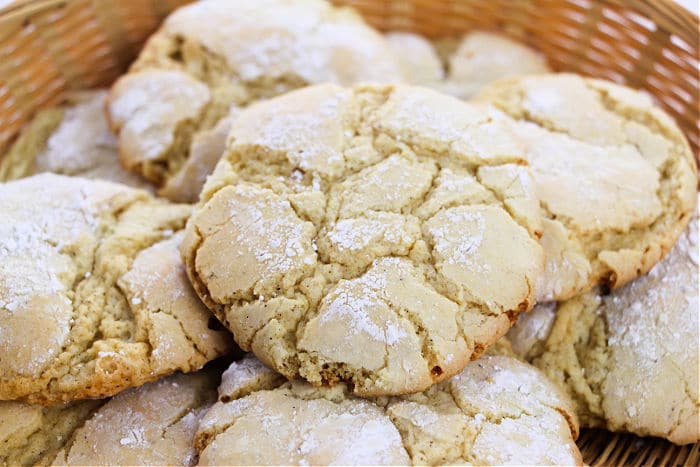 White Cake Mix Cookies
Want to make something a bit more complicated but SO worth it for the holidays? Give our pecan shortbread bars or Instant Pot bread pudding a whirl too. You will need far more items to make these like egg and vanilla, flour, baking powder and salt etc. but it's a homemade dough recipe we make each year during the holidays.
Just use a stand mixer to mix until light and fluffy and then layer and bake. Christmas cookies should all be totally different and y'all should make making them a tradition too. Even more fun is have several families make 2-3 each year, then come together for a party and swap them so everyone gets a dozen or so different types to take home.
Provide tins for everyone to load up and have a party gift on their way out. That way every family can bake together and then share why they made this or that. Many times the creations will be family recipes like our lebkuchen is. Now jump to recipe and get started! Then use chocolate cake mix for your next batch with cream cheese frosting!
Want to see a few of my favorite things that I am totally obsessed with?? Take a peek and see how many you might already have…twinsies!
Looking for more easy family recipes and tips? LIKE The Typical Mom Facebook page?
Then sign up for my free newsletter, and follow me on Pinterest! 😉
***** If you LOVED this recipe give it 5 Stars below and let everyone know what you thought about it. 😉
Best way to save cookies is to wait until they are completely cooled. then store in a thick storage bag. Lay half a slice of bread in the bag and suck all the air out. Then leave on countertop for up to a few days, or freeze for a few months and take one out at a time to enjoy.
Vanilla Cake Mix Cookies
Our vanilla cake mix cookies recipe is delicious and so easy to bake. Using just 3 ingredients you can add sprinkles or crinkle.
Instructions
Preheat oven to 350 degrees F. Line two baking sheets with parchment paper or use non stick cooking spray.

Mix together the first 4 ingredients in a bowl. Refrigerate for an hour.

Scoop up a ball full with a small cookie scoop and roll into a ball with your hands. Roll into powdered sugar if you'd like it to look like a crinkle cookie. If not just put on cookie sheet with space between them.

Bake for 10 minutes until the edges are lightly browned and middle is no longer wet.

Remove and set on a cooling rack with cookies on tray until cooled. Then remove and enjoy.
Nutrition Facts
Vanilla Cake Mix Cookies
Amount Per Serving (1 oz)
Calories 178
Calories from Fat 63
% Daily Value*
Fat 7g11%
Cholesterol 18mg6%
Sodium 216mg9%
Potassium 20mg1%
Carbohydrates 27g9%
Protein 2g4%
Vitamin A 26IU1%
Calcium 63mg6%
Iron 1mg6%
* Percent Daily Values are based on a 2000 calorie diet.