Here is a recipe to make Lebkuchen cookies. Traditional German gingerbread cookie recipe from my grandmother who made them every year.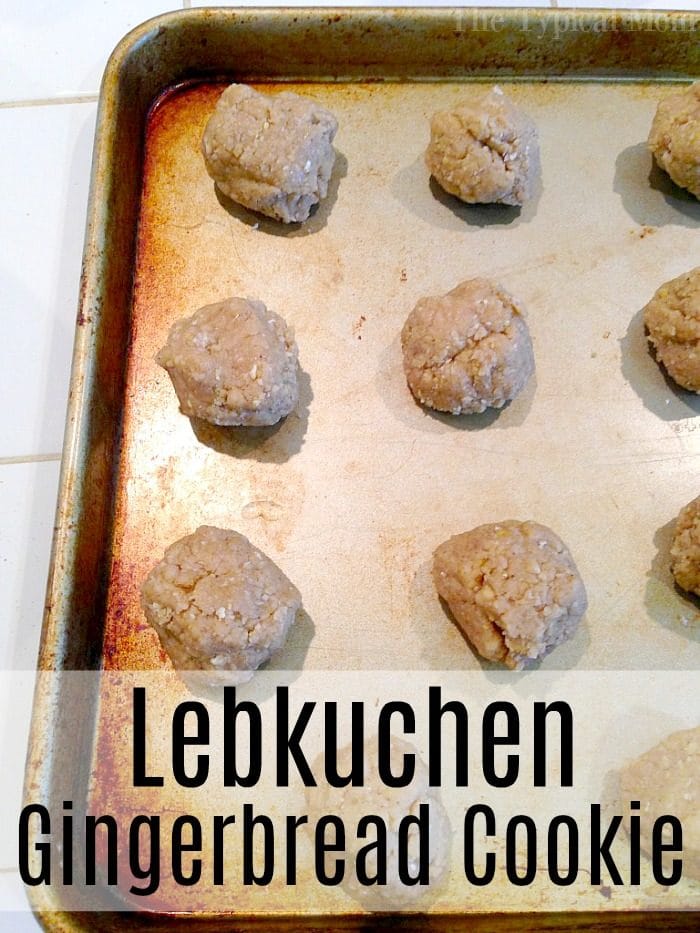 Lebkuchen cookies or German gingerbread cookies as some people may call them, were my favorite cookie growing up! My grandmother always made it during Christmas time and put them in a little tin with other cookies she would make at home, but this one reminds me of her and I continue the tradition each year by making this special German spice cookie recipe with my 3 girls now. (originally published 12/13)
I think it is important to have traditions especially during the holidays. I could definitely make lebkuchen throughout the year and would enjoy them immensely then too but it's kinda' special making something just once a year too.
Here is what you will need to make Lebkuchen Cookies
Honey
Brown sugar
Flour
Baking soda
Egg
Lemon juice
Powdered sugar
Sugar
Parchment paper is what I like using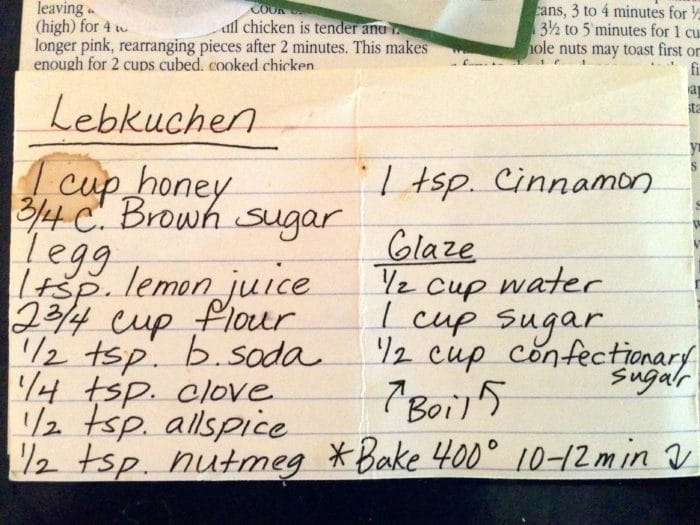 I had to take a picture of it because it is so well loved, and still gets the point across on this little 3×5 card….lol…..but really, combine all the dry ingredients above and then add the egg and honey last.
It does take a bit more patience than traditional cookies just because the honey is a bit challenging to really mix it in properly, and this time I even got in there with my hands and needed it together to get it to all mix through.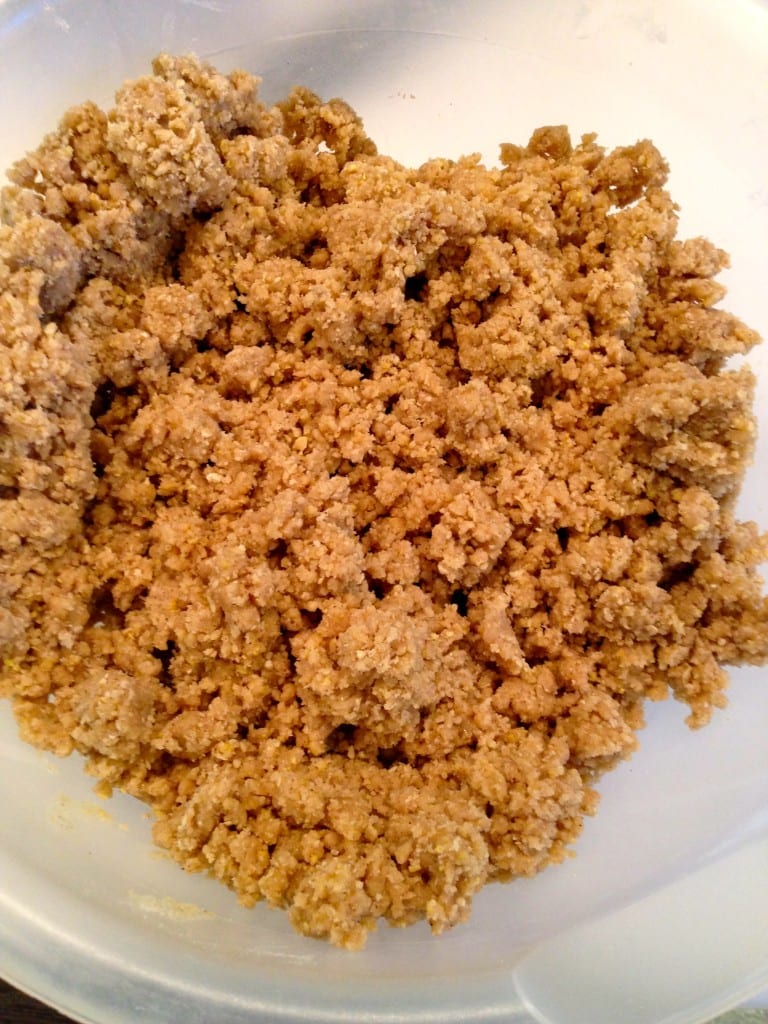 I also make 2 batches and freeze half of them because I make them only once a year and it is nice to bring a few out later to enjoy too (family members always ask for a few too).
Preheat to 400 and make sure you spray the pan before putting the cookies on, sticky!
The dough will be very thick and sticky. I don't bother making them into a long roll, wrapping with saran wrap, shaping them into a long square like shape, putting them in the fridge, and then cutting to get that traditional square shaped cookie….don't have the time. I just use my hands, make them into equal size balls, flatten the ball a bit and bake for about 9 min. or so.
You want them to be chewy (they have a chewy texture you won't find in any other cookie you will ever eat), and you do NOT want to overbake them. Baking them a bit shorter than a bit too long is better, I just take them out when it has barely browned on the top and is brown on the bottom…they will harden a bit when they sit.
After you make these, try our crinkle cookies recipe which are festive in Christmas colors too.
Lebkuchen German Spice Cookie
Here is a recipe to make Lebkuchen, German spice cookies that are a fantastic honey cookie that is moist and tastes like gingerbread but better.

Ingredients
1

c

honey

3/4

c

brown sugar

1

egg

1

tsp

lemon juice

2 3/4

flour

1/2

tsp

baking soda

1/4

tsp

ground clove

1/2

tsp

nutmeg

1

tsp

cinnamon

1/2

tsp

allspice

Glaze

1

c

sugar

1/2

c

powdered sugar

water
Instructions
Combine dry ingredients in one bowl and mix well

Combine wet ingredients in another bowl, mix well, and then slowly add dry ingredients in. It will be REALLY sticky and thick!

Spoon about a large tbsp. full of batter on to a WELL sprayed cookie sheet. If you want the traditional look you can use a piece of parchment paper and create a long roll of dough, roll it up and put it in the fridge, then cut when dough is harder to make slices. (I don't bother with that)

Bake at 400 degrees for about 12 minutes or until the outer edges are firmer but the very middle is still a bit undercooked. This will create a really chewy german spice cookie.

If you want a glaze on your lebkuchen, heat on the stovetop sugar, powdered sugar and enough water to make the consistency you want. Thin is okay, it will still create a sweet glaze on top.

Put cookies on parchment paper or a cooling rack with paper underneath and spoon glaze on so it won't stick to plate.
Glaze: 
Make the glaze for your lebkuchen cookies while your first batch is in the oven so you can spoon some over each one when they come out and are still warm. I boil the  sugar, powdered sugar, and water in a small pan until it boils and then turn it off. Use a tablespoon to spoon over cooked cookies, and make sure to put them on parchment paper or no stick foil before spooning glaze over….they WILL stick!!
If you love this Lebkuchen German cookie recipe you will love our other recipes on The Typical Mom too!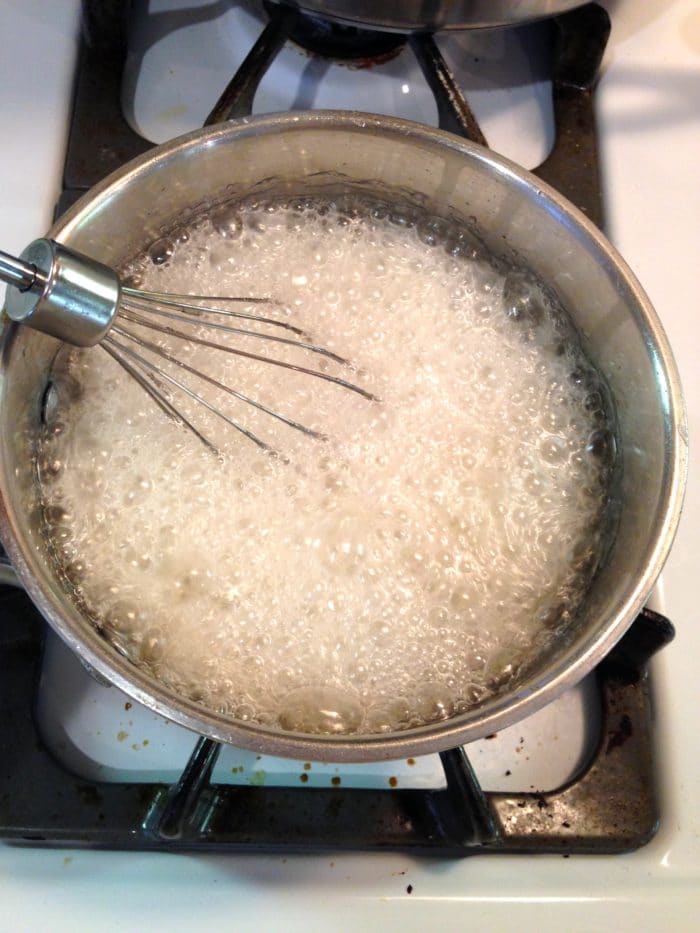 For more easy recipes, tips and crafts please LIKE The Typical Mom on Facebook and follow me on Pinterest! You can also sign up for my free weekly newsletter which is packed with goodies I know you'll love. 😉
Visit The Typical Mom's profile on Pinterest.