German pancakes in the oven are the best breakfast ever. Sweet topped with fresh fruit and syrup or powdered sugar feeds a crowd cheap. If our air fryer pancakes are too small, make these in a 9×13 pan.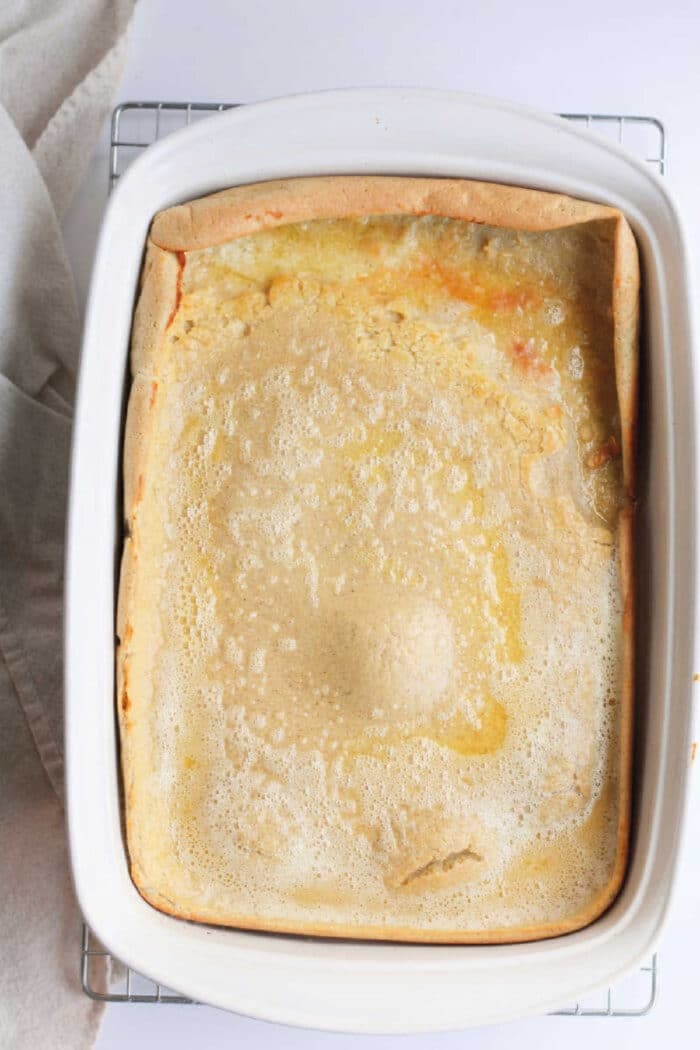 So you don't want to stand at the stove while everyone enjoys one another at your next brunch? We have the answer, pancakes in the oven it is. Just mix up the batter, pour it right in, bake and slice so everyone gets a piece. Get ready for an easy German pancakes recipe y'all. (affiliate links present, originally published 11/22)
How to Bake Pancakes in the Oven
Ok so it's the holidays and you are cooking for a crowd. You want to make an easy Christmas breakfast where you're not standing at the stovetop while others get to chat. You can totally make these blender pancakes super quick and bake in no time.
If you needed to double it go ahead and use two pans at the same time. OR make one at a time but make the batter once and keep in the blender until you're ready for pouring. Unlike making homemade waffles one at a time each batch will serve about 4 if each person gets 2 at a time. Top with lots of fruit and they're nice and filling.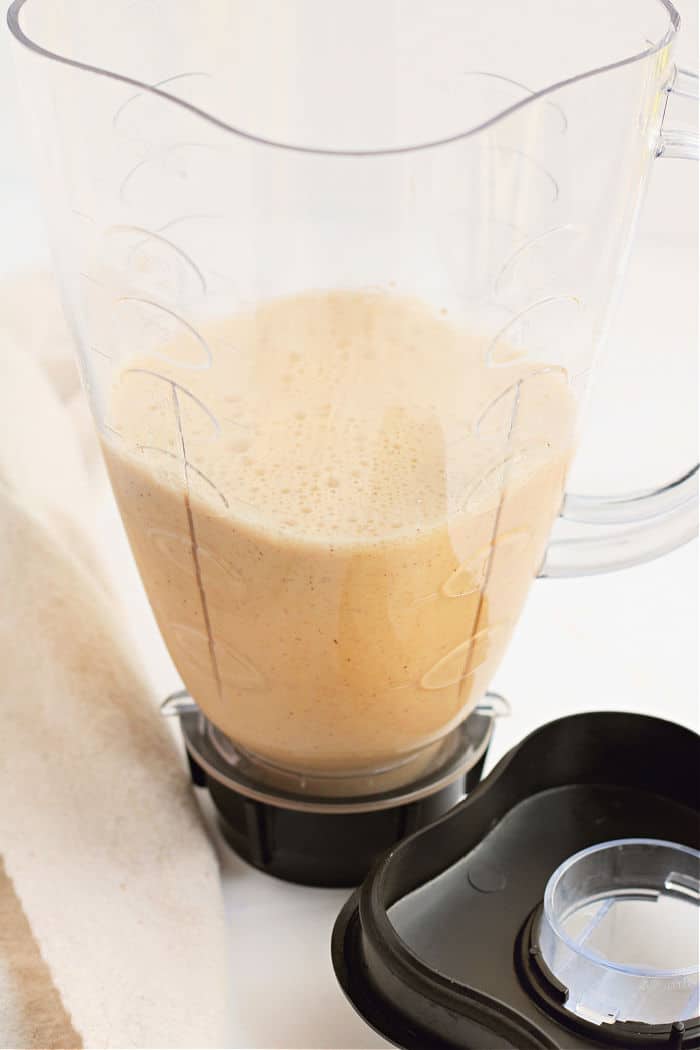 How to Bake a Pancake in the Oven
We're going to use a casserole dish for this. You want high sides to keep the liquid inside. It will rise just a bit but not a ton. It kinda' lifts real high and then at the end it deflates. If you've ever had German pancakes in the oven before you know what I mean with that explanation.
Something like Bisquick pumpkin pancakes won't rise quite as high if you made those instead.
Pancake Sheet Pan
You could use a sheet pan so long as it had really high sides like this one. A nice and easy way to slice these would be to use a pizza cutter!! Yeah, just slide it across and over again for about 8 pieces per pan full. 2 each is about right for us, if you have teenage boys they may want more than that. lol
The butter goes in first and then your mixture. You don't really need non stick spray because of this, it will slide right out at the end. If you use a boxed mix you would omit this and I'd recommend a spray of vegetable oil just so it doesn't stick. Casserole dishes tend to have a nice slick coating though so that depends on your pan of choice.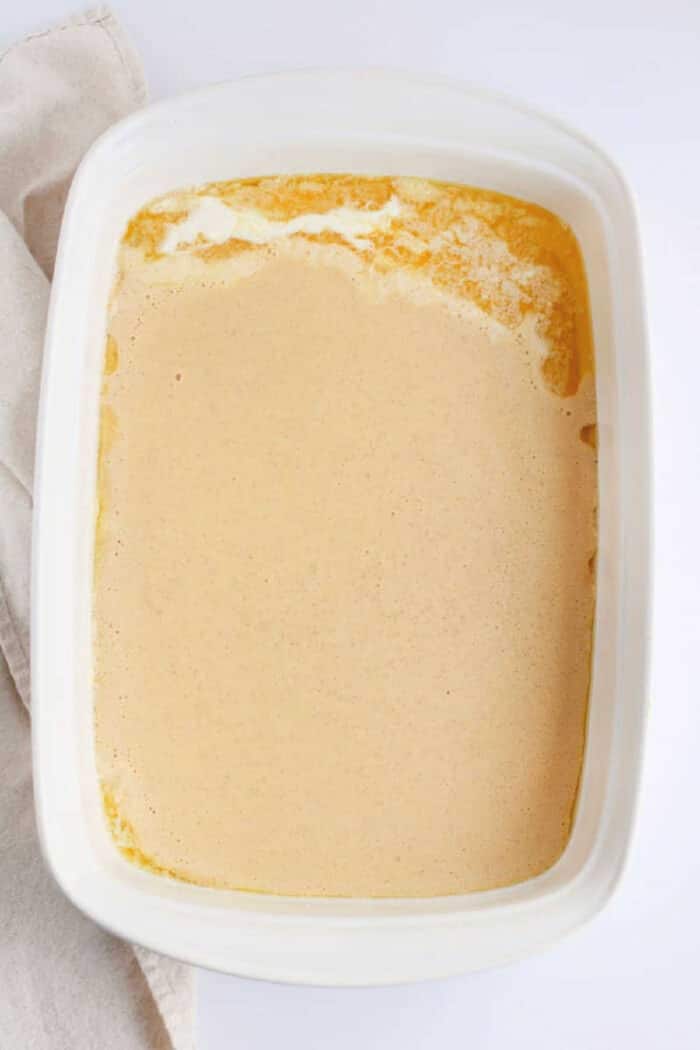 German Pancakes in the Oven
This is how to make homemade German pancakes. I mean you could just use pancake mix and use that but believe me, this combo is so much better and sweeter. You can pair it with our Bisquick muffins if you want more options in the morning too. Here's what you need to make this homemade version;
Melted butter
6 eggs
Milk, whole or 2% is best
1 c all purpose flour

make sure you measure flour properly so they don't become too dense
I haven't tried with wheat flour, that wouldn't really make fluffy pancakes like we want

White sugar
Just a bit of salt
A pinch of cinnamon is great for this
And some vanilla extract
Just throw your wet and dry ingredients in a blender for best results, that will make it nice and smooth in like a minute. Then melt butter, pour the batter into the baking dish and you're ready. One of our all time favorite breakfasts made with bacon in the oven with aluminum foil on another shelf.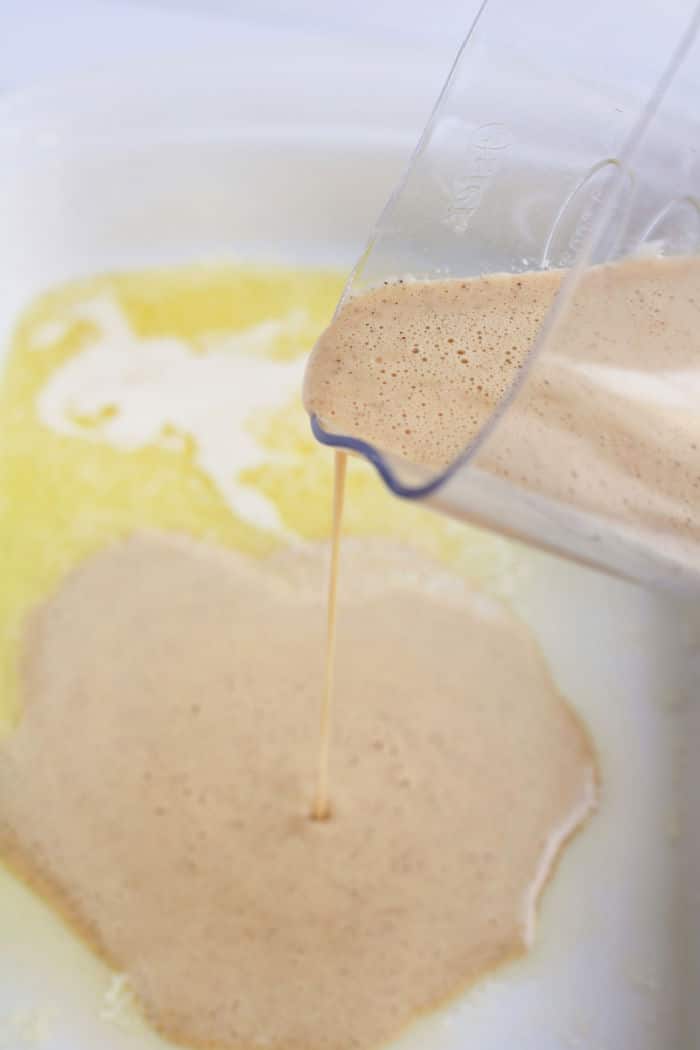 How long do you keep pancakes in the oven?
Bake time is about 20 minutes or so. If you want to double the pancake batter you may need to increase the timing. I would suggest that you split into 2 pans instead of making a much larger one at once.
Baked Pancakes
Instructions are for the oven. If using a cast iron skillet you'd need to divvy it up into 2 or 3 batches, depending on the size of your pan to make a sort of batch of dutch baby pancakes on the stovetop. Here's a quick rundown of how to make these at home;
Always preheat the oven to 425 degrees F. at the beginning.

Cut the butter into pats and put them in an ungreased 9×13 pan.
If you wanted to double I'd use the same pan as in our 1/2 sheet cake
Put into the oven while it is preheating.
Remove pan when the butter is melted.

Crack the eggs, add the milk, your all purpose flour, white sugar, salt, cinnamon, and vanilla into a blender for 15 seconds until fully mixed.

Pour this into the prepared baking dish over the butter.

Bake for 20-25 minutes until the edges are golden brown and puffed up.
Use a knife of pizza cutter to slice into 8 equal pieces and serve with toppings like; whipped cream, melted peanut butter, chocolate chips, fruit, Whataburger honey butter, or maple syrup like traditional pancakes.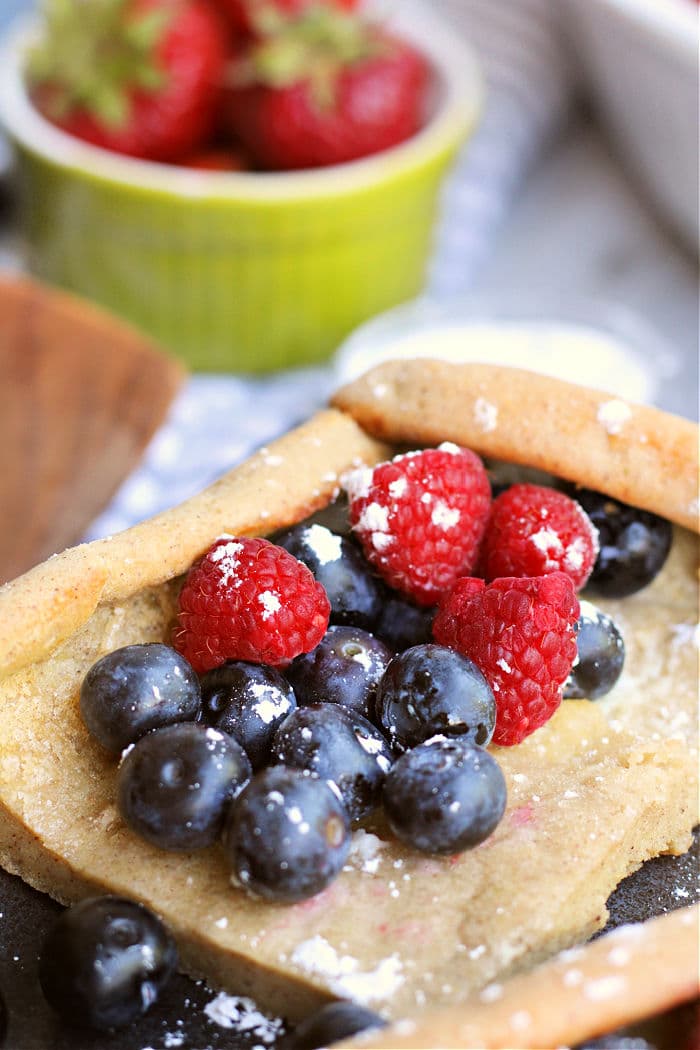 What temperature do you cook pancakes at?
If you make our homemade version below, 425 works best for them to really poof up. Same goes for making toast in the oven. Using boxed mixes on a griddle or in the oven the best recommended heat level is 375 F.
Can you put pancake mix in the oven?
Let's say you wanted to use just a box that is already mixed up and you just add the ingredients necessary on the back, that is fine too. I would instead eliminate the butter and just spray with non stick spray. If you love pancakes but don't want to stand at a griddle all morning, try this.
Mix pancake batter as directed on the back of the box.
Preheat oven to 375 degrees F
Pour batter into a prepared 9×13″ pan
Bake for about 15 minutes or until the top is lightly browned and the middle is cooked thru
If you are in need of a gluten free easy breakfast this works well because you can fix mixes with alternatives to flour. Then provide a bowl full of fresh fruits that everyone can enjoy to fill those tummies.
This yellow box is the usual choice for most though. Want to add a bit of added flavor into the mix? Squeeze in some fresh lemon juice too.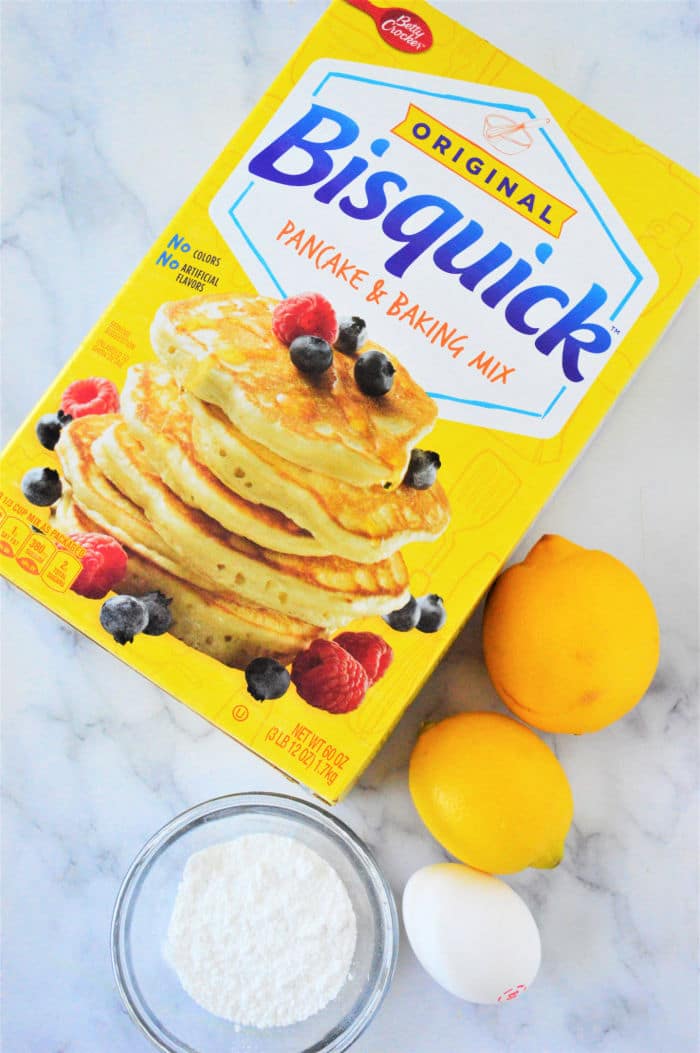 How to save leftover pancakes
Ok so you hate to waste food but you made too much. Well you can save them but of course they are better fresh. In order to prevent them getting wet in the fridge you should put a piece of paper towel in between each piece, inside that baggie. To warm in the microwave just heat for 30 seconds or so.
Something else we have done is to keep them in a bag on your countertop until dessert time comes. Instead of angel food cake you can use these instead. That is right, load up the strawberries and whipped cream on top with a bit of glaze to sweeten it up more. It's a great recipe to enjoy as a sort of strawberry shortcake treat.
How to use leftover pancakes
I've got it (because I hate wasting food). You can make a few air fryer sausage links and roll them inside one of your cakes. Dip in some syrup and you've got breakfast for dinner. BAM! I love a two for one y'all.
Can you make pancakes in microwave?
You can!! If you just want enough for one person you can give our pancake in a mug a whirl. I mean so fun right?? Not enough for a really hungry boy but for me when I want something late at night or just quick in the morning it works.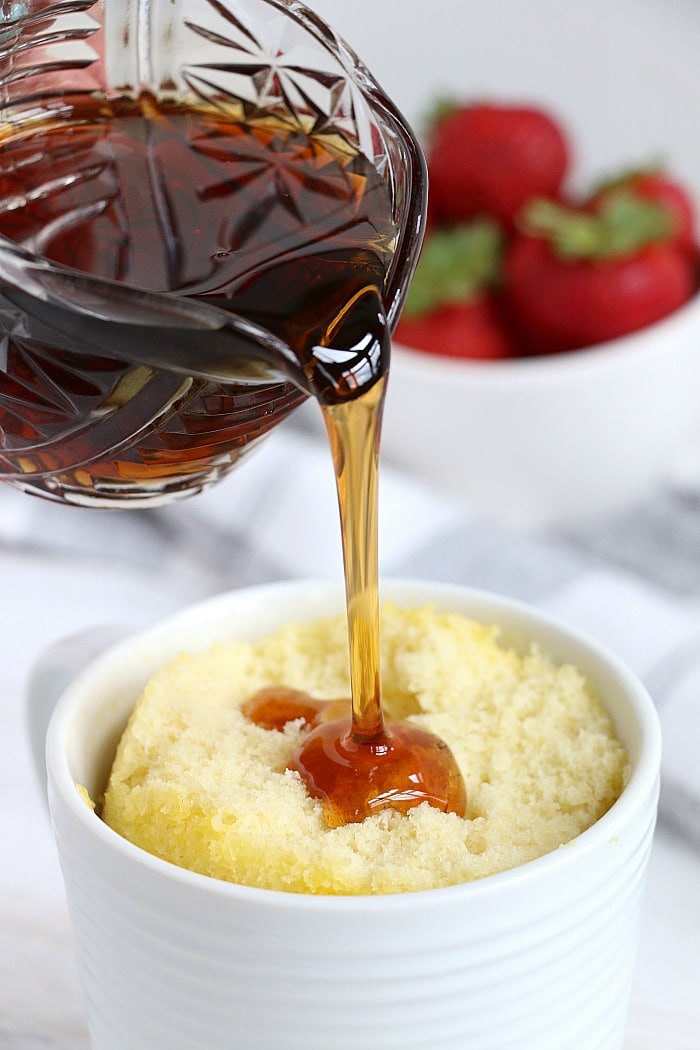 Pancakes in a Microwave
Y'all this is just too fun. If you want more than just that little mug full it is possible to make one that looks like it was made on the stovetop. Just plop a large dollop of prepared mix on a plate and then, you just;
Make this batter or boxed variety
Use a side dish microwave safe plate sprayed with non stick spray
Spoon a heaping Tbsp in the middle of it
Put into microwave
Cook on high heat for 1 minute until cooked in the center
If not done after 60 seconds, close again and add another 10 seconds at a time until done
Top with goodies and enjoy
I think we've discussed all of the out of the box thoughts when it comes to this fun morning dish, oh wait there is one more. Have one of those popular 7 in 1 appliances you can cook all the things in? We have a few and Instant Pot pancakes have been a thing around here.
For those we used the more protein packed Kodiak cakes that is thicker and seemed to work better in the egg mold that was necessary.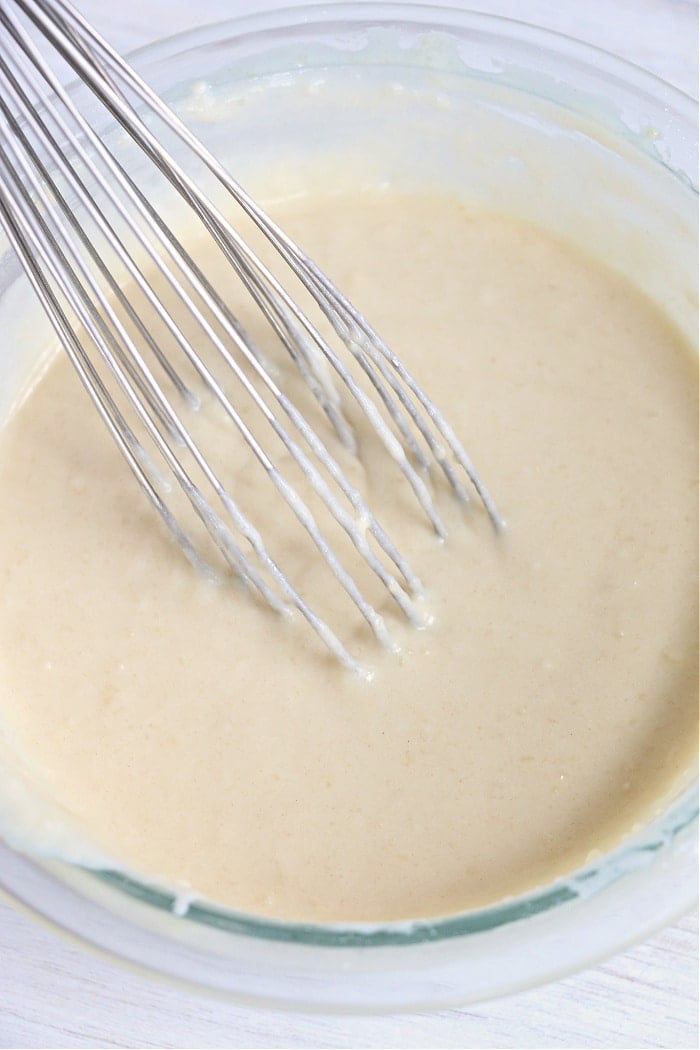 German Oven Pancakes
Next to our cinnamon roll breakfast casserole this is our fave. I mean one is usually more appropriate than the other depending on how many people you're feeding right? That is why I like to have all the instructions in my back pocket. I do love easy peasy though. I mean I am a foodie but don't always like to remove myself from the fun in order to cook, it's true.
For your next get together I suggest making pancakes in oven so you too can please everyone but be part of the activities at the same time. You can have both and host all the holidays at the same time. If you live somewhere that is hot all the time (clears throat, Arizona) you may prefer the other methods that don't heat up your house.
Can You Bake Pancakes
Yes! We will show you how to bake pancakes in the oven to make a large batch in a 9×13″ pan! A great way to pour in the batter and then slice when done. Easy and quick breakfast or dessert you can make with homemade batter or Bisquick.
Do you bake pancakes or cook them?
You can do it either way. If you have only cooked in a pan you should try oven baked pancakes like we show you how to make here.
Want to see a few of my favorite things that I am totally obsessed with?? Take a peek and see how many you might already have…twinsies!
Looking for more easy family recipes and tips? LIKE The Typical Mom Facebook page?
Then sign up for my free newsletter, and follow me on Pinterest! 😉
***** If you LOVED this recipe give it 5 Stars below and let everyone know what you thought about it. 😉
Pancakes in the Oven
German pancakes in the oven are the best breakfast ever. Sweet topped with fresh fruit and syrup or powdered sugar feeds a crowd cheap.
Ingredients
Instructions
Preheat the oven to 425 degrees F. Cut the butter into pats and put them in an ungreased 9×13 pan. Place the pan in the oven while it is preheating. Remove when the butter is melted.

Place the eggs, milk, all purpose flour, sugar, salt, cinnamon, and vanilla in a blender for 15 seconds until fully mixed. Pour into the prepared baking dish over the melted butter.

Bake for 20-25 minutes until the edges are golden brown and puffy. Slice into squares and serve immediately.
Nutrition Facts
Pancakes in the Oven
Amount Per Serving (1 oz)
Calories 257
Calories from Fat 135
% Daily Value*
Fat 15g23%
Cholesterol 194mg65%
Sodium 250mg11%
Potassium 149mg4%
Carbohydrates 20g7%
Protein 9g18%
Vitamin A 596IU12%
Vitamin C 1mg1%
Calcium 84mg8%
Iron 2mg11%
* Percent Daily Values are based on a 2000 calorie diet.