This easy cinnamon roll breakfast casserole with blueberries is just amazing! Served for brunch or on Christmas morning. It is a great way to make cinnamon rolls into a pie filling casserole that everyone will love. Feeds 12 and costs under $10 to make which is a winner in my book!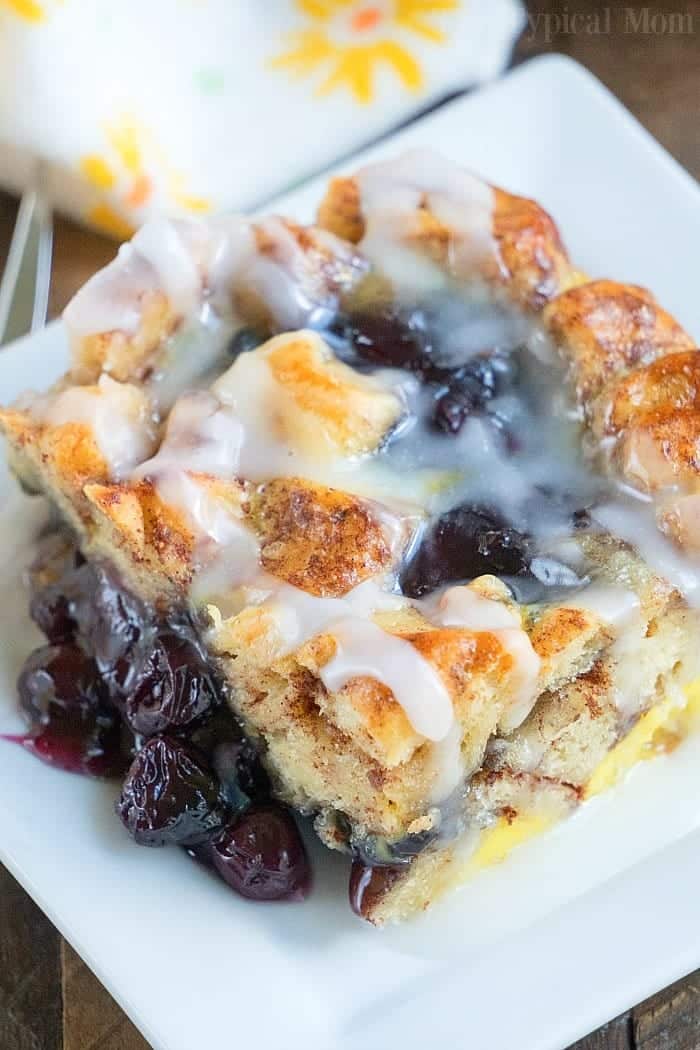 I love casseroles in general but I love easy breakfast casseroles, especially during the holidays or when I'm having a brunch. There's nothing better than an ooey gooey sweet Christmas morning casserole with warm fruit inside. I fooled around with what I had at home and this cinnamon roll breakfast casserole is what I came up with! (originally published 8/18, affiliate links present)
Pillsbury Cinnamon Roll Breakfast Casserole
You really can make this with any type of fruit pie filling you want. Apple cinnamon roll casserole is amazing too!
I love french toast casserole recipes because you can kinda' throw it all in and go. Yes you can make traditional cinnamon rolls in the oven, but adding fruit is so much better. It's kinda' like a breakfast dump cake of sorts. A little of this, whip up a bit of that and bake it in a cake pan. Once it is golden brown on top take it out and frost!
Cinnamon Roll Breakfast Casserole with Apple Pie Filling
This apple version has been served on Christmas morning and Easter brunch with a pitcher of homemade sparkling apple cider on the side. Unlike our pecan sticky buns recipe, this one has fewer ingredients. Both are great for a large brunch though.
We have used pie fillings to make so many yummy things. These blueberry pie filling dump cake cupcakes are probably one of our favorites. They taste amazing and could be either a a Christmas brunch menu item or dessert.
Cinnamon Roll Breakfast Ideas
Cherry was used to make our Crockpot cinnamon roll monkey bread too. It comes out a bit wetter than this of course because the inside of the slow cooker has a lot of steam but is a winner.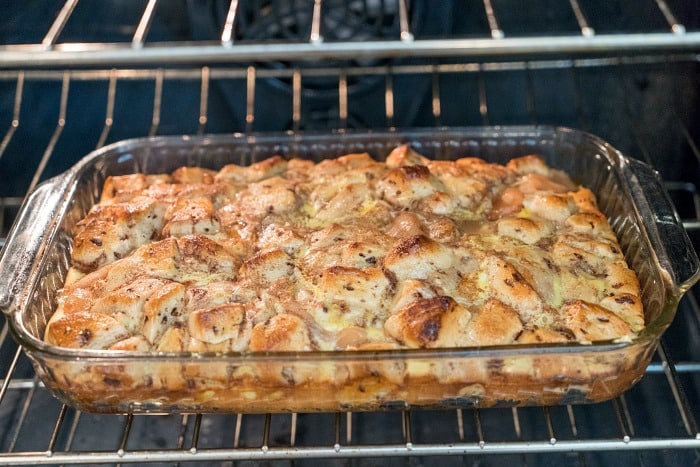 How long can breakfast casserole be refrigerated before cooking
It depends on whether you're making one like this, or something like a Bisquick casserole. With the latter I would have no hesitation in making it a few hours before and keeping in the fridge before baking. You always want to bake until the center of the casserole reaches 160 degrees, tested with a food thermometer.
If using refrigerated cinnamon rolls I would suggest making it fresh or the pieces will become gooey and stick together. Any leftovers must be refrigerated within 2 hours and can be kept 3 to 4 days in the refrigerator or frozen for about 3 months.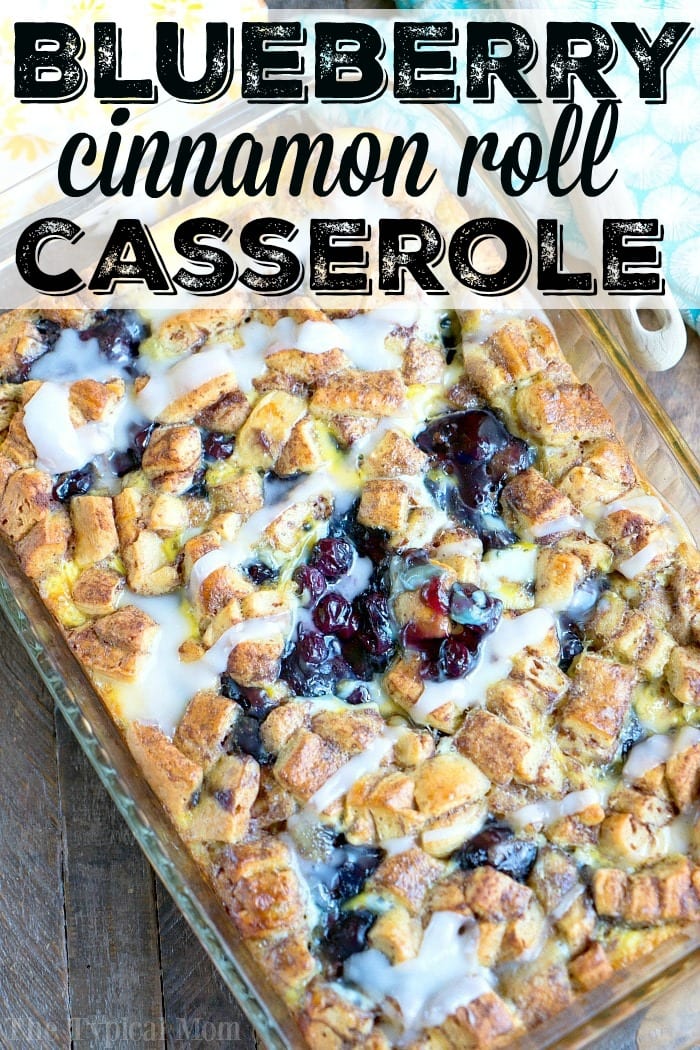 Cinnamon roll french toast casserole
Ok so I couldn't decide what to call it really. I thought about cinnamon roll french toast casserole and that could describe it too. It doesn't really matter what you name it, it's so good! If you count all the ingredients you really can make it for under $10 for the whole thing!
Cut cinnamon roll into 4 pieces each, 6 if you want smaller bite size pieces
Mix gently with pie filling
Pour into pan, spread out evenly
Whisk milk and egg mixture in a bowl and pour over the top
Put into preheated oven at 375 degrees for about 30 minutes
Take out once top is golden brown as you see here
Allow to cool for 5 – 15 minutes in pan
Cut each roll piece into squares and serve
Pour 1/2 cup frosting over whole breakfast casserole or on each slice
Could top with maple syrup instead
Cut into squares it comes out nicely if you let it cool just a bit and can easily serve 12 people, more if squares are smaller.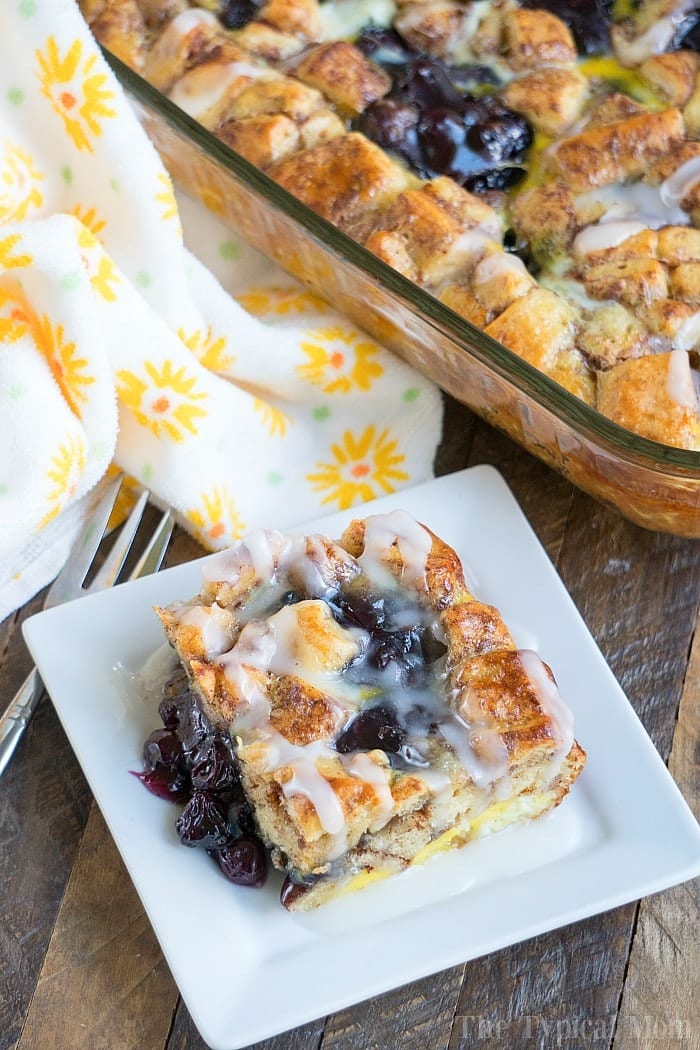 Cinnamon roll breakfast casserole with fruit
Ok so it is canned, pie filling really but still fruit right?? Better for this because it has that ooey gooey sauce surrounding it that lends itself to a really moist dish.
9×13 glass baking dish + cooking spray
Large bowl to whisk together eggs and milk mixture
2 cans refrigerated cinnamon rolls

cut cinnamon roll pieces into 4 pieces or 6ths

3 Eggs
Half and half or evaporated milk
1 can pie filling – we love apple for this
Frosting that comes in the cinnamon roll tubes

cream cheese frosting is great too, I'm obsessed with these pre filled pastry bags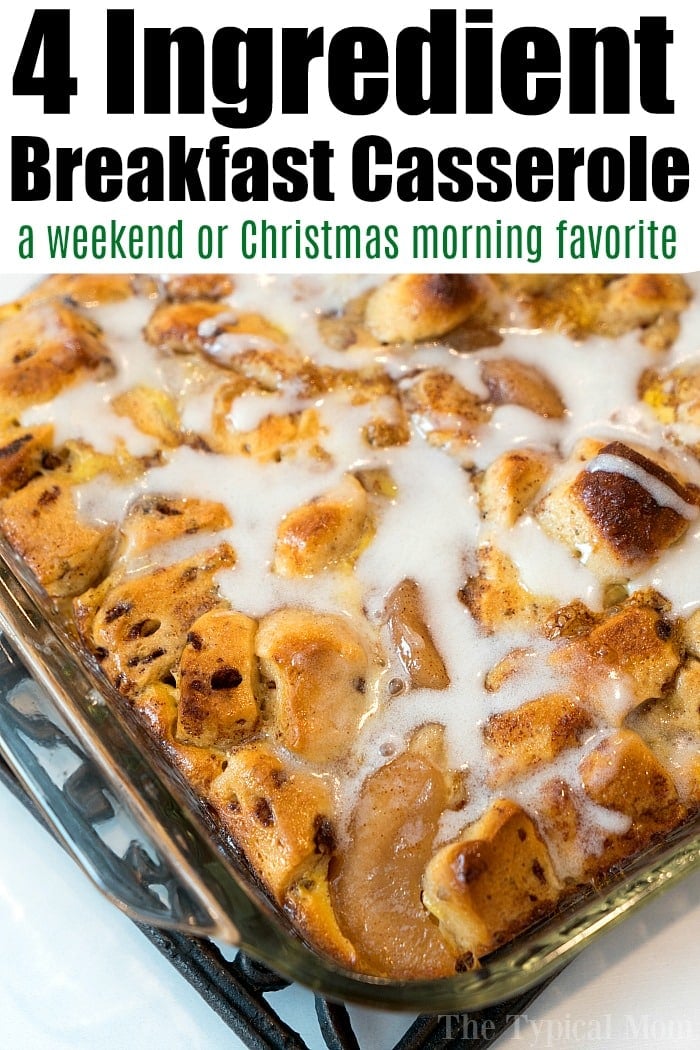 How long do Pillsbury cinnamon rolls take to bake
It depends on which method you're using to cook them. In an oven at 400 degrees you would bake for about 13 to 17 minutes or until golden brown.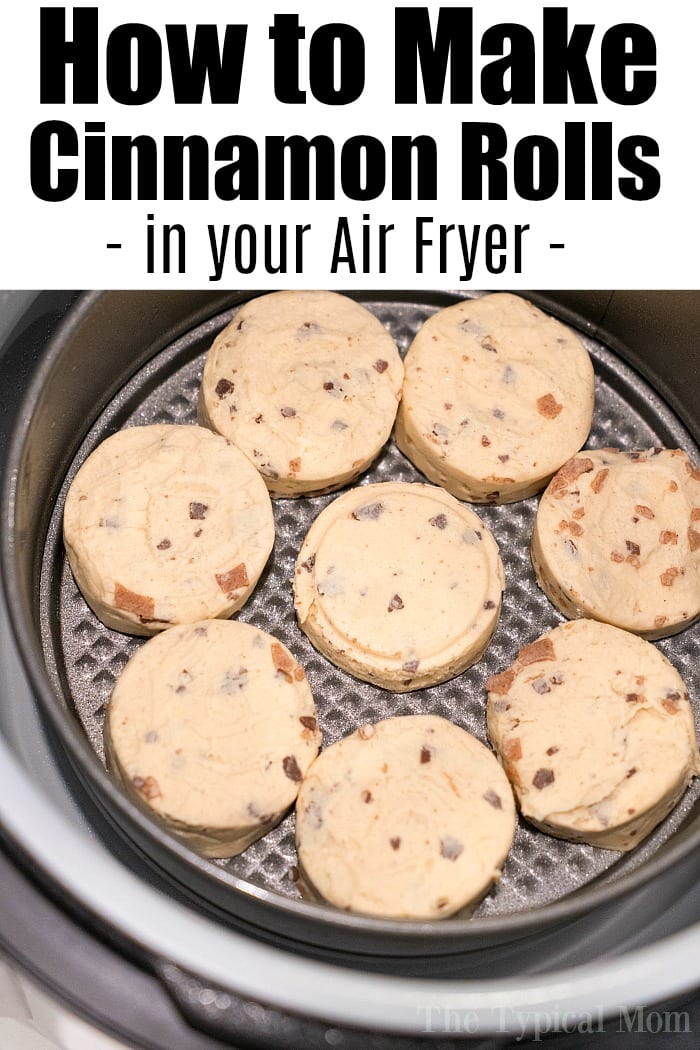 If you're making it as a Christmas breakfast casserole here are a few things you can make too and make it a breakfast buffet!
Looking for another easy breakfast casserole you can make in your pressure cooker? Try our Instant Pot breakfast casserole ideas here too.
We've made this Crockpot breakfast casserole recipe too during the holidays! If you don't want to bother turning your oven to 350 degrees early in the morning this is a great alternative.

You can leave it in your slow cooker to stay warm for a better part of the morning so you can enjoy it over time too.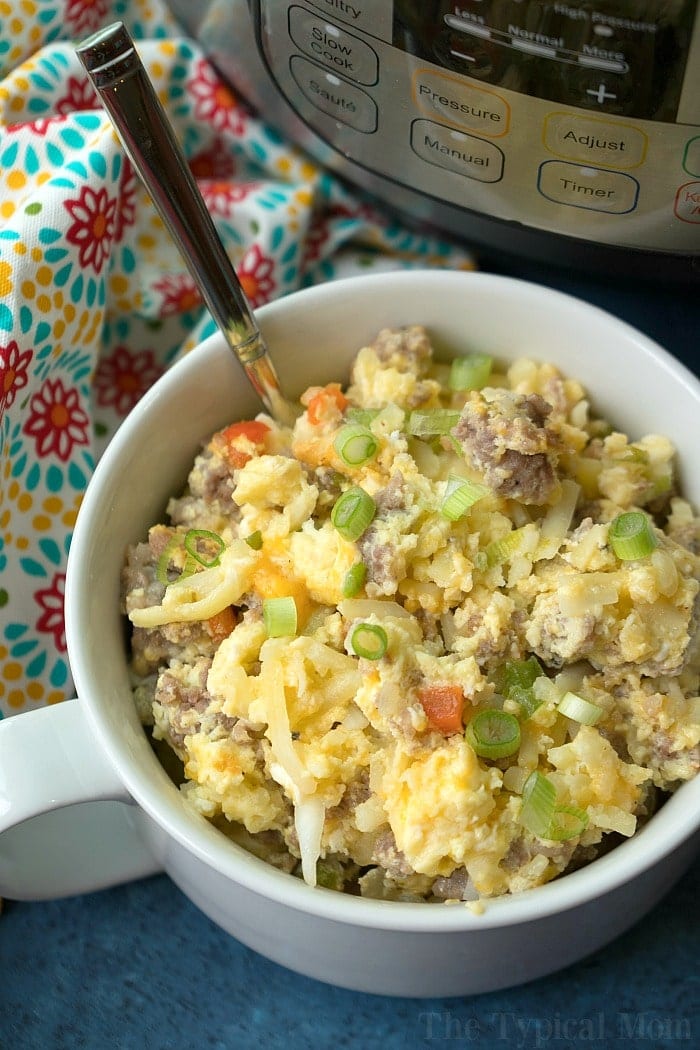 Cinnamon Roll Breakfast Casserole without Pie Filling
If you don't want to add any fruit into the mix you can make it another way. I have the instructions and alternative ingredients for you here too.
1/4 cup melted butter
2 cans cinnamon rolls
6 eggs
1/2 cup heavy whipping cream
2 tsp cinnamon and vanilla
1 cup chopped pecans and maple syrup
Heat your oven to 375 degrees. Pour your melted butter into your 13×9 baking dish. Cut each roll into 8 pieces and sprinkle over butter in pan. In a bowl whisk eggs, cream, cinnamon and vanilla. Pour this over your roll pieces. Sprinkle top with pecans and 1 cup of syrup.
Bake this for 22-28 minutes or until golden brown on top. Cool for 15 minutes and pour melted frosting from cinnamon roll packages on top.
Want to see a few of my favorite things that I am totally obsessed with?? Take a peek and see how many you might already have…twinsies!
Looking for more easy family recipes and tips? LIKE The Typical Mom Facebook page?
Then sign up for my free newsletter, and follow me on Pinterest! 😉
***** If you LOVED this recipe give it 5 Stars below and let everyone know what you thought about it. 😉
Cinnamon Roll Breakfast Casserole
This easy cinnamon roll breakfast casserole with blueberries is just amazing! Served for brunch or on Christmas morning it is a great way to make cinnamon rolls into a fruit casserole that everyone will love. Feeds 12 and costs under $10 to make which is a winner in my book!
Instructions
Whisk together eggs and evaporated milk, set aside.

Spray your 13×9 pan with non stick spray and preheat your oven to 375 degrees

Cut both cans of cinnamon rolls into 6 pcs for each roll so you have small pieces. Put these in a bowl.

Pour your can of pie filling into the bowl with your cinnamon roll pieces. Gently fold them together. Spread this evenly into your pan.

Pour your whisked egg mixture evenly across everything in your pan. If using apple pie filling sprinkle top with a mix of cinnamon and sugar.

Put into preheated oven at 375 degrees for about 30-33 minutes or until top rolls are golden brown and egg is cooked and not runny on top.

Allow to rest in your pan for 5-10 minutes and cut into squares, squeeze some frosting that came with your cinnamon rolls on each piece an serve.
Nutrition Facts
Cinnamon Roll Breakfast Casserole
Amount Per Serving (3 oz)
Calories 128
Calories from Fat 63
% Daily Value*
Fat 7g11%
Cholesterol 95mg32%
Sodium 93mg4%
Potassium 65mg2%
Carbohydrates 13g4%
Protein 3g6%
Vitamin A 285IU6%
Vitamin C 0.9mg1%
Calcium 26mg3%
Iron 0.5mg3%
* Percent Daily Values are based on a 2000 calorie diet.