Easy 1 minute cinnamon roll in a mug instructions! I can't believe how simple this mug dessert is to make and I didn't make this sooner! Now each person can have a sweet rolls treat and make it themselves!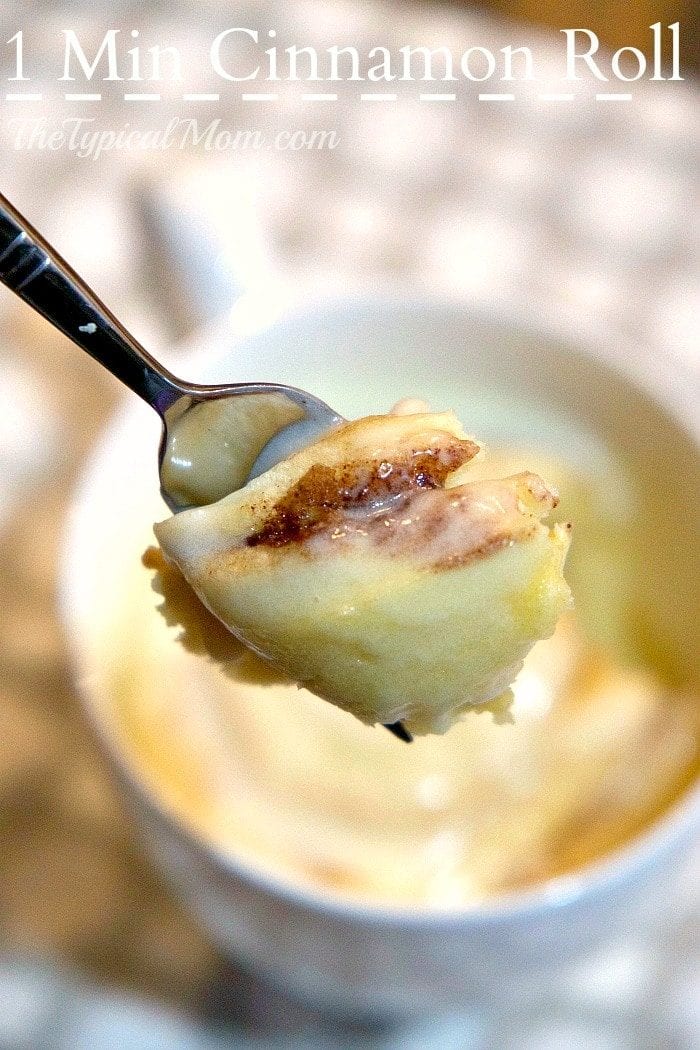 So literally I was sitting here at my desk working thru lunch (as usual) and really wanted something sweet. I thought maybe I could make a quick cinnamon roll in a mug and it totally worked!! I will definitely add this one to the rest of my mug cake recipes. (affiliate links present, originally published 1/17)
Refrigerated Cinnamon Roll in a Mug
This all started because there was nothing in the house as far as cookies were concerned. I didn't want to make an entire box of brownies but really really wanted something for dessert. Since I've been on a kick of making microwave dessert recipes, this one needed to be tried now!!
I started my obsession with mug desserts with this chocolate chip cookie in a mug. That one is homemade from scratch but sometimes we need something quicker. This is one of those where you can use refrigerated cinnamon rolls and cook one at a time. Save the rest for the morning, or let everyone have one in a cup of their own.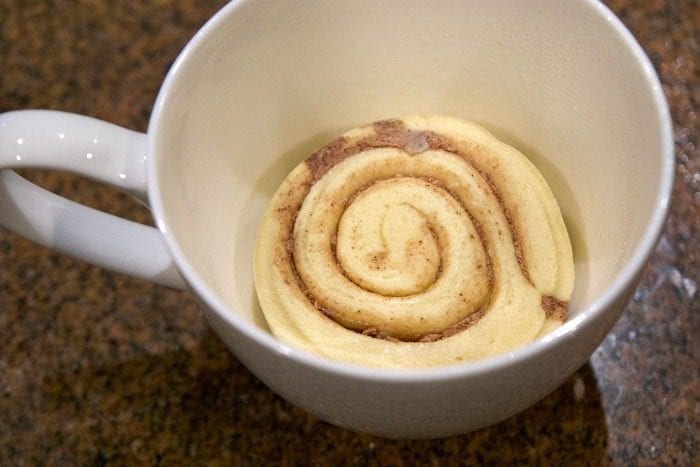 Mug Cinnamon Roll
So last week we made pizza in a mug and my kids are now obsessed with it. Now they can literally make it themselves when they come home from school and they love that! I figured I could use the same idea and use refrigerated cinnamon rolls instead of the large biscuits.
It could be a perfect dessert mug recipe to make a quick cinnamon roll with frosting for me to enjoy. Dessert for 1! This is what I did…..sit down, this is crazy simple.
Pillsbury Cinnamon Roll in a Mug
Roll of refrigerated cinnamon rolls

or frozen / defrosted Rhodes cinnamon rolls
no rolling the dough required for this one

Large mug
Non stick spray
Frosting included in the roll is what we use
In a small bowl you could mix a sort of crumble topping to add when done if you wanted. Traditionally you just have the frosting and to make things easier we just used what was in the package for ours. Roll mug cake in a hurry we call this one. 😉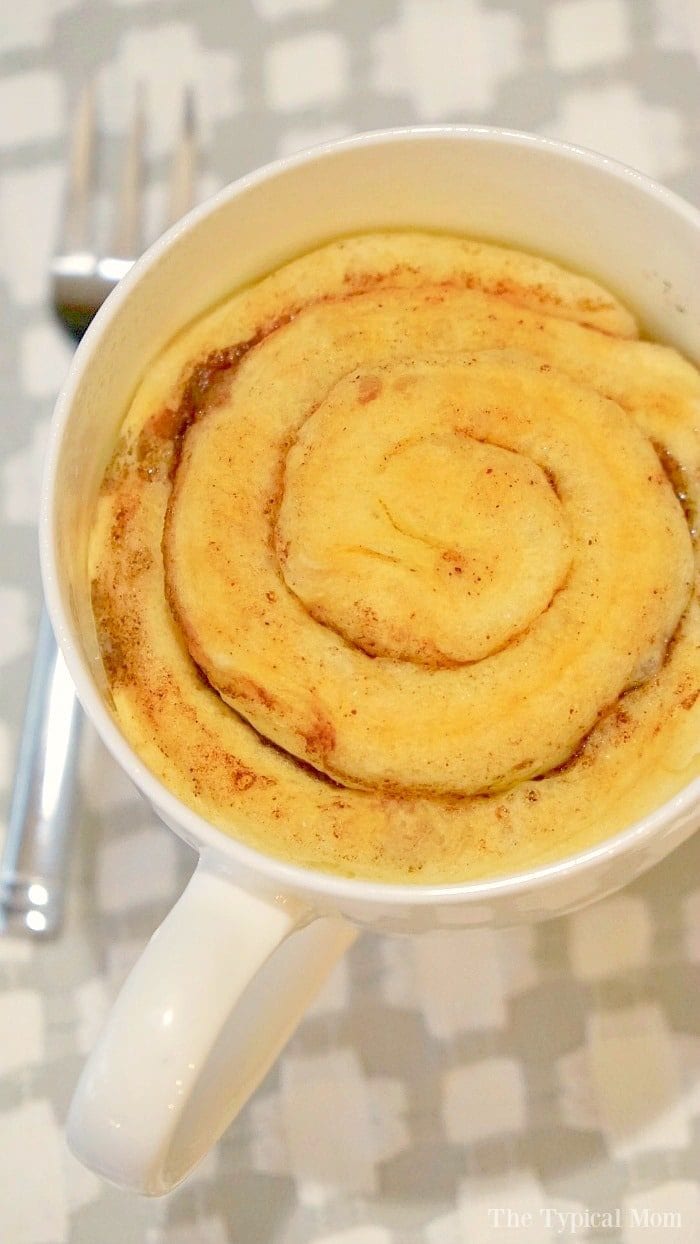 Microwave Cinnamon Roll in a Mug
I know…it's such an easy recipe, all our mug cakes are. I have occasionally seen rolls that are gluten free from other brands so if you need that go for it. Timing might be slightly different because of the ingredients but can't imagine much. For a little more (but still easy with no yeast) you can try our cinnamon roll muffins too! This is what I did:
I used a larger size mug and sprayed the inside with non stick spray.

you could alternatively brush inside with melted butter

Then I laid 1 Cinnabon refrigerated cinnamon roll inside and put it in the microwave for 1 minute cooking time on regular high setting.
It raised up and up all the way to the top, but went down a bit when it turned off and I took it out.
Next I took it out and tested it and it was done to perfection!! Single serving dessert was done.
These tubes come with a small tub of frosting so I put that in the microwave for 9 seconds just to warm it up.
Pour some frosting on and enjoy!!
Want a bit of a crumble topping? Sprinkle top with brown sugar and cinnamon or coconut sugar too.
I can't believe it but it was a perfect treat after lunch and I saved the rest in a round tupperware container so I could show the kids when they came home from school.
Homemade Cinnamon Roll in a Mug
Now if you don't want to use store bought products and skip the preservatives I get it. If you do have a moment and want to make it from scratch like our blueberry muffin in a mug the just go for it. The ingredients needed for that one are below.
1/4 cup all purpose flour
1 tbsp brown sugar
2 tbs milk or dairy free alternative
1/4 tsp baking powder
1/8 – 1/4 teaspoon cinnamon
1/2 tablespoon butter, melted
And just a teeny tiny pinch of salt
Swirl

1/2 tbsp melted butter
1 tsp brown sugar
1/2 tsp cinnamon
You are going to add all the above ingredients, minus the swirl items. Mix them together until smooth. Then in a small dish melt butter for swirl and add sugar and cinnamon. Pour this on top and use a spoon to swirl on top just a bit. Microwave for 50 seconds, remove and allow to cool for a few minutes.
You can melt a tub of frosting or mix 1/2 cup of powdered sugar with a bit of milk or 2-3 teaspoons of water to make a quick frosting for the top. We do the same thing when making our slow cooker apple cinnamon rolls using the whole roll.
Want to see a few of my favorite things that I am totally obsessed with?? Take a peek and see how many you might already have…twinsies!
Looking for more easy family recipes and tips? LIKE The Typical Mom Facebook page?
Then sign up for my free newsletter, and follow me on Pinterest! 😉
***** If you LOVED this recipe give it 5 Stars below and let everyone know what you thought about it. 😉
Cinnamon Roll in a Mug
Easy 1 minute cinnamon roll in a mug instructions! I can't believe how simple this mug dessert is to make and I didn't make this sooner!
Instructions
Spray the inside of a larger mug with non stick spray.

Place one refrigerated cinnamon roll at the bottom.

Melt frosting in container for 5-10 seconds in microwave and spoon a bit on. Enjoy!
Nutrition Facts
Cinnamon Roll in a Mug
Amount Per Serving (1 oz)
Calories 179
Calories from Fat 495
% Daily Value*
Fat 55g85%
Sodium 2640mg115%
Carbohydrates 184g61%
Protein 15g30%
Iron 5.7mg32%
* Percent Daily Values are based on a 2000 calorie diet.