This no egg chocolate chip cookie in a mug just takes 1 minute to cook in the microwave! It's a great mug cookie dessert for one when you just want a little something sweet at night.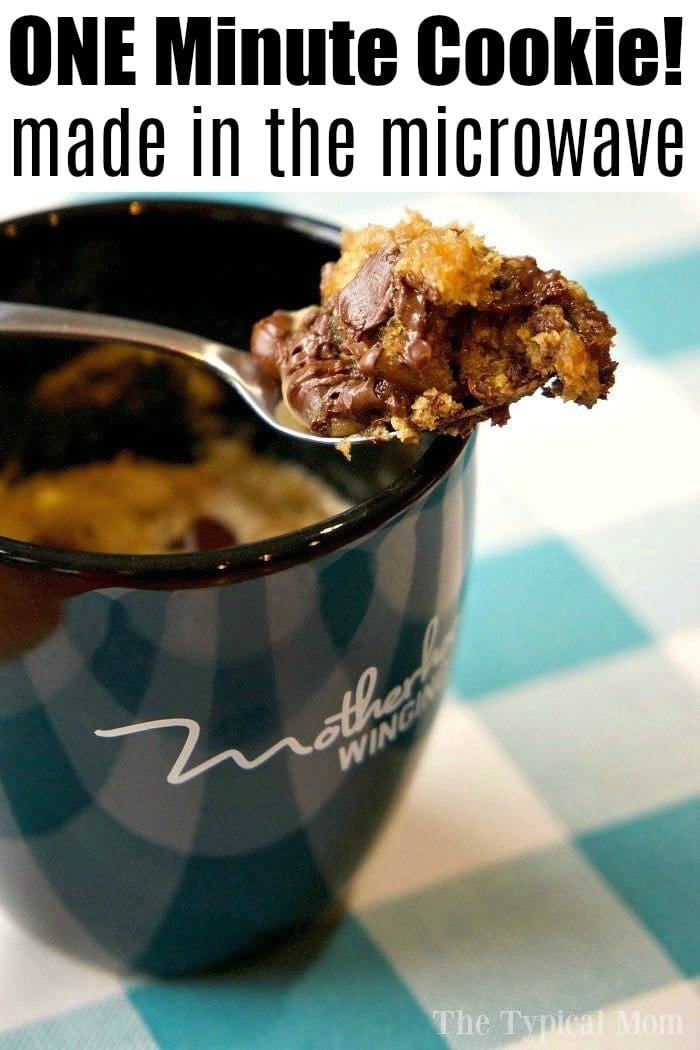 Ok so I am a sucker for dessert and this chocolate chip cookie in a mug hits the spot! I'd eat it first just to make sure I had room, but that probably wouldn't be the best impression to leave my kids. It's one of our favorite mug recipes. (originally published 12/16, affiliate links present)
Chocolate Chip Cookie in a Mug No Egg
Come the new year I too am always looking to focus on portion control and this treat works great. I cannot cut out sweets entirely. So this egg free and no butter cookie is perfect for one person to take the edge off! It's really that amazing!
Yes we all love homemade cookies, but if you're by yourself this recipe is nice to have on hand. Nobody needs an entire batch. This one will definitely satisfy your sweet tooth especially if it's late at night and you just have to have a bit of sweetness!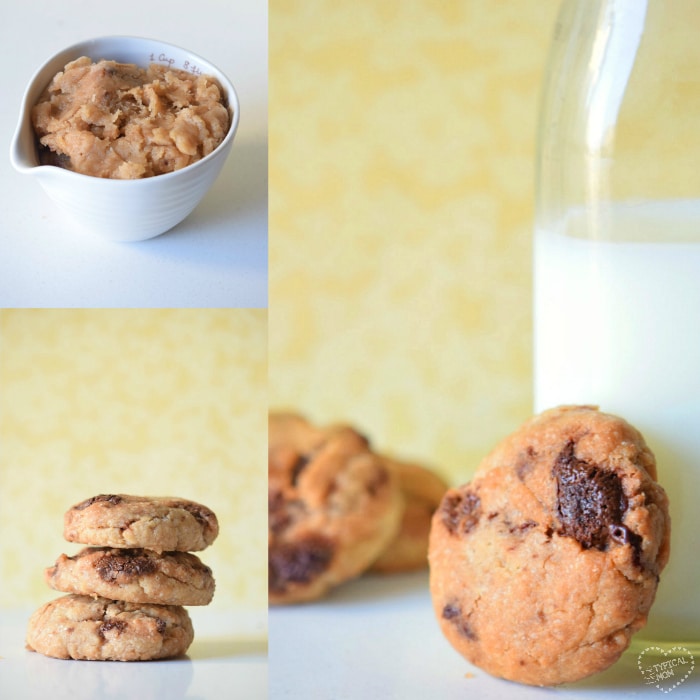 Cookie in a Mug
Occasionally I do cook a whole batch of homemade chocolate chip cookies but seriously I rarely have time for that.
We really don't need 24 in our house anyway when my aim is to only have sweets occasionally. This dessert in a mug is perfect though for a treat in the evening when the kiddos go to bed (yes you're allowed to do that)!
Once you try this out it may be a game changer for you as well. It is quite easy to prep most of the ingredients in baggies ahead of time, we will explain that more a bit later. Then each time you want a cookie for one you just add the milk, oil, and vanilla and you're ready to microwave it for just one minute!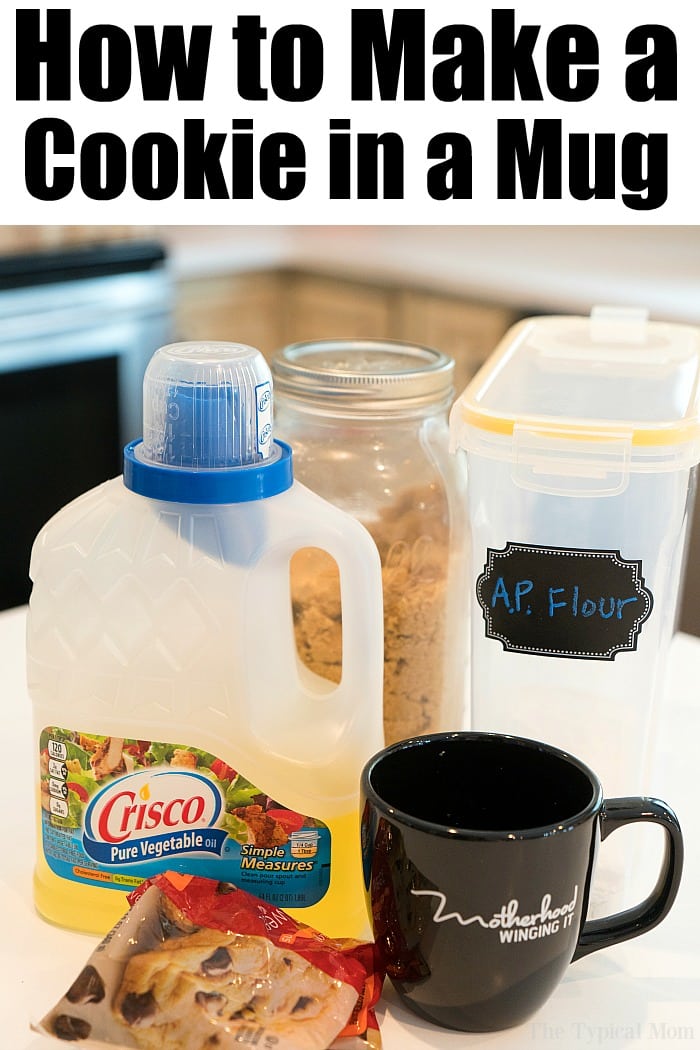 Mug Cookie
The recipe below doesn't include nuts but you can add them like you see above. My husband added chopped walnuts and said it was tasty too. I'm a no crunchy texture in my soft foods kinda' gal so those are a no go for me. Decide for yourself as everyone is different.
You could certainly use different types of chips into the mix too. I mean there are peanut butter chips, butterscotch, white and even Andes bits that have a mint flare to them. Leave those out entirely if you want to but I mean what would be the point of that. We aren't counting calories here, it's a treat y'all.
Most of the time I just add lots of dark chocolate chips. It comes out a bit ooey gooey which I think is perfect.
Since it's a no egg dessert you don't have to worry about it being underdone.
You want to make sure to NOT overcook it. If you do it quickly will turn dry and not nearly as good. One minute is plenty!
Think of it as a chocolate chip cookie straight out of the oven but cooked in a mug in the microwave. The ultimate texture you want is really ooey gooey. Ready to fall apart if you were to try and pick it up, just like we like it. Remember that as it cools it will continue to stiffen up. If you're looking for a crispy cookie in a mug recipe this is not it.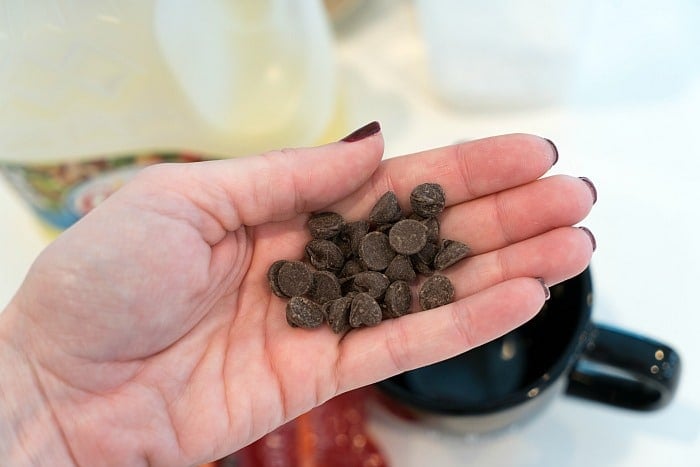 This is for those of us who love a slightly underbaked cookie for one. You can pop in the microwave for one minute and enjoy it all to yourself. It is so good you will NOT want to share it, believe me. When my girls were little I sometimes made this as a Friday treat after school too which made me a mom hero. 😉
Chocolate Chip Cookie in a Mug
This is what you're going to want to get out in order to get started. A mug of course, but you do want it to be on the larger side of things. Just like if you were to bake, it will rise quite a bit as it cooks and you don't want a mess with it rising and spilling over the sides. If you like the fun one pictured there's a link to that one below.
Medium – Large mug

microwave safe of course
with a handle because it will be hot when done

Oil
Milk or you could use almond milk or other to make a dairy free mug cookie
Vanilla extract
Brown sugar
All purpose flour
Baking powder
Chocolate chips – I like semi sweet chips personally but take your pick.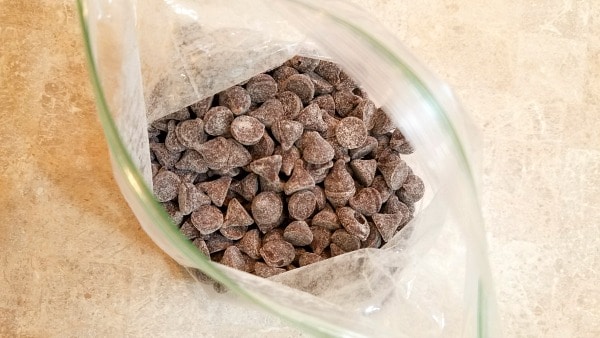 Microwave Chocolate Chip Cookie
My oldest daughter really prefers white chocolate chips with hers. For a really gooey chocolate chip treat add some to the top as well as on the inside of things. Alternatively you could use peanut butter chips or half and half. We love this recipe because it's a warm gooey bite of heaven!
A bit of vanilla ice cream on top is an option but alone is sure to satisfy your chocolate chip cookie craving.
I think that is a bit over the top for me personally but works great right inside the same cup. Since it is hot the cream will melt and you can scoop it all up with your spoon in every bite. If you were having a party you could allow guests to bring home their cup with a print out so they could make it again at home.
Can I use regular cookie dough in the microwave?
Yes, you can use regular cookie dough in the microwave. However, it's important to note that microwave cooking may yield different results compared to traditional oven baking. Adjustments in cooking time and power may be necessary to ensure the cookie cooks evenly without burning or becoming too dry.
What is the cooking time for a microwave chocolate chip cookie?
It can vary depending on the wattage of your microwave and the size and thickness of the cookie. As a starting point, you can try microwaving the cookie for around 30 seconds, then check its doneness. Continue microwaving in short intervals until the cookie is cooked to your liking.
Can I make a larger batch of microwave chocolate chip cookies?
It's recommended to make one cookie at a time in the microwave to ensure even cooking. However, if you'd like to make a larger batch, you can microwave the cookies in separate intervals or consider using multiple microwave-safe plates to accommodate them.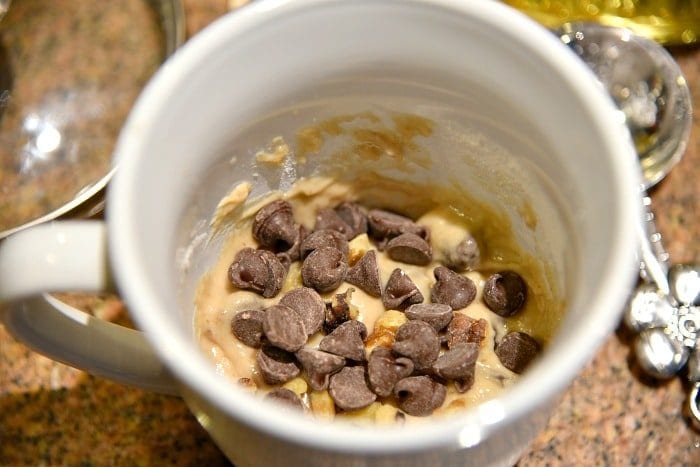 Cookie in a Mug No Chocolate Chips
More of a visual person and need to see a cookie in a mug video? Watch the one in this post before making yourself. We show you here how to make this very treat. Sometimes I like to see someone else make it before I jump right in.
This single serving chocolate chip dessert is something my girls can make too now that they are older.
You could leave out the chips and just make a brown sugar type of cookie that is great too.
I printed the directions below and put it in a drawer so they can pull them out. Now they have phones so they can look it up on my site too. 😉 Take a peek.
Use a tall/large mug to make this as it will bubble up when cooking. Combine oil, milk, and vanilla in your mug
Then add brown sugar, flour, baking powder and 2 tbsp. chocolate chips. Mix well. Sprinkle 1 more tbsp. chocolate chips on top.
Put into your microwave for 1 minute. Done!!
It will turn out ooey and gooey like a cookie right out of the oven.
If you want it more done cook for 1 min. 5 / 10 sec. instead of 1 minute, but I LOVE the ooey gooeyness!
Want to make this even easier to make next time??!! Add the flour and other dry contents up into baggies with a tag that lists the wet ingredients needed when you are ready to prepare one. You can of course come back here (we'd love that) but if you write what's necessary with sharpie on the outside it will make things convenient and quick.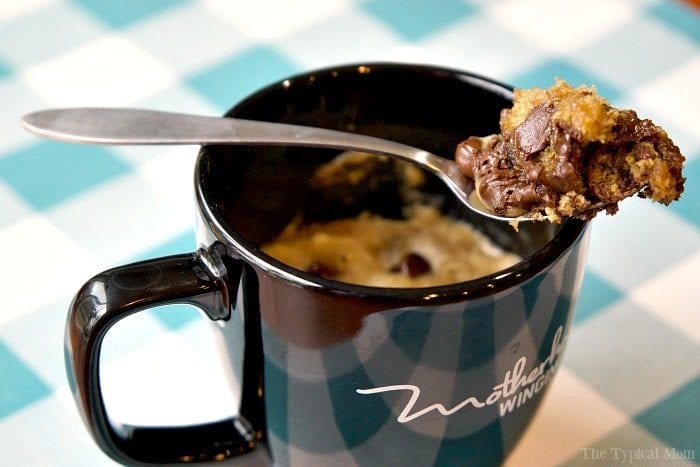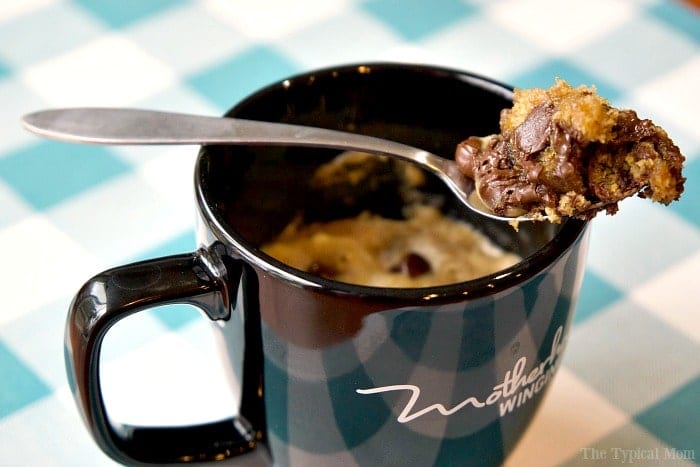 Cookie in a Mug No Butter
No butter, no problem. Our chocolate mug cake doesn't have any either. This makes a really fun gift idea too!! Since there is NO egg white or egg yolk required you don't really have anything perishable to add other than milk. Package up the dry ingredients with others needed on the outside and timing needed. Teachers love this one!!
Put inside the Motherhood Winging It mug you see in the video and at the top of this post (or another med./large size) and give to all your friends to enjoy.
I would NOT double the recipe. Timing and ingredient amounts are really appropriate for one serving and won't cook appropriately if you make it in a larger batch. Looking for more cookie in a cup or dessert recipes?
Strawberry cake in a mug literally only needs 2 main ingredients to make.

it's based off of our 2 ingredient cake recipe except we use angel food cake mix and soda
once you get the hang of this one you can make it in a variety of flavors

Pizza in a mug has been a hit in our house for years. Did you know you could do this? With a refrigerated biscuit and all your favorite toppings it is an easy after school snack.
For breakfast try blueberry muffin in a mug with your kids.
Brownie in a mug is by far our next favorite single serving treat ever. I add a dollop of peanut butter in there but even without that it is beyond amazing. Just enough sweets after dinnertime.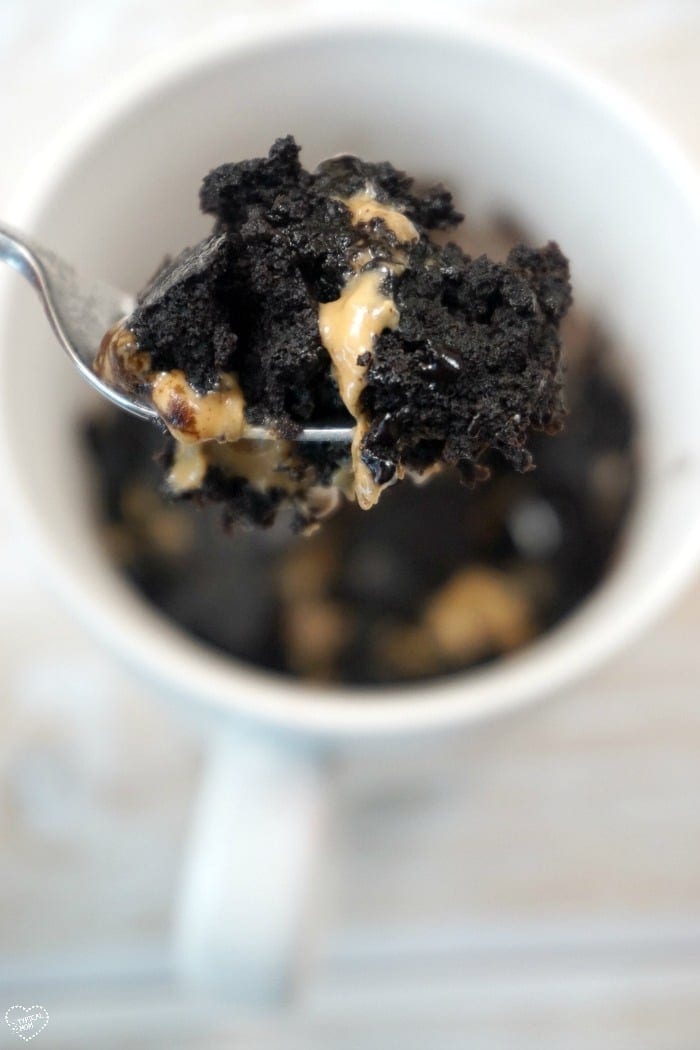 Cookie Mug Cake
Now if you're looking to make a batch of killer traditional warm chocolate chip cookies that everyone can enjoy together than by all means do it. You can always save the leftovers in a freezer bag with a small piece of bread inside to maintain the moisture. That's really second best, the leftovers that is.
This way you can make a fresh new "batch" that is the perfect individual serving every single time, with nothing left over. I promise you that much. Cleanup is easy peasy as you just throw your cup right into the dishwasher and you don't have to heat up your house with an oven at all. Necessary during those hot summer months for sure.
Now get to mixing and let us know what you think once you try it below in the comments. Get ready for a lot of deliciousness. Here's the printable recipe. I show you step by step in my video as well how to make this cookie in a mug. Let us know how you tweak it to make it just right for yourself or your kids.
Want to see a few of my favorite things that I am totally obsessed with?? Take a peek and see how many you might already have…twinsies!
Looking for more easy family recipes and tips? LIKE The Typical Mom Facebook page?
Then sign up for my free newsletter, and follow me on Pinterest! 😉
***** If you LOVED this recipe give it 5 Stars below and let everyone know what you thought about it. 😉
Chocolate Chip Cookie in a Mug
This chocolate chip cookie in a mug just takes one minute to cook in the microwave and it's done to perfection! It's a great mug cookie for one when you just want a little something sweet at night and I give you permission to keep it all for yourself. NO sharing allowed for this chocolate mug dessert.

Instructions
Use a tall/large mug to make this as it will bubble up when cooking.

Combine oil, milk, and vanilla in your mug

Then add brown sugar, flour, baking powder and 2 tbsp. chocolate chips. Mix well.

Sprinkle 1 more tbsp. chocolate chips on top and put into your microwave for 1 minute. Done!!

It will turn out ooey and gooey like a cookie right out of the oven, if you want it more done cook for 1 min. 5 / 10 sec. instead of 1 minute, but I LOVE the ooey gooeyness!
Nutrition Facts
Chocolate Chip Cookie in a Mug
Amount Per Serving (3 oz)
Calories 342
Calories from Fat 117
% Daily Value*
Fat 13g20%
Cholesterol 9mg3%
Sodium 42mg2%
Potassium 185mg5%
Carbohydrates 49g16%
Protein 5g10%
Vitamin A 140IU3%
Calcium 140mg14%
Iron 1.8mg10%
* Percent Daily Values are based on a 2000 calorie diet.