Ok so I am a sucker for dessert. I'd eat it first just to make sure I had room, but that probably wouldn't be the best impression to leave my kids. Come the new year I too am always looking to eat a bit healthier and of course portion control is a big part of that. I cannot cut out sweets entirely…just sayin'….so this eggless chocolate chip cookie in a mug is perfect for one person!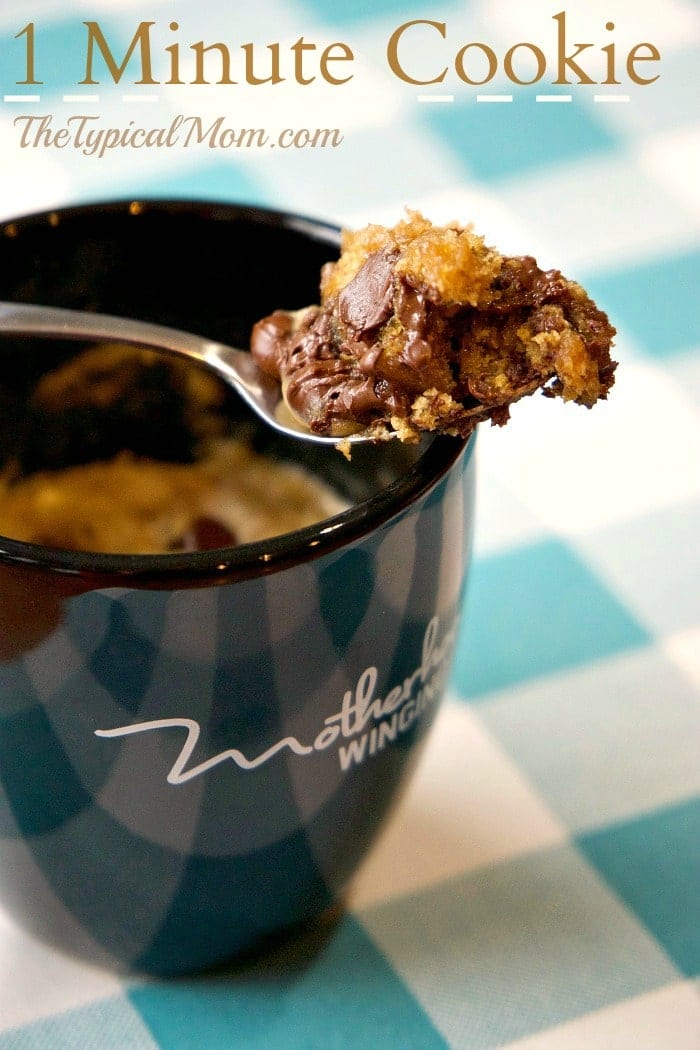 I know…it really is amazing! You can easily package all the dry ingredients together in ziploc baggies and then each time you want a cookie for one you just add the milk, oil, and vanilla and you're ready to microwave it for just one minute! Occasionally I do cook a whole batch of homemade chocolate chip cookies but seriously I rarely have time for that, and we really don't need 24 in our house when my aim is to have sweets every now and then. This chocolate chip cookie in a mug recipe is perfect though for a treat in the evening when the kiddos go to bed (yes you're allowed to do that)!
The recipe below doesn't include nuts but you can add them like you see above. I added chopped walnuts and it's tasty too. Most of the time I just add lots of chocolate. It comes out a bit ooey gooey which I think is perfect, and since it's eggless you don't have to worry about that factor. You want to make sure to NOT overcook it or it quickly will turn dry and not nearly as good, one minute is plenty!
Chocolate chip cookie in a mug
Chocolate chip cookie in a mug
Ingredients
1 tsp. oil
3 tbsp. milk
1/4 tsp. vanilla
3 heaping (not packed) tbsp. brown sugar
4 tbsp. flour
1/4 tsp. baking powder
2 tbsp. chocolate chips (semi-sweet are fabulous)
1 tbsp. chocolate chips for the top
Instructions
Use a tall/large mug to make this as it will bubble up when cooking. Combine wet ingredients in your mug, then add dry along with 2 tbsp. chocolate chips. Mix well. Sprinkle 1 more tbsp. chocolate chips on top and put into your microwave for 1 minute. Done!!
It will turn out ooey and gooey like a cookie right out of the oven, if you want it drier cook for 1 min. 5 / 10 sec. but I LOVE the ooey gooeyness!
https://temeculablogs.com/chocolate-chip-cookie-in-a-mug/
Super easy way to make a cookie for one right??!! If you love this easy mug recipe you've got to try our peanut butter brownie in a mug too! Package contents up in a baggie with a tag that tells them the wet ingredients to add, put inside the Motherhood Winging It mug or another (affiliate link)  tall coffee cup and it's a perfect gift too!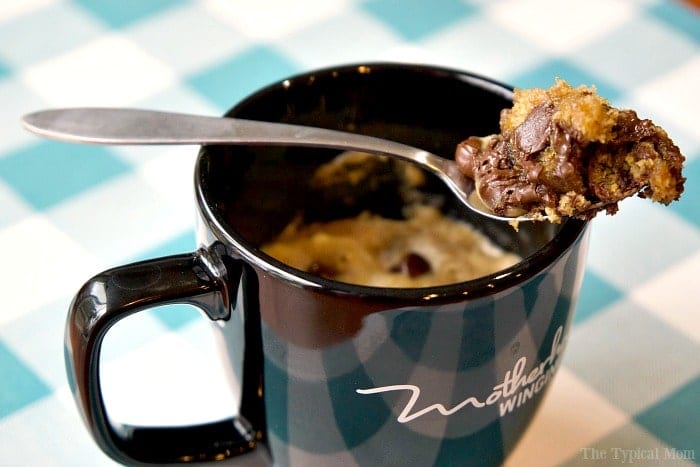 For more easy recipes, tips and crafts please LIKE The Typical Mom on Facebook and follow me on Pinterest! You can also sign up for my free weekly newsletter which is packed with goodies I know you'll love. 😉