Chocolate mug cake recipe only takes 50 seconds to cook in your microwave. Just 3 ingredients to How to Make a Mug Cake with Cake Mix. AND when you press a caramel inside it's the perfect treat made just for one person. I make these at night when I have a sweet tooth!
I've created a lot of microwave mug recipes on The Typical Mom because well…..they're so good and easy to do! When you just want a dessert for one in one minute they come in really handy and satisfy my sweet tooth without going overboard. Here's how you make it. (originally published 3/17)
My most popular chocolate chip cookie in a mug recipe was SO popular that I try to come up with more single serving desserts each week and this is my latest! The most amazing caramel chocolate mug cake recipe here takes just 50 seconds to cook and about 3 minutes to put together, that's a huge and yummy win!
3 ingredient Mug Cake Recipe
If you don't know how to make a cake in a mug it is really quite easy and you can use any flavor you like. Of course we used chocolate here but we've used this same concept and made a strawberry cake in a mug too which my kids loved!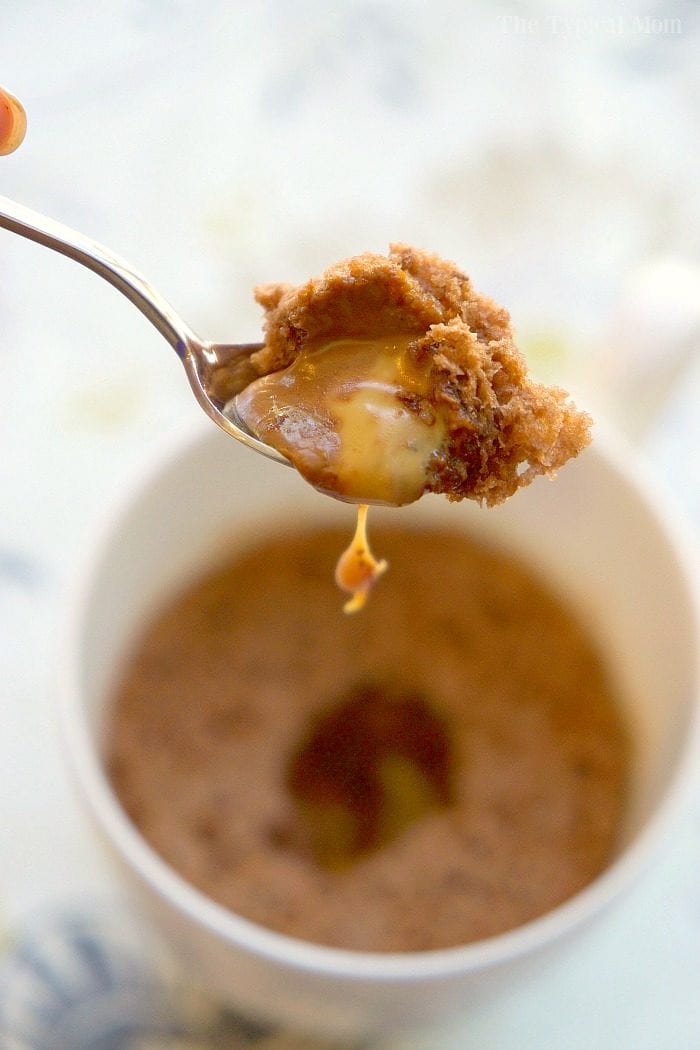 Chocolate Mug Cake
For an easy mug cake recipe you just need a few things, those are the very best ones. I did provide options such as submerging a caramel candy in the middle or you could sprinkle a few semi sweet chips in there too if you wanted. Want a hint of vanilla extract in there, just a dash will do. What I use as a base is;
Box of angel food cake – with the dry egg whites already mixed in
1 box of chocolate cake mix
Mix these together and save in a plastic container

or just make one at a time with 1.5 tbsp of each + 2 tbsp water
Chocolate Chip Mug Cake
You could add a few chips into the batter too to make it even more sweet. The Most Amazing Caramel Chocolate Mug Cake is what I call this one because I put a Rolo or a few of them in the center. A quick chocolate bite of heaven is all you get with this one y'all.
Scoop 3 tbsp. of your angel food/chocolate cake mix into a mug
Add 2 tbsp. of water
Stir
Push 3 Rolo candies into the center of your chocolate cake mix (1 put 2 on the bottom and rest the 3rd on top of those)
Put in microwave for 50 seconds
Enjoy this chocolate mug cake recipe!
Now let me answer a question that many have had with my pineapple angel food cake which I use the same box to make. Some have a packet of dry egg whites you have to combine in yourself, I have never seen or used that style so I don't know if it would work the same. Want peanut butter and chocolate? Try our brownie in a mug.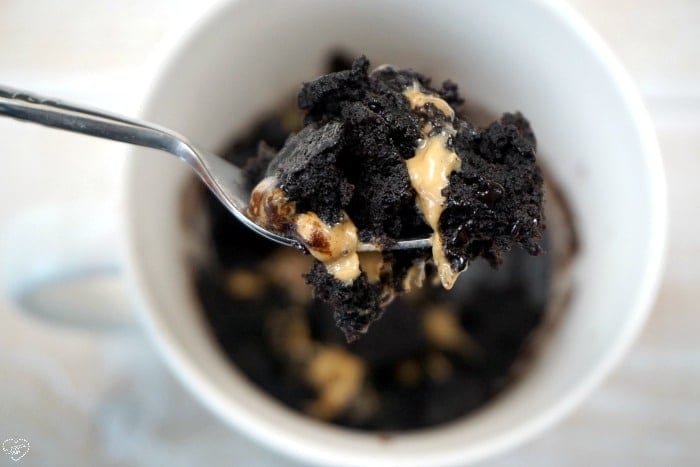 Microwave Chocolate Mug Cake
It isn't as low calorie but boy we loved this recipe! Just microwave on high for a minute and you can even add mini chocolate chips inside too with vanilla ice cream on top. NO, don't count the calories but it should be tried at least once in our mug cake creations.
Wondering whether the cook times remain the same with this recipe below combining angel food cake and cake mix? Yep it doesn't matter what flavor you use with your angel food ingredient. You can use vanilla cake vs. chocolate cake mix into your dry ingredients with your water. One minute is all it takes.
NO baking powder or vegetable oil required, just water!
The toppings are endless but a dollop of whipped cream is always a winner. Want to try another one? Try our angel food cake in a mug too. This one skips the other mix entirely which means less calories but a lighter flavor too. I mean still incredibly easy and delish to try for sure but just different and literally one ingredient period other than water.
Our blueberry muffin in a mug recipe is good but if you want to make something for a group try our dump peach cobbler. Both are really dump, stir and heat it until fluffy and perfect. I love those so even my middle school after snack loving daughters can make without any help. 😉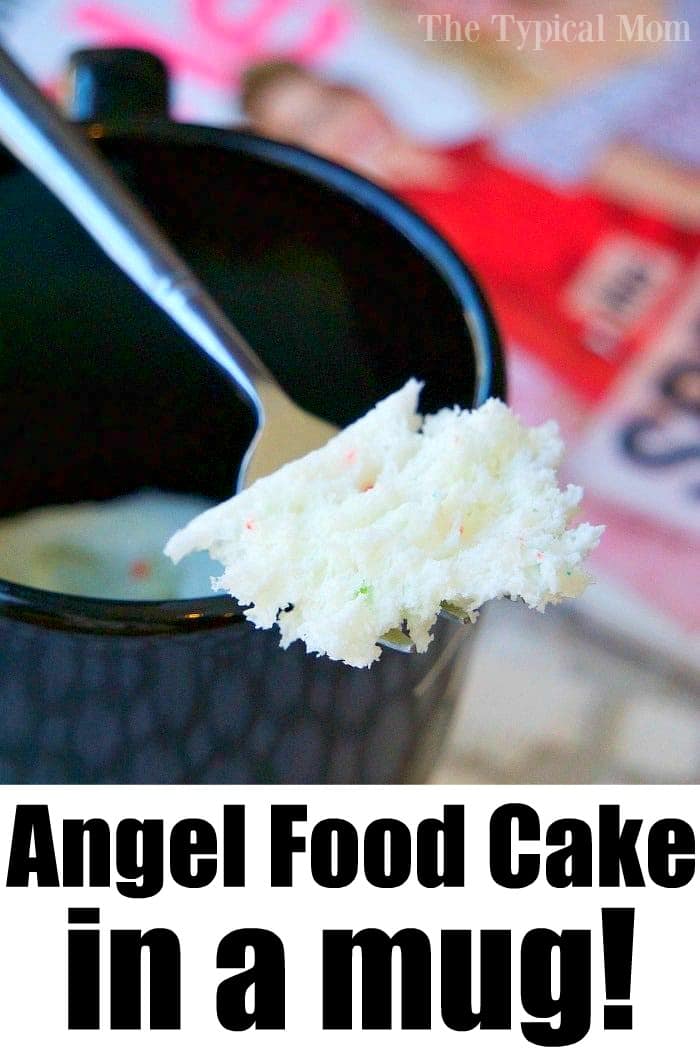 Cake in a Mug
Love this idea but want other flavors to make? Let's talk about other options you might want to try once you fall in love with the combinations below. At the store you will find a lot of flavors but if you go online you can find others as well. Once you have the base angel food style then think outside of the box from there and you can mix and match like;
3/4 tbsp pineapple + 3/4 tbsp vanilla cake mix for a tropical blend
Use pumpkin cake mix for the Fall months
I have seen cherry which you could use 3/4 tbsp of with vanilla for a cherry cream soda like flavor
Coconut and half chocolate gives you a Hawaiian flavor of sorts
Red velvet is another fun add in which adds color as well as bolder flavor blends
I will say that with all of these I feel there needs to be a dollop of coolness on top. Frozen Cool Whip is our favorite for that. Since the bottom is warm is starts to melt just enough so it isn't hard any longer and you get the mix of a hot and cold treat together.
Want to see a few of my favorite things that I am totally obsessed with?? Take a peek and see how many you might already have…twinsies!
Looking for more easy family recipes and tips? LIKE The Typical Mom Facebook page?
Then sign up for my free newsletter, and follow me on Pinterest! 😉
***** If you LOVED this recipe give it 5 Stars below and let everyone know what you thought about it. 😉
Chocolate Mug Cake Recipe
The most amazing caramel chocolate mug cake recipe you will ever try that only takes 50 seconds to cook in your microwave. Just three ingredients to make the cake and when you press a caramel inside it's the perfect treat made just for one person. I make these at night when I have a sweet tooth!
Ingredients
1.5

tbsp

cake mix

we used chocolate, any flavor works

1.5

tbsp

angel food cake mix

2

tbsp

water

3

rolo chocolates

if you want to add caramel
Instructions
I mix a whole box of chocolate cake mix and angel food cake mix together and put it in a tupperware container and scoop 3 tbsp from there but you can scoop 1.5 tbsp of each and mix together in your mug.

Add your water and stir well.

Push caramels in the middle of your cake mixture.

Put in the microwave for 50 seconds and enjoy!
Nutrition Facts
Chocolate Mug Cake Recipe
Amount Per Serving (3 oz)
Calories 162
% Daily Value*
Sodium 345mg15%
Carbohydrates 37g12%
Protein 2g4%
Calcium 81mg8%
Iron 0.5mg3%
* Percent Daily Values are based on a 2000 calorie diet.