How to make a mug cake with cake mix is here! Just 2 ingredients with yellow cake mix or flavor of your choice. Microwave 1 minute and enjoy this individual serving dessert late at night or as an after school snack. We have many boxed cake mix recipes on our site but this is the fastest!
This microwave mug cake is just one cake mix hack we love! My kids and I have been making these for years. With all of the different flavored box mixes out there you can make tons of combinations like lemon, strawberry, red velvet, chocolate and more. (affiliate links present)
2 Ingredient Cake Mix Mug Cake
You can make this with any flavor like I said, or mix two together! I usually do the latter because as an angel food cake mix recipe that second one will make the overall treat a lot fluffier. We love the other too if that is all we have in the pantry but that is just a tip. 😉 You can use just the one too, either way it is beyond delicious.
If you don't count water as an ingredient you just need 1 ingredient really! What I do is during the holidays when baking goods are super cheap I usually load up! You only need a few Tablespoons for one serving so 1 box will last you quite a while. Best way to get it to last is to store the leftovers in a sealed container, I'm a mason jar girl myself.
1 Minute Mug Cake with Cake Mix
As I said, we started this whole journey with the one you see here above. I wanted to see if I could make a quick dessert for my girls with just water and make angel food cake in a mug, it worked!! I mean if you make the whole thing in a tube pan all you need is the same ingredient so baking it in a much smaller form just made sense that it might be a hit.
My oldest at the time was totally hooked and during the summertime made all sort of versions of this. She added a pinch of sprinkles to the top to make it pretty. When done she took out the frozen Cool Whip tub and lopped 1 heaping Tbsp. of that to add to the top. It was still warm so it kinda' melted and oozed all over. OMG was that good.
My 3 girls were 12, 6 and 4 at the time so this was a huge win for me because they were certainly old enough to bake cake in the microwave. From then on it was almost made daily, by myself too. 😉 And then we went on to experimenting some more in the next few weeks together….and figured this out…….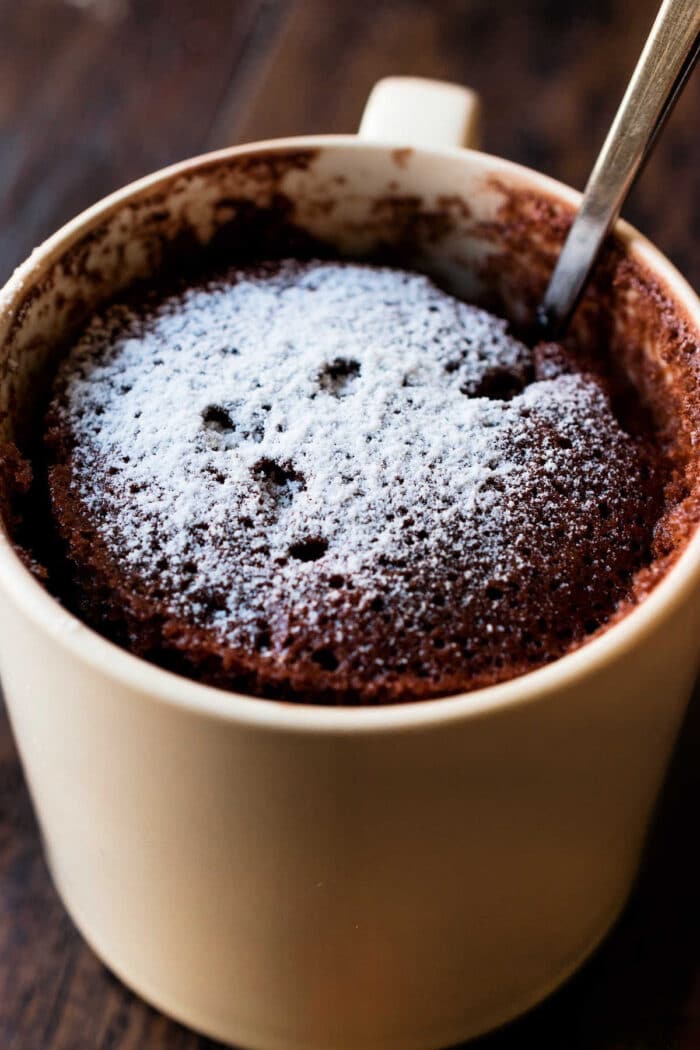 Mug Cake with Cake Mix and Water
We wanted to make strawberry cake in a mug which meant we needed to use strawberry cake mix for that. To do it we just swapped half the amount for this type. So 1.5 tbsp angel food + 1.5 tbsp strawberry, but any flavor would have worked the same way. Once the two were combined well and the liquid was incorporated it was ready.
1 minute was all we needed for that one too! For years after that this is how we made microwave cake, all of us. Then we moved states, and my kids got older. All I had in the house one afternoon was chocolate cake mix and thought what the heck, I'll give chocolate mug cake a whirl. After 1 min. it needed just a tad longer. 1.5 minutes was just right for that.
How to Make Mug Cake with Yellow Cake Mix
You don't have to use boxed either, this is how to make cake mix yourself from scratch too. I have done this to make chocolate, white and yellow too. If you could only have gluten free cake mix that would work well too. If you have a sweet tooth this is a great one using 2 simple ingredients we always seem to have on hand.
Best Mug for Mug Cake
So you do need two things; a larger size and for it to be a microwave-safe mug of course. You don't need a huge one but a typical 11 ounce is a bit too small and may bubble over. You know that it is going to rise as it would in an oven but is is in a smaller area so it does so much more than you'd think. Because of this I suggest using at least a 16 ounce mug cake mug.
With this you would be safe to add a few chocolate chips on top of your single serving dessert. You would do this on top of the cake batter once mixed together with the tablespoons of water. I do this when I make my chocolate chip cookie mug cake recipe. that one is incredible but homemade. If you have more time I would try that one too.
How to Make Dessert in a Mug
I have a lot of snack, dinner and dessert microwave recipes you can choose from here. Some are super simple like you see here and others take a few more ingredients. Not only are they great as a late night treat or quick lunch in the middle of the day but for cooking in a hotel or rv too!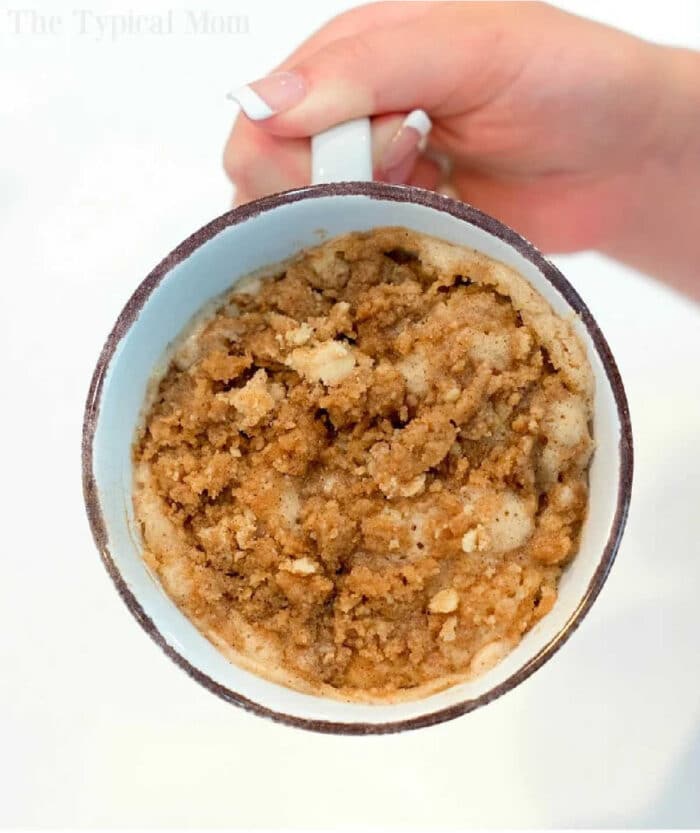 What Can You Add Into a Mug Cake
As for add ins, like cookies, you can add a pinch of this or that. I would be careful with heavier items because it will weigh it down and may inhibit it from rising properly.
A small pinch of mini chocolate chips works
Nuts (such as finely chopped almonds, pecans, or walnuts)
A small spoonful of peanut butter works like we did with our brownie in a mug treat
Vanilla extract or other flavorings (such as almond extract, cinnamon, or cocoa powder)
Sprinkles or candy pieces
Whipped cream or frosting should be added to the top when done
2-3 mini marshmallow
Caramel or chocolate sauce
Crushed cookies or graham crackers
We have the basic ingredients below when you jump to recipe. For the liquid you can use water as listed below but 7-up or Sprite work too. If all you had was juice I mean that would likely work too. For easier cleanup and to get every bit inside it is best to spray the inside of the mug with non stick spray.
Then throw it in the dishwasher when you are done and it will clean up quick and nicely. Ready for the next night when you want to try another flavor after dinnertime. Let us know what your favorite combinations are at your house.
Want to see a few of my favorite things that I am totally obsessed with?? Take a peek and see how many you might already have…twinsies!
Looking for more easy family recipes and tips? LIKE The Typical Mom Facebook page?
Then sign up for my free newsletter, and follow me on Pinterest! 😉
***** If you LOVED this recipe give it 5 Stars below and let everyone know what you thought about it. 😉
How to Make a Mug Cake with Cake Mix
How to make a mug cake with cake mix is here! Just 2 ingredients with yellow cake mix or flavor of your choice. Microwave 1 minute!
Ingredients
3

tbsp

cake mix

I like 1.5 tbsp flavored + 1.5 tbsp angel food to make really fluffy but you can just use one.

2

tbsp

water
Instructions
Lightly spray inside of mug with non stick spray.

Put cake mix into mug, pour in water and stir together until smooth.

Microwave for 1.5 minutes and then enjoy. You can add 1 tbsp of Cool Whip on top for "frosting".

** If you mix 1.5 tbsp angel food cake mix + 1.5 tbsp cake mix I think 1 minute is plenty, using just 3 tbsp cake mix, use 1 1/2 minutes.
Nutrition Facts
How to Make a Mug Cake with Cake Mix
Amount Per Serving (1 oz)
Calories 163
Calories from Fat 9
% Daily Value*
Fat 1g2%
Sodium 345mg15%
Potassium 31mg1%
Carbohydrates 37g12%
Protein 2g4%
Calcium 82mg8%
Iron 1mg6%
* Percent Daily Values are based on a 2000 calorie diet.