Raw carrot salad recipe from Tik Tok is here to follow! How to make shredded carrot salad with a light Asian dressing as a side dish or meal. If you loved our Korean cucumber salad found online too you'll love this other cold vegetable dish.
Carrot salad raw is all the rage. You may have seen this on TikTok and want the recipe to make it at home yourself. Some love it spicy and others prefer a bit of sweetness to it. That is easy to adjust when made from scratch. Shredded, chopped or carrot spirals are fun too. (affiliate links present)
Carrot Salad with Raisins
When it comes to salads, most people envision a medley of leafy greens or cabbage salad with shredded vegetables, and a tangy dressing. However, one salad that often gets overlooked but deserves the spotlight is the humble yet incredibly flavorful raw carrot salad. Packed with nutrients, bursting with color, and offering a satisfying crunch, this shaved vegetable salad is a refreshing addition to any meal or a vegetarian dish on its own.
The primary ingredient of regular or carrot salad and raisins, as the name suggests, is this orange vegetable. Widely known for their vibrant orange hue and exceptional nutritional value.
They are also an excellent source of beta carotene and antioxidants that helps maintain healthy vision, skin, and immune function. They can help support and improve gut health, which can indirectly aid hormonal balance too. Some swear by them being a great way to tame excess estrogen and/or consume as a weight-loss-friendly food.
Simple Carrot Salad
You may have seen this carrot salad on Tik Tok that reached over a million views and wanted to try it. Start with fresh, crisp carrots. Peel them after removing the outer layer for this look. You can also grate, slice into dials, or use a mandoline to create thin, matchstick like pieces. The choice of carrot shape can influence the overall texture of the, so feel free to experiment and see which you prefer.
Next, it's time to add some depth of flavor and texture. Some popular ingredients in raw carrot salad would be toasted nuts or seeds. Walnuts, almonds, sunflower seeds, or pumpkin seeds all complement the natural sweetness and add a crunch. Totally optional of course, another are raisins or dried cranberries.
You could also consider adding some finely chopped herbs like fresh parsley, cilantro, or mint. They infuse their unique flavor into the dish and add more color too. The possibilities are endless really when made homemade.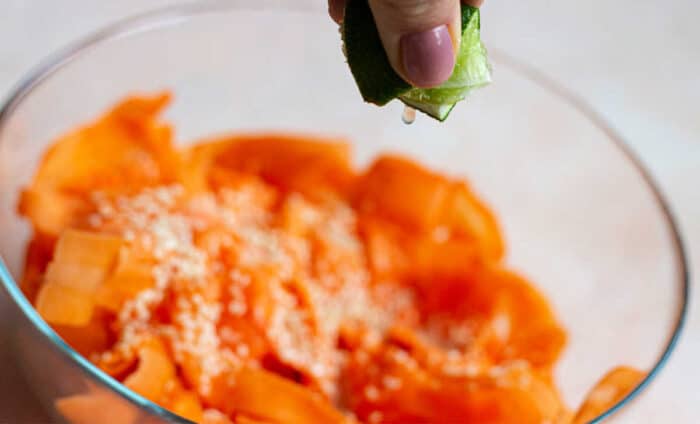 Tik Tok Carrot Salad
Carrot salad dressing really is just a simple vinaigrette, or lemon-based dressing works wonders. A classic combination of olive oil, lime or lemon juice, salt, and rice vinegar allows the natural flavors of the carrots to shine with a cool refreshing element. If you prefer a creamier dressing, consider whisking in a dollop of Greek yogurt or tahini too!
Once your ingredients are mixed, allow the flavors to meld together by refrigerating the salad for at least 30 minutes. The marinating time allows the carrots to soften slightly while still retaining their satisfying crunch. When ready to serve, garnish with a sprinkle of nuts or sesame seeds for an extra visual appeal.
This raw carrot recipe offers a host of health benefits. As mentioned earlier, this veggie is excellent source of vitamin A and fiber. Adding nuts or seeds includes heart healthy fats, plant based protein, and texture so you will want seconds.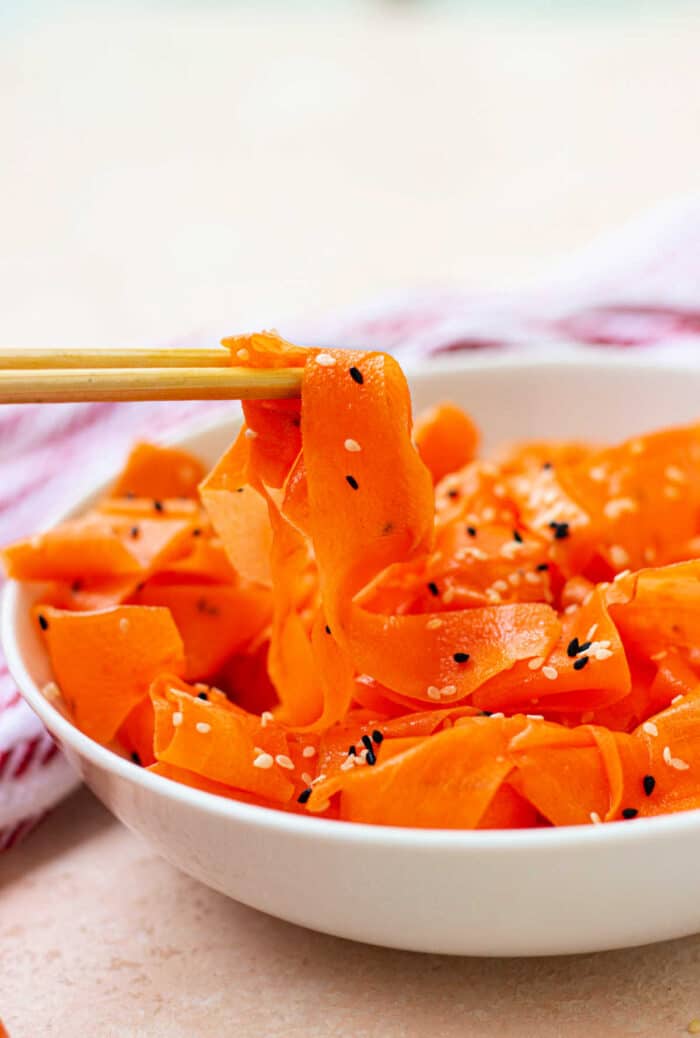 Grated Carrot Salad
Whether you're looking for a quick and easy side dish, a light and refreshing lunch, or a nutritious snack, French carrot salad raw or with this Asian dressing of sorts is an excellent choice. Its simplicity and versatility make it an ideal addition to any meal plan or dietary preference. All you need is a bowl and peeler to make this with;
3 carrots peeled, use peeler to peel rest into a bowl
1 tsp fish sauce and rice vinegar
1/2 fresh lime juiced
Salt
Maple syrup for a bit of sweetness
1 tsp olive oil
2 tsp sesame seeds
To make spicy carrot salad add a shake of red pepper flakes. For tang add 1 tsp dijon mustard, there are tons of tweaks you can make. Before you jump to recipe here are a few questions I have received so far;
What are the benefits of eating carrot salad everyday?
Grated carrots with this simple dressing contains plenty of vitamins which improve immune functions. As we all know, raw carrots are said to improve vision so there's that. Some say it is a part of their weight loss journey.
When should I eat a raw carrot salad?
Any time of day is great to eat regular or carrot salad with raisins. Once or twice a day would be okay if you loved it so much and wanted to add it into your regular diet.
How Can I Keep My Salad Fresh Longer?
This actually saves really well unlike one made with lettuce. Since this veggie is quite firm it will soften a bit when kept in the fridge overnight but honestly it marinates longer and the flavor intensifies. I would not say it is great beyond 24 hours but next day it might actually be better than fresh. 😉
How to Use Grated Carrots
Use it for this!! using a grater makes the pieces even smaller which means they will soak up even more of this vinaigrette. The two other things I use raw carrots for is in my meatloaf as well as zucchini carrot muffins for breakfast.
Want to see a few of my favorite things that I am totally obsessed with?? Take a peek and see how many you might already have…twinsies!
Looking for more easy family recipes and tips? LIKE The Typical Mom Facebook page?
Then sign up for my free newsletter, and follow me on Pinterest! 😉
***** If you LOVED this recipe give it 5 Stars below and let everyone know what you thought about it. 😉
Raw Carrot Salad
Raw carrot salad recipe from Tik Tok is here to follow! How to make shredded carrot salad with a light Asian dressing as a side dish or meal.
Instructions
Remove the outside peel of carrots, discard. Use peeler to peel shavings of veggie into a bowl. Add salt, toss to coat. Let sit for 5 minutes.

Whisk all other ingredients other than sesame seeds together in a small dish, pour over carrots. Toss together to coat. Cover bowl with plastic wrap and let it sit in the fridge for 30 minutes.

Remove, stir, top with sesame seeds and enjoy.
Nutrition Facts
Raw Carrot Salad
Amount Per Serving (1 oz)
Calories 29
Calories from Fat 9
% Daily Value*
Fat 1g2%
Sodium 197mg9%
Potassium 113mg3%
Carbohydrates 5g2%
Protein 0.5g1%
Vitamin A 5098IU102%
Vitamin C 3mg4%
Calcium 21mg2%
Iron 0.2mg1%
* Percent Daily Values are based on a 2000 calorie diet.