How to make TikTok salmon sushi cups is here! Seaweed sushi cups made as a muffin tin recipe with Nori sheets filled with fish, rice and killer sauce make it a fun appetizer. Serve raw or cooked for a delicious treat.
I will say we make the best dry rub baked salmon around. It was that recipe that made even my kids fall in love with fish for dinner. They've always loved sushi too so when we saw salmon sushi cups on TikTok they had to make them! (affiliate links present)
Salmon Seaweed Cups
Salmon sushi has long been popular for its exquisite flavor, beautiful color, and it is almost a piece of art when they layer it on the rice and seaweed. While traditional sushi rolls and nigiri are classics, there's an exciting and convenient alternative TikTok fans are embracing: Sushi Cups.
Made as a fun salmon muffin tin recipe cut into bite-sized handheld lunches or dinners, you get all the flavors you love but portable! Here we'll explore how to make Salmon Sushi Cups and fill them with your favorite fish, rice and green onions. You can serve them cooked or with raw fish on top.
Seaweed Muffin Cups
One of the advantages of filling Nori seaweed cups is their convenience and portability. Unlike traditional sushi rolls, there's no need to master the art of rolling. The cups are cut and pushed into a muffin tin used as the mold. A great option for sushi lovers on the go or those who want a quick and easy sushi fix at home.
Seaweed salmon cups are also ideal for parties and gatherings. Write it on your charcuterie board shopping list to make for your next party y'all. The molds can be prepared in advance, filled on demand and served as individual portions. That way you can allow guests to enjoy sushi without the need for chopsticks or cumbersome rolls. Ingredients are;
1/2 lb salmon cut into small bite size pieces

use fresh or thawed as frozen salmon will release liquid and make the texture strange

Soy sauce
Mayonnaise
White rice cooked in rice cooked to tender = 2 cups cooked
1/4 tsp salt
1 tbsp rice vinegar
Seaweed sheets each one cut in fourths
1 tbsp sesame seeds
1/3 c green onions
If you wanted to make these spicy you could ass some Sriracha into the mayo mix. Red pepper flakes work too but will add a weird texture.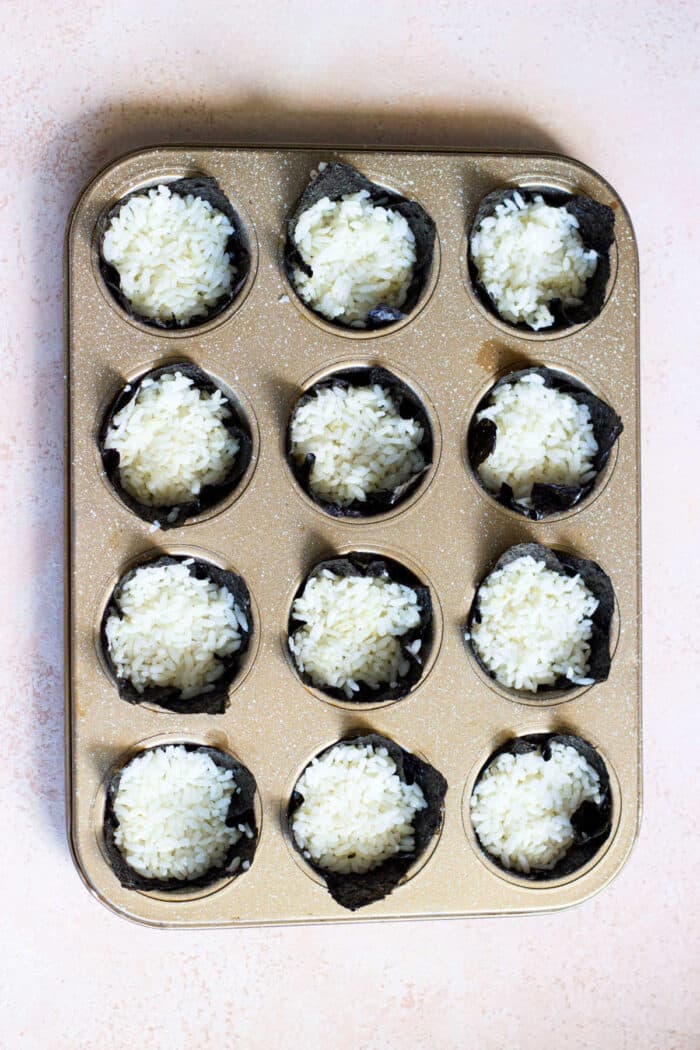 Tiktok Baked Salmon Sushi Cups
There are a multitude of sauces you could use to coat the fish, or leave it plain. We have one in the recipe card or this is how to make Sriracha mayo with a bit of heat. Salmon cups, is not only delicious but also packed with health benefits. This pink fish is an excellent source of protein, omega 3 fatty acids, and vitamins D.
Making these at home is quite simple. This is how to cook rice in Instant Pot so it won't take long. A rice cooker works too of course if that is your way of choice. Once tender you combine it with rice vinegar for flavor and allows it to stick together well. Long grain, jasmin rice or sushi rice is even better to use if you have it. Much stickier and most tender.
Raw Salmon Sushi Cups
If you didn't want to cook the fish and serve it sashimi style on top that is possible too. You will want to bake the seaweed cup with the rice on top first though so it keeps it's shape. SO just follow the steps to line cups, mix rice, press inside cups and then I would brush some soy sauce mayonnaise sauce on top so it doesn't dry out.
You would just need 6 minutes or so for this way just to warm them and have them keep their shape. Similar to our pepperoni cups except those are cooked at a lower temp for longer and have no filling.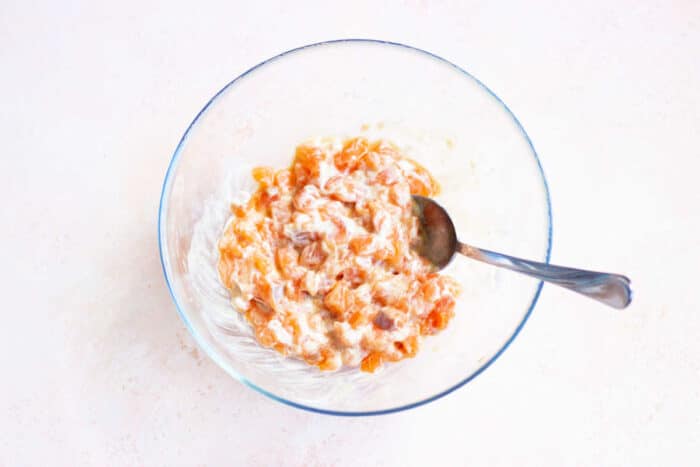 How to Make Seaweed Cups
How long do you cook bite size salmon? Well for a whole fillet 12 minutes is perfect. We are very particular when it come to seafood as we used to live on the coast and ate it a lot. Got it right off of the boat back then and it was incredible.
Now that we have moved to Idaho (without an ocean) it is hard to find those who understand that fish doesn't need long. SO we have figured out how to make things on our own. These are great paired with TikTok cucumber salad.
In a bowl, mix the salmon cubes, soy sauce and mayonnaise. (or make spicy mayo with Kewpie mayo and sriracha) Set aside so it can soak in for about 15 minutes.
Cut each seaweed sheet into 4 equal nori squares.
Arrange the sheets in a muffin tin by pushing one down into each muffin hole to the bottom.
In a bowl, mix cooked rice, salt and rice vinegar.
Divide the cooked rice into the seaweed cups.
Put marinated salmon on top of the rice.
Sprinkle with sesame seeds.
Preheat the oven to 400 and bake in oven for 10 minutes (or up to 15 minutes, until fish is cooked to your liking). Garnish with diced green onions.
I have yet another option for you too!! If you want to add some texture with breaded salmon bites that is great too. You would cook fish separately as directed in this link, the cups by themselves as directed above without the fish inside. Then top with meat and drizzle the mayo sauce over the top!!
Sushi Cups with Salmon
And as you may have assumed you could use any type of fish you wanted. Use two and mix them if you like!
How are Salmon Sushi Cups different from regular sushi rolls?
Salmon seaweed cups differ from regular sushi rolls in their presentation and construction. Instead of rolling the ingredients in a sheet of seaweed (nori) and slicing them into bite-sized pieces, the cups are formed by pressing sushi rice into a cup shape and topping it with salmon and other ingredients. They provide a unique and visually appealing way to enjoy sushi.
Can I make Salmon Sushi Cups ahead of time?
Tt's best to assemble Sushi Cups with Salmon close to the time of serving to maintain their freshness and texture, you can prepare the components in advance. Cook the sushi rice ahead of time and refrigerate it until needed.
Slice the salmon and prep the other ingredients, keeping them chilled and sauce in a bowl. Assemble the cups just before serving to ensure the best taste and presentation.
Can Salmon Sushi Cups be made gluten-free?
Yes, these can be made gluten-free by using gluten-free soy sauce or tamari sauce, and ensuring that all other ingredients are gluten free. It's important to check the labels of all condiments and seasonings to ensure they are free from gluten ingredients.
Want to see a few of my favorite things that I am totally obsessed with?? Take a peek and see how many you might already have…twinsies!
Looking for more easy family recipes and tips? LIKE The Typical Mom Facebook page?
Then sign up for my free newsletter, and follow me on Pinterest! 😉
***** If you LOVED this recipe give it 5 Stars below and let everyone know what you thought about it. 😉
Salmon Sushi Cups
How to make TikTok salmon sushi cups is here! Seaweed cups made in a muffin tin with Nori sheets filled with fish, rice and killer sauce.
Instructions
In a bowl, mix the diced fish, soy sauce and mayonnaise. Cut each nori sheet into 4 equal pieces.

Arrange the sheets in a muffin tin by pushing one down into each muffin hole to the bottom. In a bowl, mix cooked rice, salt and rice vinegar.

Divide the cooked rice into the seaweed cups. Put the fish on top of the rice. Sprinkle with sesame seeds. Bake 10 – 15 minutes in 400 F oven (or until fish is cooked to your liking). Sprinkle with green onions.
Nutrition Facts
Salmon Sushi Cups
Amount Per Serving (1 oz)
Calories 105
Calories from Fat 27
% Daily Value*
Fat 3g5%
Cholesterol 11mg4%
Sodium 199mg9%
Potassium 129mg4%
Carbohydrates 13g4%
Protein 5g10%
Vitamin A 69IU1%
Vitamin C 1mg1%
Calcium 16mg2%
Iron 0.5mg3%
* Percent Daily Values are based on a 2000 calorie diet.