Air fryer frozen shrimp comes out tender and delicious in no time at all! Forget to defrost dinner? NO problem in your Cosori or cooking Ninja Foodi frozen shrimp either. Throw them in rock hard and cook in just minutes.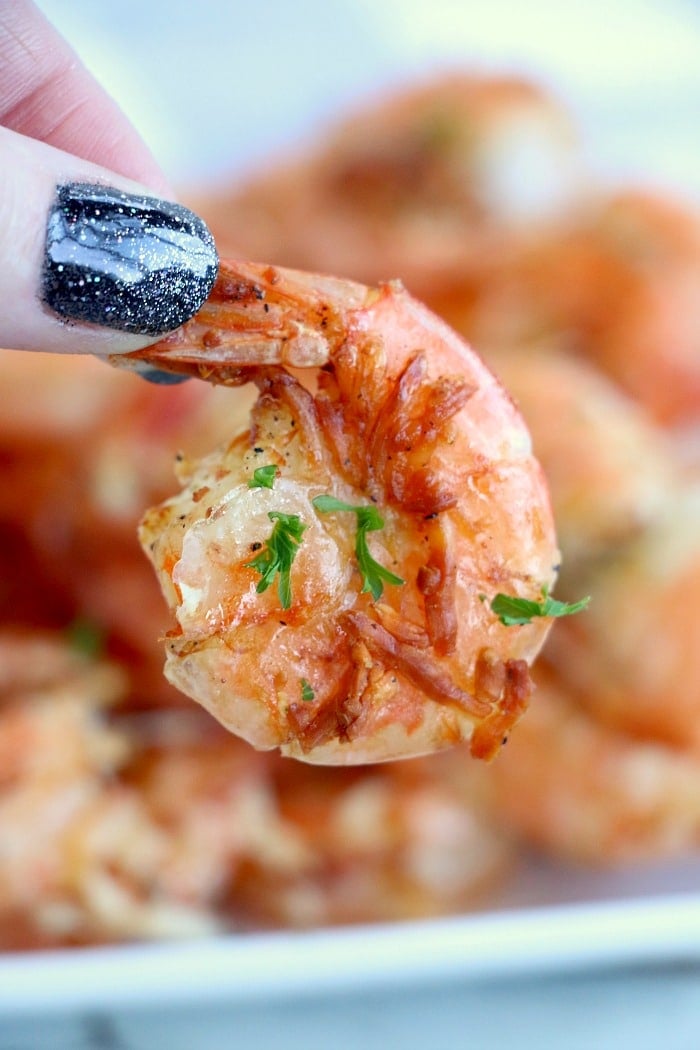 Wondering how long to cook frozen shrimp in air fryer? One of our many easy air fryer recipes here on The Typical Mom blog. (participant in the Amazon program, affiliate links present, originally published 2/20)
How to Cook Frozen Shrimp
We've got the perfect temperature and time so your air fryer frozen shrimp comes out tender yet crispy on the outside. Any brand will work and come out perfectly, we've used them all.
If you want to know how to cook frozen meat we have all the answers here.
If you love air fryer recipes too, here are some resources to start with: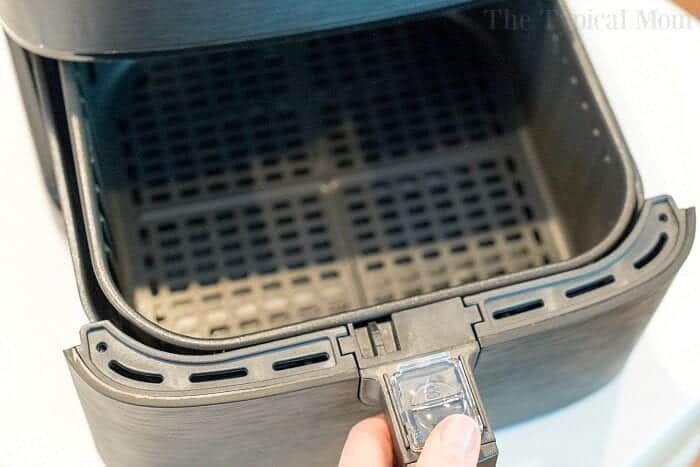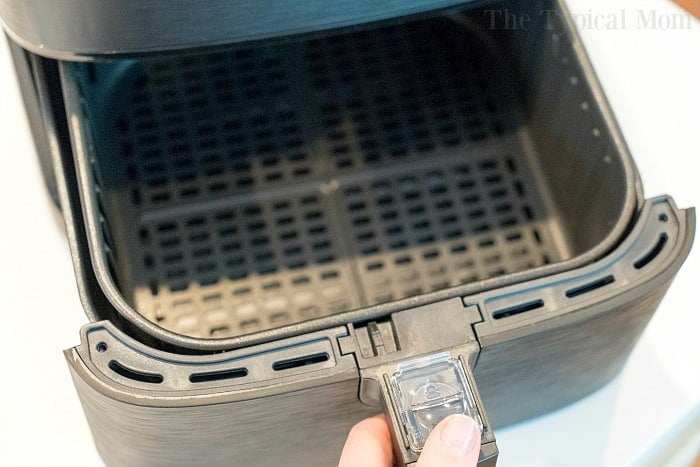 Yes you can make air fryer fried shrimp with light breading. BUT if you forget to defrost these buggers we have a way to make them amazing too.
You really don't need a lot of coating for them to be delicious. Just simple seasonings or a bit of Old Bay seasoning are fantastic. Try them!
If you're a seafood lover I bet you have a bag of these in your freezer right now and wondering
Can you cook frozen shrimp?
YES. You. Can! We will show you the best method to do so right here.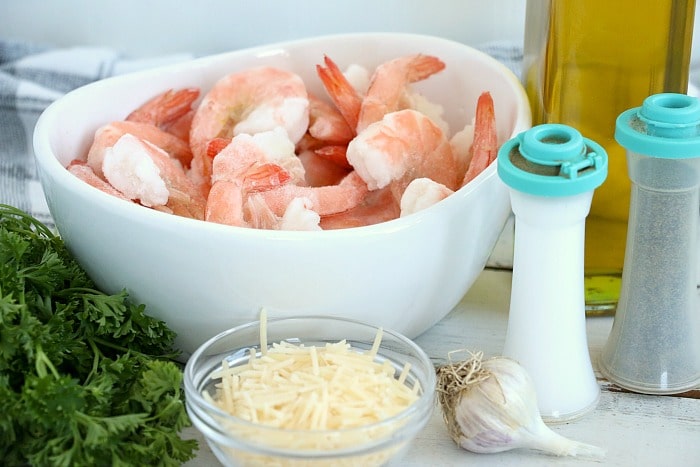 We've cooked a lot of frozen foods in our air fryer and Instant Pot. Why? Because I'm forgetful and I like to have tips like how to cook frozen salmon and frozen wings perfectly if I haven't defrosted them ahead of time. It happens, I can't be the only one here.
If you do happen to remember you can make Instant Pot shrimp in just one minute. Seriously. Bookmark that post so you can come back to it another night.
Air fryer frozen shrimp
Electric air fryer
Bag of frozen shrimp – timing is for large or jumbo shrimp, shelled with tails attached
Parmesan cheese
Salt and pepper
Minced garlic
Fresh parsley is optional
Then just lightly season it when it's served, or toss it in with some buttered noodles, kids love that.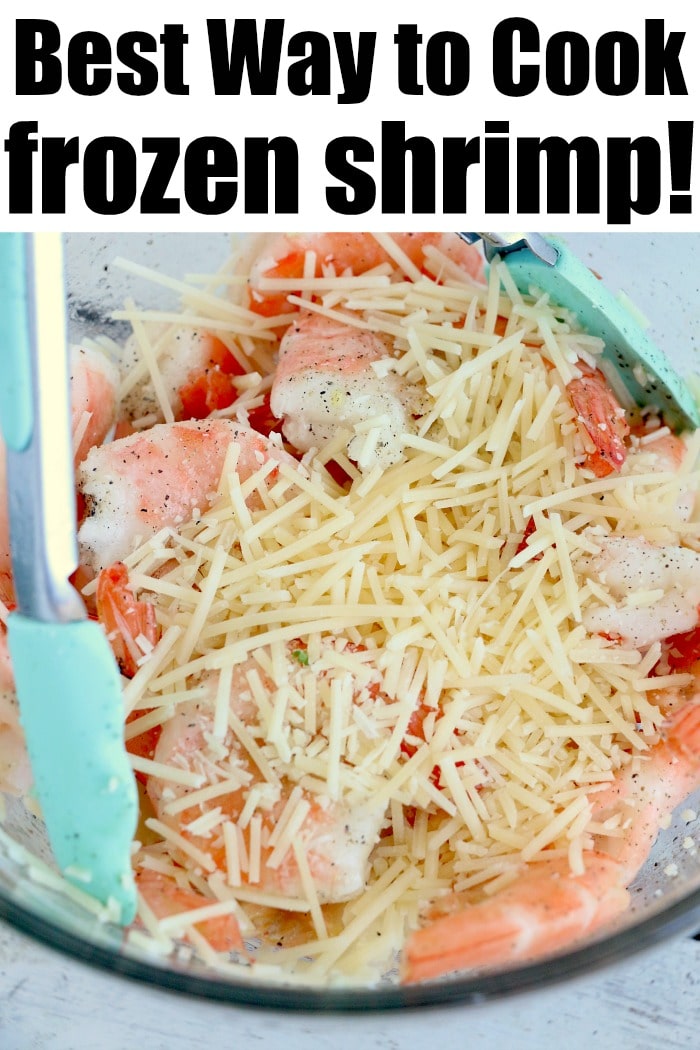 I think it is necessary to choose shelled when cooking shrimp in the air fryer basket so the outsides don't get overcooked and the insides remain raw. This also means there's nothing to do when you prepare shrimp like these ahead of time.
Since they're frozen you wouldn't be able to take the shells off anyway.
Here are tips to getting that deep fried taste while air frying your seafood:
Season the outsides well.
Make sure you lay shrimp in a single layer so every angle gets hot air and cooks evenly.
Preheat the air fryer before setting cooking time and placing inside the basket.
If you follow these you will achieve the best, tender, bites ever.
Frozen shrimp in an air fryer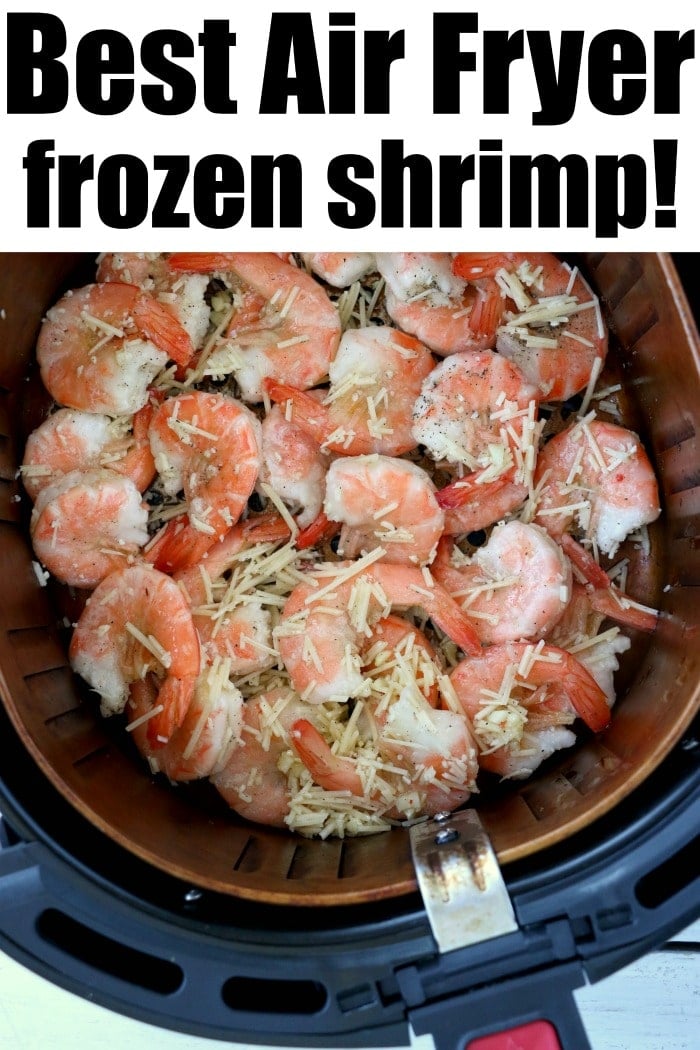 How Long to Air Fry Frozen Shrimp
In a bowl mix your jumbo shelled shrimp together with olive oil, seasonings you love and some shredded parmesan cheese.
Preheat air fryer to 350 degrees and pour in without allowing them to overlap.

you may need to make more than 1 batch if your basket in small

Set timer to 12 minutes.
At minute 6 open the drawer and gently shake or flip pieces.
Cook an additional 4-6 minutes or until they're light pink in color
How do you know when shrimp is done?
When properly cooked, the exterior should be pink with red tails. The flesh should look slightly opaque and a little white in color. If it is bright white in color, there's a good chance the shrimp were overcooked.
There's a fine line between perfect and too well done so you need to watch them carefully.
Allow to cool enough to remove shells and enjoy immediately for best results.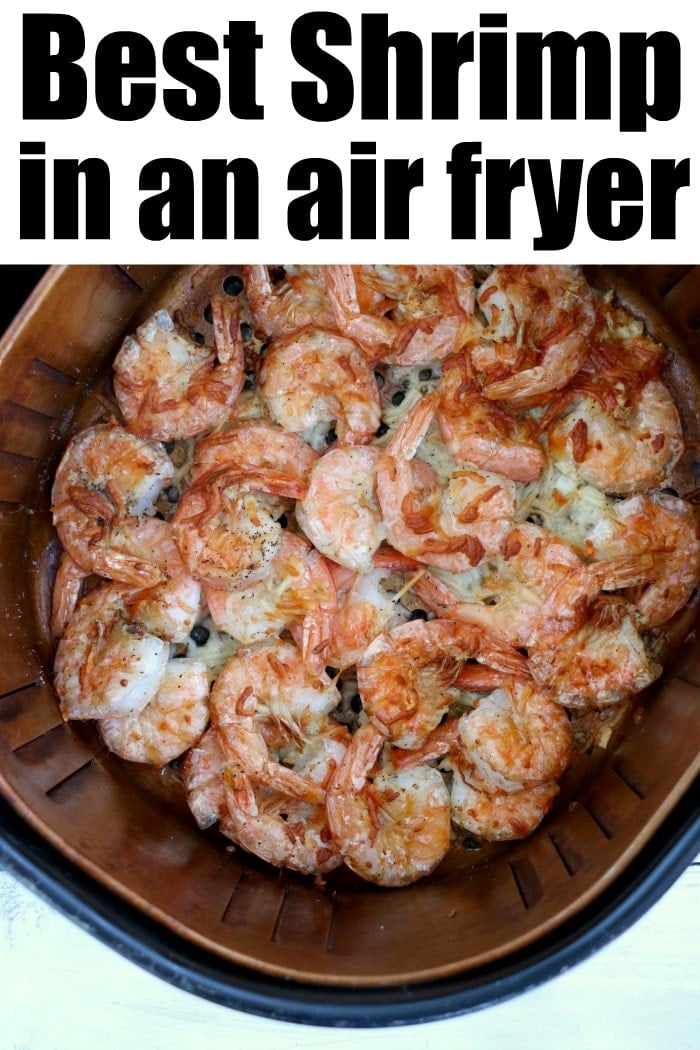 Frozen Breaded Shrimp in the Air Fryer
Remember this is for formerly fresh, shrimp with no breading. Frozen popcorn shrimp or butterfly shrimp you can find in the freezer section are different.
For the most part you can follow instructions on the side of the box for the oven and cook accordingly.
For instance if it says they take 10 minutes in a 400 degree oven I would set air fryer to 400 and cook for a bit shorter, maybe 5 minutes and check. Add a few more minutes until they're done to your liking and make note of cook times for future use.
Print out our air fryer cooking times printable here. This will help you figure out how to cook other frozen foods and fresh meats.
Then you'll be able to air fry everything like we do night after night. Yes, we are a bit obsessed.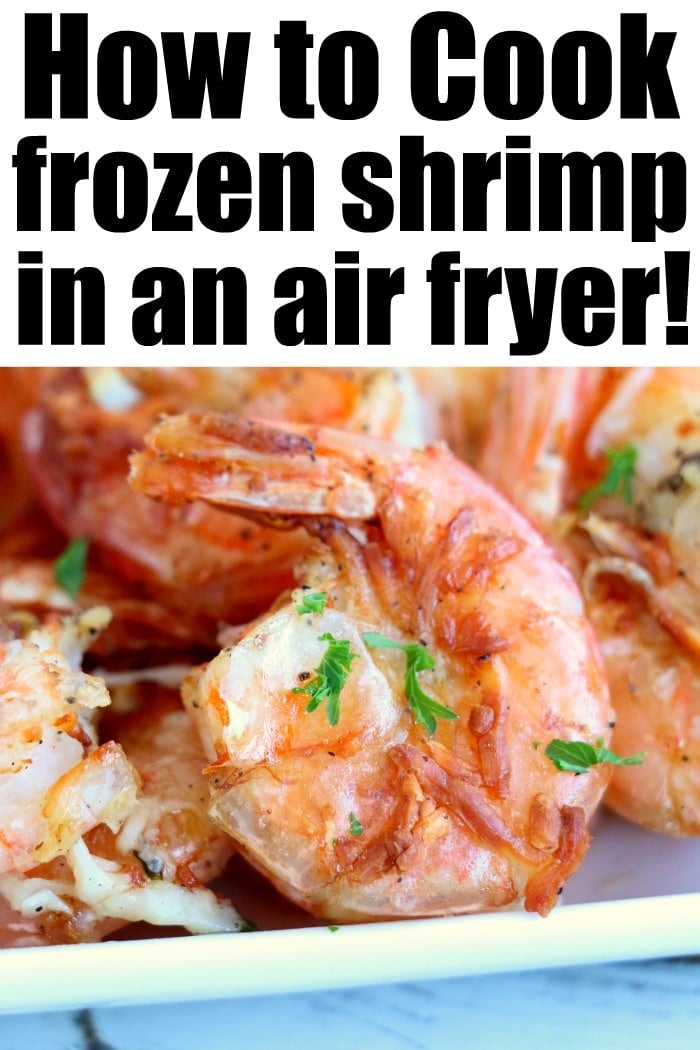 What can you do with peel and eat shrimp?
These are a fun hands on, messy appetizer for a casual dinner parties or weeknight meal. If you want to make this a main dish for your family, just peel the shrimp when done and serve over white rice or with vegetables and some garlic bread.
Find more Ninja air fryer recipes here. A few of our favorites are:
Follow our air fryer fried shrimp with breading for another delicious idea.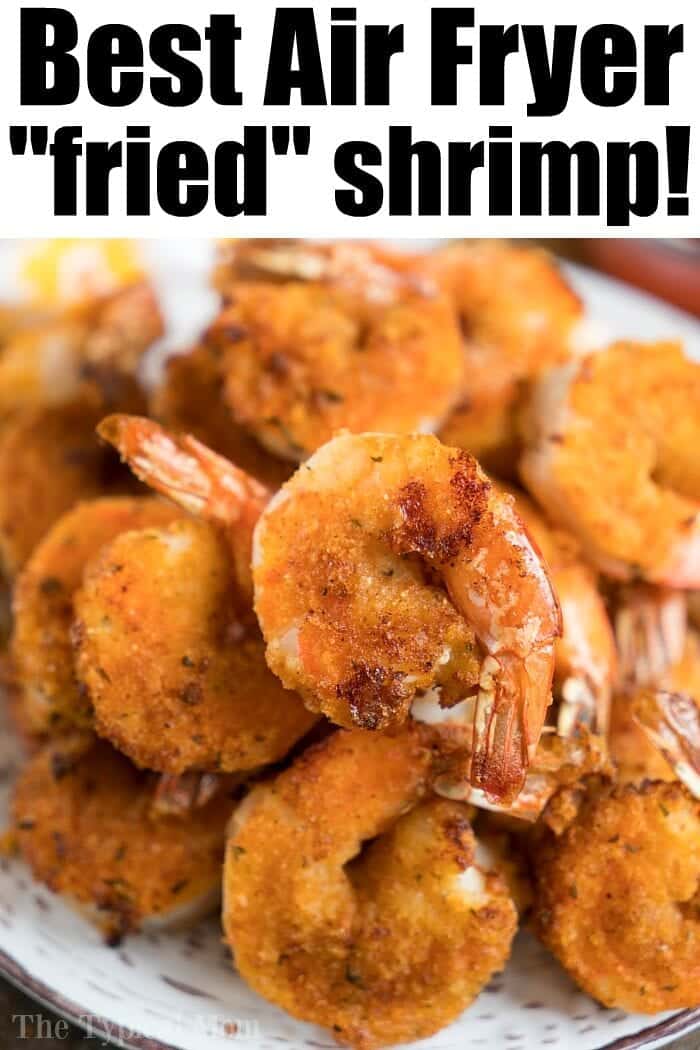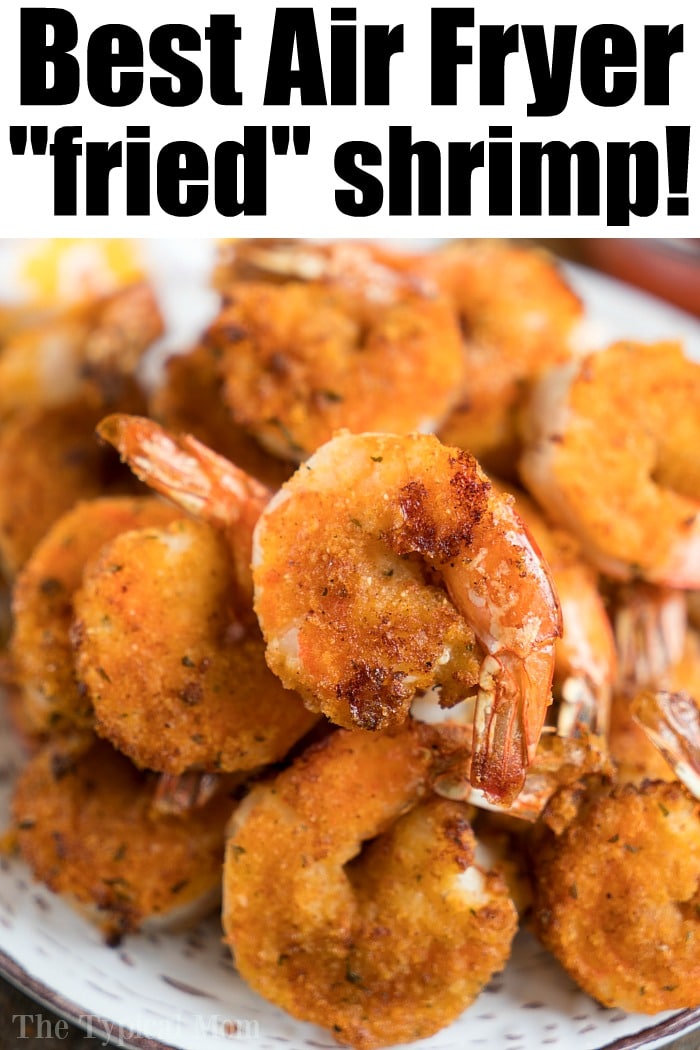 Want to see a few of my favorite things that I am totally obsessed with or visit my Etsy shop?? Take a peek and see how many you might already have…twinsies!
Looking for more easy family recipes and tips? LIKE The Typical Mom Facebook page?
Then sign up for my free newsletter, and follow me on Pinterest! 😉
***** If you LOVED this recipe give it 5 Stars below and let everyone know what you thought about it. 😉
Ninja Foodi Shrimp
Air Fryer Frozen Shrimp
Air fryer frozen shrimp comes out tender and delicious in no time at all! Forget to defrost dinner? NO problem in your Ninja Foodi or other brand. Try this!
Instructions
In a bowl coat frozen shrimp with olive oil.

Then add in and mix in parmesan cheese, minced garlic, salt and pepper.

Put into air fryer basket without overlapping and cook at 350 degrees for 12 minutes shaking basket halfway through, or until they're opaque white and pink in color.
Nutrition Facts
Air Fryer Frozen Shrimp
Amount Per Serving (2 oz)
Calories 82
Calories from Fat 81
% Daily Value*
Fat 9g14%
Cholesterol 4mg1%
Sodium 466mg20%
Potassium 14mg0%
Carbohydrates 1g0%
Protein 1g2%
Vitamin A 43IU1%
Calcium 30mg3%
Iron 1mg6%
* Percent Daily Values are based on a 2000 calorie diet.