Instant Pot shrimp is easy to cook! We'll teach you how to cook frozen shrimp in your pressure cooker + share other easy seafood recipes too. If you love to add these to alfredo for dinner, as a high protein snack or as an appetizer this recipe will work great for them all.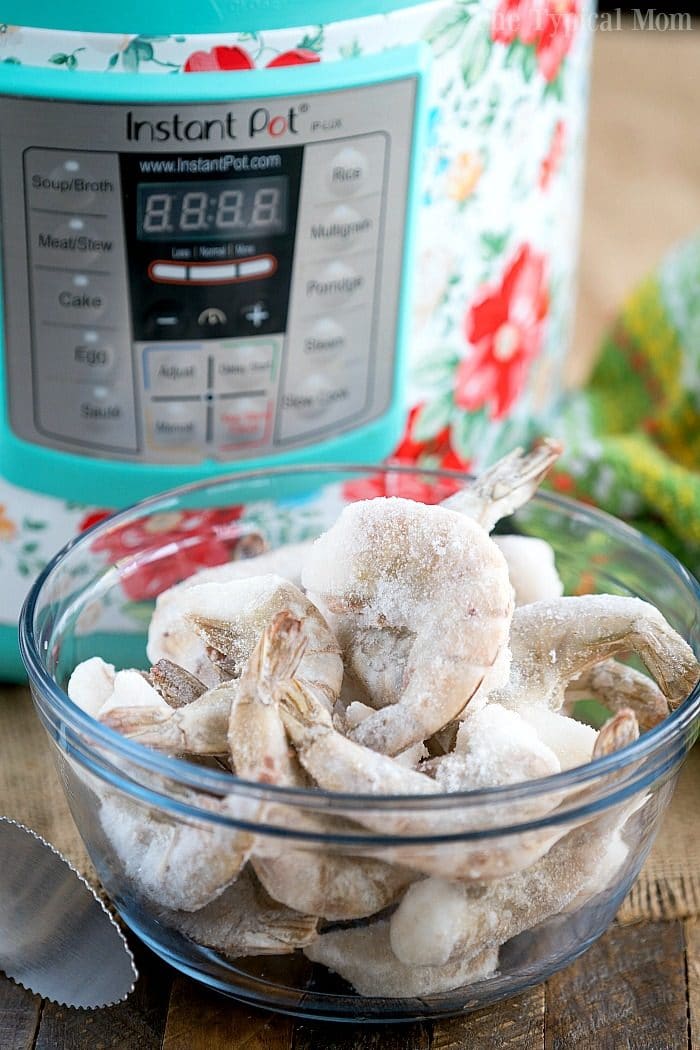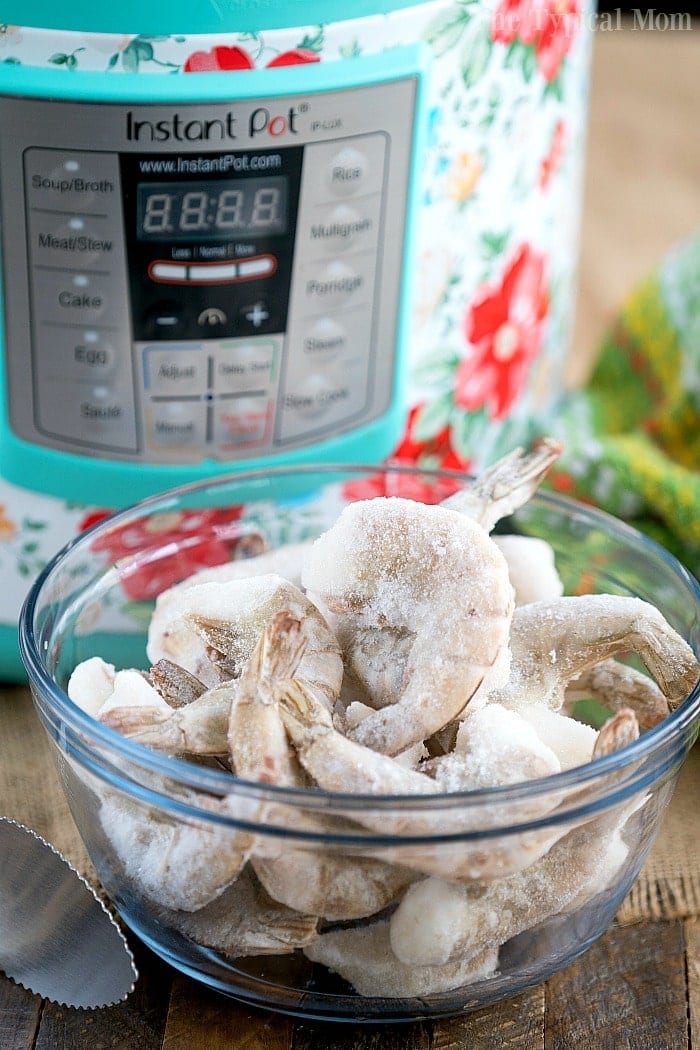 Wondering how to cook frozen Instant Pot shrimp what to do with fresh shrimp in your pressure cooker? We have directions for you so they're perfectly pink when they're done! This and more on our easy Instant Pot recipes page. (originally published 1/19, affiliate links present)
Instant Pot Shrimp Frozen
We started with this Instant Pot fish recipe where we made both vegetables and white fish in stackable pans inside our pressure cooker, that was yummy. Now we've made lots of Instant Pot shrimp recipes to share. Surprisingly there isn't really a difference in cook time whether they start out rock hard or defrosted first.
Last weekend I was craving shrimp so I sent my husband out to buy a few pounds so I could figure out how to cook shrimp in the Instant Pot. You can make Ninja Foodi shrimp this same way too using the pressure cook function and the lid that isn't attached.
FIRST – You should sign up for my free newsletter so you get new posts emailed to you twice a week and never miss out on anything! Now let's start with a few basic tips:
Make sure to Bookmark our InstaPot recipes page. We add new ones each week!
Then PRINT this —–> Instant Pot cooking times cheat sheet that will help you understand how long meat, vegetables and beans take to cook in your pressure cooker.
For reference, this is the pressure cooker I have (a 6 quart) and use for all recipe creations.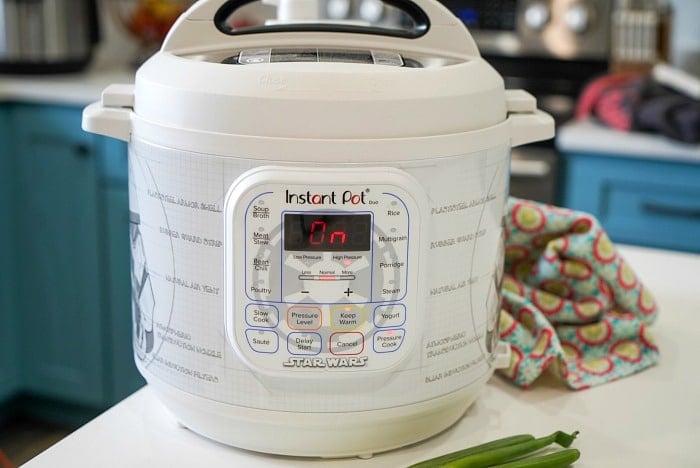 Of course he followed directions to a tee (not) and brought home two bags of frozen shrimp instead of fresh from the meat counter so I had to think of what to do with them. My IP was new to me at the time and I was furiously creating new one pot meals for my family, and to share with all of you.
I started with the simplest of them all, just how to cook them all by themselves. As time went on and I got the hang of how to get them done perfectly I added other items too. That is when the Instant Pot shrimp boil was created.
Frozen shrimp Instant Pot
We figured this out!
This is the size I was working with, extra jumbo. They shrink quite a bit and become bite sized when they're done so don't let the size scare you.
Guaranteed you too can find this in your grocery store in the freezer section too so you can make shrimp in the Instant Pot like we did.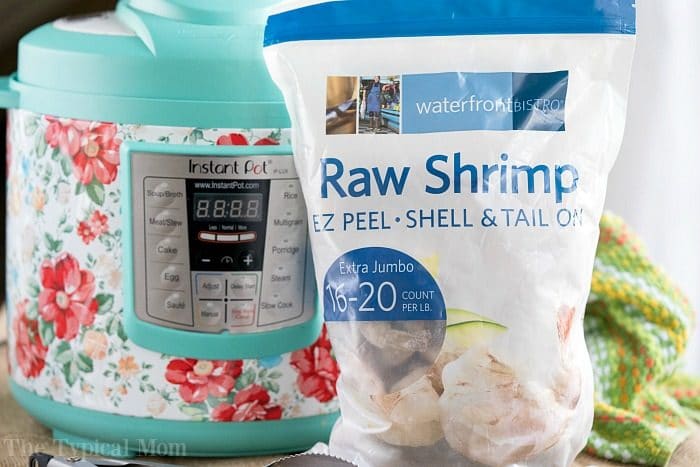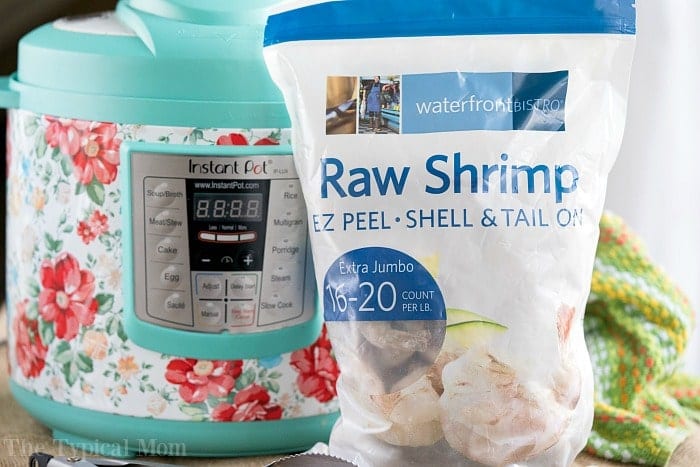 How to Cook Raw Shrimp
First I used the cooking times printable linked above to figure out about how long it would take. Adjustments I made to cook fresh and frozen shrimp in the Instant Pot.
I got the cook times off the Instant Pot website but ended up adjusting the shrimp cook times after I experimented with them on my own.

There's stated that shrimp took 1-2 minutes if they were fresh, I found it took 0 minutes on my Instant Pot
It said frozen shrimp took 2-3 minutes, once again they took 0 minutes to be pink like you see here below
Fresh fish was said to take 2-3 minutes, my 3/4 lb. fillet of salmon took 4 minutes to be cooked through so I increased the time to 4
Unless you were adding a TON of shrimp into your pressure cooker, like to the 3/4 fill line I wouldn't cook them longer than 0 minutes.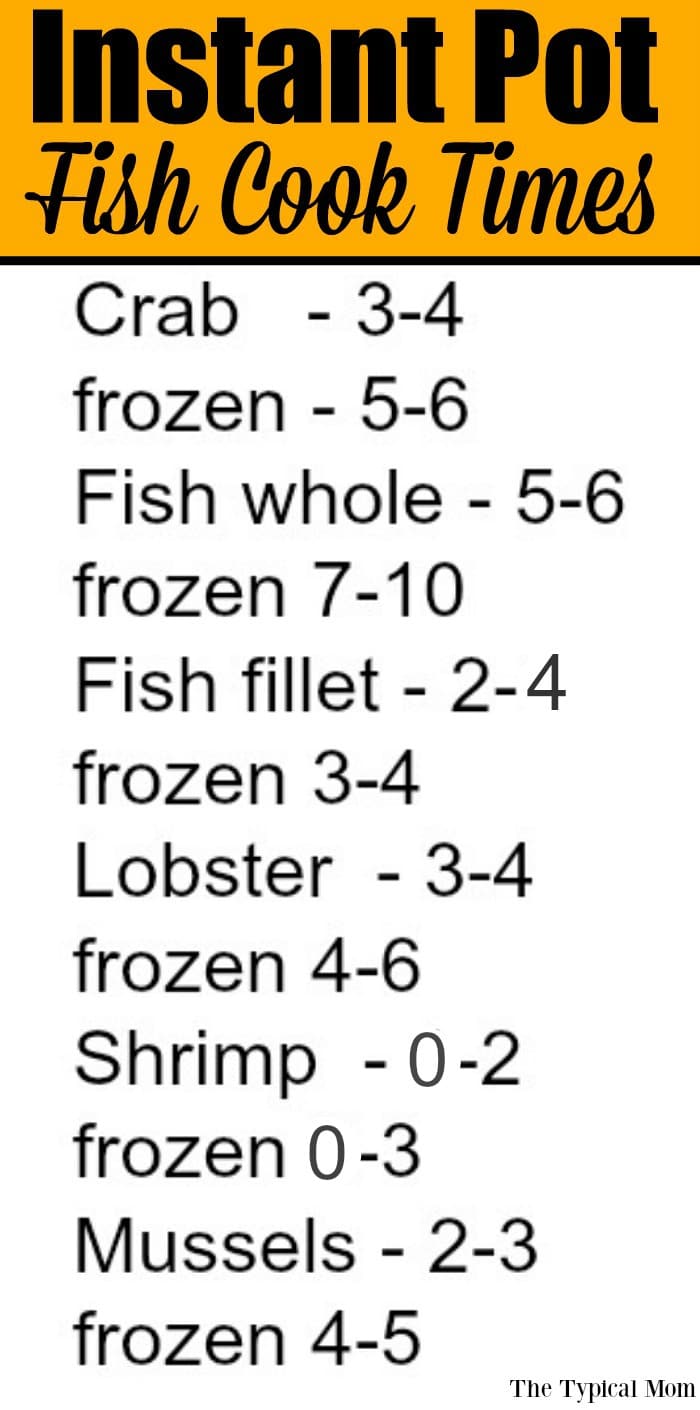 Instant Pot Shrimp and Vegetables
This is possible too, you just have to choose those that have the same quick cook time. Broccoli is the best of the best for this duo. Just 1 minute will work for them both and then just top. with your butter, salt and pepper for a virtual fat free dish.
Best shrimp to cook in your pressure cooker
I'm specific in showing you what I used here. I took a photo of the bag, size, etc because these are the best shrimp to use. Use shrimp with the shells still on so they don't cook quite as fast as if there were no shells. You do NOT want to overcook shrimp or they'll be hard and rubbery.
Extra jumbo size is best. – Once again, they cook FAST so this size enables them to not be overcooked even at 0 minutes you wouldn't want them more done than this.
Shrimp in Instant Pot
Instant Pot steamer basket – I like the one with little feet on the bottom because it has a hook attached and a piece for easy lifting out too
Instant Pot or any other brand of pressure cooker like Crock Pot Express – this is the pretty one I have
That is literally all you need. From there you can shell them and enjoy your cooked shrimp as is or add them to your favorite Instant Pot shrimp recipe, we will share a few of our favorites and share pressure cooker garlic shrimp below.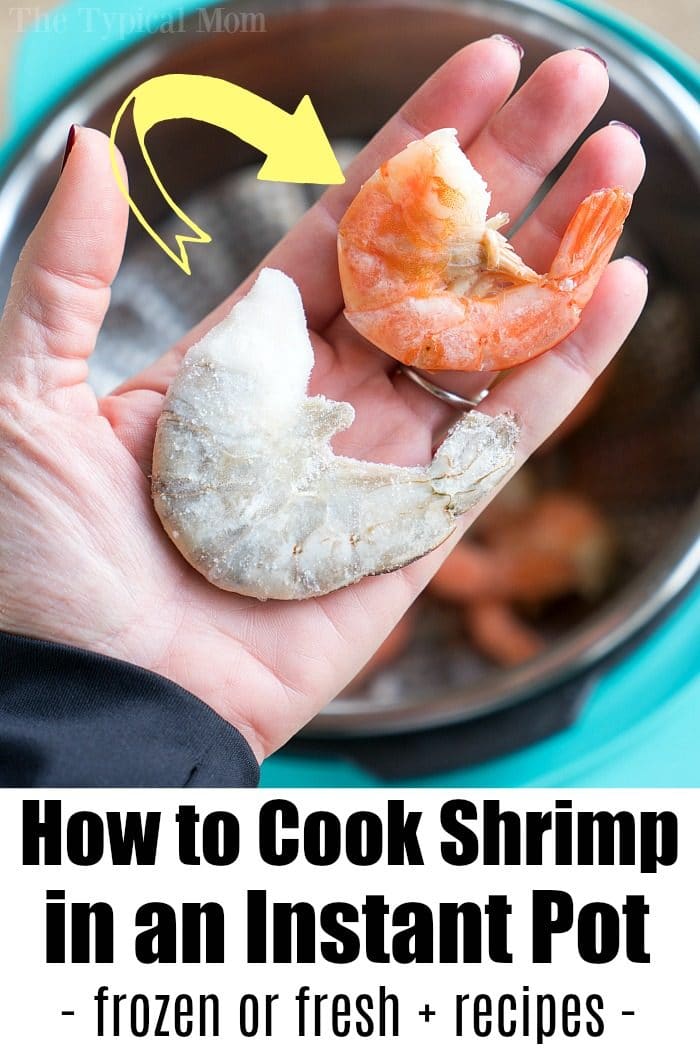 How to cook frozen Instant Pot shrimp
Pour 1.5 c water into your pressure cooker. Open your vegetable steamer basket and place 10-20 jumbo frozen raw shrimp into your basket. Spread them out as much as you can so they're overlapping the least amount possible
Close your lid and steam valve.
Set to high pressure cook for 0 minutes they cook quickly so stand by!

do 1 minute if adding broccoli in your pot together

Do a quick release
Lift out steamer basket immediately so they don't continue to cook
Remove shells and enjoy or add to shrimp pasta recipe.
So quick and easy, we do this all the time just for a snack!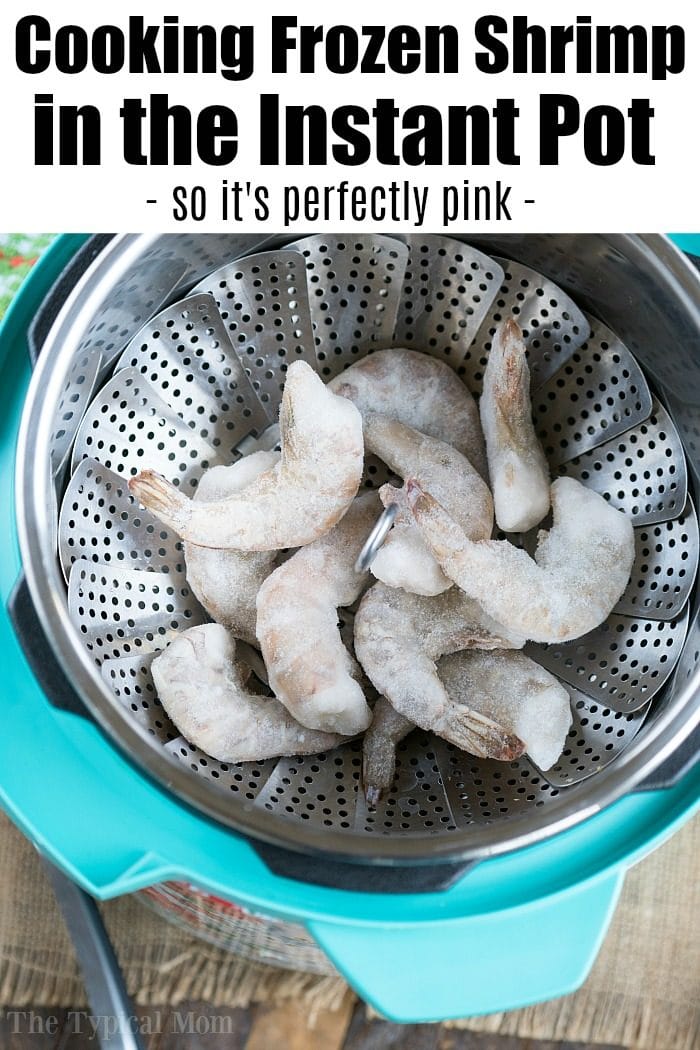 How to set your Instant Pot to cook for 0 minutes?
Add items into your pressure cooker – if you're brand new here's basics on how to use an Instant Pot
Press manual (if you have that button)
Then pressure, high
Adjust using – button until it says 0
Allow it to start
It will beep as soon as it reaches pressure
That is what it means to cook for 0 minutes in your Instant Pot
Do a quick release (for shrimp anyway, or follow the recipe you're reading for further instructions)
Note: When you follow these steps your frozen shrimp will come out cooked, not just thawed and still raw. Here they are after just zero minutes in the Instant Pot!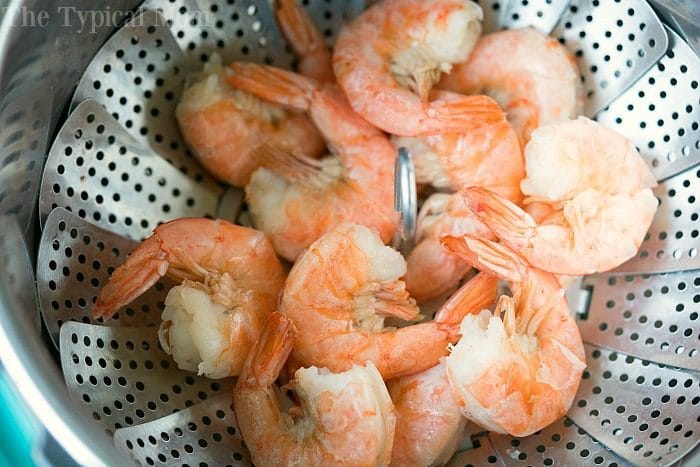 Instant Pot shrimp scampi
12 jumbo shrimp – if frozen first follow instructions to thaw them
Butter
Minced garlic
Diced chives – optional
We are working on other Instant Pot shrimp recipes but for now here are others you can try:
Our new Instant Pot shrimp alfredo pasta is so good and a new family fave!!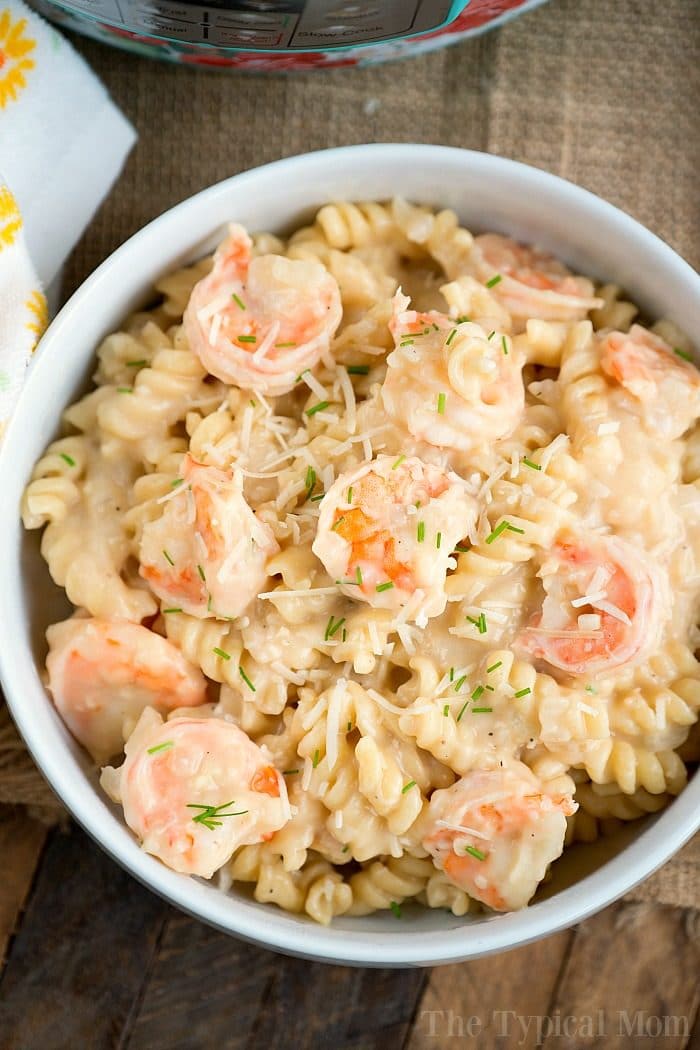 Thaw shrimp in the Instant Pot
Then you can make garlic butter shrimp this way below.
I made these using jumbo frozen shrimp initially with the shells on. I like this size because smaller ones tend to get overcooked. Yes, even with a 0 minute cook time.
You could make these garlic shrimp with fresh pcs. as well, they will just get more done.
They only take about 2 minutes to cook with the butter and garlic. Alternatively you can remove and just pour those items over the top.
Either way they become a delicious protein packed meal! If they're still frozen make air fryer frozen shrimp with parmesan or Instant Pot bang bang shrimp for dinner some time.
Printable recipe below so you can keep it handy. Use directions to make shrimp plain, or use butter and garlic instructions if you want to add a bunch of flavor with just a few simple ingredients.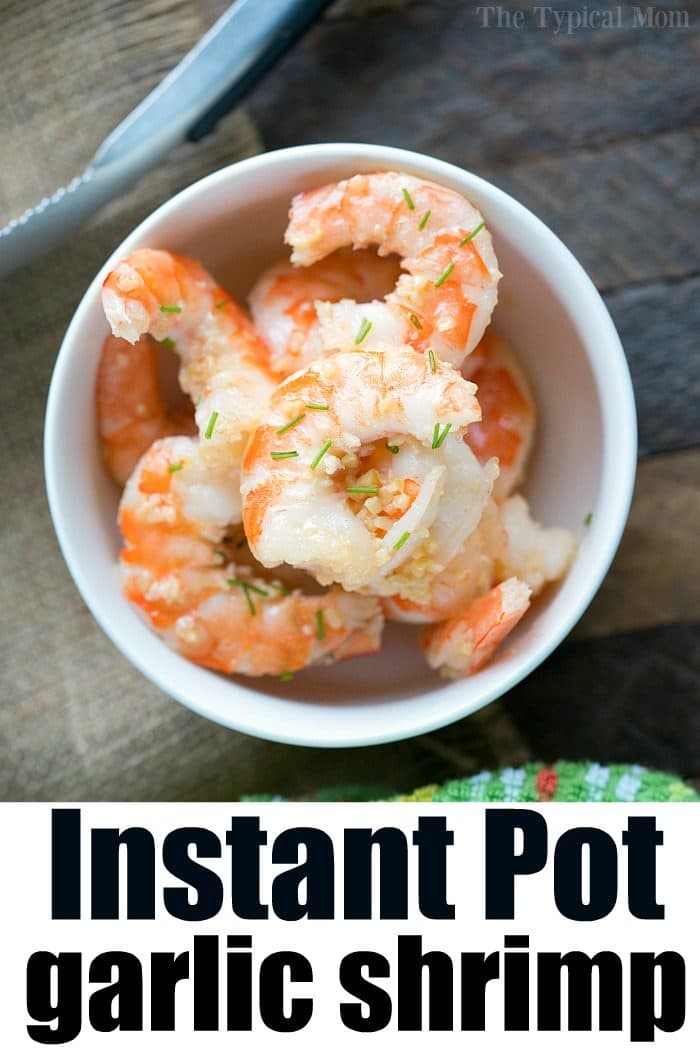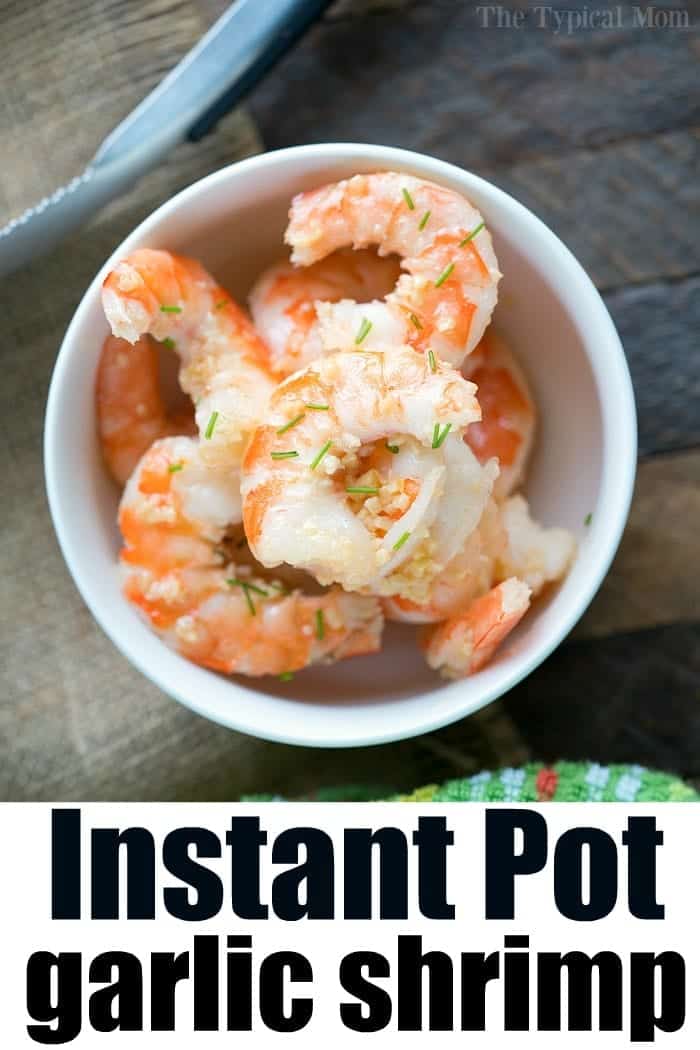 Want to see a few of my favorite things that I am totally obsessed with?? Take a peek and see how many you might already have…twinsies!
Looking for more easy family recipes and tips? LIKE The Typical Mom Facebook page?
Then sign up for my free newsletter, and follow me on Pinterest! 😉
***** If you LOVED this recipe give it 5 Stars below and let everyone know what you thought about it. 😉
Instant Pot Shrimp
Instant Pot shrimp is easy to cook! We'll teach you how to cook frozen shrimp in your pressure cooker + share easy Instant Pot shrimp recipes too.
Ingredients
Instructions
If using frozen shrimp:

Pour 1.5 c water into your Instant Pot and put a vegetable steamer basket inside your pot with your frozen shrimp inside.

Set to pressure high for 0 minutes, do a quick release.

Drain pot and follow below instructions to make into Instant Pot garlic shrimp.

Set Instant Pot to saute, low, and add butter.

When butter is melted add minced garlic.

Once butter starts to sizzle add your shrimp and toss with butter and garlic.

Cook 1-2 minutes if you're shrimp is fresh, until shrimp is pink and cooked through as much as you desire.

If shrimp was frozen and you used method above to thaw/cook them then once butter sizzles turn your pot off/cancel, put shrimp in, mix with ingredients, and take out immediately to eat.

Remove immediately and sprinkle with chives if you like. Enjoy.
Nutrition Facts
Instant Pot Shrimp
Amount Per Serving (2 oz)
Calories 113
Calories from Fat 99
% Daily Value*
Fat 11g17%
Cholesterol 45mg15%
Sodium 148mg6%
Carbohydrates 1g0%
Protein 1g2%
Vitamin A 390IU8%
Vitamin C 1.7mg2%
Calcium 16mg2%
Iron 0.1mg1%
* Percent Daily Values are based on a 2000 calorie diet.