How to host a Christmas cookie exchange with invitations, a contest, Christmas cookie recipes and free printables for it all are here for you. A holiday tradition you'll love with friends and family.
Have you been invited to a Christmas cookie exchange or want to host one yourself? We have fun ideas for you to incorporate into your get together! I mean you need some free party invitations too so I have those as well as voting ballots and recipes to boot. (affiliate links present)
Christmas Cookie Exchange Invitation
Ok so let's talk with the very beginning. I would think of your guest list ahead of time. If you are doing it with family you might be able to just text them but getting something in snail mail nowadays is pretty fun.
Totally worth it since this one is FREE for you to download. Just grab some stamps y'all and get to inviting all your favorite people.
I mean I am all about holiday printables of all kinds. When I can save money it's a game changer. Then I can spend all the $ on gifts instead, way more fun. Create your guest list and print as many of these as you need. Remember there are 2 on each sheet so you don't need as many sheets of paper.
Christmas Cookie Exchange Ideas
After you have those sent out you want to figure out which type of treat you are going to make, to share with others. Everyone is going to make 2 dozen so keep that in mind if some are very labor intensive and may take you a long time to create the day before. Something that saves well is best too.
Chat, talk, enjoy one from each guest and then explain the exchange rules, if there are any.
Everyone looks and votes on the most unique, prettiest, best tasting and overall fan favorite cookie.

you can have little prizes for each one

It is fun to incorporate some sort of baking or just cookie decorating idea with your guests. A fun one is decorating our cake mix gingerbread cookies.

if you wanted to go all out and make from scratch, we have gingerbread dough you can make too.

You can choose to watch something off our Christmas movies list which is a fun idea too. Enjoy it together or put it on for the kids in the other room so moms can just chat. 😉
For an easy activity that everyone can do (and doesn't cost a lot of money), put together our DIY gingerbread house kits. Create all the necessary items into a set 1 for each child or person. Lay disposable tablecloths down (outside is even better) and let them have a blast. Then roll it up when done and it's clean!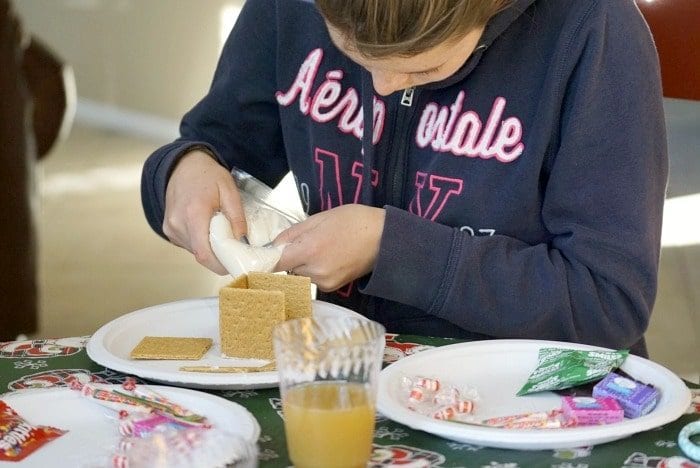 Cookie Exchange Party
Of course the ideas need to be age appropriate. I would make sure whatever you plan the youngest person in the room can do. Games are always fun to incorporate too like Christmas bingo or an easy Christmas word search. If you want to go all out, create a craft together to take home too.
I am not a super crafty person so that would just frustrate me but there are simple things on Oriental Trading company that literally need no parental supervision which are great. OR get older teens to help young ones.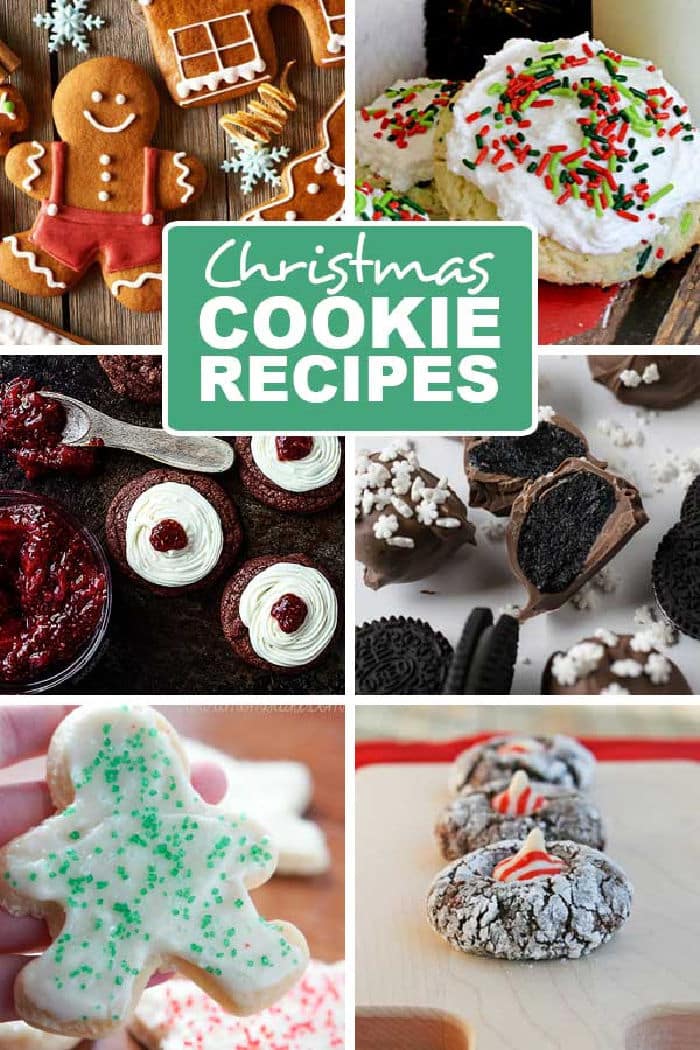 Best Cookies for Cookie Exchange
Let's talk about a few cookie ideas you could make that everyone loves, but are a bit unique at the same time. To start things off our melt in your mouth cake mix crinkle cookies top the list. Super cheap and can be made green and red colors.
If you are attending a holiday cookie exchange from another country, (a really fun idea to integrate) our spiced Lebkuchen cookie recipe from Germany is the bomb.
You can always just make packaged sugar or chocolate chip cookies into circles. Then use frosting to squiggle green on the front to make an abstract tree. OR use a bit of frosting to "glue" a candy cane on the top.
Hershey Kiss Christmas cookies are always fun
The link at the top of this post is a huge roundup of holiday cookies you can choose from as well.
How do I host a Christmas Cookie Exchange Party
First off you need lots of friends and family members. You could do one for each if you have a lot of relatives. It is sometimes fun to just have aunts and cousins in one and neighbors get together for a second. When hosting a cookie exchange it is okay if some bring store bought but better if guests bring homemade holiday treats.
Now if you do want to vote on the goodies, we have a printable for that. Use this Cookie Exchange Party printable for that. It isn't a must but kinda' fun and you could add other categories to the back too if you wanted everyone to win. I have a printable Christmas party awards here too.
What to bring to a cookie exchange
Ok so you can do your own thing of course. Make it as simple as just showing up, eating, socializing and dividing cookies into the # of families present. Stop there and it will still be a huge hit as is. Most tend to add more activities and this is traditionally how it is done. You can add or omit from there;
Everyone brings 2 dozen cookies that are already baked and decorated. They should all be exactly the same so everyone brings home the same mixed batch.
The host divides the number of families who actually came to the party into the total # of cookies brought = that is how many of each family will leave with at the end.

that way everyone goes home with the same amount of each and has a ton of variety.

You should provide large cookie boxes with lids to your guests that are disposable so you don't lose dishes. Make things easy with your swap party by having disposable everything, like placemats, plates etc…
It is fun to bring a print out of what you brought to exchange recipes at the very end too. Then you walk away with goodies and how to make them yourself.
Cookie Exchange Cookie Party
I guarantee if you try this this holiday season you'll want to make it a holiday tradition thereafter. I hope you have a blast with your loved ones with an afternoon filled with laughter and smiles. And this isn't just for the end of the year y'all. You could do the same thing for Easter, Thanksgiving, even Mother's Day too!
Want to see a few of my favorite things that I am totally obsessed with?? Take a peek and see how many you might already have…twinsies!
Looking for more easy family recipes and tips? LIKE The Typical Mom Facebook page?
Then sign up for my free newsletter, and follow me on Pinterest! 😉
***** If you LOVED this recipe give it 5 Stars below and let everyone know what you thought about it. 😉