DIY Gingerbread House Kit complete with free printable so you can create some yourself this Christmas. Great activity for holiday parties.
Oh how my kids love Christmas time, and I love finding activities we can do together. This year we created a DIY Gingerbread House Kit with a free printable so you too can have a fun afternoon together!  What's more fun than building a gingerbread house at Christmas time….well presents I guess, but these are a must during this time of year. Put together a kit for each child with everything they will need to build a perfect edible house and you'll have the perfect holiday activity for your family, or a party! This is a sponsored post written by me on behalf of the Chinet® brand . All opinions are 100% mine. (originally published 12/16)
Here is what you will need to create a few of your own:
DIY Gingerbread House Kit
Chinet® Classic White™ dinner plates 2 per person
Small packages of graham crackers (as shown), or 7 halves
A variety of candies
White frosting
Small baggies (for frosting)
1 plastic spoon per person (for spreading frosting)
Ribbon
Chinet® Cut Crystal® plates and tumblers (to serve a drink and snack to them while they're creating).
It's important to use a large sturdy plate to contain all the items you will need to make your kits, so these dinner plates are great. First get everything you need out on a table and make an assembly line of sorts, especially if you have several gingerbread house kits to make. This is what mine looked like.
I found these already packaged up graham crackers that had 8 halves inside which is perfect because each person needs 7 (so 1 for snacking). I put 1 of those, a few candies, a plastic spoon so they can use the back of it to spread the frosting (I only had mini forks but those did just fine), and then add some frosting to a small baggie and put that inside your gingerbread house kit too. Once they're ready you can just clip the edge off the baggie and they can pipe it on to their graham crackers to create their houses.
Use whatever types of candies you like but many times I will hit the stores right after Halloween and grab the small packages that are almost being given away and save them for this activity. They are already portioned out and then you can put in several different types with little effort and they will have a lot to choose from. Or…just buy larger bags of different candies that are as colorful as possible and put them into snack size zipper bags and put them inside your two plates.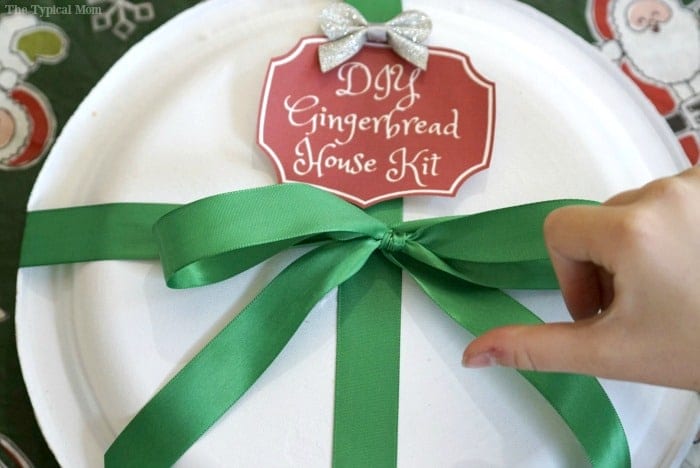 Put a 2nd Chinet® Classic White™ dinner plate on top of the one holding all of your items and wrap it with a bow so it stays together. Add your label and you're ready whenever they are! When they untie their DIY Gingerbread House Kit the top plate will be where they can build their house, and the bottom plate will hold all their "goodies"! Here's a peek of my girls building and snacking in action. 😉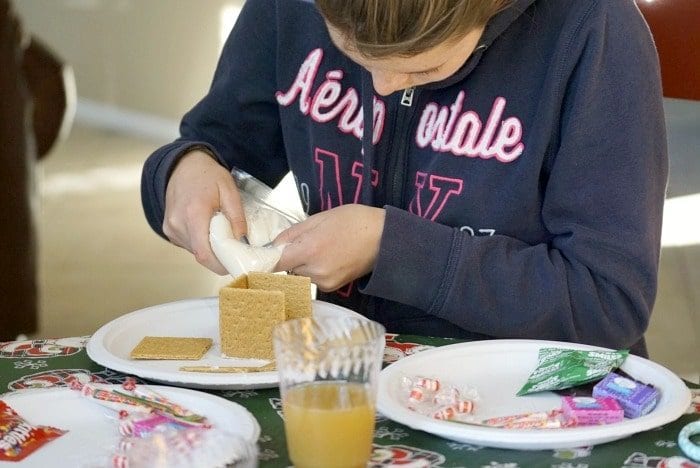 I helped my younger 2 make their houses, but for my oldest daughter making the house is a big part of the fun. You could make the houses ahead of time too and just omit them from your gingerbread house kit, just include everything else. I served chilled cider and cookies while they were working on Chinet® Cut Crystal® plates & cups (to make it a bit fancier, he he). It was a great afternoon….we might have to do this again when the cousins come over too. Let us know how your kits turn out this year!