2 ingredient cinnamon ornament recipe you should make with your kids. A fun Christmas craft and DIY ornament idea to make for gifts or for your own tree. You could make them and use them as Christmas gift tags too on presents, that would be really fun.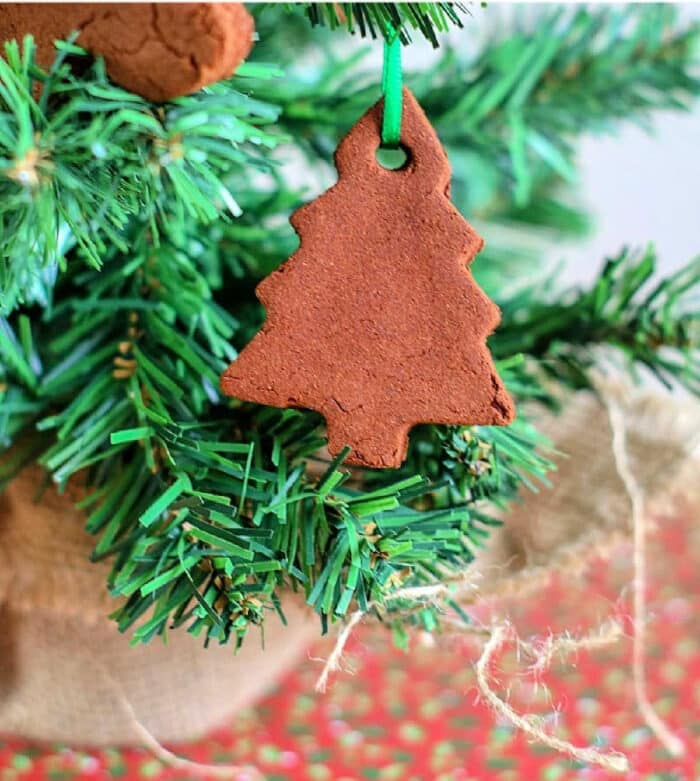 Have you heard of cinnamon applesauce ornaments? They're fun to make for gifts or just for a Christmas craft for kids. This cinnamon ornament recipe is simple and great for little hands to create at home or with friends. (affiliate links present)
Easy Cinnamon Ornaments
This is just one type of Christmas ornaments for kids to make this year. It's probably the easiest of the bunch, and cheapest as well. You guessed it, all you need is applesauce and cinnamon. From there you can use pretty ribbons to hang them from the trees.
Each year we always do a family activity together for the holidays. It not only creates memories but this one creates a decoration for the tree, and can be a gift! You can also use these to make peppermint ornaments with candy canes if you want a second activity.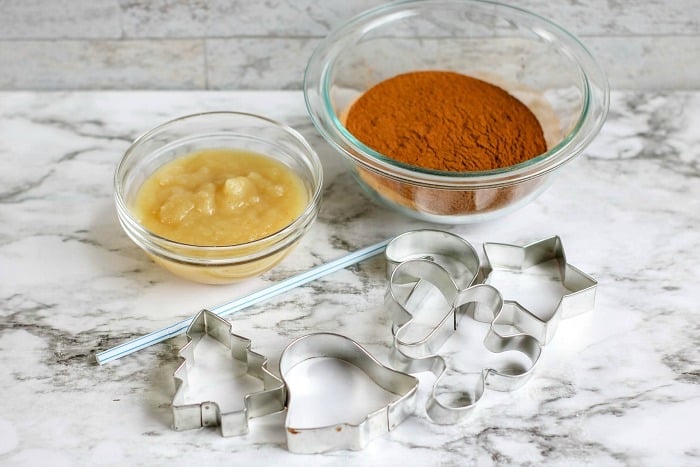 Cinnamon Ornaments
Easy Christmas ornament crafts are the way to go at home as well as in school. These are great to send home during the holidays wrapped with a bow.
If you're a Teacher I'd give these a whirl if you're looking for an art project for your holiday center.
Ground cinnamon is the base
Applesauce is what will bind it together
You can make your own using our Instant Pot applesauce recipe here too if you prefer. Make a much larger batch and enjoy it later as a healthy (and yummy snack).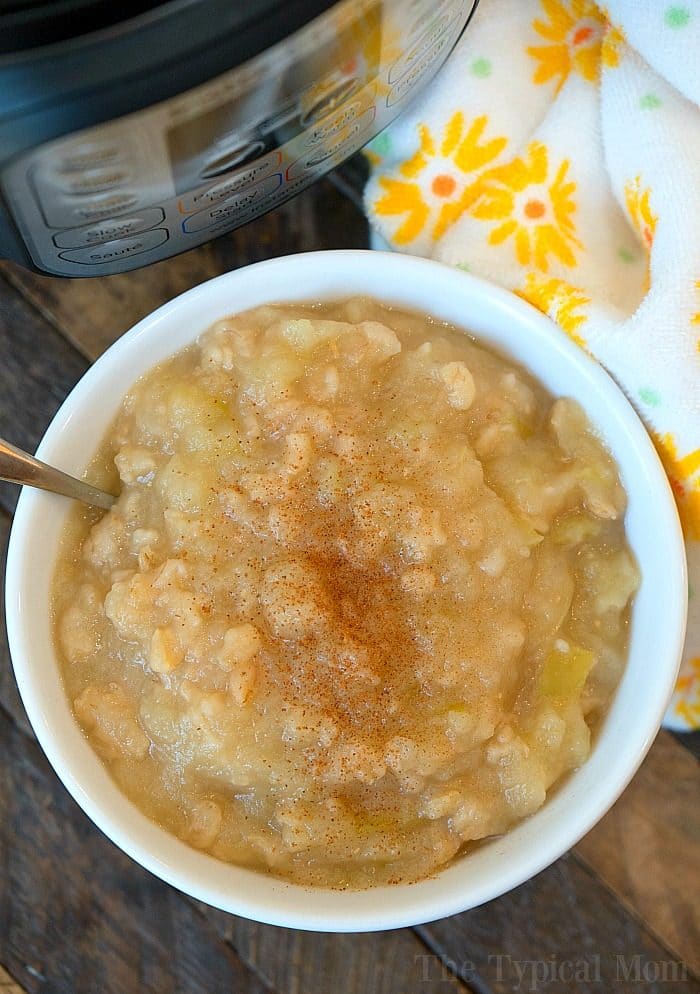 Cinnamon Applesauce Ornaments
You'll need a baking sheet with parchment paper too. Cookie cutters are great to get the shape(s) you want.
Or if you have older children you could let them roll it out themselves on small cutting boards and give them plastic knives. Sometimes it is fun to see what they create on their own.
Rolling pin is helpful
Use a straw to poke a hole and a piece of ribbon to hang it on a tree
Bowl for mixing
You can use puffy paints to write or decorate on them once they're dry too. One year we even used sharpies to make eyes and a smile on them which was something new to experiment with.
Some call these cinnamon applesauce ornaments. It's obvious why they would. First you want to get out a bowl and a way to mix this.
A spoon will do at the beginning but at the end your hands will work better to knead it.
When you make these your house smells amazing. It's a bit like making homemade or cake mix gingerbread men cookies, except don't eat these! The scent of cinnamon does smell so good but these are meant for the Christmas tree, not your tummy.
Here are the basic steps for making this cinnamon ornament recipe:
Mix together some room temperature applesauce with ground cinnamon
If you feel like it is sticky, add more cinnamon
Roll out the dough until it is even and about 1/2″ thick all the way across
Cut into desired shapes and set on cookie sheet. This is the fun part. Let them use their imagination!
Poke a hole at the top of each one for the ribbon
Preheat oven to 200 degrees and bake for 2.5 hours
Allow to air dry on sheet for 24 hours, flip to other sides and dry for another 24 hours until hard
When dry you can decorate as you wish or leave plain.
There are several things you can do with these DIY ornaments that are fun: Of course you can decorate your own tree with them. Wrap a few in plastic wrap, tie top with a ribbon, and gift a few to friends or relatives
Tie them to a thicker ribbon or burlap piece to make burlap garland. This is pretty strung across your mantel or up the staircase.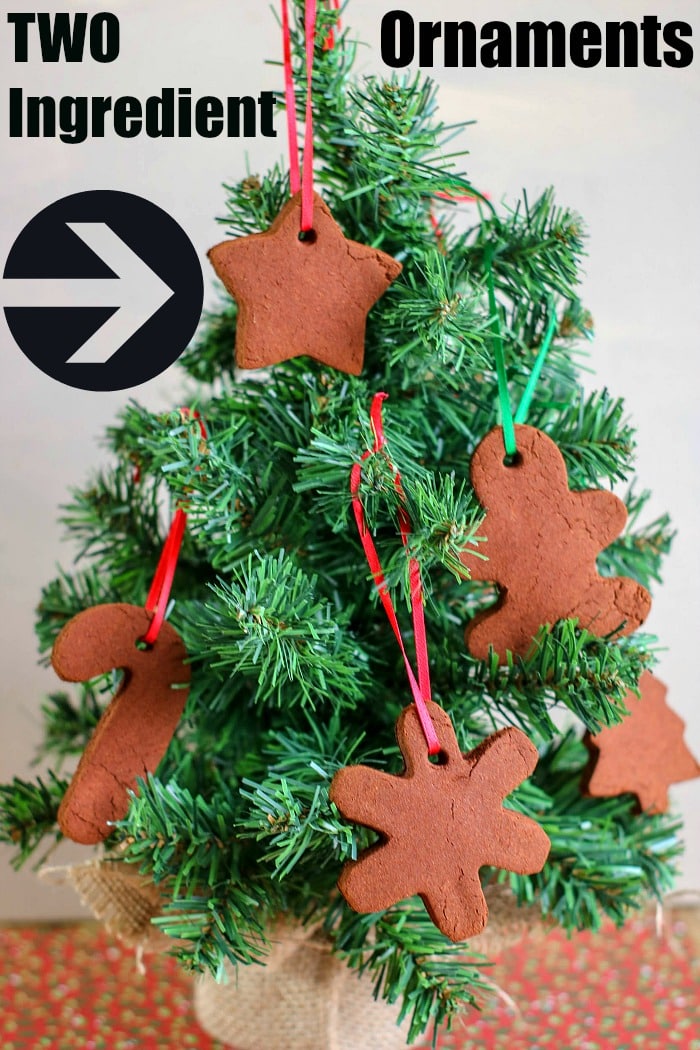 Want to see a few of my favorite things that I am totally obsessed with?? Take a peek and see how many you might already have…twinsies!
Looking for more easy family recipes and tips? LIKE The Typical Mom Facebook page?
Then sign up for my free newsletter, and follow me on Pinterest! 😉
***** If you LOVED this recipe give it 5 Stars below and let everyone know what you thought about it. 😉
Cinnamon Ornament Recipe
2 ingredient cinnamon ornament recipe you should make with your kids. Fun Christmas craft and DIY ornament with applesauce that's easy.
Equipment
1 Parchment paper

2 Cookie cutters

1 Straw or skewer

12 Ribbon

1 Wax paper
Instructions
Preheat oven to 200 degrees and line a baking sheet with parchment paper

In a bowl mix together applesauce and cinnamon until it forms a clay like dough. Roll this out between 2 sheets of wax paper until it is 1/2" thick.

Cut using cookie cutters, lay them on your cookie sheet.

Then use a straw or skewer to poke a hole at the top of each one all the way through so you can put a ribbon to hang them when they're cooked.

Put into oven for 2.5 hours. Remove and place each one on a cooling rack.

Allow them to dry for 24-48 hours, turning them over ever 12 hours or so.

Once completely dry add a ribbon inside the hole and tie so you can hang from a tree.