Melting peppermint candy is easy! Make Christmas ornaments, bowls, plates, all sorts of gifts. Just one ingredient baked in the oven this way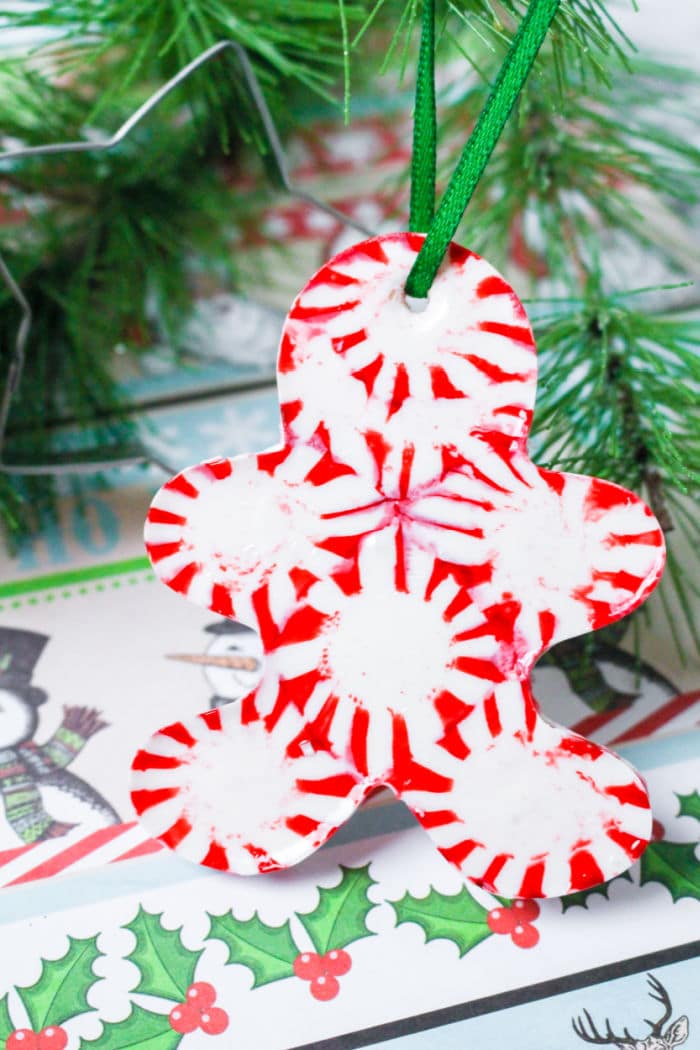 Melting peppermint candy is way easier than you might think. With a baking sheet and some cookies cutters you too can make all sorts of homemade gifts this way. Fun edible crafts everyone in your house will love to make together. (affiliate links present, originally published 11/21)
Peppermint Christmas Ornaments
This is what we made this time because it was Fall and why not?? Especially if you are in need of some indoor activities for kids this one is a great (and cheap) one.
Even little hands can help you make these. Have your kids pick out their favorite shape and unwrap their own peppermint candies. All you need to do is slide the sheet in and out of the oven for safety purposes but beyond that they can say "I made it all by myself!" Their goal in life usually at that point right?? 😉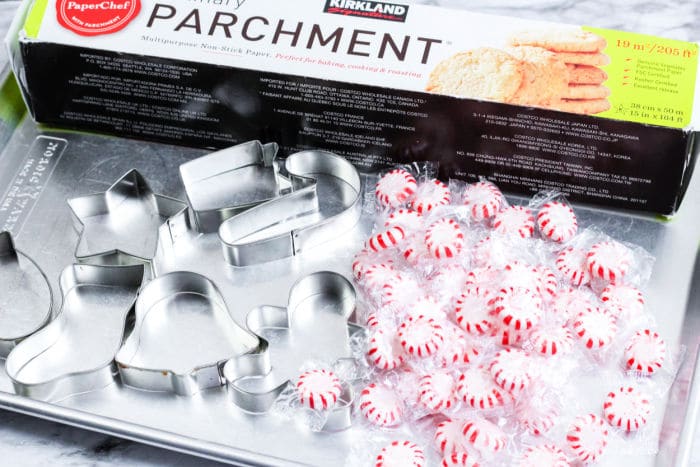 Homemade Christmas Ornaments
You could easily make all sorts of things though. Want a fun peppermint candy plate for serving up goodies at your Christmas brunch table? Just use a really large cookie cutter or shape aluminum foil into a ring to make the size you want.
This would be a really fun idea to serve some crinkle cookies on!! Just imagine your guests reaction when they realize it is lick-able and edible as well as serving as a pretty tray. This is what you'll want to get out to start on this:
Bag of peppermint candy

or you could use candy canes and break them up a bit so they fit inside the shapes

Cookie cutters of all kinds
Ribbon or twine to hook them on your tree
Skewer with a bit of olive oil on it to make a hole in order to thread your piece thru
And use a cookie sheet so they all lay flat as they bake and spread out to pretty perfection. If you want to make them into bowls an upside down muffin pan works well so you can mold around it. Use this to make small edible bowls for a candy charcuterie board!
Peppermint Bowls
The way you would create these is to use a small glass bowl. You will use this to shape your plate essentially. You could use some light cooking spray on the bottom for ease of taking it off. The way you make the plate and/or bowl is to:
Lay parchment paper on baking sheet with 1 unwrapped candy in the center.
Then make it like a flower adding a row around the outside of that piece so they touch but not overlap.
Keep going to make it as large as you want it.
Preheat oven to 300 degrees F and bake for about 8 minutes but you need to watch at about min. 6.
Once it is shiny but before it is bubbling take it out!
Allow to cool if making a bowl for a few minutes.
Use oven mitts to avoid burning your hands and have your bowl flipped upside down.
Carefully lift the paper up with the plate on top and flip it over on top of the upside down bowl.
Use hands to mold melted candies into a bowl shape.
Allow it to cool that way so it keeps shape.
The parchment paper underneath makes cleanup a lot easier and make sure it doesn't stick to the tray itself.
Peppermint Candy Ornaments
You can make Christmas trees with them, even bone shapes for your favorite pooch. Even more fun you should document when you made them with the date using a sharpie on the front or pack. A super easy way of personalizing this gift for others too.
Less than 20 minutes and voila, so cute! Use this idea for a holiday party craft or for a girl scout meeting around this time of year. Costs under $20 typically for everything you need and most times you can gather cookie cutters of all kinds from friends and family.
Want another one to add to the list of activities for your guests? Try our 2 ingredient cinnamon ornament recipe too. This one is even cheaper to make and just as much fun for the kiddos.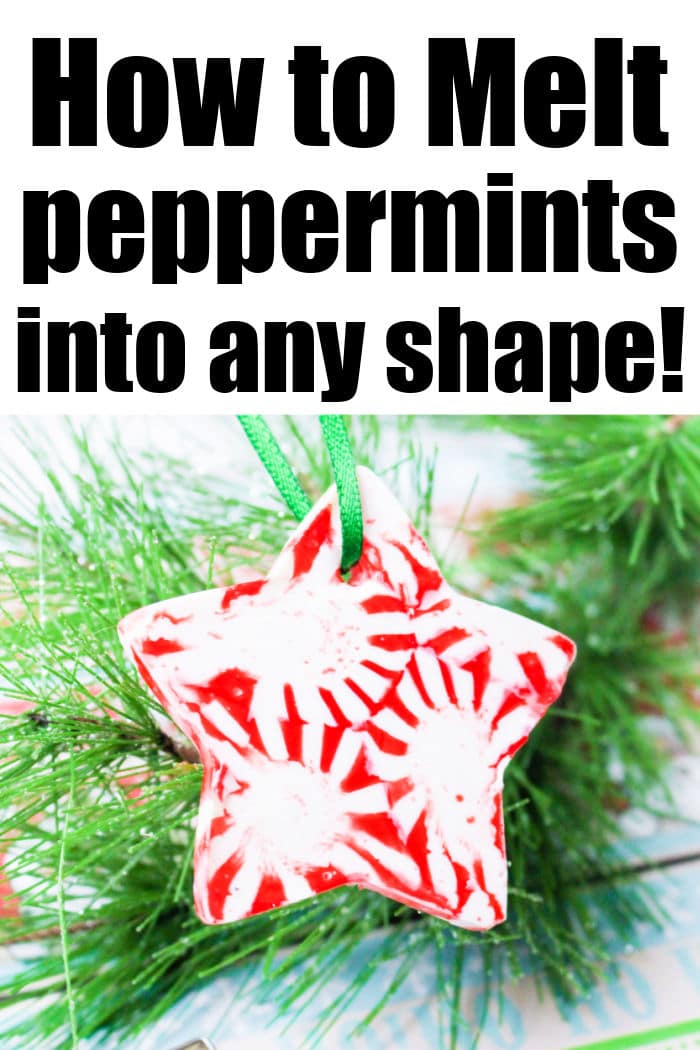 Large Peppermint Candy Ornaments
Here's a step by step for how this is done.
Time needed: 8 minutes
Melting Peppermint Candy
Prepare

Unwrap a bag of peppermint sticks, candy canes, or small round peppermints. Line baking sheet with aluminum foil and place metal cookie cutter shapes on top. Preheat oven to 350 degrees F.

Bake

Place as many peppermints into the shapes in a single layer without overlapping them. Bake for approximately 5-8 minutes but check at 5 to see if you need more time. You don't want them bubbling, just once they spread and are shiny take them out immediately.
Larger will take a few more minutes than small shapes.

Create ornaments

Remove from oven and set aside to cool slightly. If making into ornaments dip a skewer end into a bit of oil and create a hole at the top so you can slide a piece of twine or ribbon thru it when it is cool.

Remove

Allow to cool completely before removing from cookie cutter and baking sheet. Thread ribbon into hole, tie at end and hang on tree.
Want to see a few of my favorite things that I am totally obsessed with?? Take a peek and see how many you might already have…twinsies!
Looking for more easy family recipes and tips? LIKE The Typical Mom Facebook page?
Then sign up for my free newsletter, and follow me on Pinterest! 😉
***** If you LOVED this recipe give it 5 Stars below and let everyone know what you thought about it. 😉