How to make a candy charcuterie board for the holidays, a baby shower or birthday! Fun and colorful dessert boards adults and kids love to look at and eat off of. Just one of our popular Charcuterie Board Ideas for Party time!
Let's say you are a charcuterie board list for your party. Believe me, you will want a savory and sweet one like this candy charcuterie board here. You can change it up to be festive for any holiday you want. They are even great for birthday parties!
Candy Charcuterie Board DIY
Occasionally I have seen these ready made to buy for way too expensive at the store, STOP! You can and should totally make your own because it is totally fun, and way cheaper. Literally once you make one and see the look on your kids' faces you will want one for every get together. Heck, you could even make one for Super Bowl!
To start with you will need a wooden board. You could use another tray made of plastic or something but wood is prettier and you can use it over and over again. If you have a pizza oven you could even use the big paddle as long as it is cleaned off. Making a few? Use different shapes, sizes and materials to pretty it up even more.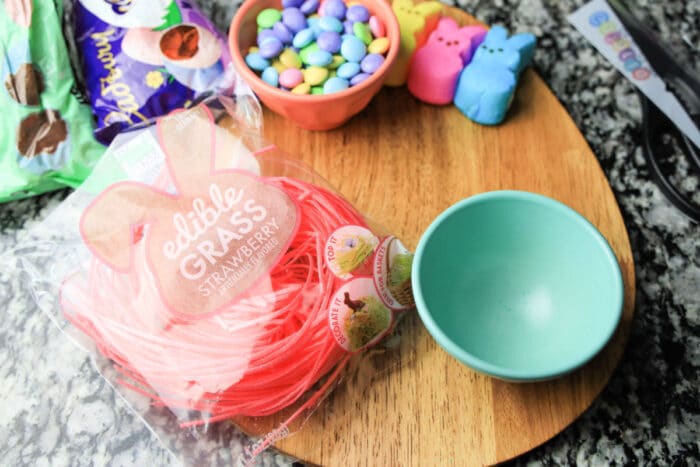 Holiday Candy Charcuterie Board
Beyond that you need a few small bowls, you could use ramekins too. I have many of those because I like to make little cakes and those are the perfect size. Mini mason jelly jars are super cute too. Look around your house first. Take account of what you have before going out to buy anything else. Then hit the Dollar Store, they have lots of stuff.
If you know you're going to make these often, just buy a large board here. There are many beautiful boards online you can find in a variety of shapes and sizes.
For kids for more of a grab and go idea you could use small dixie cups with the candies mixed together, otherwise use small bowls.
Then you want a bunch of different types of candies in the color you're focusing on.
Even if it isn't Easter I like using edible grass for the bottom in the colors you want for your party. Totally festive and can be eaten at the end.
I will say that other than the board and grass you can literally find everything at the grocery or Dollar Store. If you are making a Christmas dessert charcuterie board then you'd want red and green sweets to go with. Candy canes are an easy one to spread around, or melt and make into peppermint candy bowls!
You can find perfect Christmas PEEPS many times for the holiday season too. I am sure you have favorite treats that you just have to have every year? Add those so if you have extra Christmas desserts that don't get eaten you can enjoy them yourself. 😉
Candy Charcuterie Board Baby Shower
Preparing for a boy or girl baby shower, this is perfect!! Literally such a hit when people see it and everyone loves to have little treats over the hours they're there. To keep things clean you will want little spoons in each container too so people aren't sticking their hands into each one. Here are a few of our favorite items;
Gum drops
M&Ms come in a variety of colors, you can buy a single color online too
Jelly beans are cheap
Peppermint sticks
Colored marshmallows
Boston baked beans (candy coated peanuts)
Mini jawbreakers
Lemonheads
Lucky Charms marshmallows, you can buy them without the cereal online
Mini Nilla wafers are sweet
Got the idea? Now you can create a candy board of your own for your next occasion!! There are so many board ideas I couldn't list them all. There isn't any occasion that shouldn't be celebrated and this is something even your kids can help you create.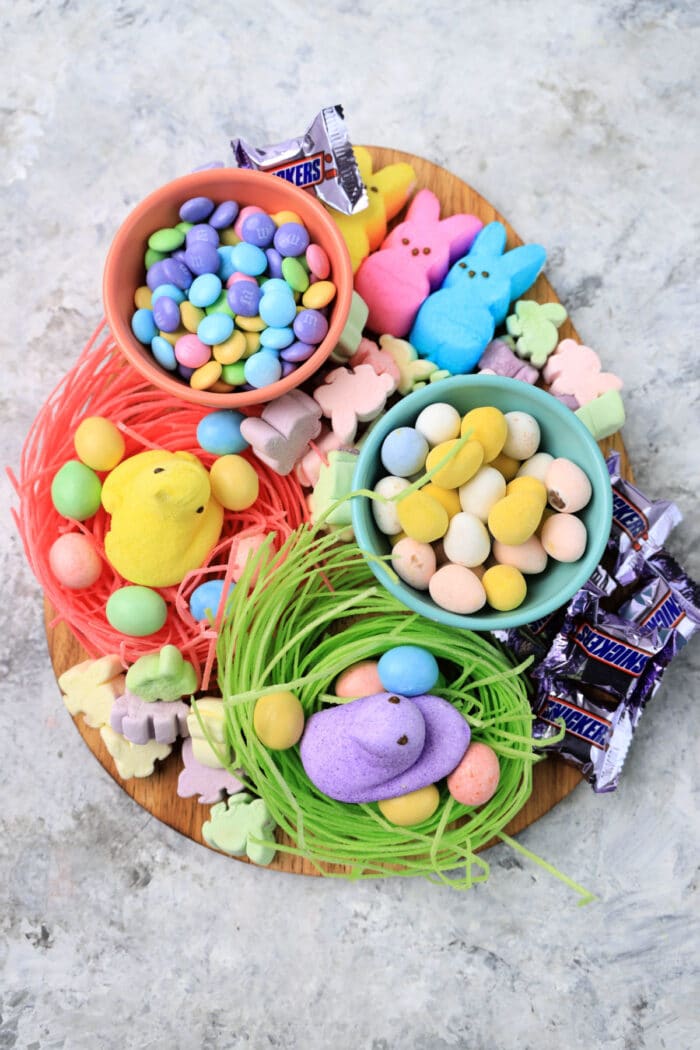 Dessert Charcuterie Board
I think you get the idea but I have a breakdown of what we have been talking about here. Make one with your older kids and I guarantee the next time around they will want to do it on their own. That means you have less to do and they feel involved, you're welcome. 😉
Time needed: 20 minutes
Candy Charcuterie Board
Gather

Get together a large board or tray, small bowls and spoons, tiny candies and cookies.

Arrange

If using edible Easter grass separate and spread that out on the bottom. Set small bowls in different areas with 1 small serving spoon in each one.

Fill

Pour small treats into each bowl to fill. Gummy candy, sour candy and mini peanut butter cups are usually faves.

Decorate

Around the bowls place more themed candy and sweet treats that are in the colors you want around. Use a variety of flavors and textures so they catch the eye.

Serve

Have small paper plates or cups on the side so people can serve themselves.
Want to incorporate an activity into your get together too?? We have Easter jokes for kids that are printable here that always starts a laugh. You can play board games of course so even adults can get involved, have a scavenger hunt with clues to find hidden treasures…..
Want to see a few of my favorite things that I am totally obsessed with?? Take a peek and see how many you might already have…twinsies!
Looking for more easy family recipes and tips? LIKE The Typical Mom Facebook page?
Then sign up for my free newsletter, and follow me on Pinterest! 😉
***** If you LOVED this recipe give it 5 Stars below and let everyone know what you thought about it. 😉