This Christmas butter board will be a hit with your family this season. Bring this recipe for the holidays as an appetizer to your next party or to your own buffet! Here are simple directions on how to make a butterboard for Xmas or any occasion.
Ok so if you or maybe your teens are on TikTok you have seen or at least heard of this. Interested myself I got to thinking that a Christmas tree butter board would be a fun conversation starter for sure this year. It was SO fun to make, and will be for y'all too. (affiliate links present)
Christmas Charcuterie Board
I don't have an artistic bone in my body but I'd say I'm creative. You can create anything to start with like we did here. Ours is the shape of a Christmas tree, and it doesn't need to look perfect. Using the back of a spoon everyone can make a swooping motion to smear this. Even cream cheese would work for this.
What is a Butter Board
I mean you can kinda' tell by just the name. Yes, it is in fact softened butter on a board….but wait!! It's more like a charcuterie board because it is way more than just one item. It has ALL THE THINGS on it y'all. I'm talking it's truly a work of art when you are done. You don't have to be an artist to create one either.
Once you get the shape you want it's ready to decorate!! You can cheat for this and just use small cookie cutters to form shapes. Like the top of the tree for instance you can use edible items for the star like;
Bread
Slices of cheese
Flesh of apple slices
How to Make a Butter Board
You're going to want to use a cutting board or wood charcuterie board large enough to create your shape. You can tie a fabric red bow on the handle for fun.
Use softened butter (unsalted or flavored butters are fun too).
With the back of a spoon smear some on to board to look like layers of leaves/branches.
Start at the bottom in a sweeping up motion in a row from left to right
Next, move to the row above it slightly overlapping the one below it.
Row by row go up with a shorter row each time. That way it gradually comes to a peak at the top with just 1 sweep at the very top.
Use a star cookie cutter to punch out a topper using bread. The inside of an apple sliced works well, cheese, or even a soft cookie would work.
Then you want to decorate it with all the things once that is done. You can use pomegranate seeds, dried cranberries or caviar to make it look like a string of "lights". Use the flesh of an apple to cut stars with a cookie cutter, etc.. Serve with a batch of Christmas Bar Cookies for sweetness too!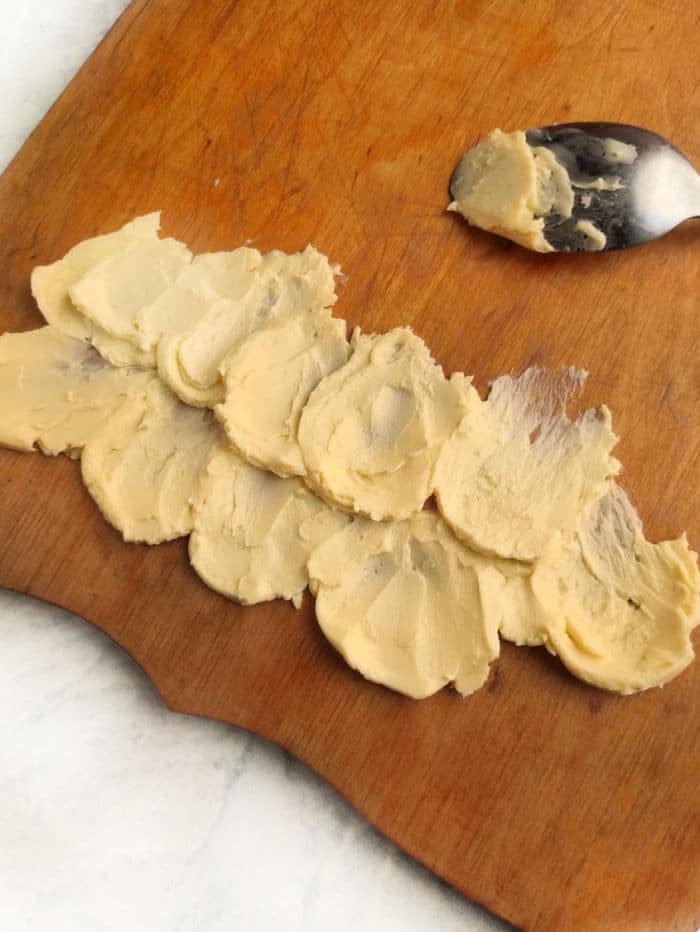 Lay fresh herbs on the outside for some flair. Or sprinkle around broken into smaller pieces for flavor and make it look like part of the tree. Then sprinkle with sea salt and dill on top and/or a drizzle of honey or lemon zest for added flavor.
How Do U Eat a Butter board
This is the fun part. First off it is best if you make this fresh, like right before your first guests walk thru the door. If not you will need to keep it in the fridge until ready. You'll want a small basket to hold crackers, toasted bruschetta toast and other items to scoop it up. More is better when you're ready to serve this baby.
Small slices of bread or crackers are a given. You can offer both savory and a bit sweet choices because anything goes with this. Let your imagination go crazy, and walk down the cracker and/or cookie aisle for other ideas like;
Many of your favorite varieties offer mini sizes now like mini Triscuits, even oyster crackers are fun
Croutons work well for a savory selection
You can slice a baguette into slices and then fourths from there
Pieces of dried fruit can be used to scoop up too
I think adding a few small cookies are fun too, I love sweet and savory together
A large variety of different things makes it more fun. If you have kids in attendance make sure to remind them that they shouldn't double dip. You know what I mean. 1 scoop per item and into the mouth it goes to keep things safe. 😉
Butterboard Recipe
Time needed: 20 minutes
Holiday Butter Board
Gather supplies

Use a cutting board or wooden board that is large enough to create your shape. Tie a red bow on the handle for added holiday flare. You'll want a small basket to hold crackers, baguette slices and other items to scoop contents of your board up.

Spread

Use room temperature or whipped butter (unsalted butter is best) and the back of a spoon to smear dollops resembling layers of branches. Start at the bottom with about 3/4 tbsp of butter on the back of your spoon.
In a sweeping up motion smear it in a row from left to right, then move to row above it slightly overlapping the one below it.

Form

Continue doing this row by row going up with 2 fewer on each side so it gradually comes to a peak at the top with just 1 sweep of butter for the top of the Christmas tree.

Star

Use a star cookie cutter placed at the very top and filled with a mixture of shredded cheese and a bit of butter to hold it together. Press firmly inside shape and carefully lift off. You could press cutter on to a piece of bread to make a star too.

Decorate

Use edible items to decorate your tree like pomegranate seeds or caviar for "lights" sprinkled on top, thin slices of raw salmon folded, flesh of an apple cut into small stars with a cookie cutter, tangerine slices on bottom to shape bottom "branches" etc..
Sprinkle with sea salt and dill on top for added flavor

Serve

In a basket or board on the side have a variety of "scoops" available like sliced baguette, crackers, sliced pita bread, Nilla wafers for sweetness, breadsticks, etc…
What is the point of a butter board
Point?? To make the holidays fun, and yummy. That is all. 😉 Once you get the hang of how it is done you can create your own butter board recipe. It's a fun food trend found on social media. Now a part of many holiday get togethers from now til the end of time I'm thinking.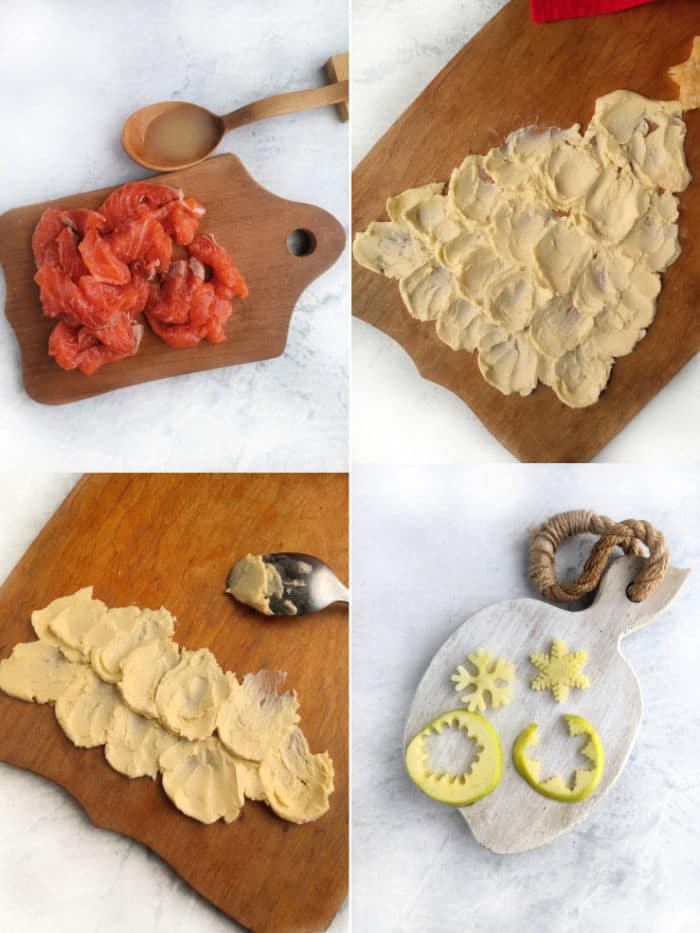 Butter Board Ingredients
Like I said, you can add whatever you like. What we used here I will list below in case you look at the photo and unsure what we used for what.
A large wooden board
Thick slices of cheese and apples to form into shapes with cookie cutters
Caviar to look like lights
Thin slices of salmon folded
Fresh herbs like dill and parsley
Pomegranate seeds
Slices of tangerine
The star is shredded cheese mixed with butter pressed into a star shape to form.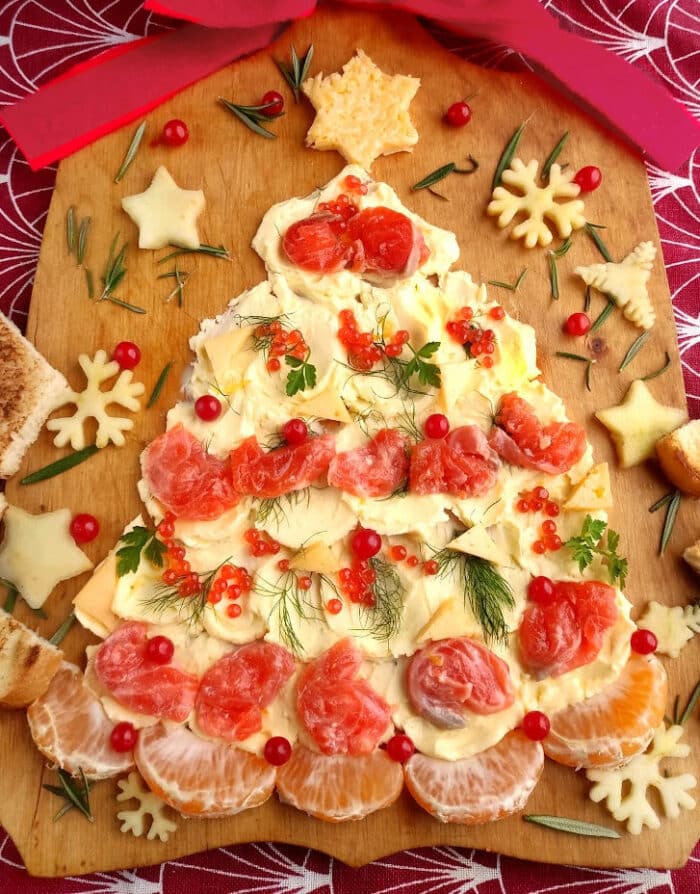 Want to see a few of my favorite things that I am totally obsessed with?? Take a peek and see how many you might already have…twinsies!
Looking for more easy family recipes and tips? LIKE The Typical Mom Facebook page?
Then sign up for my free newsletter, and follow me on Pinterest! 😉
***** If you LOVED this recipe give it 5 Stars below and let everyone know what you thought about it. 😉