Lots of air fryer chicken breast recipes to choose from for your Ninja Foodi or other brand! Using fresh or frozen chicken, it's easy to make a low carb, Keto, tasty dinner for your family now!
Need a few great air fryer chicken breast recipes to fill up your monthly meal plan? Me too. All. The. Time! I compiled a list of the best chicken air fryer recipes to make dinner prep easier. You're welcome. 😉 (originally published 10/19, affiliate links present)
Easy Chicken Breast Recipes
I mean easy chicken recipes are just so versatile right?? You can cook it whole or cut into chunks to make our fave air fryer popcorn chicken.
Our go to is definitely air fryer teriyaki chicken but there are so many more to choose from for the rest of the week. If you love KFC but want a healthier option try an air fryer fried chicken breast.
FIRST – You should sign up for my free newsletter so you get new posts emailed to you twice a week and never miss out on anything! If you love air fryer recipes too, here are some resources to start with: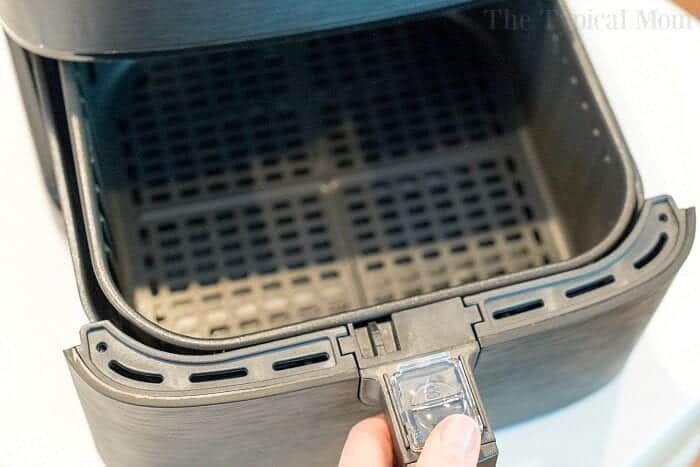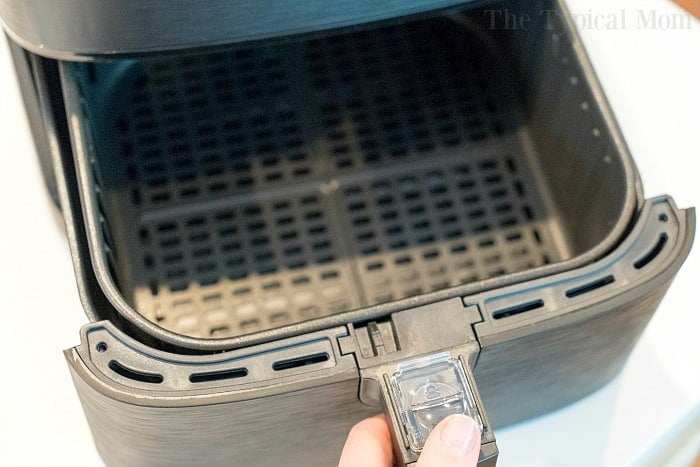 Air fryer chicken recipes
We have it all, from breaded and popular like our air fryer McDonalds fried chicken sandwich to those with less calories and no breading. You will find a few that you want to try right here. Then add them into your meal rotation!
I have a Ninja Foodi, electric air fryer, and Ninja Foodi Grill so I can air fry everything

any brand works my friends

You can even cook from frozen like air fryer orange chicken from Trader Joes. SO much better than in the oven.
We have even added options if you cannot eat flour but still want really crunchy and crispy chicken skin on the outside. Use our gluten free air fryer chicken method for wings, legs or breasts.
Can you cook frozen chicken in an air fryer?
YES!!
We all do!!!
I cannot be the only forgetful one out of the bunch here. 😉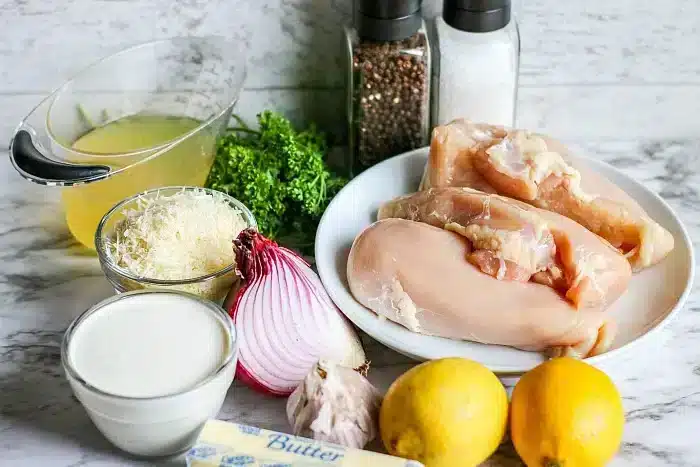 Chicken Breast Recipes in Air Fryer
We made this basic chicken recipe without any breading, so it's Keto, but TONS of flavor. It comes out with a bit of crispy yum on the outside but tender like you love it on the inside. Sauces like our mustard chicken in air fryer goes from good to out of this world.
With a very short cook time and minimal meal prep it's the best chicken breast in the air fryer recipe you can use for a multitude of different meals. If you slice it into tenderloin sizes they cook even faster, like our air fryer mayo chicken pieces.
This is what you need to make frozen air fryer chicken:
Bag of frozen chicken breasts – 2 at a time fit comfortably
Salt and pepper
Garlic powder
Parsley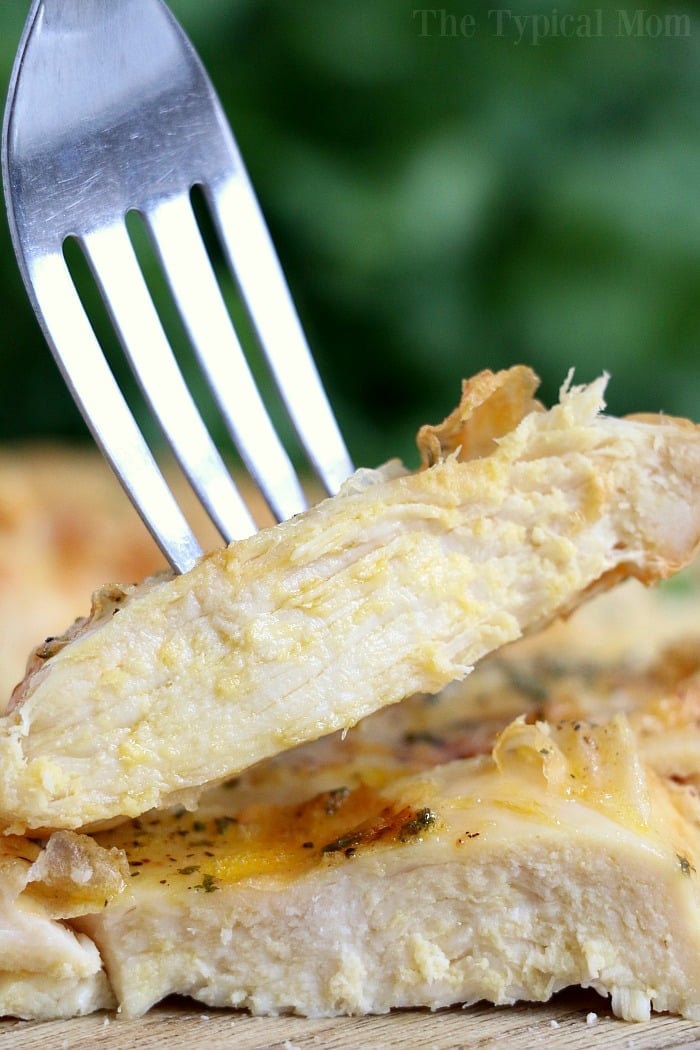 How to Cook Chicken Breast in Air Fryer
Ready for the best air fryer chicken parm recipe??!!
Using fresh or thawed chicken breasts there is no breading on this air fryer chicken recipe which makes it healthier dinner choice. Smothered in spaghetti sauce and mozzarella cheese you'll get all the Italian flavors you love in every bite.
You'll get juicy chicken every time you cook this.
Add in tender noodles cooked separately and I bet your kids will love this one too.
Ingredients you'll need for this Ninja Foodi chicken breast recipe.
Chicken breasts
Eggs
Bread crumbs
Parmesan cheese
Garlic powder
Onion powder
Marinara sauce
Mozzarella cheese
Italian seasoning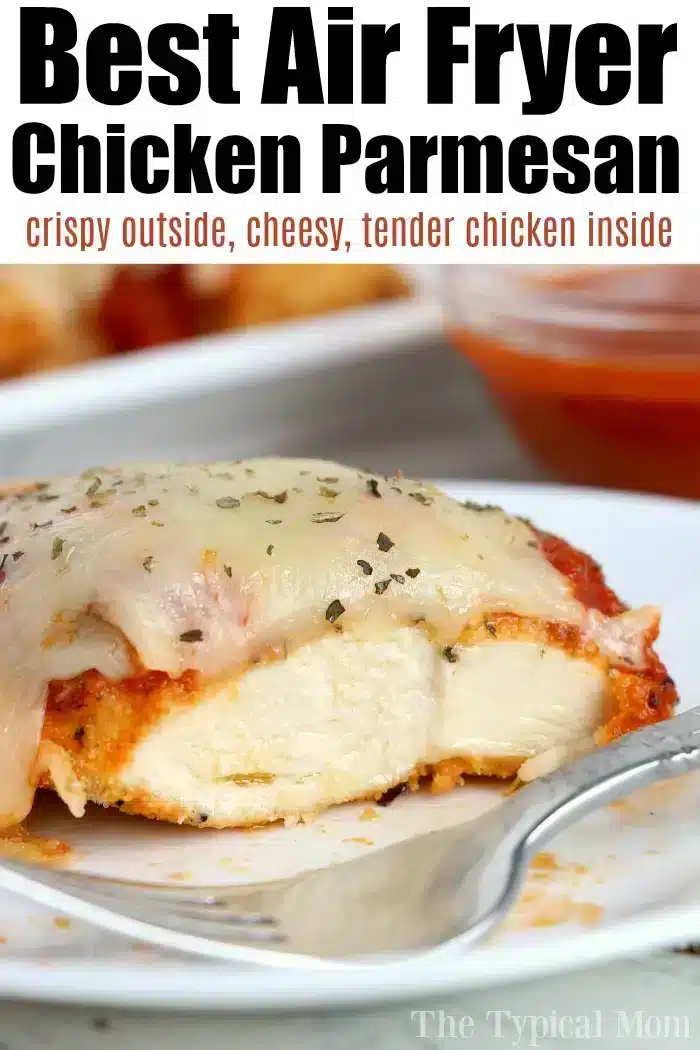 How Long to Cook Chicken Kaboobs
Then try these air fryer chicken kaboobs! These and our chicken fries in air fryer can be a meal or a great appetizer.
With bite size chicken breast pieces and no breading involved you can have a low carb dinner with this.
Skewers with protein and vegetables cooked to perfection, the outsides will have a bit of a crisp with tender insides.
We serve them with air fryer tofu for the win.
Ingredients you will need to get started are:
Chicken breasts

boneless, skinless, cut into bite size pieces of chicken

Wooden skewers
Onion and/or red onion

bell peppers can be used too

Zucchini
Grape tomatoes
Olive oil
Lemon
Salt and pepper
Oregano
Bowl or freezer bag to marinate chicken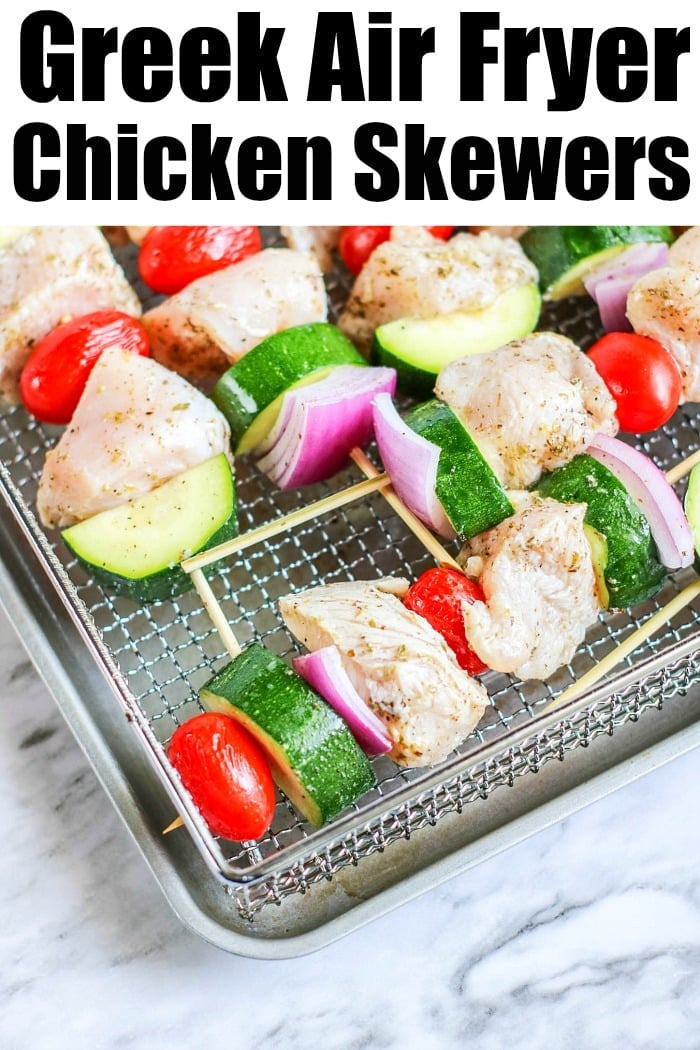 Air fryer chicken breast recipes
Like our air fryer chicken cutlets or these air fryer stuffed chicken breast wrapped with BACON!!
With warm cream cheese in the center with a little kick of jalapeno, you're sure to get some OOHhhhs and AHhhhs when you serve this meal.
Ingredients you'll need to make stuffed chicken:
Boneless skinless chicken breasts
Cream cheese
Bacon – I prefer that they're NOT thick slices
Cheese
Jalapenos
Seasoning
Meat tenderizer
Plastic wrap
Toothpicks may be needed to secure bacon
No Breading Air Fryer Chicken Breast Recipes
Now you can use sliced chicken breast or already skinless and prepared tenders to make these. Lightly breaded chicken, it's a great recipe when your kids love finger foods.
What you'll need to make these:
Chicken tenders

or breasts cut into small strips similar to chicken fingers

Egg
Bread crumbs
Bacon if you want to wrap them
Want crispy but lower in carbs too? We have made almond crusted chicken pieces before too and boy are they great.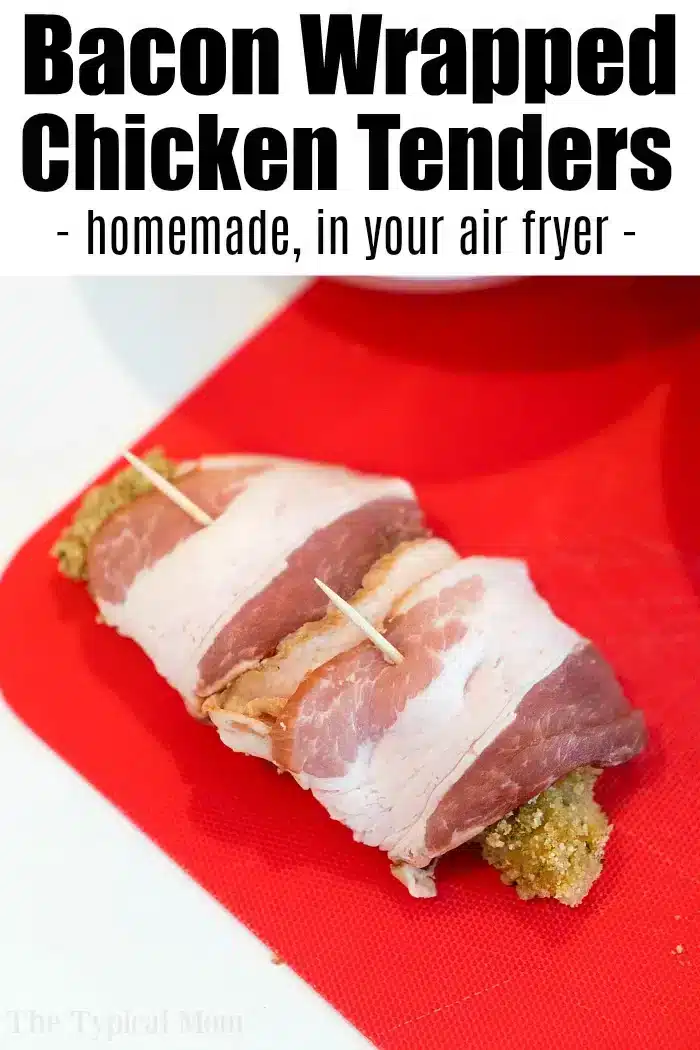 Then move on to a batch of air fryer Southern fried chicken and see what you think!! Depending on the size of your breasts you might want to cut them in half for air frying. Air fryer teriyaki chicken bowls are yummy too.
Chicken in an air fryer
You can start super simple, like with our air fryer bbq chicken. Just the meat and sauce is all you need. Always check internal temperature before serving. Insides should be at a min. 165 degrees F. Air fryer boneless wings can be done the same way but quicker.
Can you stack chicken in an air fryer?
No, you won't get the desired crispiness you want. Hot air needs to circulate around each piece of food to create that deep fried texture you want. If they overlap you will prevent portions of each piece from crisping. You want a nice brown on your air fryer pesto chicken and any other creation you have.
Can you put raw meat in an air fryer?
Of course! Alongside with frozen meat, you can also cook raw meat in an air fryer.
Roasting a whole chicken takes about 30 minutes. Some air fryers, such as Philips, come with a grill pan to put inside the air fryer as well.
Even cornish hens in air fryer turn out excellent with a dry rub.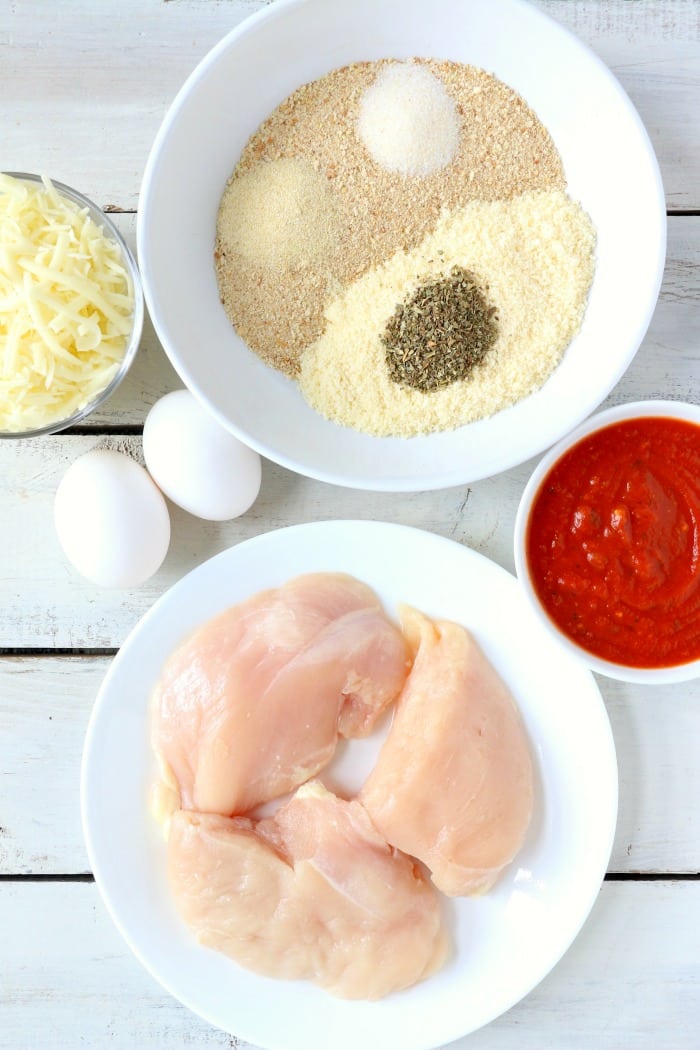 Can aluminum foil be used in an air fryer?
Technically yes. You could also use baking paper in the air fryer basket as long as it's weighed down by the food.
This technique is really not recommended though because air fryers works by providing a constant air flow around the cooking cavity. If you have it blocked by something like foil or baking paper, the foods won't get as crispy.
Can you put battered food in an air fryer?
Since you are cooking with dry heat it cannot solidify and crisp the wet batter in the way that hot oil can so NO. Instead, dip meat into some egg, then a plate with bread crumbs and place inside your basket. check out our air fryer chicken katsu as a good example of this
The next best step is to spray coated food with olive oil spray to help crisp the outsides. That's your best bet vs using a wet tempura batter or otherwise. Want something fast? Try a batch of frozen chicken tenders in air fryer as a meal or snack.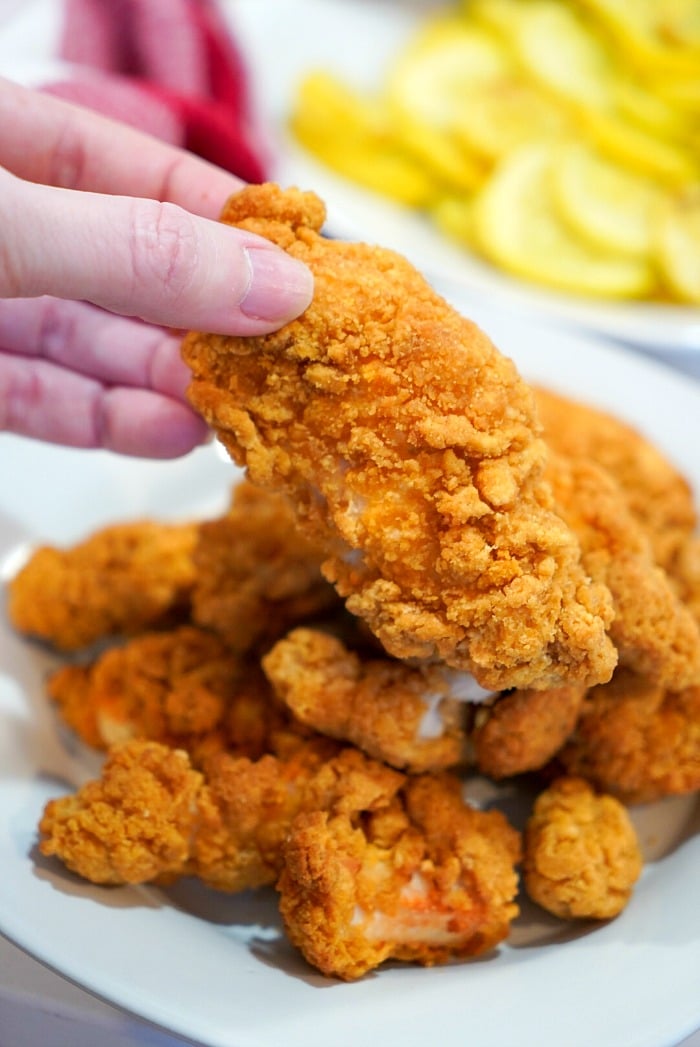 What's the best thing to cook in an air fryer?
That answer would depend on whom you asked. For us we love air fryer vegetables to snack on.
Many times I have both machines going at the same time to make everything crispy and delicious. Ok, my Instant Pot is usually going too.
Making a few barbecue basted air fryer chicken leg quarters or air fryer sesame chicken while rice is cooking in another pot is perfect if you ask us.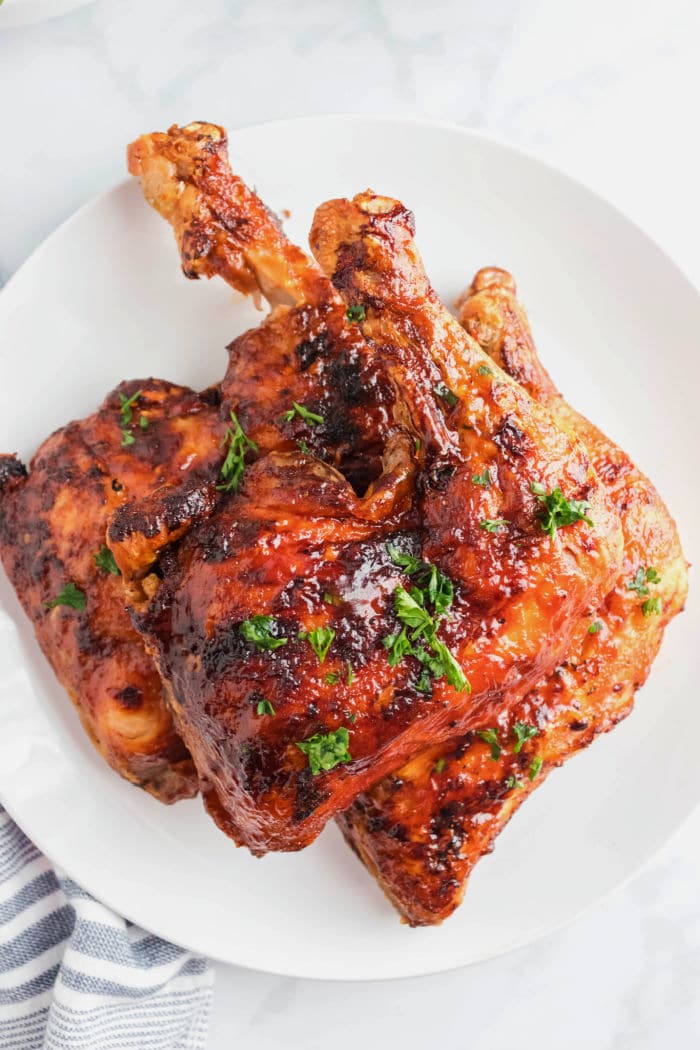 Air fryer dinners is where it's at in 2019 I tell you. My oven hasn't seen much of anything in a few years now, seriously.
Want to move on to the best air fryer chicken wings recipe or air fryer hot wings now?? You should!!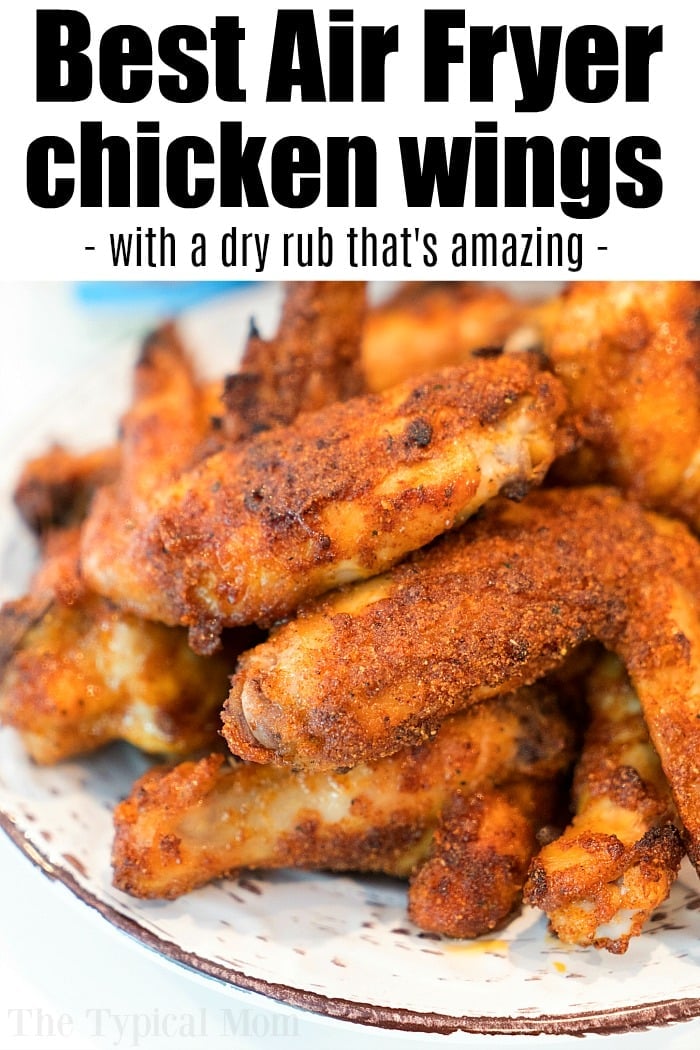 Want to see a few of my favorite things that I am totally obsessed with?? Take a peek and see how many you might already have…twinsies!
Looking for more easy family recipes and tips? LIKE The Typical Mom Facebook page?
Then sign up for my free newsletter, and follow me on Pinterest! 😉
***** If you LOVED this recipe give it 5 Stars below and let everyone know what you thought about it. 😉
Air Fryer Chicken Breast Recipes
Air fryer chicken breast recipes come out fork tender and moist. Whether they are fresh or frozen you can tenderize the inside and get the outside crispy.
Ingredients
2-4

chicken breast

thawed timing is shared below

1/2

c

barbecue sauce

or teriyaki
Instructions
Preheat machine to 360 F. for 5 minutes. Spray inside of air fryer basket with non stick spray. Lay meat inside

Sprinkle salt and pepper on top and cook for 12-14 minutes total flipping over after 10 minutes. At this time test thickest part to ensure it has reached 165 F safe temperature.

Brush bbq sauce over the top and air fry for 2 more minutes to brown the outside. Allow to rest for at least 5 minutes before slicing.
Nutrition Facts
Air Fryer Chicken Breast Recipes
Amount Per Serving (2 oz)
Calories 190
Calories from Fat 27
% Daily Value*
Fat 3g5%
Cholesterol 72mg24%
Sodium 499mg22%
Potassium 501mg14%
Carbohydrates 15g5%
Protein 24g48%
Vitamin A 114IU2%
Vitamin C 2mg2%
Calcium 17mg2%
Iron 1mg6%
* Percent Daily Values are based on a 2000 calorie diet.