Best air fryer bbq chicken breasts from frozen or using fresh breasts or chicken thighs! Tender meat with your favorite barbecue sauce on top = a healthy low fat dinner option with a ton of flavor.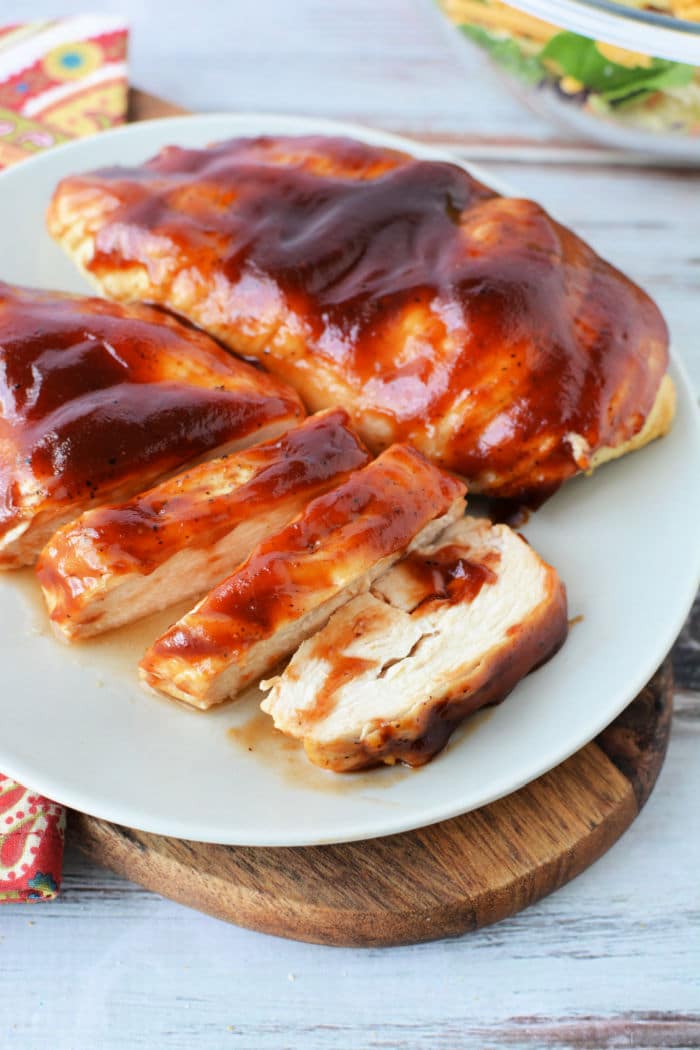 If you don't want to take the time to heat up your grill, no problem! Try our bbq air fryer chicken recipe and enjoy the same flavors and crispy outside you love cooked in just minutes. One of many easy air fryer recipes we love. (affiliate links present)
Air Fryer BBQ Chicken Breast From Frozen
I have a lot of fancy gadgets. I'm a food blogger so I guess that makes sense. First we started with making Ninja Foodi chicken breasts and those came out good. Not everyone has that dual machine though so I thought I'd provide instructions for a stand alone Cosori or other brand as well.
Below is the timing for fresh or defrosted white meat pieces of medium size. If you need to know how to cook frozen chicken breasts in air fryer read this post first. Brush sauce on for the last 2-3 minutes so it bakes on nicely and caramelizes too.
FIRST – You should sign up for my free newsletter so you get new posts emailed to you twice a week and never miss out on anything! If you love air fryer recipes too, here are some resources to start with: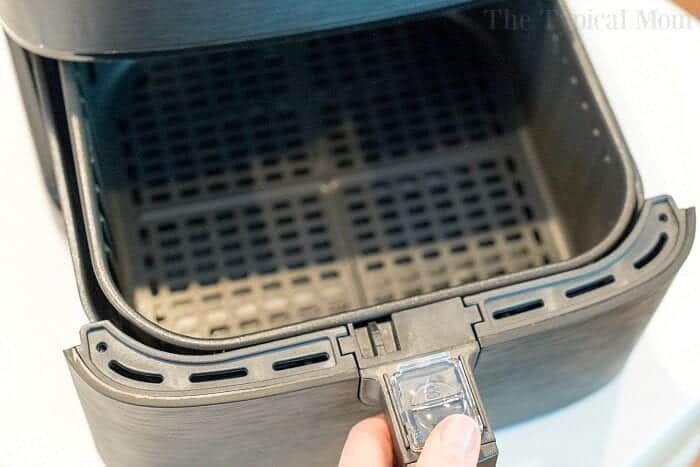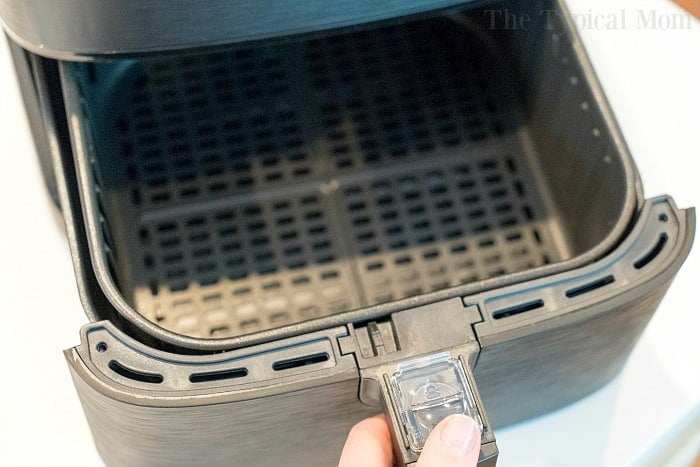 BBQ Chicken in Air Fryer
In this case two boneless skinless breasts were used. If you insist on eating the skin then by all means leave it on. To reduce the fat it was removed. With rib meat attached the cook time would need to be increased.
I always say to stay away from huge pieces at the store. Small to medium sizes are best so they cook all the way through. Almost always I choose to buy organic and they always come in these sizes. If all you have is very thick you'd want to slice them in half to thin them out.
In a rush? Use chicken cutlets instead and add the sauce at the end as shown here. You could easily reduce the timing by half this way, I'll show you how to make them bite sized as well at the bottom of this post.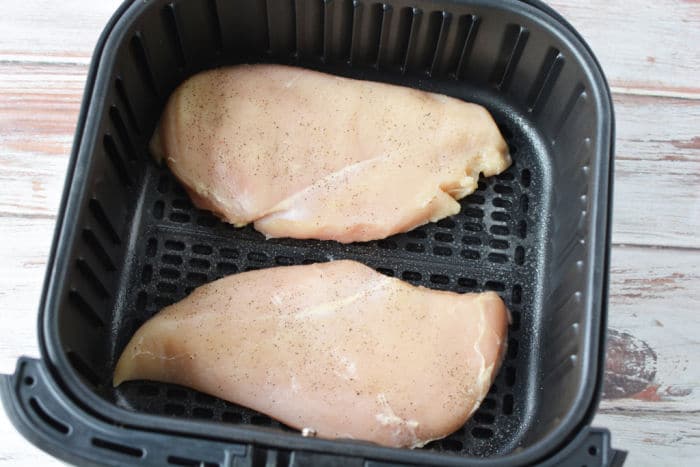 Air Fryer BBQ Chicken Thighs
Timing below is not for frozen chicken breasts remember, that link is above. I recommend you defrost or purchase fresh pieces for this recipe. If you prefer to use dark meat I suggest bone-in medium pieces or larger boneless. I leave the skin on to add moisture and they will get crispy and wonderful this way too.
When they're thawed it is much easier to add seasoning to the outside and have it stick well too. This is all you need to get started;
Boneless chicken breasts – skin on or off is just fine
Salt and pepper to season the outsides of your meat, any of your favorite seasonings can be used of course but we kept it simple.
Non stick cooking spray for easier cleanup, I prefer olive oil spray myself to air fry everything.
Since the sauce is added at the end you could use any style you like, even sweet honey style. In other cases like when making Instant Pot bbq beef that type isn't recommended because the high sugar content may cause it to burn.
Air Fryer BBQ Chicken Breast
If you have a favorite homemade sauce you swear by then by all means use that. You can even use a thick teriyaki instead to change things up now and then. I'd recommend trying our air fryer teriyaki chicken recipe where we did that next.
Before you brush it on, ensure your meat is at the proper internal meat temperature first of course. Use a thermometer with the meat removed from the basket, inserted into the thickest part.
Once you know it's safe, return it to the machine, brush on the sauce and put it in for a few more minutes. This isn't a must but it gives the top a nice golden brown caramelized yum to it.
Air Fryer BBQ Chicken Breast Strips
You could do this with chicken tenderloins as well. Those are thinner and smaller so the timing wouldn't be as long. I'd cut it in half and check the middle depending on their size this should be plenty.
This is a great alternative to barbecuing especially if it is winter time or you just want a quicker meal. Preheat air fryer to 360 F for 5 minutes. Spray air fryer basket with non stick spray. Put medium size chicken breasts inside without overlapping. Sprinkle salt and pepper on top.
Set to 360 degrees F for 12-14 minutes flipping around minute 6 or until thickest part of chicken reaches 165 degrees F.
Brush bbq sauce out of a small bowl and on top of your meat.
Continue cooking for an additional 1-2 minutes. Allow to rest 5 minutes and then slice.
Above is just a quick step by step but there are detailed instructions and you can print recipe as well below.
Air Fryer Barbecue Chicken
Do I need to flip my chicken in the air fryer?
It is recommended to keep it moist. For the most part the air will circulate well all the way around so it won't be ruined, it just helps so it doesn't dry out as much.
Why is my chicken dry in air fryer?
If you feel like your meat dries out more than you'd like it to using this method there are a few tips; Use pieces with fat and keep that side facing up, that will keep it more moist. Cook chicken at a lower temperature for a bit longer.
Another thing to try is using much smaller pieces like fresh chicken tenders for a fraction of the time with sauce lathered on top the whole time.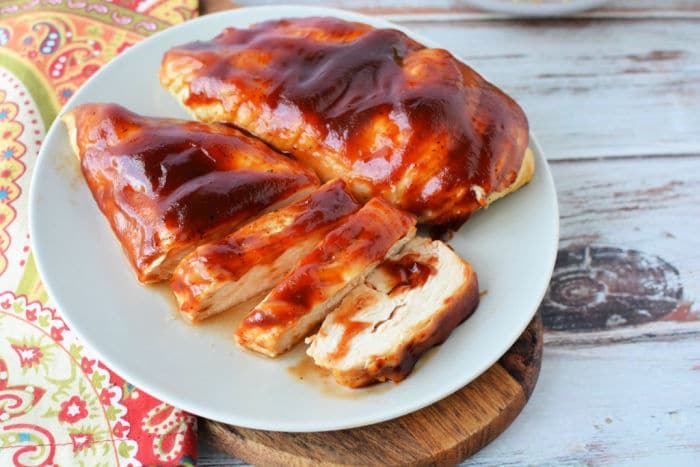 Air Fryer BBQ Chicken Legs
Want it to cook this REALLY quick and easy? You can dice it up into bite size pieces when meal prepping.
Then toss with about 3/4 cup of your favorite sauce.
Preheat as usual and cook for about 5 minutes
Toss to flip pieces over and cook an additional 2 minutes.
Check the largest piece by cutting or breaking it in half. Once the insides are no longer pink you are set! We love serving it this way over a bed of Ninja Foodi rice or just with a side of air fryer vegetables. Toss with a bit more sauce at the end once it is cooked to get them all nicely coated well. Bite size goodness I tell you.
If you want to use thighs or legs instead of breasts you can do that too! Just brush sauce on at the end and for this look you see here. OR if you forgot to defrost them, use frozen chicken thighs in air fryer or frozen drumsticks air fryer style instructions.
Want to see a few of my favorite things that I am totally obsessed with?? Take a peek and see how many you might already have…twinsies!
Looking for more easy family recipes and tips? LIKE The Typical Mom Facebook page?
Then sign up for my free newsletter, and follow me on Pinterest! 😉
***** If you LOVED this recipe give it 5 Stars below and let everyone know what you thought about it. 😉
Air Fryer BBQ Chicken
Best air fryer bbq chicken recipe using fresh or frozen breasts or chicken thighs! Healthy low fat dinner option with a ton of flavor.
Instructions
Preheat air fryer to 165 F for 5 minutes. Spray air fryer basket with non stick spray. Put breasts inside without overlapping. Sprinkle salt and pepper on top.

Set to 360 degrees F for 12-14 minutes, flipping around minute 6 or until internal temperature reaches 165 F in thickest part. (timing will vary, very small may be closer to 10 minutes where very large may take a few minutes past 14 minutes.)

Brush bbq sauce on top and continue cooking for an additional 1-2 minutes. Allow to rest 5 minutes and then slice.
Nutrition Facts
Air Fryer BBQ Chicken
Amount Per Serving (2 oz)
Calories 190
Calories from Fat 27
% Daily Value*
Fat 3g5%
Cholesterol 72mg24%
Sodium 498mg22%
Potassium 501mg14%
Carbohydrates 15g5%
Protein 24g48%
Vitamin A 114IU2%
Vitamin C 2mg2%
Calcium 17mg2%
Iron 1mg6%
* Percent Daily Values are based on a 2000 calorie diet.