How to cook Ninja Foodi chicken breast BBQ style with no breading. A delicious low carb keto dinner that even your kids will love. Tender protein with a bit of crisp on the outside, or make Ninja Foodi shredded chicken to make tacos. Both are quick healthy one pot meals.
Want to make tender Ninja Foodi chicken breast for dinner? Not only is it healthy but it's packed with flavor. Once you fall in love with this you should try our other easy Ninja Foodi recipes here on The Typical Mom blog. (participant in the Amazon program, affiliate links present)
Ninja Foodi Air Fryer Boneless Skinless Chicken Breast
I mean this is oh so versatile! Dice it up and put it on a salad, throw it in some fettuccini alfredo or just eat it plain with air fryer vegetables with it. There are so many ways to serve it but any which way is a healthy meal everyone loves.
Use any type of sauce you like before you air crisp, teriyaki is yummy too. Just one of our favorite healthy Ninja Foodi Recipes to choose from. If you wanted to use just the pressure cooker method click on the link at the top of this page instead.
FIRST – You should sign up for my free newsletter so you get new posts emailed to you twice a week and never miss out on anything!
If you too are obsessed with your Ninja Foodi pressure cooker air fryer machine, here are a few resource to start with:
You can

bookmark

our Ninja air fryer recipes page, we add to that weekly.

Here's a printable air fryer cooking times chart here for your fridge.
Be sure to save this link to Instant Pot recipes for beginners too. You can use any of those in your pot too.
Grab a set of wooden utensils to work with. They are great so your pot doesn't get scratched!
Then join our

Ninja Foodi EASY Recipes

– Facebook group where you can share and find more ideas you'll love. Thousands of others share both pressure cooker and air fryer recipe ideas there daily and you can too!
If you need to know how to cook frozen meat in a pressure cooker, we have information on that. NO, you aren't the only forgetful one. 😉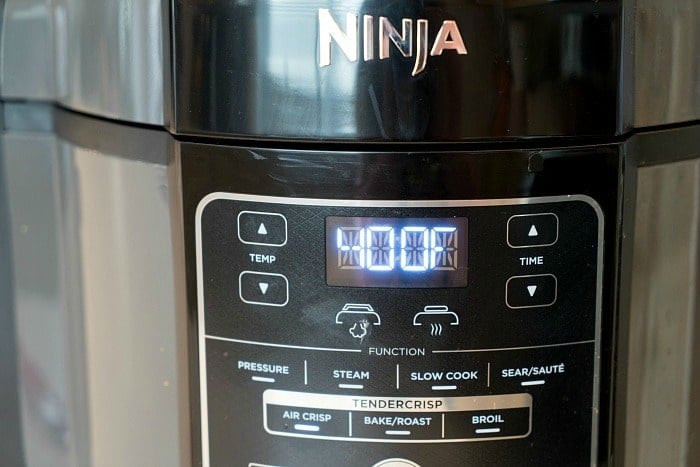 This is literally all that you need. It is best to use defrosted boneless skinless chicken breasts but if you only have frozen chicken we have directions for that too in the post above. We have made a bunch of low carb air fryer recipes like this one in the past few months.
If you're not concerned with carbs, go all out and try our Ninja Foodi pineapple chicken over rice. All of them are listed on our Ninja Foodi chicken recipes post but this one is just simple and delicious.
This is all you need for this easy Ninja Foodi chicken breast recipe though
If you want ALL THE THINGS including a bit of spice inside wrapped with bacon you can also try this air fryer stuffed chicken breast.
Defrosted boneless skinless chicken breasts
Barbecue sauce

Salt
Garlic powder
A marinade brush is very helpful to have
Like I said, you could use our lemon pepper chicken marinade beforehand if you prefer. Using sauce at the end gives it an added punch though, and keeps it moist.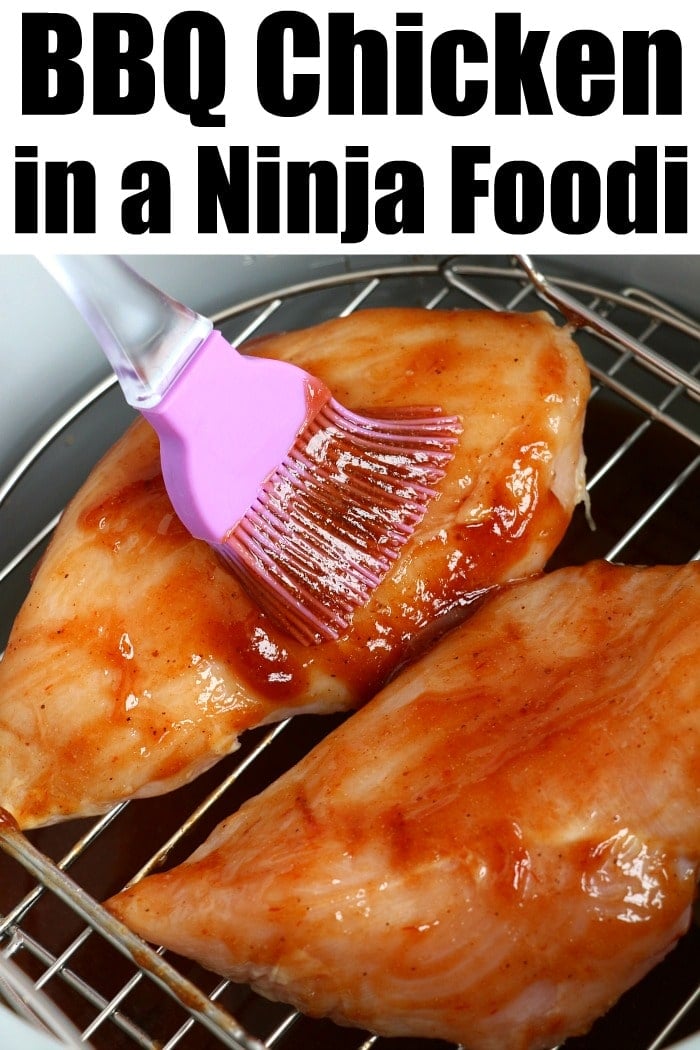 Ninja Foodi Chicken Breasts
Yes you can cook pressure cooker chicken and we do have a few Instant Pot recipes that feature this low fat meat choice. BUT having the ability to air crisp the outside in the same pot is a game changer.
Now that we air fry everything around here we've been experimenting with every food imaginable.
From appetizers to dinner recipes there is literally nothing we've made in it that isn't better than in the oven or on the stovetop.
I bet you'll think the same way in no time at all, you can even cook a whole chicken in the Ninja Foodi. Here are the steps to follow to make this:
Mix 1/2 cup of your bbq sauce and water in a bowl, pour it into your pot.
Place a trivet inside and lay your chicken breasts on the top.

It's kinda' helpful to spray the rack with non stick spray so lifting them off later is easier.

In a bowl mix together remaining barbecue sauce with seasonings and brush this over the top of your meat.
Close pressure cook lid (one that isn't attached), set steam valve to seal position. Both Instant Pot and Foodi have one that looks similar to the one below.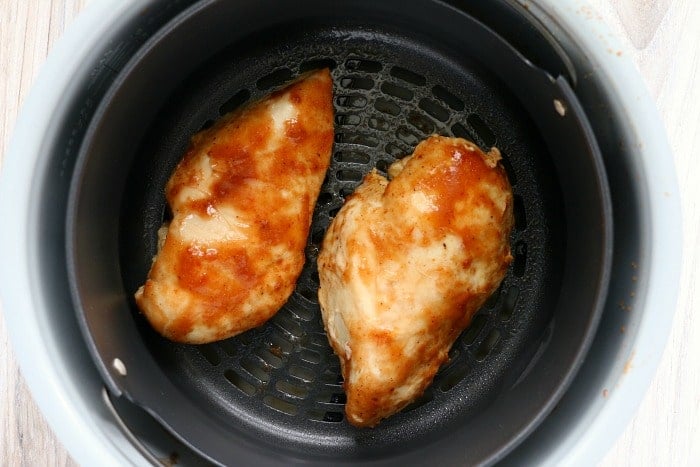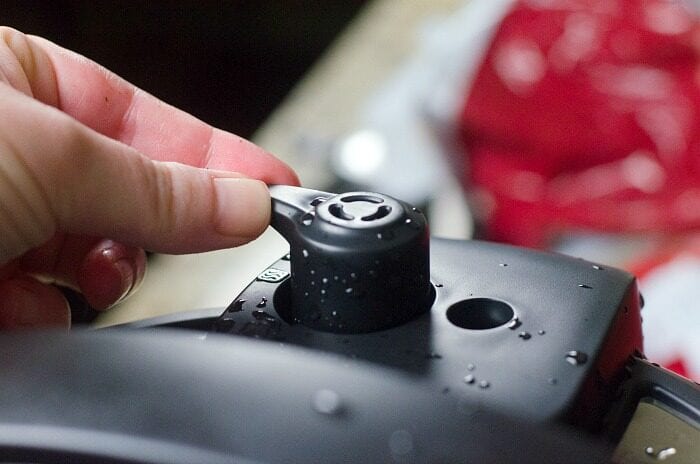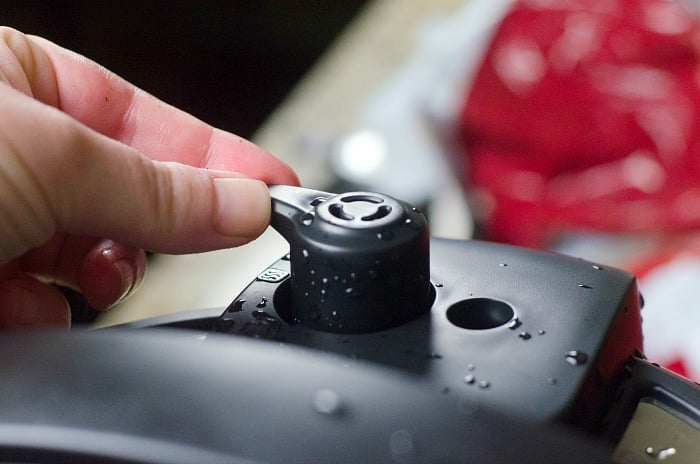 Chicken Breast in Ninja Foodi
Cook time on high for 6 minutes with a 3 minute natural release time. Remember it will take approximately 10 – 15 minutes to reach pressure initially. Do not quick release or meat will not fully cook and won't become as tender. Close air crisp lid and set to 400 degrees for 4-6 minutes or until the top is as crisp as you'd like.
Time will vary depending on thickness of breasts, medium is best
Pour out liquid in basket
Place air fryer basket into pot with chicken inside

You can brush additional sauce on the top for more packed on flavor.
THIS answers the question of how to cook chicken breast in a Ninja Foodi and I bet you'll love it. If you do want to make this with a crispy crunchy coating kinda' like KFC, try our air fryer fried chicken breast recipe. We also have instructions when using ONLY the air crisp function. Read air fryer bbq chicken for those steps.
Try our Ninja Foodi chicken legs after that. SO is a Ninja Foodi worth it?
Even though it is double the cost of most pressure cookers I would say yes!
If you think you'll use the air frying or dehydrating functions frequently, but don't want 2 or 3 different appliances this is great.
You can see the differences between an Instant Pot vs Ninja Foodi here. Then make a decision on your own.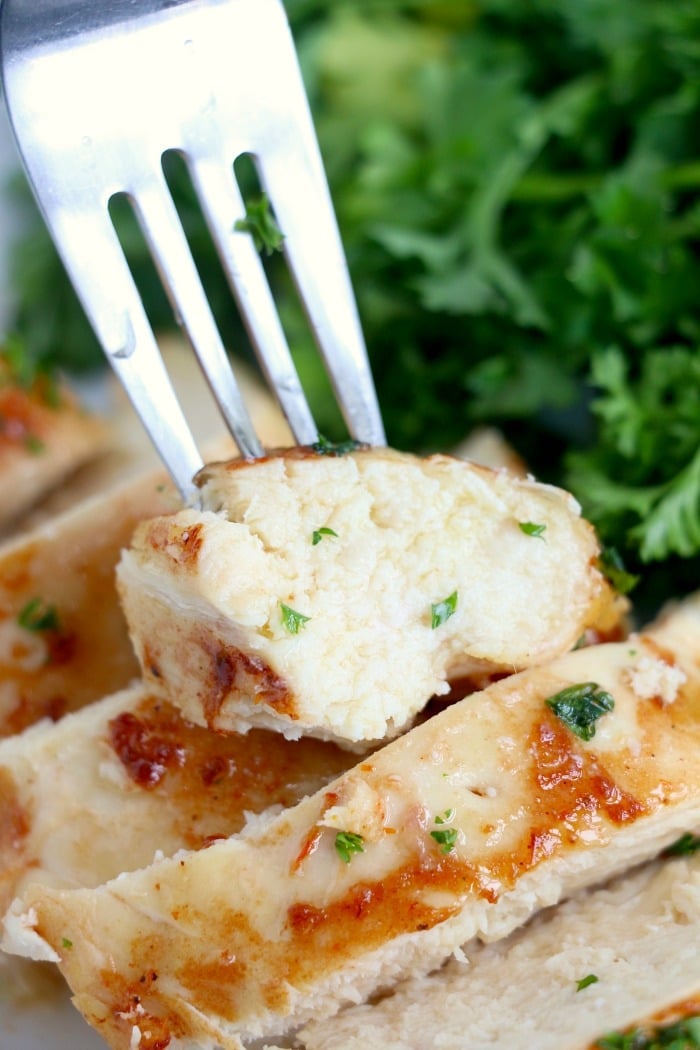 How do you keep chicken from drying out?
Pressure cook on high first, then air fry the outsides just slightly to get a light crisp to it. Allow for a natural release of steam once it is done cooking. This will maintain the juiciness of the protein for sure. Let it rest once it is done. Once you're finished cooking the chicken, leave it alone in aluminum foil for at least five minutes before you cut into it and serve.
What should I serve with chicken breast? Of course this is subjective but since we're focusing on a low carb dish we will share options as such:
The lowest caloric choice would be air fryer cabbage steaks!
Below is a printable recipe card with the entire recipe. Of course you can just bookmark this page and come back as often as you'd like because we love "seeing" you!
Want to see a few of my favorite things that I am totally obsessed with?? Take a peek and see how many you might already have…twinsies!
Looking for more easy family recipes and tips? LIKE The Typical Mom Facebook page?
Then sign up for my free newsletter, and follow me on Pinterest! 😉
***** If you LOVED this recipe give it 5 Stars below and let everyone know what you thought about it. 😉
Ninja Foodi Chicken Breast
BBQ Ninja Foodi chicken breast with no breading is a low carb keto dinner that even your kids will love. Tender protein with a bit of crisp on the outside.
Instructions
In a bowl mix together bbq sauce, garlic powder and salt.

In a separate bowl add 1/2 cup of this bbq sauce mixture + your water and whisk together. Pour this into the bottom of your Foodi pot.

Lower down a trivet (the metal one your pot came with works perfect)

Lay chicken breasts on rack and brush on remaining bbq sauce in your bowl on to meat.

Close lid and steam valve and set to pressure cook high for 6 minutes. Allow to naturally release pressure when done for 3 minutes. (timing will vary depending on how thick your breasts are, always check temp when done to ensure it's done in the middle)

Lift off pressure cooker lid and set aside.

Lift out rack with chicken, set aside, and pour out liquid at the bottom of your pot.

Transfer meat into your air fryer basket and lower into your pot. (you can brush on more bbq sauce now if you want it really layered on)

Take note: if you follow the next steps to get a bit of crisp on the outside it will dry your chicken out more than if you ate it without the air crisp function. Close air crisp lid and cook at 400 degrees for 4 minutes or until internal temp when removed is 160 degrees.
Nutrition Facts
Ninja Foodi Chicken Breast
Amount Per Serving (3 oz)
Calories 288
Calories from Fat 45
% Daily Value*
Fat 5g8%
Cholesterol 108mg36%
Sodium 1040mg45%
Potassium 761mg22%
Carbohydrates 22g7%
Protein 37g74%
Vitamin A 171IU3%
Vitamin C 2mg2%
Calcium 26mg3%
Iron 1mg6%
* Percent Daily Values are based on a 2000 calorie diet.