This apple monkey bread is packed full of fresh apples and really delicious! The best sweet apple pull apart bread made in a bundt pan I've made with refrigerated cinnamon rolls ever. Drizzled with a simple glaze you can enjoy this for breakfast, brunch or dessert this week.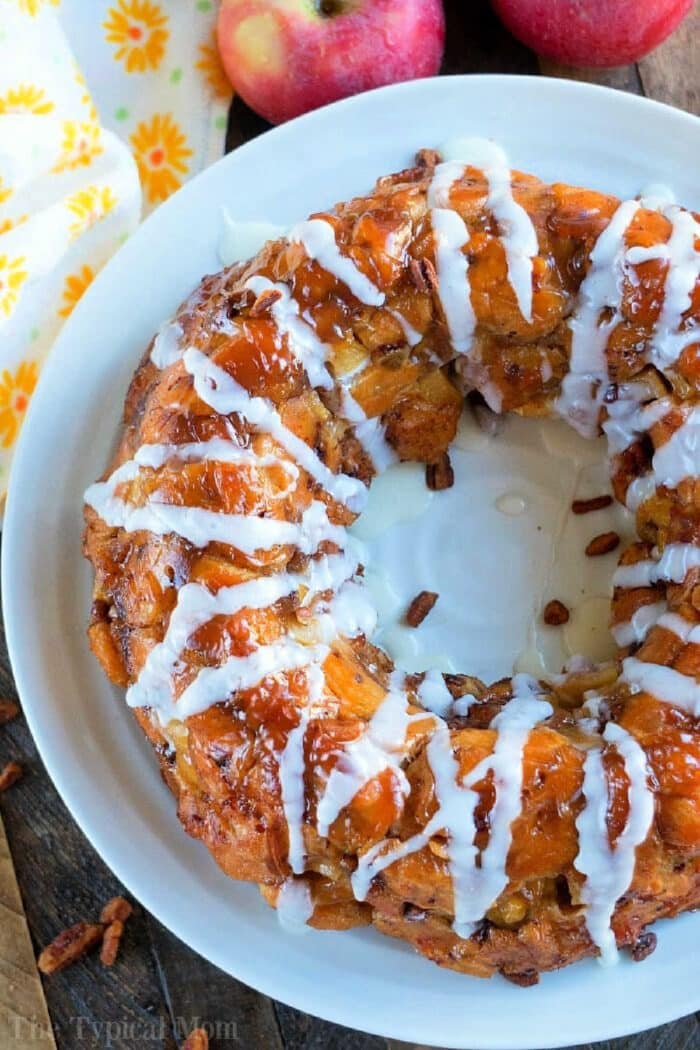 If you're looking for the best Christmas morning breakfast recipe or just something to make on the weekend for your family, this fresh Pillsbury apple monkey bread version of our easy monkey bread recipe is the bomb! (originally published 11/18, affiliate links present)
Apple Monkey Bread with Cinnamon Rolls
I love making Pillsbury cinnamon roll monkey bread because there are SO many possibilities to change it up with fruit, caramel, or anything else you love. This can be a great frozen Rhodes cinnamon rolls recipe, frozen rolls that are more plain, or use the refrigerated type.
We always visit an orchard during the fall months and pick a lot of varieties. I hate to waste to I love to bake with them on a weekly basis until they are all used up. In savory and sweet dishes they add a ton of flavor, moisture and sweetness to all sorts of dishes. This is one of our favorite apple dessert ideas.
Apple Monkey Bread with Rhodes Rolls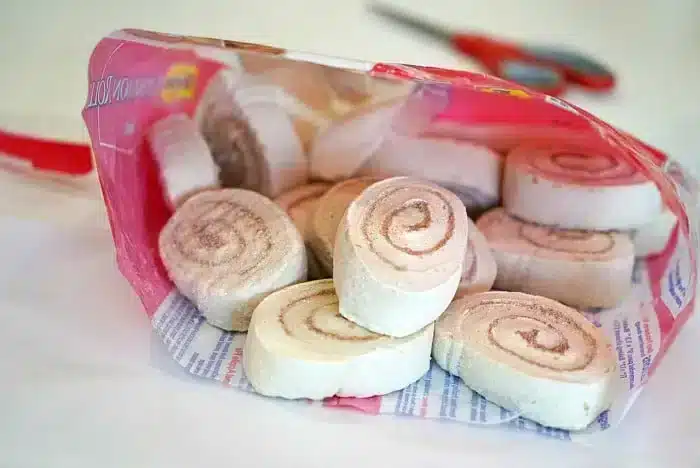 Here's the creation we made here with apple cider mix and fresh apples picked right off the tree! Like I said, making semi homemade monkey bread isn't anything new in our house. As you can see, we are big fans of the idea…… You can bake them in a bundt pan like this, or make slow cooker apple cinnamon rolls.
Apple Monkey Bread with Canned Biscuits
You could use biscuits instead of the sweeter variety but of course, it won't be as sweet. You just need to go all out and choose this type. There are the regular sizes and grands, You are going to cut them into large bite size pieces so it doesn't really matter which you choose.
Here's where this apple monkey bread idea began.
I saw the idea in the Taste of Home magazine while I was waiting in the dentist office. I snapped a picture of it with my phone.
Changing up the timing a bit and a few other things you have what you see here. I had made this easy monkey bread recipe in the past but using fresh apples was a great idea.
So here it is before I popped it in the oven.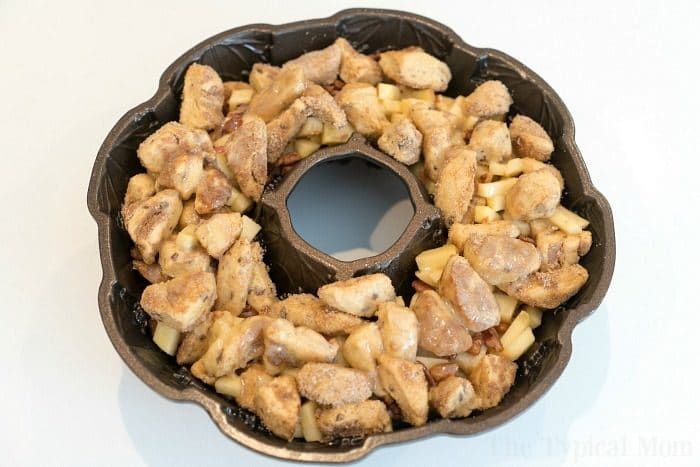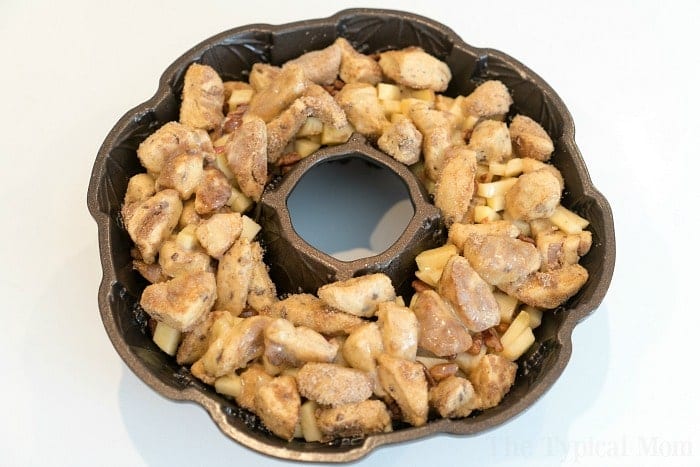 Apple Fritter Monkey Bread
Once it was done before pulling I took a pic. of it out so you can see the color on top.
It is important to NOT overbake it, you want it to be ooey gooey, but have the dough pieces cooked through in the middle. It is a fine line. Very lightly browned usually is perfect, then let it cool before flipping it over to make it a bit easier.
If you don't care about it being pretty on a platter then by all means just flip it right away and use a fork to pull all the pieces right out to eat immediately.
It's best to serve warm, we love monkey bread this way.
It will not look sticky sweet when you pull it out, it will look like this. All the goodness is on the bottom so don't worry, you will get there.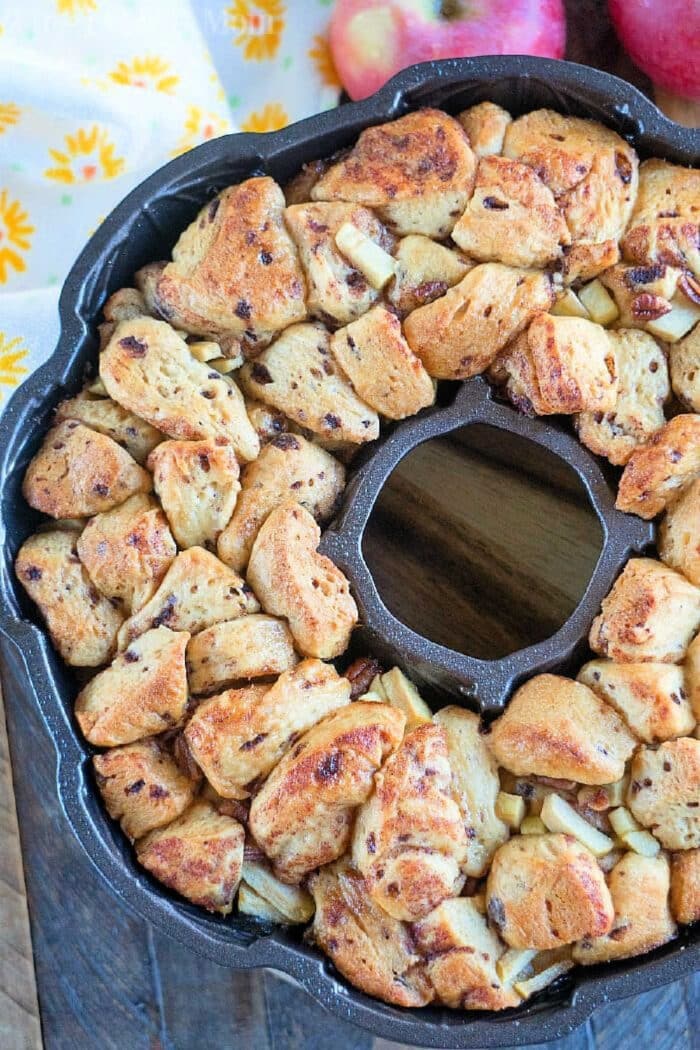 Cinnamon Roll Monkey Bread with Apples
Tips for making the best monkey bread recipe
Preheat your oven to 350 degrees
Do NOT overbake it, you want it to remain gooey when you flip it over

As soon as the top is very lightly browned take it out and put it on a cooling rack

Use a bundt pan that has a non stick surface AND spray the inside with non stick spray (replace your pan if it's chipped or washed off)

This is my favorite bundt pan that seems to never lose it's non stick texture and has a pretty design embedded in it
I use whichever non stick spray is on sale

Allow it to cool before flipping over
Reason for this is that it makes it more likely to stay in one "pretty" piece if it has a bit of time to rest in the pan. Use a cake platter or plate that is big enough to fit the whole thing on.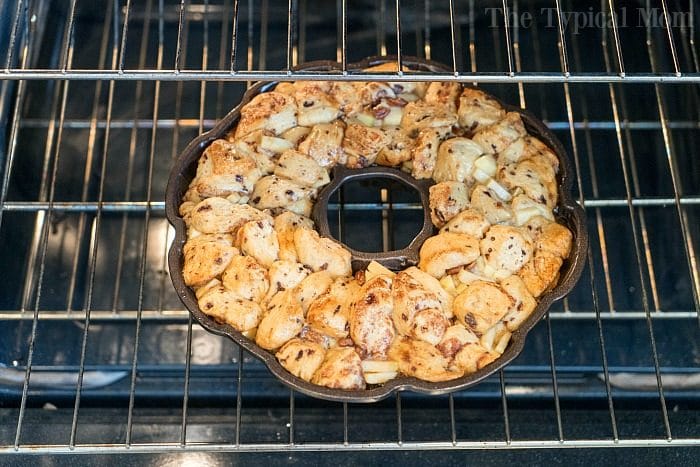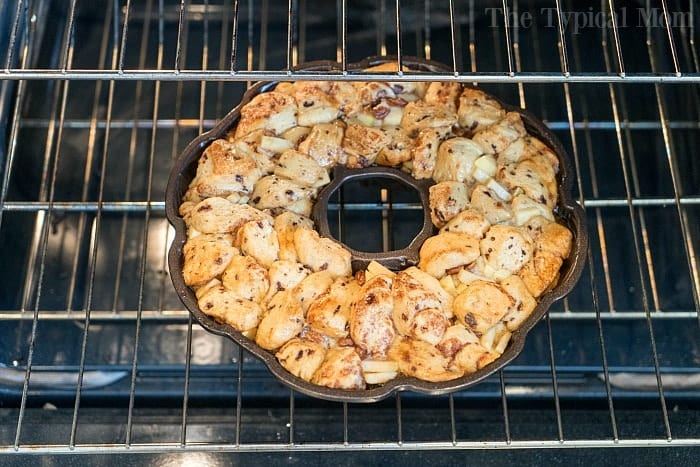 Fresh apple monkey bread
This is what your apple monkey bread should look like once you flip it over and drizzle vanilla icing on the top!
3 containers refrigerated cinnamon rolls

can use biscuit dough but it won't be as sweet

3 large apples

I like Fuji as we use for our air fryer apples too
a splash of lemon juice works if you dice them a while beforehand to prevent browning

1 box apple cider mix – dry mix like you'd use to make the drink

dumping this sugar mixture into a large baggies and shaking with cinnamon roll pieces is how I do it
you could dip each one in a small bowl with mix too

Melted butter
1/2 cup nuts – optional to add these, I used honey roasted pecans
Vanilla frosting – use what the ones that come with your cinnamon rolls, but really you need more!

could sprinkle with powdered sugar
Sugar and cinnamon mixture is a nice topping too.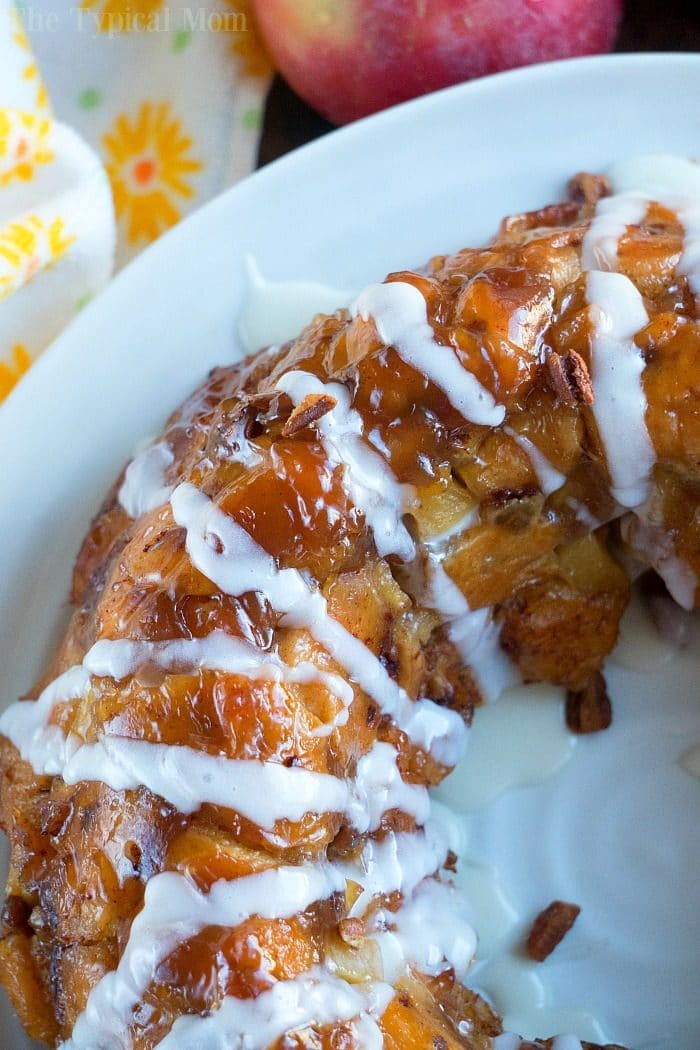 Cinnamon Apple Pull Apart Bundt
Want to cook another type of easy monkey bread? This one has only 5 ingredients and can be as "plain" or amped up as you want.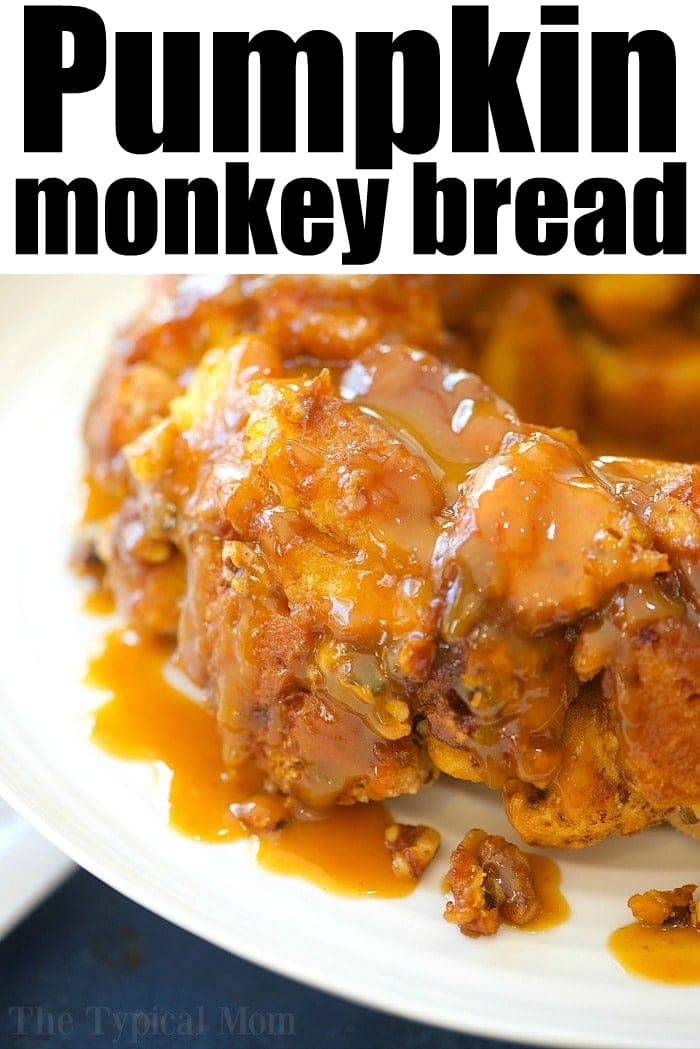 How to do you spice up canned cinnamon rolls
Make them like tike this with an apple pie taste to them!!
It's the perfect holiday treat or brunch item to add to your buffet table.
The apples bring a natural sweetness and texture to your semi homemade monkey bread.
You can make our cinnamon pull apart bread too.
It is inexpensive to make, but impressive to serve out of a pretty bundt pan.
Want to see a few of my favorite things that I am totally obsessed with?? Take a peek and see how many you might already have…twinsies!
Looking for more easy family recipes and tips? LIKE The Typical Mom Facebook page?
Then sign up for my free newsletter, and follow me on Pinterest! 😉
***** If you LOVED this recipe give it 5 Stars below and let everyone know what you thought about it. 😉
Apple Monkey Bread with Cinnamon Rolls
This apple monkey bread with cinnamon rolls or rhodes rolls is packed full of fresh apples and really delicious! The best monkey bread I've made with refrigerated cinnamon rolls ever.
Ingredients
3

containers

cinnamon rolls

refrigerated, not frozen, regular size not Grands

3

large

apples

cored, peeled, diced

5

pouches

apple cider mix

1/2-1

c

pecans

honey roasted, crushed

6

tbsp

butter

melted

1

c

icing

divided, use packets of icing from cinnamon roll container
Instructions
Cut each cinnamon roll in fourths and put into a bowl. Core, peel, and dice apples, put into a separate bowl. Preheat oven to 350 degrees.

Empty all 5 dry apple cider mix packets into bowl with cut rolls and gently toss so all pcs. are coated well.

Spray non stick spray into a large bundt pan.

Sprinkle 1/3 of coated cinnamon roll pieces into bundt pan, followed by 1/2 of your diced apples and 1/2 c. of nuts if you'd like to add those.

Sprinkle another third of cut rolls on top of that, followed by remaining apples and nuts.

Then sprinkle the remaining third of cinnamon rolls on the very top.

Melt your butter, then add 1/4 c. or 1 packet from tube of icing in with butter and whisk together. Pour this mixture on top into the bundt pan. Cover bundt pan with foil.

Bake in oven for 35 minutes, then remove foil and cook another 5-10 minutes or until top pieces are a very light brown.

Take out and let it cool on a cooling rack. Gently loosen sides with a knife to help monkey bread slide out of the pan easier.

Put a cake plate on top and flip over. May need to further loosen sides or keep pan upside down for a few minutes on top of the plate until it releases.

Drizzle with remaining melted vanilla frosting and serve.
Nutrition Facts
Apple Monkey Bread with Cinnamon Rolls
Amount Per Serving (3 oz)
Calories 216
Calories from Fat 126
% Daily Value*
Fat 14g22%
Cholesterol 15mg5%
Sodium 87mg4%
Potassium 99mg3%
Carbohydrates 21g7%
Vitamin A 210IU4%
Vitamin C 2.6mg3%
Calcium 11mg1%
Iron 0.3mg2%
* Percent Daily Values are based on a 2000 calorie diet.