Easy monkey bread recipe using refrigerated biscuits or cinnamon rolls is easier than you think! Add apples, berries and a drizzle of frosting for the ultimate breakfast.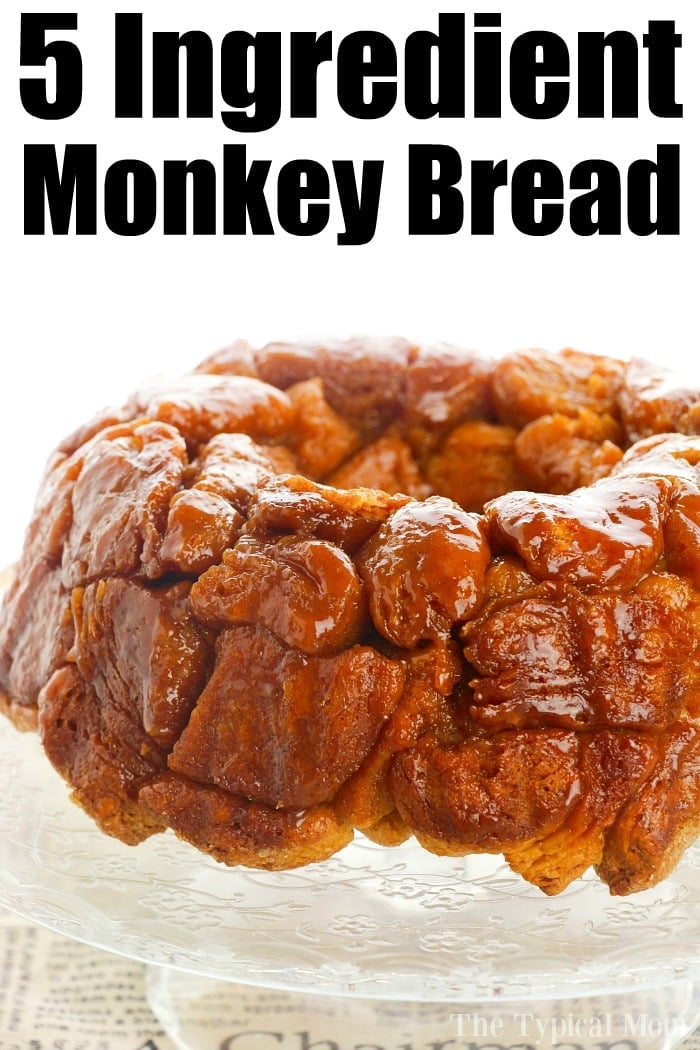 This easy monkey bread recipe is much simpler than I thought! We make at home all the time now with a lot of variations. You only need a few ingredients too, which is my kinda' recipe. My family loves quick easy dessert recipes. (originally published 2/16, affiliate links present)
Easy Monkey Bread
Doesn't this look fantastic??! You can use this recipe to make a large bundt like you see here OR smaller monkey bread muffins too! No need for homemade, refrigerated cinnamon rolls or biscuits work just as well if not better y'all so grab some of those at the store.
It's so pretty too. My family loves money bread and it's perfect for Easter brunch or Christmas morning! Here is what you will need to make this basic easy monkey bread recipe. You can add lots of toppings beyond the initial loaf.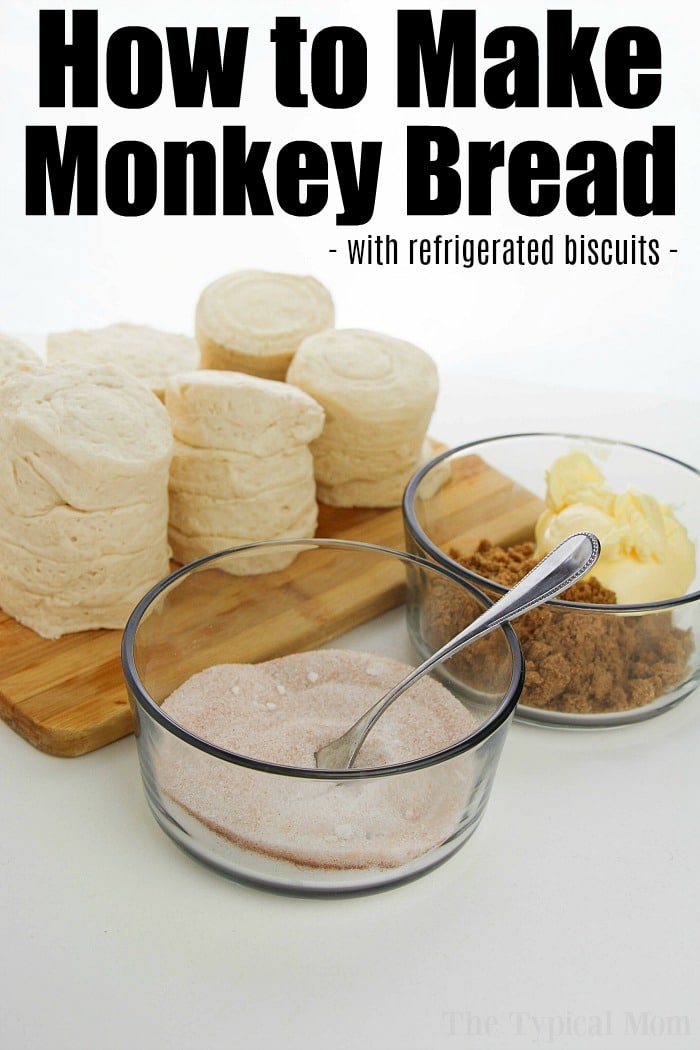 What is monkey bread made out of?
If made from scratch you'd use pieces of sweet yeast dough. This method uses refrigerated biscuits instead. They're baked in a bundt pan after first being individually covered in melted butter, cinnamon, sugar, and other goodies.
Whether you make it in a bundt pan or air fryer monkey bread in a small pan, it's made the same basic way. Bake time is cut down though with a bundt and it does cook more evenly because the middle isn't as thick. I'd highly recommend this shape for that reason and because of the way it looks, super pretty.
Easy Monkey Bread Recipe with Cinnamon Rolls
Bundt pan

a loaf pan doesn't do the job, you need a bundt to cook evenly

3 cans of biscuit dough
you could use cans of refrigerated cinnamon rolls or defrosted, previously frozen Rhodes cinnamon rolls.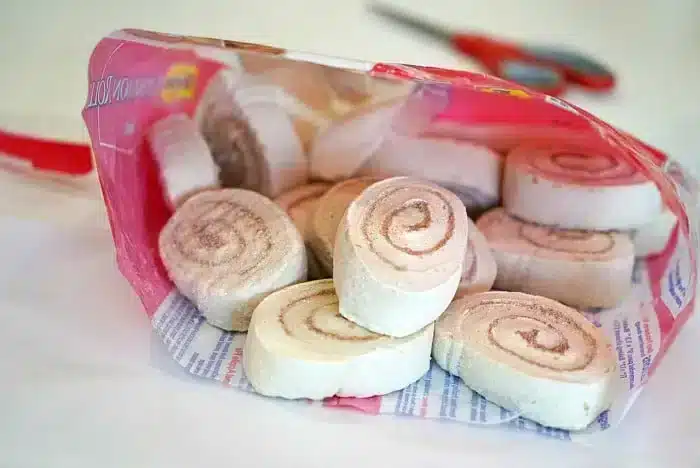 Monkey bread with biscuits
We used buttermilk biscuit style refrigerated regular size for this one seen. You could use cinnamon rolls instead for added flavor. They are about the same size so you would use the same number of tubes for this size.
Butter and brown sugar
Sugar and cinnamon

add cocoa for chocolate monkey bread if you want too
Use a small bowl for the mixture to dip it in, or freezer bags can be used to shake on the cinnamon and sugar on the outside.
It's one of our favorite few ingredient recipes we make for breakfast all the time.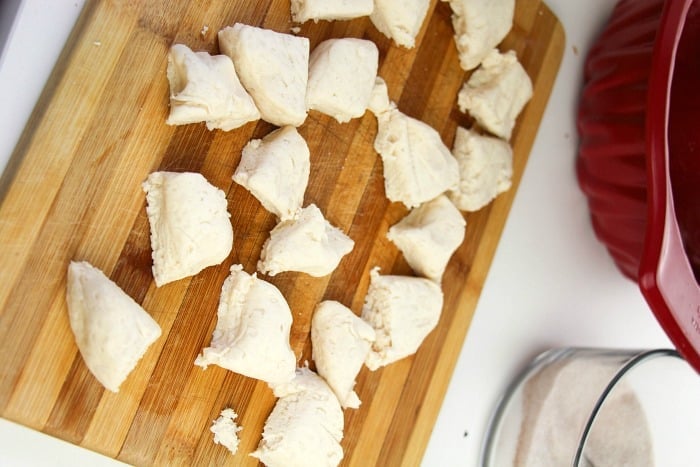 Monkey Bread Recipe Pillsbury
Items possibly used as toppings:
Melted cream cheese frosting
Cinnamon and sugar mixture
Berries
Caramel sauce
I have integrated other items within the bread mixture itself like caramel bits and diced apples too. ANYTHING is really possible if you start with a good base like this one. From there you can use your imagination!
I personally like drizzling melted frosting over the top because it makes it pretty and a bit gooier. Your choice but that is a cheap and easy addition.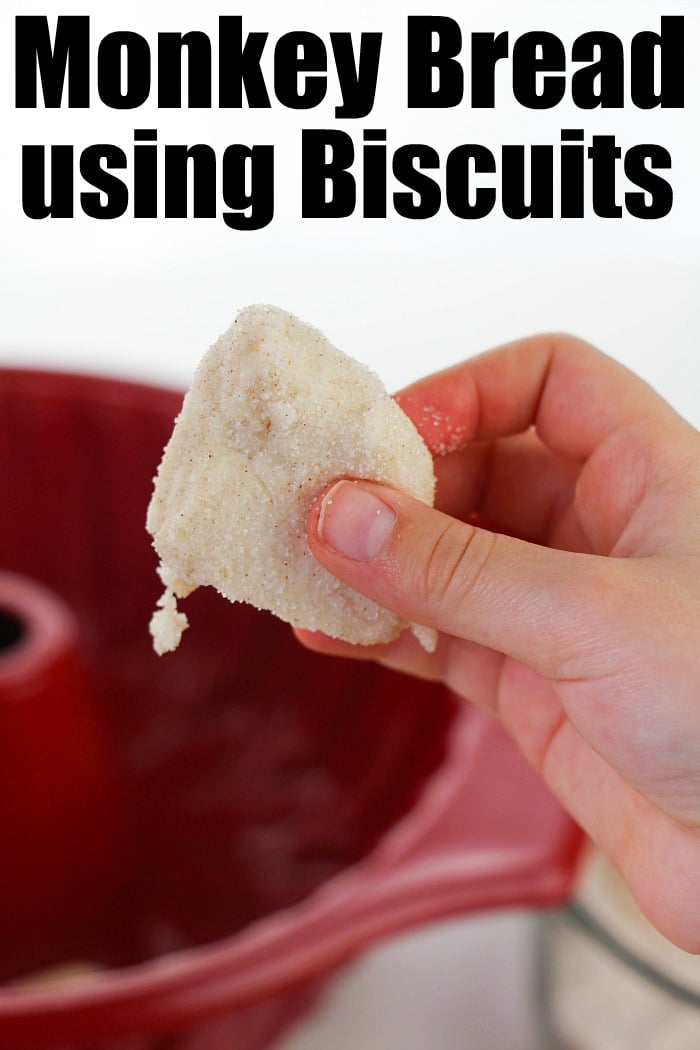 Pillsbury Cinnamon Roll Monkey Bread
Now we're ready to cut our refrigerated biscuit pieces into quarters. So 4 pieces per biscuit. You could use cinnamon rolls instead.
Get your melted butter and brown sugar ready now too. Either use the stovetop or microwave for this. This will make the overall preparation process very quick and easy.
In another bowl combine your cinnamon and sugar.
Now you're ready to cover each piece and place into the bottom of the bundt pan. Spread out evenly.
You can coat all your pieces well by either dipping each one, or I use a large storage bag. Just dump your cut pieces in with your sugar mixture and shake.
Once all your biscuit coated pieces are in your bundt pan you'll pour your brown sugar melted butter mixture over the top.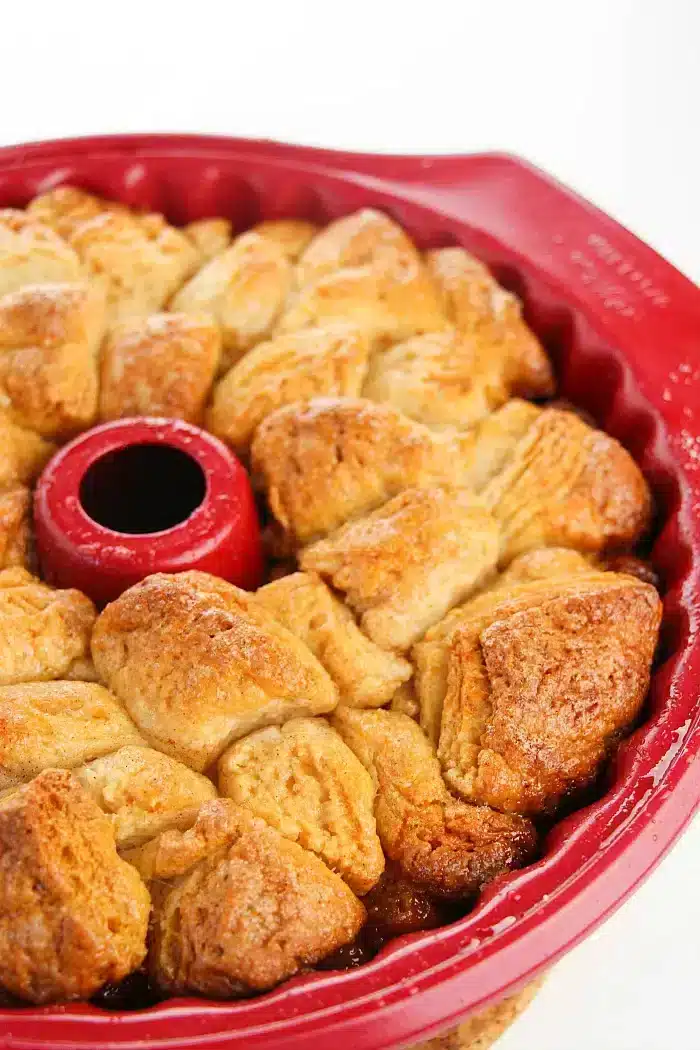 Make sure your oven is preheated to 325 before placing your pan inside.
Bake for approximately 30 minutes or until it is golden brown on top. Times will vary slightly depending on your altitude and oven in general.
Allow this to sit and cool for at least 5 minutes before attempting to put a large plate on top and flipping it over. You want your monkey bread to stay in tact and this is a good way to do that.
The time also allows it to pull away from the sides of the pan too so it will slide out nicely. Ensuring your pan is sprayed generously with non stick spray is key too.
Pour melted frosting on top once it's flipped over and sliced berries are nice too.
You can print recipe below, and nutrition information is listed too. (just enjoy it though, ignore those)
If you love this easy monkey bread recipe we have a several other monkey bread recipes you've got to try next!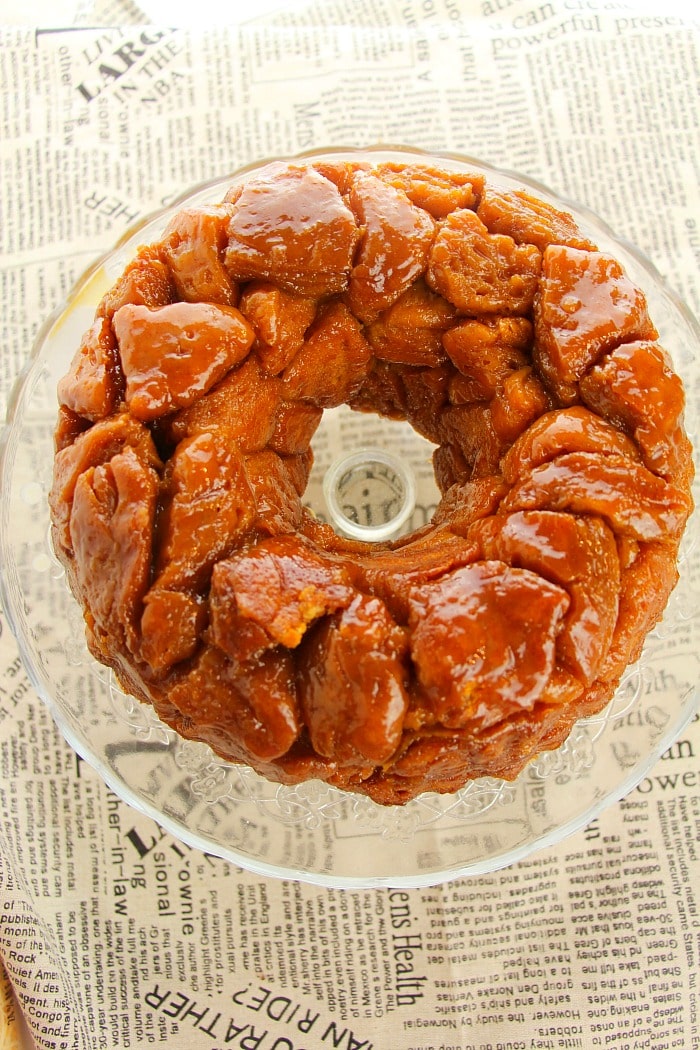 How long is monkey bread good for?
If you store it at room temperature it saves best to maintain it's freshness. If you intend to eating it within a couple of days, store what's left inside a freezer storage bag and out of direct sunlight.
Make sure you get all of the air out of the bag before zipping it so it doesn't dry out.
The bag minimizes moisture loss and keeps the bread soft and supple for about two days.
You can reheat monkey bread on a plate for 15-30 seconds in your microwave. Do it in short stints as overheating it will dry it out.
Can monkey bread be frozen?
If you wrap it tightly you can freeze it for up to a couple of months. Just thaw it at room temperature and reheat before serving.
Other breakfast brunch menu ideas
Like I said you can add other items like we did with this fresh apple monkey bread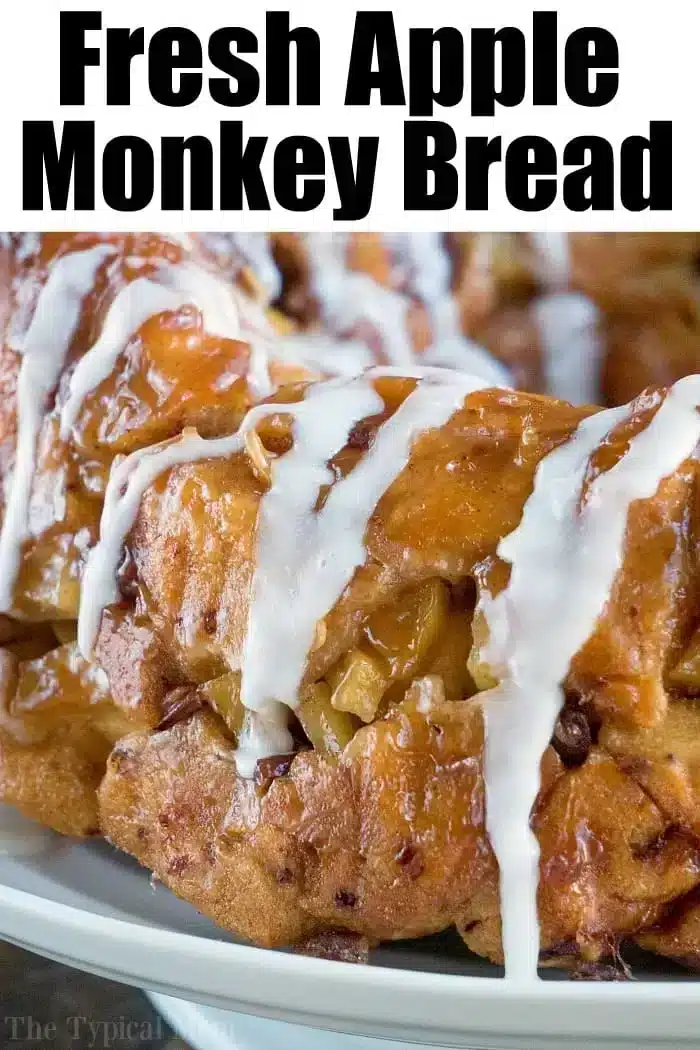 Why is it called monkey bread?
Originally the term bread was directly tied with someone who earned money. From there, it's easy to see how bread came into common usage.
Where did monkey bread originate from?
Hungary! Which totally makes sense because when you see any type of easy monkey bread don't you get so hungary??!! 😉
Printable recipe below for you. We have included nutritional information in it too including calories, saturated fat count and carbs.
Amounts will vary if you add any other items into the mix of course, and just enjoy y'all!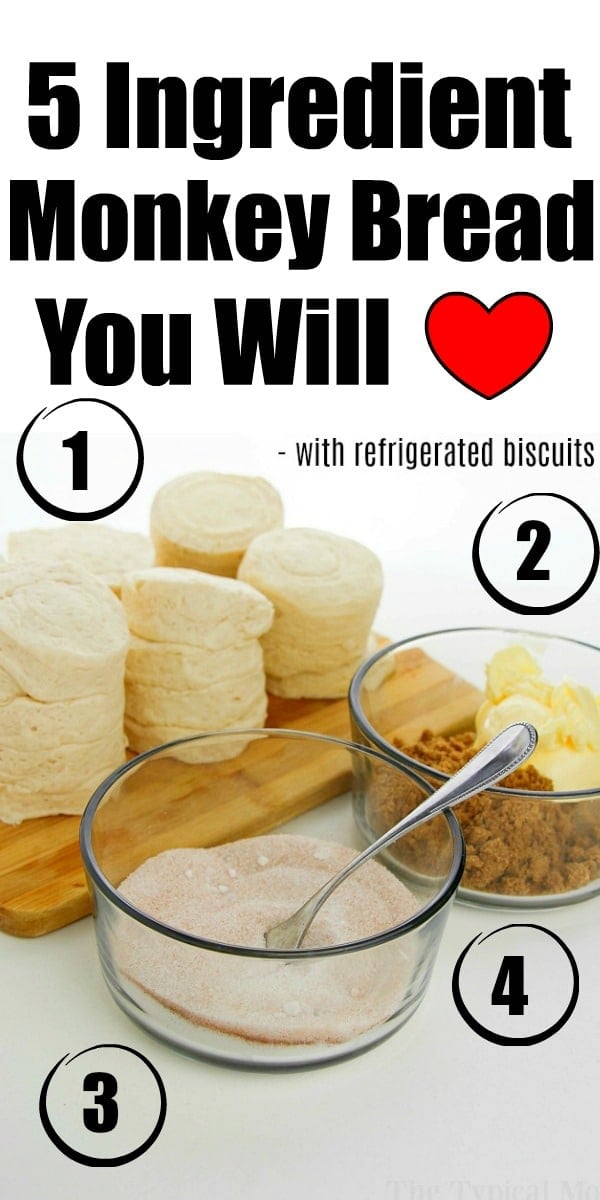 Pillsbury Monkey Bread
Here is the rundown and the step by step process + what color it should be when you take it out. You want it to remain moist so don't overcook it, though you want to make sure the middle is done too.
When it is browned on the sides it is done. Here is a step by step to look at, it is really really easy to make…just like others on my site.
Once you flip it over using a plate (make sure it is greased well before putting it in the oven so it slides right out) just drizzle whichever glazes you'd like. Melted raspberry jam puree is great.
If you want a really easy glaze just either melt some vanilla frosting in the microwave. Or mix powdered sugar and a bit of water until it is the thickness you want. Then enjoy!
Want to see a few of my favorite things that I am totally obsessed with?? Take a peek and see how many you might already have…twinsies!
Looking for more easy family recipes and tips? LIKE The Typical Mom Facebook page?
Then sign up for my free newsletter, and follow me on Pinterest! 😉
***** If you LOVED this recipe give it 5 Stars below and let everyone know what you thought about it. 😉
Easy Monkey Bread Recipe
Easy monkey bread recipe with mixed berries inside if you like, plus an easy glaze drizzle to put on top. Great brunch item.
Instructions
Preheat oven to 325 degrees and grease your bundt pan.

Cut all the biscuits into quarters. In a bowl combine your white sugar and cinnamon, mix.

Dip each biscuit piece into the cinnamon mixture and into your pan. Do this until no pieces remain.

Melt your butter and brown sugar over the stovetop or in the microwave so sugar dissolves.

Pour this brown sugar mixture over your uncooked biscuits.

Put pan into the oven for 30-35 minutes or until top is golden brown. Remove and allow to cool for at least 5 minutes.

Put a plate on top of bundt pan and gently flip over. Then add toppings to top if desired like melted frosting and berries.
Nutrition Facts
Easy Monkey Bread Recipe
Amount Per Serving (4 oz)
Calories 940
Calories from Fat 360
% Daily Value*
Fat 40g62%
Cholesterol 32mg11%
Sodium 1741mg76%
Potassium 433mg12%
Carbohydrates 137g46%
Protein 10g20%
Vitamin A 355IU7%
Calcium 131mg13%
Iron 6.1mg34%
* Percent Daily Values are based on a 2000 calorie diet.